Dear Friends and Members,
Last week we saw the launch of the world's first AR/VR headset by Lynx. Apple also reported that it is now selling more watches than Swiss watchmakers, and Lebron James paid tribute to Kobe with a classical dunk against the Houston Rockets. Lastly Real Madrid star Gareth Bale followed the footsteps of Shaq, Michael Jordan, Steph Curry, and many other top athletes by launching an esports venture.
This week, we published our latest Analysis: The Sports betting market: How technology will change the game, so be sure to sign up for our premium subscription by clicking the "subscribe now" button below.
Picture: NBA
Looking for access all of our previously published analysis, insights, data, podcast interviews, and more? Subscribe now to unlock access!
Next week we will publish our latest weekly newsletter. As a reminder, in 1Q20, we plan to introduce a new major initiative that will better bring our sports tech community of thousands of sports tech execs (Pro teams, leagues, sports startups, VCs/investors, brands, etc.) together, so stay tuned!
If you have any questions about The Upside, need help with business development or fund raising, want to join our community of thousands of sports and tech execs (pro teams, leagues, athletes, investors..), or want to have access to our premium content, please check out Sports Tech Advisors and contact us at info@sportstechadvisors.co
? Top Stories We're Reading This Week
? LYNX Reveals Standalone MR Headset with Snapdragon XR2, Eye-tracking, & Novel Optics
? NFL uses Mixed Reality to honor the NFL100 team prior to the SuperBowl
? Barcelona unveils 24/7 streaming service Barça TV+
⌚ The four-year-old Samsung Gear S2 just got a surprise update
? Gary Vaynerchuk Explains the Number One Reason He Invested in the Call of Duty League
? Gareth Bale launches esports team for Fifa eClub World Cup
? Latest Investment Trends
? Tech Stats of the Week
? Snapshots of the Week
Let's jump right into the insights and upside for all of these top stories
---
? AR/VR/Video/Digital Sports News
? LYNX Reveals Standalone MR Headset with Snapdragon XR2, Eye-tracking, & Novel Optics | Via: RoadToVR
French startup LYNX last week revealed the R-1, a standalone VR headset built for pass-through AR and powered by Qualcomm's new Snapdragon XR2 chip. The enterprise-focused headset uses a novel lens design which makes it compact.
Lynx is a new player in the XR category; the small startup today revealed its first headset, the enterprise-focused Lynx R-1. Though it uses occluded displays (like a VR headset), the company says the R-1 is designed for pass-through augmented reality—with the capacity for both VR and AR in a single device, we're calling this a mixed reality headset.
According to the company, the Lynx R-1 is set to release this summer, priced at $1,500.
⬆️ The Upside: We believe that Lynx AR/VR headset sets a new bar in the AR/VR space. Granted $1500 is still out of reach for most consumers but it is a reasonable price for enterprise and compared to other devices like Hololens ($3k-$5k). We believe that some pro teams might be interested in using those AR/VR glasses to provide virtual training to players who are going through rehab. As we noted before the AR/VR space is set to merge.We expect the price of AR/VR glasses to come down over time. We also expect a new trend with AR/VR contact lenses. This is where companies like Emacula are set to play a key role there. More on that soon..
Picture: Lynx
? NFL uses Mixed Reality to honor the NFL100 team prior to the SuperBowl | Via: NewscastStudio
Along with new insert graphics, augmented reality was also at the forefront of Fox'sSuper Bowl LIV coverage in Miami. The network featured a dynamic mixed reality presentation during the pregame festivities to celebrate the NFL's 100 greatest, in honor of the league's 100th season. Produced and designed by The Famous Group using The Future Group's Pixotope solution, the piece created a series of virtual monitors and image frames on the field, intermixed with live cutaways to the honorees in attendance. The effect was created in real time, combining the live stadium shots with the graphics, taking into account lighting conditions inside Hard Rock Stadium, with rendering from Epic Games' Unreal Engine.
Fox also used augmented reality elsewhere, throughout both in-game and wraparound coverage, including graphics connected to SkyCam footage with new optical tracking from SMT.
⬆️ The Upside: We believe this was a great move by the NFL. When it comes to AR overlays on live TV, the NFL, through its broadcaster partners, has been a pioneer in that space, but other leagues such as the NBA are catching up. In fact last year, the NBA teamed up with Second Spectrum to show live statistical data of NBA players as AR overlays on ESPN. The NHL is also expected to go down that path soon. It will help enhance the fans experience, attract new sponsors and help increase viewership long term.
? Barcelona unveils 24/7 streaming service Barça TV+ | Via: Insidersport
Reigning La Liga champions FC Barcelona has announced plans to launch a 24/7 streaming platform in the spring of this year. The subscription-based over-the-top (OTT) service has been named Barça TV+ and will feature video content, on-demand first team highlights, player interviews and archive footage.
Barcelona's board member Dídac Lee stated: "Our competitors are no longer only the clubs playing football – there are new players we may not have expected ten years ago, such as Netflix, YouTube, Fortnite, MindCraft. Traditionally, we have been working with the biggest platforms in the world.
Barça TV+ is set to allow subscribers to live stream a host of Barcelona content, including B team matches and Barcelona women's homes games as well as first team press conferences. Finally viewers will also have access to non-live content from the club's other sports teams which includes its basketball and roller hockey teams.
Gullem Graell, Barcelona's chief marketing officer, concluded: "It shows us that the platform where our strategy sits is extremely powerful.
"Instead of doing that, we have changed the frame of who our competitors are. If we only consider the sports clubs, we are already there; the job is done. If we are competing with other companies such as Netflix or Disney, we are way smaller.

"Until now, we leverage this potential through third-party platforms, which is where our fans normally consume the sports content. Today, while keeping the effort in this space, we are adding on top of that a direct [route] to the fan with our own platforms."
While the club has yet to confirm a price it has been announced that the amount will depend on the country in which the purchase is made.
⬆️ The Upside: We believe this is a good move by FC Barcelona. As their execs pointed out, pro teams are facing increased competition from the likes of Netflix, Amazon, Disney who are seeing sports content as king and a way to attract new subscribers. So why couldn't pro teams take a cut of the pie and bring this in house and launch their own OTT/video streaming service? This is part of a bigger trend around subscription based services which we highlighted in our 2020 sports tech predictions earlier this year. A few months ago, Real Madrid made headlines when it announced the launch of a Facebook subscription services with exclusive content for $2.77 per month. The math is fairly simple: Real Madrid has 174M fans globally, so assuming that only 1% of their fans sign up for the service, they would generate an additional $57.8M in incremental revenue every year. We expect other big clubs to follow suit and jump on the bandwagon.
Picture: Barcelona FC
---
? Wearables, Health, Nutrition News
⌚ The four-year-old Samsung Gear S2 just got a surprise update | Via: Wareable
You can't accuse Samsung of neglecting older watches, as it's emerged the four-year-old Gear S2 smartwatch is in line for a new firmware update. It's been a couple of years since the model last received any attention, though, as spotted by Sammobile, the watch's latest software rollout will see battery life and security improvements. It's not entirely clear how far the new update will stretch, or whether it's limited to devices in certain territories, but users will be able to download it from the Galaxy Wearable app. From the app, simply head to 'Watch Software' before tapping 'Download and install'.
We're yet to see the 6.79MB file pop up in our app at the time of writing, but there are a couple of reports to suggest that the update will also bring the interface of the Galaxy Watch Active 2, the company's latest smartwatch. Of course, it's a bit of a surprise move by Samsung, particularly when it's on the cusp of potentially launching another flagship of its smartwatch, the rumored Galaxy Watch 2.
⬆️ The Upside: We believe that this is a logical move by Samsung. It was actually a bit overdue as battery life and security issues are important to resolve in a timely manner. Moving forward we expect Samsung to innovate when it comes to the biosensing capabilities of its smart watch offering. One possible approach would be for them to team up with Valencell to add BP monitoring and sensing capabilities.
Picture: Samsung
---
? eSports & Crypto-Currency News
? Gareth Bale launches esports team for Fifa eClub World Cup | Via: Esports Observers
Gareth Bale has launched a new esports organisation called Ellevens Esports, with a team from the franchise set to make their debut at the Fifa eClub World Cup in Milan this week. The venture is co-owned by Bale and 38 Entertainment Group, founded by investor Jonathan Kark and former footballer Larry Cohen.
The Wales and Real Madrid winger has also invited gamers from around the world to participate in a talent hunt where they will be given a chance to sign a professional contract with Ellevens Esports.
"There are similarities between football and esports in that it takes real dedication and sacrifice to reach the top of your game," Bale said in a statement.
⬆️ The Upside: We believe that this is a great move by Gareth Bale. Bale is following a big trend among pro athletes (Shaq, Rick Fox, Michael Jordan, Steph Curry, Andre Iguodala, Kevin Durant..) who have been investing and endorsing many esports ventures in order to capitalize on the fast growing esports market which passed the $1B in revenue for the first time last year.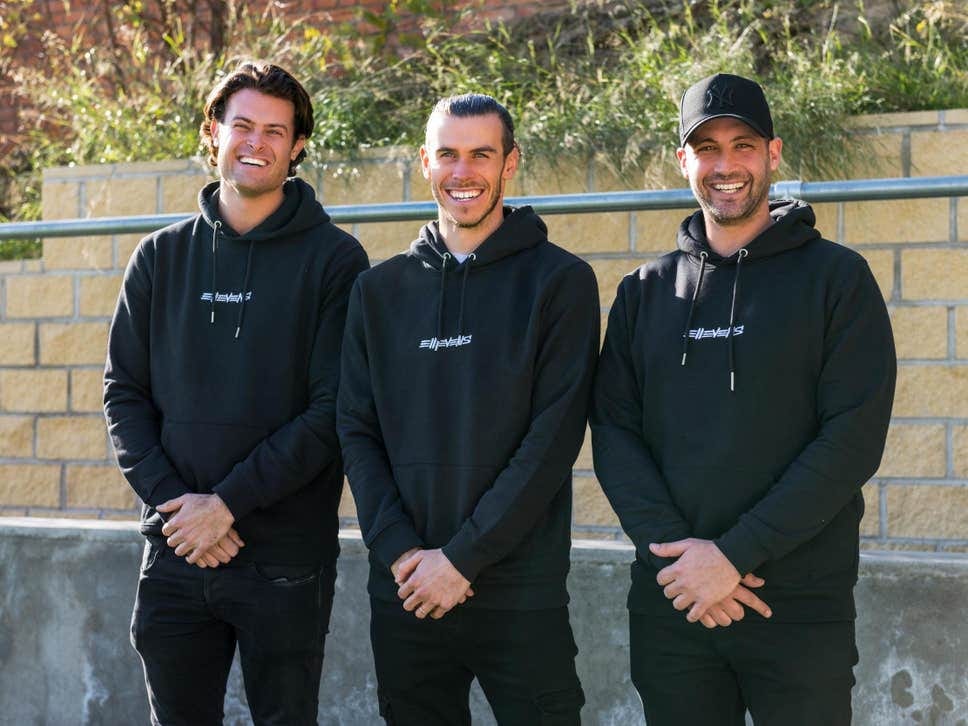 Picture: Elleven eSports, Gareth Bale
? Gary Vaynerchuk Explains the Number One Reason He Invested in the Call of Duty League | Via: Esports Observers
Last weekend, the Minnesota Røkkr hosted the first-ever home market event for the Call of Duty League in Minneapolis. From day one, the CDL will look to engage local fan bases for each of its 12 franchises as each plays host to league competition throughout the year.
The Overwatch League kicked off the city-based esports era in 2018, and that model has already provided at least on regional sponsorship (the Houston Outlaws and grocery store chain HEB) that would not have been viable otherwise. However, for Røkkr owner and VaynerMedia CEO Gary Vaynerchuk, the localization model gives the CDL an advantage for more than just local sponsors.
"I'm less about the strategy of [sponsorships in local markets], Vaynerchuk told The Esports Observer. "I'm more into what it actually means to somebody who could be casual, or not aware at all, and the tribalization of local sports."
⬆️ The Upside: We believe that Gary Vaynerchuk is pot on there. This is part of a bigger trend in the world of esports. As we mentioned in our 2020 sports tech predictions, we are starting to see the emergence of localized esports academies and events where pro teams and leagues are tapping into the local talent to create esports academies and teams. This is also where companies like esport supply are set to play a key role in helping pro teams and leagues set up local academies, facilities and esports programs.
Picture: Gary Vaynerchuk
---
? Sports Investment (Fund raising, M&As) Trends — February, 2020
Iguadalo's NBA career might be on standby right now but he is turning into a true Venture Capitalist as he joins Comcast Ventures. Read on here.
North American organization FaZe Clan has entered into a $22.7M convertible loan facility. Read on here.
---
? Key Tech Sports Stats of The Week
$1.1T: The global Internet of Things (IOT) market is projected to reach $1.1T in revenue, with 25B connected devices, according to the GSMA.
Picture: GSMA
$20B: Instagram generated $20B in annual revenue in 2019.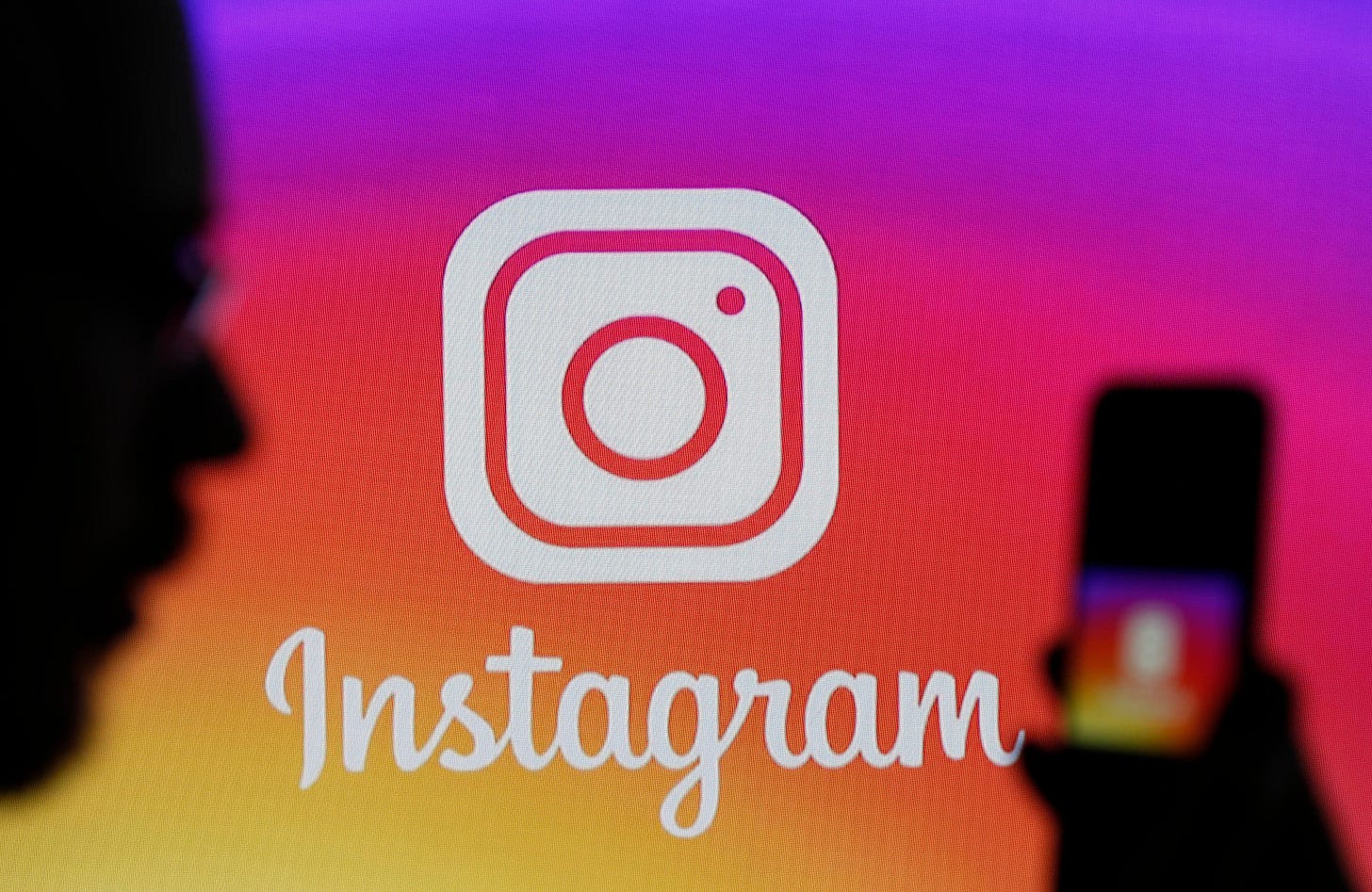 $16B: Throughout 2019, Americans legally wagered a record $13B, according to data from the American Gaming Association. That is nearly double the $6.6B that was wagered legally across the U.S. in 2018.
The handles seen by each state with legalized sports betting in 2019, via the AGA:
Arkansas: $11 million
Delaware: $103 million
Indiana: $436 million
Iowa: $212 million
Mississippi: $369 million*
Nevada: $5.3 billion
New Hampshire: Sports betting launched 12/30/2019
New Jersey: $4.6 billion
New Mexico: N/A*
New York: N/A*
Oregon: $45 million*
Pennsylvania: $1.5 billion
Rhode Island: $246 million
West Virginia: $226 million
102M: 102M people watched the Super Bowl this year.
31M: Apple now sells more watches than Swiss watchmakers! Sales of Apple Watch jumped 36% with 31 million units sold in 2019. It now significantly exceeds the sales of a declining Swiss watch industry according to Strategy Analytic.
Picture: Apple
$3.3M: Here is a list of the top earners (monthly salary) among players in the French soccer league..is that fair? Ask PSG:)
50: For the first time in 50 years, Kansas City fans enjoyed an extraordinary evening. Their sleep stats showed for celebration.
Picture: Fullpower Technologies
x1.7: Microsoft's commercial featuring 49ers offensive assistant coach Katie Sowers, had a 1.7x greater positive sentiment with female fans than the average commercial from technology brands during the game Sunday night, according to Zoomph's latest NFL Report.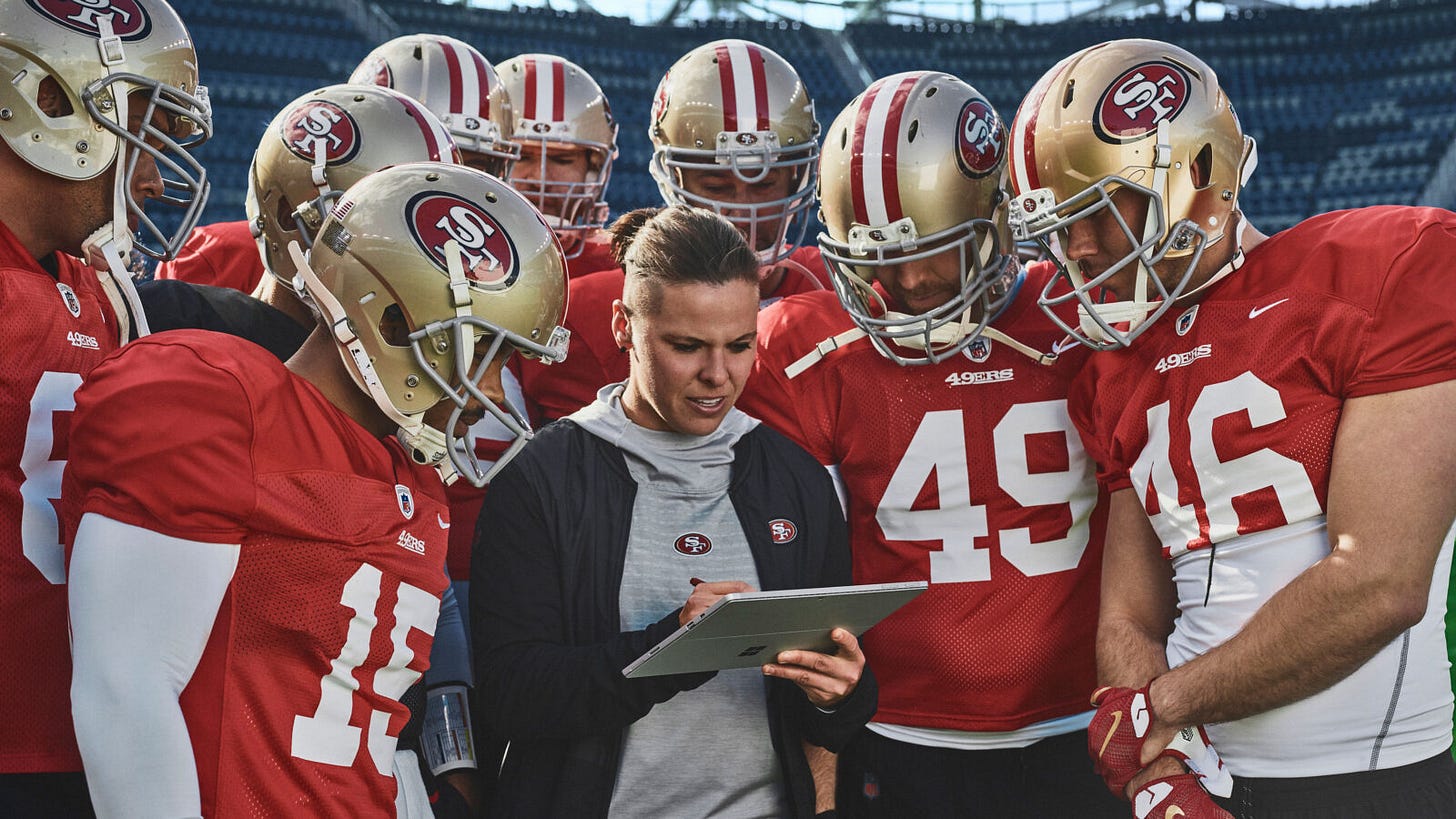 Picture: Katie Sower
---
? The Upside: Snapshots & video of The Week.
Video: Lakers' LeBron James pays homage to Kobe Bryant by recreating classic dunk. Whether he did it on purpose is unknown, but Los Angeles Lakers superstar LeBron James recreated a classic Kobe Bryant dunk last Thursday against the Houston Rockets at Staples Center.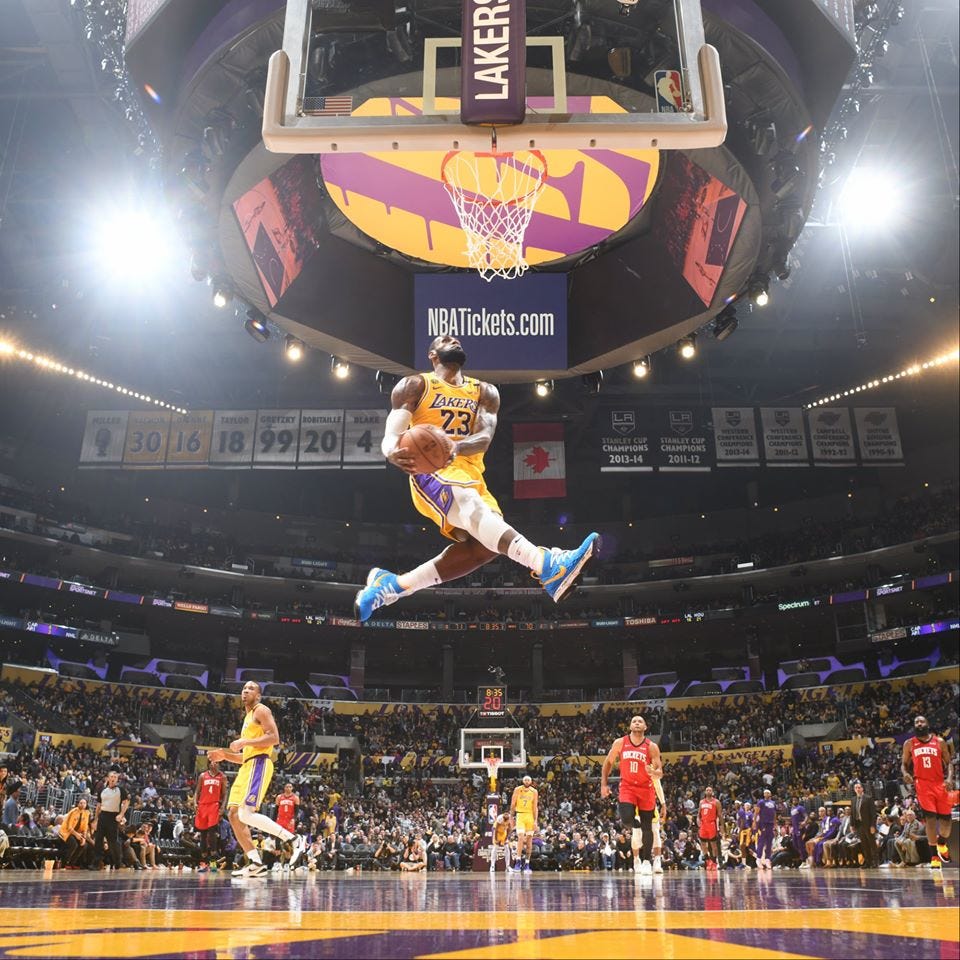 Picture: Lebron James (LA Lakers)
Philippines pay tribute to Kobe and Gigi. A large drawing shows basketball legend Kobe Bryant and daughter Gianna at a basketball court in Taguig, south of Manila, on Jan. 29, 2020.