Dear Friends and Members,
Last Friday, we published our American Football tech analysis, in which we discussed the current and future tech trends in the American Football tech market for the coming years. To access this analysis be sure to sign up for our premium subscription by clicking the "subscribe now" button below.
Looking for access all of our previously published analysis, insights, data, podcast interviews, and more? Subscribe now to unlock access!
On Friday we plan to publish our next weekly sports and tech analysis.
? Top Stories We're Reading This Week
? Virtual reality batting practice head-set is LA Dodgers (MLB)' real-life preparation tool
⌚️ Apple Watch Series 5 photo may have just been shared on Instagram
⌚️ Xiaomi Mi Band 5 is already in development according to Huami
⌚️Urband X – The world's most accurate gesture control device is almost here
? Busy Day for Activision Blizzard's Esports Leagues
? Latest Investment Trends
? Tech Stats of the Week
? Snapshots of the Week
Let's jump right into the insights and upside for all of these top stories
---
? AR/VR/Video Sports News
? Virtual reality batting practice head-set is LA Dodgers (MLB)' real-life preparation tool | Via: LA Times
Matt Beaty had seen it before. The floppy blond hair. The low leg kick. The towering overhead release point. The blistering sinker with late, devastating bite.
Beaty had never faced Noah Syndergaard before the Dodgers' game against the New York Mets on May 29 . But thanks to the newest hitting tool at the Dodgers' disposal, the rookie already had a feel for Syndergaard's stuff. When he stepped to the plate, he knew what to expect.
Beaty is among a growing contingent of Dodgers embracing virtual reality batting practice, a cutting-edge device that uses a VR headset to create immersive visual experiences and simulate at-bats against opposing pitchers.
The release point, velocity and movement of pitches thrown by any MLB pitcher against the backdrop of any stadium can be summoned with a few keystrokes and observed through the headset. Batters can hold a miniature bat with a toggle they press to indicate when they'd begin a swing, or they can merely watch the computer-generated pitches.
Like learning the litany of features on a new smartphone, the Dodgers — who are fully implementing the device for the first time this season — have explored the best way to incorporate the VR system, which is manufactured by WIN Reality and used by nine or so teams. For a club hoping to finally win a World Series after back-to-back National League pennants, the technological toy has become a new tactic for improvement.
"It just adds to the familiarity [at the plate]," manager Dave Roberts said. "It's not really taking the swing, it's just more seeing where the ball comes out of, the flight, the lane the ball is getting to home plate."
⬆️ The Upside: We believe that VR training systems created by companies like WIN Reality have great potential to help baseball teams improve training. Over time we expect those types of VR training systems to be embedded with live biosensors to get real time feedback on players' performance.
Picture: WIN Reality
---
? Wearables, Health, Nutrition News
⌚️ Apple Watch Series 5 photo may have just been shared on Instagram | Via: Wearable
A picture posted on Instagram may have given us our first look at the Apple Watch Series 5. The snap, shown below, was spotted by Slashleaks, which was apparently uploaded by an Instagram user in France. It appears to show off what, at first glance, looks like an Apple Watch Series 4.
Apparently, what might give away this is something new and not the current Watch is some of the information displayed on the watch screen. It shows that the smartwatch is running watchOS 6 and is an LTE model, judging by the Orange France network displayed below the software version number.
What's more interesting here is that the model number on the watch is A2157. That is one of a series of new model numbers that was included in official Apple documentation filed with the Eurasian Economic Commission earlier this week.
Now, we live in a day and age where images are easily doctored, and this could well be the case here. But if this does give us a glimpse at Apple's new Watch, it seems that we can expect a design that won't shift too far away from the Series 4.
That wouldn't be all that surprising, considering the design changes made to the Series 4 were the most radical ones made since the original launched, offering bigger screens and bigger model sizes.
This alleged Series 5 pic could also suggest that most of the new features will come in the software department. That would tie in nicely with a report in Bloomberg that claims this year's Watch will offer more "muted" changes and will focus on new features introduced in watchOS 6.
The report also referenced the assets discovered in the latest watchOS 6 beta that suggested Apple could launch new Watch models in titanium and ceramic models. If accurate, it would be the first time Apple has launched a smartwatch with a titanium case option.
What a picture like this can't show us is whether Apple will change up things on the display front, something that has been rumored to appear on a future Apple Watch. Speculation that an Apple Watch with MicroLED display was in the works resurfaced last month after we first heard reports of the display switch-up earlier this year.
Whether Apple has something new in store for us or not, it seems all may be revealed on 10 September. That's the date Apple is tipped to introduce a host of new hardware that could include some new Apple Watches for us to play with.
⬆️ The Upside: Such leak has to be taken with a grain of salt. That being said, we expect the new Apple Watch to have very small incremental improvements. There won't be a revolution..but Apple is such a dominant player when it comes to the smartwatch market so it does not have to push boundaries in terms of innovation.
⌚️ Xiaomi Mi Band 5 is already in development according to Huami | Via: Wearable
Huami, maker of Xiaomi's hugely popular Mi Band fitness tracker, has confirmed it's already working on the Mi Band 5 with the Chinese tech giant.
All was revealed during a Q&A session after Huami's Q2 2019 earnings call, in a response to a question about whether the company would continue to cooperate with Xiaomi in the future, and whether it would still produce the Mi Band 5.
"We are actually developing Mi-Band 5 with Xiaomi," said Wang Huang, founder, chairman of the board and chief executive officer at Huami.
In a further question about Huami's future product lineup, Wang confirmed that the work on the next-generation Mi Band is already happening and talked about a possible Mi Band 5 launch window.
"We do not have – we do not have a fixed time when we're going to launch Mi-Band 5. But I would say that we have already started working on Mi-Band 5 with Xiaomi and it's not going to take that long. So we just launched Mi-Band 4, but potentially toward the [Indecipherable] of next year, we may launch Mi-Band 5."
It's not the biggest surprise to hear that the two companies will work on another iteration of the affordable fitness tracker. When the Mi Band 4 went on sale back in June, sales hit the 1 million mark in just 8 days.
While maintaining a budget price tag it did still manage to introduce some big new features including a color touchscreen display, swim tracking and improved smartwatch features like music playback controls. We were big fans too, and scored it 4/5, the highest we've given a Mi Band. We even recommended it as one of the best budget fitness trackers to buy.
Huang stated that it will "continue to work closely with Xiaomi on new product releases," and said that its long-term plans with Xiaomi and the popular Mi-Band product line remain unchanged.
He added that it was looking forward to "developing and producing future generations of the Mi-Band, including variants targeting different global market segments and customer profiles."
Unsurprisingly, there wasn't any talk in terms of what features we could see in the Mi Band 5. But perhaps features that were speculated to arrive for the Band 4 like ECG and features, which have appeared in Huami's Amazfit wearable range, could make the leap onto the next Mi Band.
⬆️ The Upside: We believe that Xiaomi will likely introduce new features like ECG to the mi Band 5. By doing so it would become one of the cheapest wearables out there capable of measuring ECG. It should help Xiaomi remain a key player at the low end of the wearable market.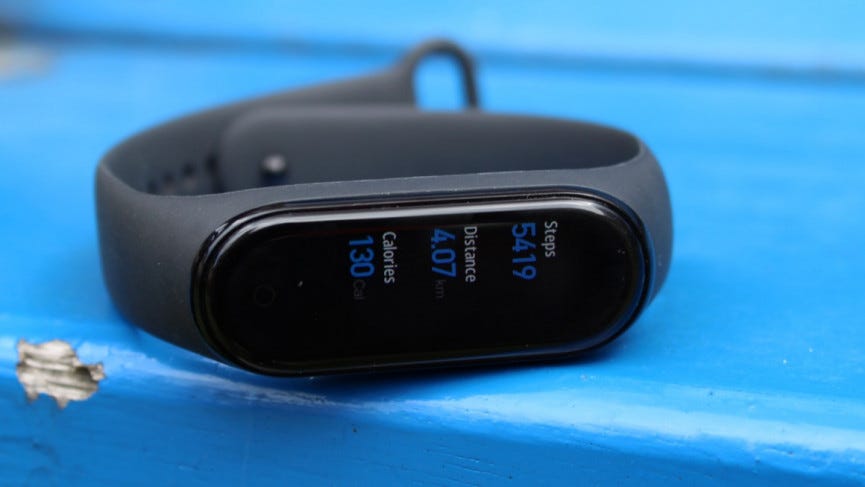 Picture: Xiaomi
⌚️Urband X – The world's most accurate gesture control device is almost here
Gesto Inc., a Silicon Valley startup specializing in algorithms for gesture and motion analytics for wearable and mobile device manufacturers is about to launch its own product for the first time ever.
Urband X is a rugged gesture control smartband made for everything from extreme adventure to everyday use. It goes with you wherever you work or play – snow, surf, dirt, or concrete Urband X let you control your music (skip tracks or set the volume), dismiss calls, send automatic text messages, and even control your action camera with simple hand gestures.
Its gesture control algorithm uses machine learning techniques and a neural network to differentiate between a regular movement of the hand (e.g. while running, lifting, skating) and one pre-programmed to control your devices. The patented algorithm scores higher than 85% accuracy.
"Our goal is to bring perfect gesture recognition to all devices in the world," says Co-founder & CEO "Pacs". "But with Urband X we want people to break free from their phone and use our fashionable smartband while training, commuting, or in situations where we don't have a chance to take out our phone from the pocket or backpack."
So they're inviting everyone to sign up to their mailing list and to secure up to 40% OFF when they launch our pre-order campaign in a few short weeks.
You can sign up here: launch.geturbandx.com
⬆️ The Upside: We believe that the Urband X is a great product that should appeal to many smartwatch users who want to control their music playlist while training or commuting. It also remains us of another technology created by Google called Project Soli a great finger gesture technology, which is expected to be available on the upcoming Google Pixel 4. These types of new gesture technologies are great as they can enable new handsfree use cases.
---
? eSports & Crypto-Currency News
? Busy Day for Activision Blizzard's Esports Leagues | Via: Front Office Sports
The game publisher's two franchised esports leagues – the Overwatch League and the upcoming Call of Duty league – both made big announcements regarding their respective upcoming 2020 seasons.
The schedule for the Overwatch League's 2020 season, which will be its third, was announced last week with particular significance: it will be the first time that competitions will be played entirely at the team's local venues. To date, the vast majority of matchups have been held at Blizzard Arena in Burbank, California.
Unlike other esports properties, Overwatch League was created with the home-and-away dynamic from traditional sports in mind, aiming to allow teams to not only cultivate a local fanbase but also unlock the revenue opportunities that come alongside that.
In the 2020 season, each of the league's 20 teams will host at least two homestands, beginning with matches in both Dallas and New York on February 8. If successful, the localized team format could redefine how other properties and game publishers approach esports leagues.
That local approach is also being used in the Call of Duty league, which is launching in 2020.
Having already confirmed teams in Atlanta, Dallas, Los Angeles, Minnesota, New York, Paris and Toronto, the CoD league added two more last week.
– Misfits Gaming, an esports organization based in the U.K., acquired the Florida franchise
– Kroenke Sports & Entertainment, the holding company that oversees a variety of sports investments ranging from the Premier League's Arsenal FC, MLS's Colorado Rapids, the NBA's Denver Nuggets, the NFL's Los Angeles Rams and the NHL's Colorado Avalanche, acquired the league's second Los Angeles team.
Both organizations also own teams in the Overwatch League in the same respective markets.
Activision Blizzard has set the price for a franchise in the Call of Duty league at $25 million, according to ESPN.
⬆️ The Upside: We think this is a great move by Action Blizzard, which has become a key player in the esports scene. We believe that the localized approach makes a lot of sense and it will help further drive the growing popularity of Overwatch and The Call of Duty League.
Picture: Activision Blizzard
---
? Sports Investment Trends — August, 2019
India's online gaming company Global Esports announced a multi-million dollar deal by raising their seed round of funding from Venture Catalysts. Read on here.
---
? Key Tech Sports Stats of The Week
$4.1B: Since 2010, New Balance has expanded its global sports portfolio into sports like basketball, baseball and tennis. The result? An increase in worldwide sales from $1.78B to $4.1B in 2018 – about a 130% bump.
$37M: NBA stars and former Warriors teammates Steph Curry and Andre Iguodala were part of a group that invested into esports organization TSM.
$31M: New York City Comptroller Scott Stringer called an early foul on the US open tennis tournament's organizers, accusing them of underreporting revenue and owing back rent of the use of the Open site in Flushing, Queens. Stringer accused the USTA of underreporting at least $31M in revenue over the last four years and that the city was owed $311,000 in back rent, according to the New York Times.
$26M: NBA legend Michael Jordan led of a group that invested into esports gaming organization aXiomatic Gaming.
15M: With 15M Instagram followers, the UFC now has the second-largest North American sports account on the platform. The NBA leads the way with nearly 40M followers.
$3.6M: Per @MVPIndex, brands generated a total of $3.6M in sponsorship value at 2019 FIFA Women World Cup 2019.
850,000: The 2018 US Open tennis saw nearly 830,000 attendees at both the qualifier and main-draw tournaments. With 90 to 95% of 2019 tickets already sold out, the USTA hopes to hit 850,000 attendees this year.
62%: According to SRi's Decoding study, 62% of US sports fans view attending a sporting event as a full entertainment experience and enjoy doing more than just watching the game.
---
? The Upside: Snapshots of The Week
XFL Unveils Team Logos And Names. The XFL took the latest step towards its Spring 2020 launch yesterday, unveiling the brands of the eight teams that will feature in its inaugural season.
The teams are as follows:
DC Defenders
Dallas Renegades
Houston Roughnecks
Los Angeles Wildcats
New York Guardians
St. Louis BattleHawks
Seattle Dragons
Tampa Bay Vipers
Picture: XFL's teams logo