Rafa Nadal is now the first player, male or female, to win the same major twelve times, after winning Roland Garros this weekend
Dear Friends and Members,
Last Friday, we published our Tennis Tech analysis, in which we where we discussed the segments, key players, and current and future trends for the coming years. To access this analysis be sure to sign up for our premium subscription by clicking the "subscribe now" button below.
Looking for access all of our previously published analysis, insights, data, podcast interviews, and more? Subscribe now to unlock access!
Source: Sports Tech Advisors, 2019
On Wednesday, we will publish our video interview with Dr Ting, a world's class orthopedic surgeon. Dr Ting, who has worked with top athletes like Tiger Woods, Yao Ming (NBA), Landon Donovan, just to name a few, gave us a tour of his clinic in Fremont CA and showed us the latest and greatest technologies he has been using for his patients. Of note, please note that this is the series of video interviews with top experts, pro teams, leagues in the world of sports and tech to discuss the latest trends and technologies. It will be available to "premium" members only so don't forget to sign up for the premium membership.
Picture: Dr Ting, Video interview
On Friday we plan to publish an analysis on the tech sleeping and analytics market where we will discuss the key segments, players, current and future trends. To access this analysis be sure to sign up for our premium subscription by clicking the "subscribe now" button above.
? Top Stories We're Reading This Week
? Apple reveals ARKit 3 with RealityKit and Reality Composer
? Apple seeks AR glasses patent for hiding secret documents at work
? Google works with augmented reality tech startup Hello TeamSolar
? Mojo Vision shows off display technology for augmented reality
? Weekly Sports Startup Case Study & ROI: Cryotherapy, The Elite Sports's New Secret Sauce
? Flow headset is now approved to use neuroscience to treat depression
⌚️ Apple announcements: Apple Watch gets an upgrade at WWDC 2019
? Ferrari Joins F1 New Balance Esports Series for 2019
? ESPN launches EXP, a new gaming series focusing on eSports competitions
? Latest Investment Trends
? Tech Stats of the Week
? Snapshots of the Week
Let's jump right into the insights and upside for all of these top stories
---
? AR/VR/Video Sports News
? Apple reveals ARKit 3 with RealityKit and Reality Composer | Via: VentureBeat
Apple has used the last two WWDCs as opportunities to show off its latest and greatest augmented reality innovations, the ARKit and ARKit 2.0 software development kits for iOS, along with annual hands-on demos. This year, it's unsurprisingly showing off new augmented reality initiatives including ARKit 3, RealityKit, and Reality Composer, a collection of tools to make AR development easier.
ARKit 3 adds support for two major features: automatic real-time occlusion of people viewed by the host device's camera, and real-time motion capture with the camera. Face tracking now supports up to three people at a time when viewed by the front-facing TrueDepth cameras on iPhone X/XR/XS devices and iPad Pros, and developers can simultaneously access both face and world tracking on the front and back cameras at once. Live collaborative sessions are supported between multiple people, using a shared world map.
RealityKit is a high-level framework to enable developers to easily blend virtual objects with real world environments, automatically scaled to perform properly on multiple Apple devices, and handle the networking demands of shared AR experiences. It supports photorealistic rendering, new environmental and camera effects, and additional animation, physics, and audio effects. It natively integrates with ARKit, and has a Swift API.
⬆️ The Upside: This is a logical move by Apple to keep improving the capabilities of its mobile AR product. In our view, Apple has been smart by focusing on the mobile AR maket first a market that generated $3B in revenue last year. Why? Because there is essentially no consumer AR glasses market today. Apple is laying the foundations for its upcoming AR glasses, is already monetizing mobile AR, and learning about what iOS customers like, do not like about mobile AR.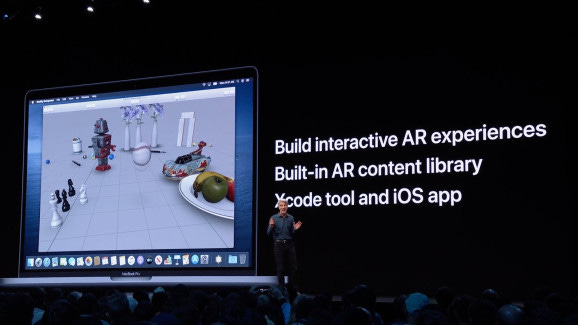 Picture: Apple's keynote
? Apple seeks MR glasses patent for hiding secret documents at work| Via: VentureBeat
Apple's on-stage revelations of new augmented reality initiatives have largely focused on ARKit software, but the company has also been working on mixed reality hardware, as patents and reliable reports have amply established. While some of the patent documents are just nuts-and-bolts pieces, others have been eye-catching and unusual, including a newly filed application (via Patently Apple) that appears to be targeted at the business world: a plan to let headset wearers see real versions of secret documents and input devices, while outside observers are presented with fakes.
The patent application suggests that a person will sit down with physical typing and trackpad surfaces while looking at a screen. To observers, the screen might show an image of a "dummy document" or screen saver, while the headset wearer will see an augmented image of the actual document in the same place. Similarly, the typing surface could have virtual key labels overlaid to prevent people from knowing what's actually being typed on either physical or flat touchscreen keys; a touchscreen's keys could be blacked out to people outside the headset.
⬆️ The Upside: This should not as a surprise to see Apple file this type of patent for MR glasses. Based on our internal sources, Apple is set to introduce an MR glasses product in the fall of 2020. We expect Apple to charge a premium for its MR glasses which will have an Hololens look and feel. Apple will be able to convert a good portion of its mobile AR users to its MR glasses offering.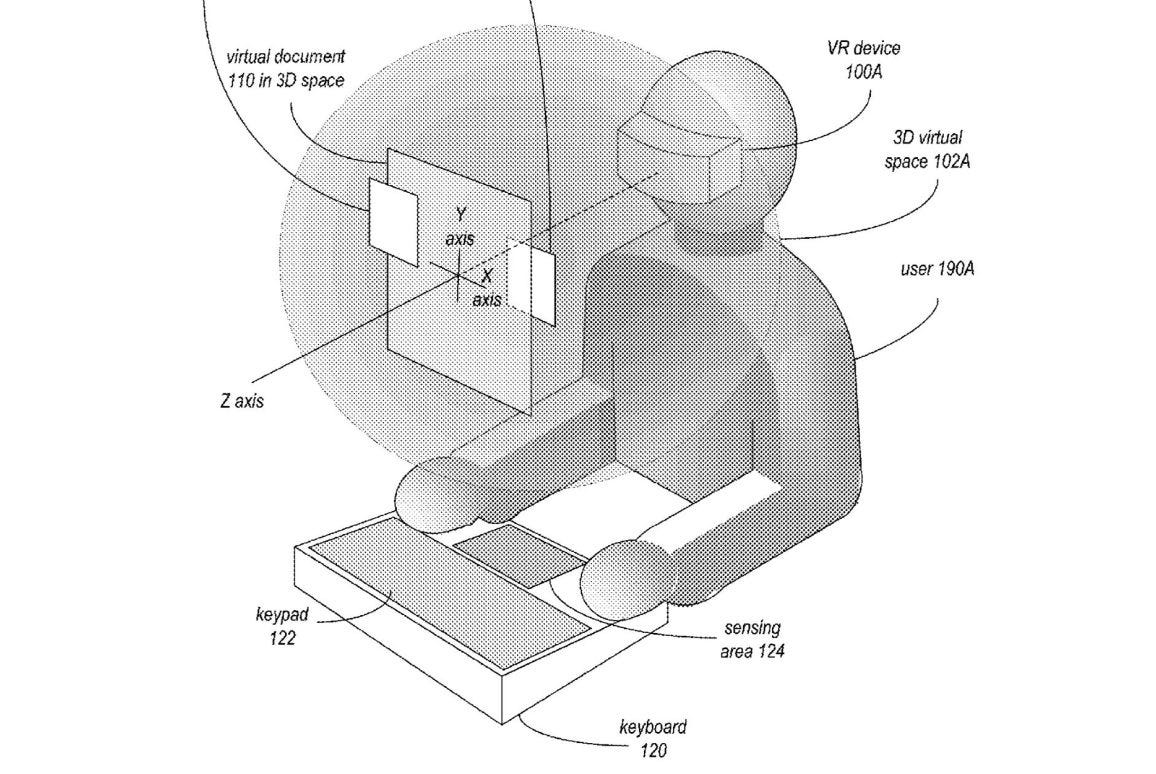 Picture: Apple
? Google works with augmented reality tech startup Hello TeamSolar | VentureBeat
Hello TeamSolar has partnered with Google on a project to create augmented reality (AR) technology focused on customized experiences in specific locations. As part of the deal, Google is working closely with Hello TeamSolar.
Hello TeamSolar is developing a platform for branded custom AR experiences to be played in large-scale settings across multiple devices in real time. The team will also be working with Google to create applications that support AR location-based services. The startup is creating a platform to deliver content via multiple devices with Google Cloud Anchors.
Archie Prakash, who is on the faculty of University of Southern California's Interactive Games & Media department, founded Hello TeamSolar along with Nick Fortugno, creator of Diner Dash and CEO of Playmatics, and Linda Franke, a former lecturer at UDK Berlin (Berlin Arts University). Hello TeamSolar participated in a game jam sponsored by Google and it won.
⬆️ The Upside: We think this is great move by Google. Google is putting the right pieces together to dominate the mobile AR platform war. In a way we see a lot of similarities with Google's Android or Google Assistant strategy. Google is good at building platforms that scale, so Google's goal seems to be clear here: Building a highly scalable mobile AR platform that will be used by top brands to create custom location based mobile AR experiences across various platforms (smartphone – tablet – connected glasses – connected cars..). Plus they are set to tap into the fast growing location based AR market expected to experience strong growth in the years to come.
? Mojo Vision shows off display technology for augmented reality | Venturebeat
What meets the eye is important—but in the case of entering the realm of augmented reality, how it meets the eye is an issue. A California company is on that case. They have technology to let AR users keep in the flow eyes-up. Hands-free.
They have been working on a tiny display for augmented reality.
The company, Mojo Vision, has had successful funding. Gradient Ventures, for one, pointed to a current interest in "using AI to look beyond today's mobile form factors and develop new ways to connect the world to important information."
We can see where a venture capitalist might be drawn to a claim that this is the world's smallest and densest micro display. VentureBeat said it was a 14K pixel-per-inch display coming out of this Saratoga, California-based company.
In fact, VentureBeat's Dean Takahashi said a prototype was shown at the Augmented World Expo event in Santa Clara and he saw a demo. Verdict: "It looks like they're putting their $108 million in funding to good use." Takahashi witnessed looking at moving images on a dot via a microscope. He said the prototype powers tiny pixels.
Lexy Savvides, CNET, also viewed a demo and she wrote that, instead of being shown a screen, "Mojo Vision has just showed me the complete opposite: a tiny monochrome display measuring half a millimeter across that I can only see under a microscope."
⬆️ The Upside: We think that Mojo Vision is an AR startup to watch for several reasons: (1) They raised $100M as an AR startup, which is something very few AR startups have managed to do. Ask ODG, Meta, and others. (2) Based on our sources, Mojo Vision intends to build some AR connected contact lenses using this tiny display technology. Now trying to put electronics and displays on the contact lenses themselves is something that many AR startups tried and failed to do. It remains to be seen if Mojo Vision will be able to pull this off…
Photo: Mojo Vision's original AR display technology
---
? Our weekly Sports Tech Case Study / ROI
Each week we'll highlight a sports tech case study with a technology that helped sports teams get a solid ROI (injury reduction, ticket sales improvement, cost savings, diversity improvement, etc.).
So what's our weekly sports tech case study?
In the world of elite sports, over the past 5 years, many pro teams, and athletes have started to use what's commonly known as cryotherapy. The goal? Fasten the recovery and ealing process, boost the energy level, and more.
So how does it work?
Cryotherapy involves immersing the body in air frozen to temperatures that can be lower than minus-150 degrees Fahrenheit for a short spell of time. The idea is the extreme cold helps the body recover faster, while also reducing injury, raising energy levels and even improving sleep. While many athletes have long used ice baths, cryotherapy rooms or machines have become the preferred choice of many top sports stars, including soccer player Cristiano Ronaldo.
"The protocol is they stay 20 seconds in the first chamber at minus-60, then they enter the other chamber at minus-110, for three minutes normally," said Mathilde Poignard, a PhD student in physiology and sports science who looks after the whole-body cryotherapy chambers and is writing a study examining the benefits.
Other world's class orthopedic surgeons like Dr Ting have been using cryotherapy rooms for several years now for his patients in the NBA, NHL, NFL, pro Moto racing.. and he believes that it is the future of sports recovery as it shocks the body of athletes which stimulates things like glycogenolysis (a breakdown of glycogen) which is key to recovery. In fact for rapid recovery from prolonged exercise, it is important to replenish muscle glycogen stores and initiate muscle tissue repair and adaptation
"It shocks the body thinking that something bad is happening (..) It stimulates glycogen", said Dr Ting during our video interview set to be published this week.
As noted earlier, Dr Ting gave a tour and sneak pick of his cryotherapy machine. We plan to publish the video interview on Wednesday.
So which players and teams are using cryotherapy today?
Athletes are prone to soreness and injuries, so whole body cryotherapy can help them heal. Athletes from various sports (soccer, basketball, boxing, hockey, track and field, tennis, etc.) have used cryotherapy.
For example, in 2015 prior to his fight with Manny Pacquiao, Floyd Mayweather often used cryotherapy following his training sessions. In a similar vein, athletes like Lebron James, Kobe Bryant, Shaquille O'Neal and Steph Curry have used cryotherapy following their training. Sprinters Usain Bolt and Justin Gatlin have used and loved this treatment as well.
Cryotherapy has also become a common practice in the world of pro tennis, with top players like Rafael Nadal, Stan Wawrinka (see picture below), Alexander Zverev, Novak Djokovic, Feliciano Lopez, Grigor Dimitrov, Serena Williams, Eugenie Bouchard, using it as part of their training.
Pro teams have also jumped on the bandwagon. Those include teams like the Warriors (NBA), LA Lakers (NBA), Phoenix Suns (NBA), Dallas Mavericks (NBA), New York Knicks (NBA), 49ers (NFL), SJ Sharks (NHL), Arsenal FC (Premier League), Manchester United (Premier League), just to name a few.
Picture: Pro tennis player Stan Wawrinka using Cryotherapy
Of note Cryotherapy also has become the recovery of choice for Hollywood celebrities like Hugh Jackman, Tony Robbins, Justin Bieber, Lindsay Lohan, Alicia Keys, Jessica Alba, or Jennifer Aniston, but Poignard said the jury is still out as to just how beneficial it really is.
"The main benefit is for the recovery and muscle soreness," she said. "But at the moment, there is no proof of other benefits, other than muscle soreness and the perception of muscle soreness. There are several studies about it, but some studies are contradictory and maybe depending on the context. … There is a different exercise, and it's difficult to compare and make one conclusion."
⬆️ The Upside: Based on our direct feedback from experts who used Cryotherapy with some of the world's best athletes, we believe that there is no question that Cryotherapy works and fastens the recovery of athletes. Many teams now are using this as part of their weekly routine. In some occasions, some athletes are even requiring Cryotherapy to be part of the recovery process which speaks to how popular and efficient it has become among the elite sports community.
---
? Wearables, Health, Nutrition News
? Flow headset is now approved to use neuroscience to treat depression | Via: Wearable
Swedish health tech startup Flow Neuroscience has been given regulatory approval in the UK to start selling its headset that's designed to treat depression without the use of medication.
Tapping into neuroscience and a technique known as Transcranial Direct Current Stimulation (tDCS), the headset is paired with the startup's AI-powered, app therapy program. It can be used in your own home and aims to reduce the effects of acute depression over an initial period of six weeks, with a follow up phase after that.
The companion app also includes guidance and tasks around how best to eat, sleep, exercise and meditate to combat depression, based on well established behavioural activation techniques.
"By doing this about 30 minutes a day, 18 sessions during a six week period – it's spread out – you can get a reduction in depression roughly equivalent to antidepressant medication," said Flow Neuroscience's CEO Daniel Mansson. "The big thing about this technology is that you get fewer and less severe side effects than with, for example, the newest forms of antidepressant medication."
⬆️ The Upside: Depression is a common mental disorder. Globally, more than 300M people of all ages suffer from depression. Medication to treat depression often has lots of side effects. With that in mind we believe that Flow Neuroscience's innovative approach with a headset designed to treat depression without the use of medication, is very compelling. And the fact that it has been given regulatory approval in the UK to start selling its product is a great accomplishment and it brings them more legitimacy.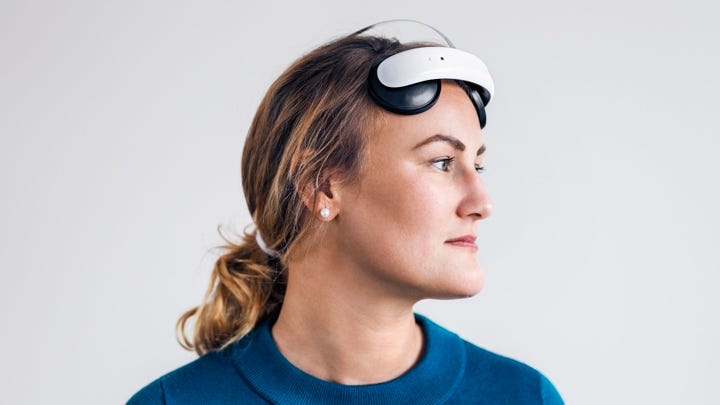 Picture: Flow Neuroscience's headset
⌚️ Apple announcements: Apple Watch gets an upgrade at WWDC 2019 | Via: Popular Science
The smallest Apple screen is getting a substantial design upgrade. There are several new faces, as well as a "haptic chime" that will buzz slightly on the hour or even make a quiet bird sound like a cuckoo clock.
From a software standpoint, the watch will soon get some new apps including audio books, a voice recorder, and even a calculator. The watch has a built-in tip calculator feature, which got a surprising amount of clapping from the audience.
The apps will run more independently without a companion phone, and as a result, the Watch is finally getting the App Store natively. You can buy and install apps directly from your watch instead of using your phone as a conduit.
The Apple Watch has been focused on health for a few versions now and there are some new health upgrades to go with it in WatchOS 6. The Watch will also track your workout schedule and notice when you start to slack off and try to motivate you. There's also a new Noise app that uses the device's microphone to identify when you're in an area so loud it could damage your hearing.
This year, Apple is officially announcing its Cycle Tracking app for tracking a user's menstrual cycle. It doesn't require a Watch so it will work on the phone, too. It's also free.
⬆️ The Upside: We think these are minor incremental improvements from Apple. But that's what Apple does. Tracking various types of activities is already a common feature among smart watch competitors. Apple has the luxury of having very local customers with high multiple device ownership. As we mentioned before, what Apple should do is focus on offering new valuable types of biosensors (sweat volume, stress level, fatigue level…) and insights to Apple Watch users.
Picture: Apple's keynote, WWDC 2019
---
? eSports & Crypto-Currency News
? Ferrari Joins F1 New Balance Esports Series for 2019 | Via: eSports Observer
The F1 New Balance Esports Series has already announced a longer season and larger prize pool for 2019, and now the league has expanded in another way by adding Scuderia Ferrari to the starting grid.
Ferrari was the lone holdout last year when Formula One and Codemasters decided to incorporate the official F1 teams into the esports league, as all nine of the other constructors established esports teams for the season. Now the entire pack will participate in the 2019 season.
The F1 New Balance Esports Series 2019 began its expanded online qualifiers in F1 2018 on April 8 across all three platforms: PlayStation 4, Xbox One, and PC. The top performers on each platform will be invited to the Pro Draft in July, where race-off events will determine the final pool of eligible draftees. Each of the 10 teams must draft at least one driver for its roster. Of note, the 2019 season is longer than last year, and has more than doubled the prize pool at $500K USD.
⬆️ The Upside: We think this is a good move by Ferrari which is an iconic brand in the world of F1. It was only a matter of time before seeing Ferrari part of this eSports league for F1 teams. F1 teams have become among the most active pro sports organizations to launch their own eSports teams and whenever a world's class F1 team like Ferrari join eSports it bring more credibility to the whole eSports industry.
Photo: Ferrari
? ESPN launches EXP, a new gaming series focusing on eSports competitions | Via: eSports Observer
ESPN announced last week the creation of EXP, a new gaming series featuring esports competitions at ESPN-owned events. Through a collaboration with Electronic Arts, Apex Legends will continue the EXP series at two ESPN events this summer: the ESPYS and X Games Minneapolis.
⬆️ The Upside: We think this is a great move by ESPN as one of eSports's most unique aspect is the ability to bring people from various backgrounds and give them a chance to start a pro career as eSports gamers. Because of that, unpacking the stories of those individuals is critical and ESPN understand that. They are not the only ones. The NBA had a similar strategies as it developed a document-series of the players in its 2K League.
We had all these really amazing backgrounds and stories and just stories we had to tell. (..) We learned that really in season two that that story needed to be unpacked more. So we've developed a docu-series that we now are releasing every week, just really telling those behind-the-scenes stories of the players behind the League and really their life stories (..) We had amazingly strong feedback about it, said Brendan Donohue, Managing Director of the NBA 2K League, during our podcast interview with him last week.
---
? Sports Investment Trends — June, 2019
eSport company MCES raises $2M seed, begins Series A fundraising. Read on here.
City Masters Operator MateCrate secures $1.57M Investment. Read on here.
---
? Key Tech Sports Stats of The Week
42B: According to GumGum Sports analysis, during the NBA season, jersey patches received 42B impressions, 121k total exposures and 3.2B total engagements on social media.
1B: In 2015, more than 760 million people tuned into the Women's World Cup, according to FIFA. This year, FIFA is aiming for 1 billion.
$225M: Serena Williams became the first athlete on Forbes' richest self-made women list. Forbes estimates that Williams has an estimated fortune of $225M.
$75M: The Dolphins are getting a new $75M+ practice facility. This is what it is going to look like.
$40M: Fox network owns the domestic broadcast rights for the Women's World Cup tournament in France and has seen brands like Coca-Cola, Verizon, and Volkswagon come on board for this year's tournament. According to Patel, the network did $40M in ad revenue during the last Women's World Cup in 2015. This year? Interest has "grown considerably."
$30M: The total prize fund for this year's Women's World Cup tournament in France is $30M, with the winners are set to receive $4M. That number is double what it was in 2015. In comparison, the Men's World Cup champion France brought home $38M from a prize pool of $400M (Source: USA Today).
$5.8M: Days before the Kawhi trade, McDonald's promised to hand out free fries whenever the Raptors hit 12 three pointers. They figured they would give away 700,000 medium fries in the season. Instead it was 2 million. That's $5.8M in French fries.
950K: According to Tom Gary of the BBC, a total of 950,000 tickets have been sold so far for this year's FIFA Women's World Cup.1.3M: According to France24, there are 1.3M tickets for sale for this year's World Cup tournament in France.
$500k: The NBA took swift action against Warriors Co-Owner Mark Stevens last week after it was discovered that Stevens was the fan who pushed Kyle Lowry during Game Three of the NBA Finals. Thanks to his actions, Stevens is banned from NBA games for a year and has been fined $500,000 by the league, a punishment that Adam Silver said is "appropriate" for what transpired.
60%: Forbes reports that 60% of Serena Williams' investments have gone to companies led by women or people of color.
45%: Viewership at the Women's World Cup tournament in France was up 45% for men aged 18-34 and it was up 75% for boys aged 12-17.
18: Yesterday Rafael Nadal won his 18th Grand Slam singles title (12 Roland Garros, 1 Australian Open, 2 Wimbledon, 3 US Open). He is only two lengths away from Roger Federer's record.
14: Last Friday Federer and Nadal met in the Roland Garros semi-finals for the first time in 14 years. The last time they met, the Spaniard was a 19-year-old en route to winning his first Grand Slam while his opponent was the top seed. Before the semi finals, Nadal and Federer have met 12 times at Grand Slams with the Spaniard leading 9-3.
12: Rafa Nadal is now the first player, male or female, to win the same major twelve times.
11: In the 69-year history of the NBA, teams that were down 1-2 in the Finals after the first three games won the title just 11 times. The 2-1 team, therefore, has an 84% chance of winning the championship while the 1-2 team's chances are at a low 16%.
---
? The Upside: Snapshots of The Week
Here is a a closer look at TomBrady's SBLIII Championship ring as he becomes the most decorated player in the league of all time. The New England Patriots SBLIII Championship ring is the largest Super Bowl ring ever made, according to @Jostens. Crafted in 10-karat gold, the ring features 422 diamonds and 20 blue sapphires.
As the FIFA Women World Cup kicks off last week, Google showing its support with its homepage Doodle.