Dear Friends and Members,
We just published our latest Analysis: Could sports teams become global lifestyle brands?, so be sure to sign up for our premium subscription by clicking the "subscribe now" button below.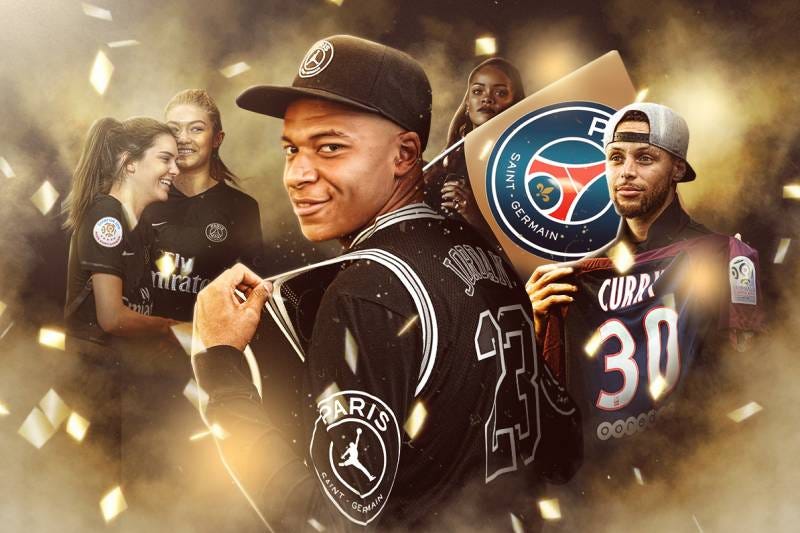 Looking for access all of our previously published analysis, insights, data, podcast interviews, and more? Subscribe now to unlock access!
Next week we will publish our latest weekly newsletter. As a reminder, in 1Q20, we plan to introduce a new major initiative that will better bring our sports tech community of thousands of sports tech execs (Pro teams, leagues, sports startups, VCs/investors, brands, etc.) together, so stay tuned!
If you have any questions about The Upside, need help with business development or fund raising, want to join our community of thousands of sports and tech execs (pro teams, leagues, athletes, investors..), or want to have access to our premium content, please check out Sports Tech Advisors and contact us at info@sportstechadvisors.co
? Top Stories We're Reading This Week
? World's First AR Contact Lenses Created By Silicon Valley Based Startup
⌚ Amazfit X curved smartwatch breaks cover – but it's still tinged with mystery
⌚ New Fitbit app can tell Versa 2 users how much they (or their partners) snore
⌚ Fitbit releases blood oxygen monitoring before Apple Watch
? Nike Expands Global Esports Presence With T1 Partnership
? Latest Investment Trends
? Tech Stats of the Week
? Snapshots of the Week
Let's jump right into the insights and upside for all of these top stories
---
? AR/VR/Video Sports News
? World's First AR Contact Lenses Created By Silicon Valley Based Startup | Via: FOSSBYTES
Mojo Vision, a startup based in Silicon Valley, has created the world's first AR contact lenses. These lenses will provide the users with one of a kind augmented reality experience. The company has filed around 100 patents after a lot of research related to smart contact lenses. Currently, the company is not going to manufacture the lenses on a large scale but the prototype of the lenses has been created. Mojo Vision has stated that the smart contact lenses will be the smallest with the densest display at 14,000 pixels per inch. One of the important things is that people will be unable to identify whether a person is wearing smart lenses or not. Users are guaranteed to have a unique experience as the information displayed on the lenses will be visible even after closing the eyes.
Mojo Vision's CEO Drew Perkins mentioned that the company intends to introduce invisible computing so that users can access information without any distraction as is the case with other wearable AR headsets. He concluded his statement by saying that the information from the AR-based contact lenses will be available only when users want it to. The information will vanish as soon as users move their focus away towards the real world.
⬆️ The Upside: As we mentioned in our 2020 sports tech predictions, we believe that we will see the emergence of AR/VR contact lenses emerging on the market in 2020. Mojo vision is set to be a leading vendor there, but they won't be the only one. Other startups like Emacula built some hybrid AR/VR contact lenses. Granted they are using a difference approach (LEDs on the glasses frames + contact lenses) and are not putting LEDs on the lens itself. Of note, IDC expects 32M AR glasses to be shipped WW by 2023.
Picture: BBC News, Mojo Vision
---
? Wearables, Health, Nutrition News
⌚ Amazfit X curved smartwatch breaks cover, but it's still tinged with mystery | Via: Wareable
After being teased as a concept device back in September, a new Indiegogo listing suggests Huami will soon launch the curved Amazfit X fitness tracker. The parent company unveiled the new-age design well before its most recent wares from CES – the Amazfit Bip S and Amazfit T-Rex – but it would appear it isn't done launching new devices. However, those who visit the listing can currently only register their interest, and, as of yet, there's no firm details on when the release date will be.
When we first saw the Amazfit X in September, the company did confirm it would launch in 2020 – and, unfortunately, that's not been narrowed down in the latest development, despite the existence of a listing suggesting it could be sooner rather than later. It's also not clear whether this will indeed be crowdfunded by the community, or whether Huami is simply using the platform as a way to drum up some interest and secure pre-orders for the tracker.
Stay tuned – we'll be updating this story when the Amazfit X Indiegogo page has more information added.
⬆️ The Upside: We believe this is a good move by Huami. However, it remains to be seen how the bendable display will impact the battery life of the device. Of note, there are already some other wearables in the market with bendable displays such as the ZTE Nubia Alpha watch. Ultimately we believe that 2020 will be the year of wearables with bendable displays. We expect to see other vendors (Samsung, Huawei..) to follow the footsteps of Huami.
Picture: Huami
⌚ New Fitbit app can tell Versa 2 users how much they (or their partners) snore | Via: Wareable
Fitbit is offering users the chance to add snore tracking to their list of monitored activities, debuting a new beta app for Versa 2 owners. In the 'Snore Detect Beta', which is available for a limited time to a small group of people through the Fitbit App Gallery, those who wear their smartwatch to bed will have the microphone listen out for snoring and deliver results the next morning.
This will tell you the intensity and duration of your snores – or the person/pet you're sharing a bed with – as well as feedback on the general sound level in your bedroom.
Add this to the fact that Fitbit is unlikely to reveal any 'big' new features – such as the long-awaited sleep apnea detection – until the Google takeover is complete, and we'll take any new developments we can get right now.
⬆️ The Upside: We believe that this new feature from Fitbit makes sense. It is adding value to its existing product line. Snoring is a global phenomenon. In fact, according to various data, snoring may affect about 2B people worldwide. If this feature gains traction among Fitbit user base we would not be surprised to see some of its competitors (Samsung, Apple, Huami, etc.) adding a snoring feature to their wearable fitness offering down the road.
Picture: Fitbit
⌚ Fitbit releases blood oxygen monitoring before Apple Watch | Via: 9to5Mac
Fitbit is rolling out the ability for some of its smartwatches and fitness trackers to track blood oxygen levels (Sp02) with a software update. While Fitbit has been struggling for some time and was recently purchased by Google, this is a notable upgrade for existing customers and comes ahead of Apple Watch gaining the feature.
When the original Apple Watch was released back in 2015, it was discovered by iFixit that it appeared to have the capability to monitor blood oxygen levels. While we've seen many great health features and advancements from the world's most popular smartwatch, SpO2 is something Apple still hasn't delivered (although it has offered VO2 max for some time). Sp02 levels help with more accurate sleep tracking and detecting health issues like sleep apnea.
⬆️ The Upside: We believe that it makes sense for Fitbit to add such feature to its offering as well. It is worth pointing out that a growing number of competing vendors already offer such feature. When blood oxygen level is too low compared to the average level of a healthy person, it can be a sign of a condition known as hypoxemia.
Image via Tizenhelp
---
? eSports & Crypto-Currency News
? Nike Expands Global Esports Presence With T1 Partnership | Via: eSports Observer
Global esports organization T1 Entertainment & Sports has announced an exclusive apparel partnership with Nike. The deal encompasses all T1 players and teams, including the organization's Korean League of Legends squad, which to date has won three World Championships – the most of any single organization.
Nike will work with T1 to open a new training facility at the organization's headquarters in Seoul, South Korea, and help to design training programs to "enhance the athletic capabilities of T1's players and teams," according to a release.
"We're interested in understanding and learning more about the relationship between improved physical fitness and athleticism as it relates to gaming," said Brant Hirst, marketing director at Nike Korea. "These athletes have unique skill sets that we believe we can help them improve through tailored training methods."
⬆️ The Upside: We believe that this partnership with T1 makes sense. This is part of a growing trend among sports apparel companies (Puma, Foot locker, adidas..) to team up with esports organizations in order to tap into the growing popularity of the world of esports, which reached the $1B mark in revenue last year. We expect to see more sports apparel companies to follow suit.
---
? Sports Investment (Fund raising, M&As) Trends — January, 2020
Equinox, the luxury gym chain operator and majority owner of SoulCycle Inc., is in advanced discussions to secure new funding from investors including private equity firm Silver Lake. Read on here.
London-Based Esports Betting Startup Midnite raises over $2.5M in Funding. Read on here.
---
? Key Tech Sports Stats of The Week
$10-14M: ESPN is preparing an offer that would make Tony Romo the highest-paid sportscaster in TV history, with a multi-year deal that would pay him between $10 million to $14 million annually, according to sources and as first reported by Front Office Sports.
$5M: The amount MLB fined the Astros for using a camera-based sign-stealing system to cheat during the 2017 season. The $5M fine is the highest allowable fine under the Major League Constitution.
91.2%+: Better than forecast sales and increased interest has led the budget for personal seat license sales at the Raiders' new Las Vegas stadium to increase by 91.2%, according to the Las Vegas Review-Journal. Originally projected to bring in $250 million, PSLs for Allegiant Stadium have already brought in $478 million, according to financial reports.
91: Real Madrid stretched their unbeaten run to 91 days with a 2-1 win over Sevilla on Saturday afternoon.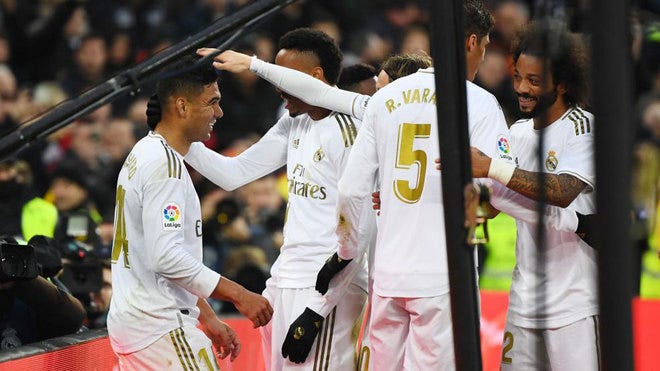 59.6%: According to a new report from USDish.com, Super Bowl LIV is the most anticipated sports event, with 59.6% of respondents saying they planned on watching the game. The Summer Olympics received the fourth-most responses, with 41.6% saying they planned on watching the Games. Also in the top five was the Macy's Thanksgiving Day Parade (45%), the New Year's Ball Drop (42%), and election coverage (40.9%).
+53%: The WNBA is making big bets on her players. Last week it announced a 53% increase in total cash compensation, consisting of base salary, additional performance bonuses, prize pools for new in-season competitions, and league and marketing deals. The average cash compensation for players will exceed six figures for the first time in league history, averaging nearly $130,000.
20: Last weekend, teenager Erling Haaland came on for his Borussia Dortmund debut with his side 3-1 down against Augsburg. He then score a hat trick in 20 minutes as they won 5-3.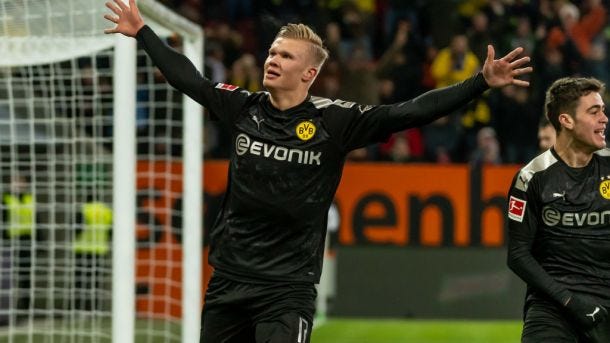 x2.1: Among NFL fan bases, Kansas City Chiefs fans have a 2.1x higher affinity for craft beers than the average viewer. Among other top fan bases are Bills Mafia and Cleveland's Dawg Pound, according to Zoomph's NFL alcoholic beverage report.
-11%: Manchester United is forecasting that its annual revenue may slide as much as 11% year-over-year, a result of the club missing the UEFA Champions League for the second time in four seasons. n comparison, the combined revenue of the top 20 European clubs gained 11% last season, as the vast majority of them competed in the lucrative Champions League.
---
? The Upside: Snapshots & video of The Week.
NFL teams now have their own gyms so fans can train like pros. The NFL's 49ers, Bears, Browns and Cowboys are partnering with 24-Hour Fitness founder Mark Mastrov to open team-themed fitness centers. The new 49ers Fit allows members to study film of how he trained for the NFL season, says three-time Super Bowl champion Roger Craig.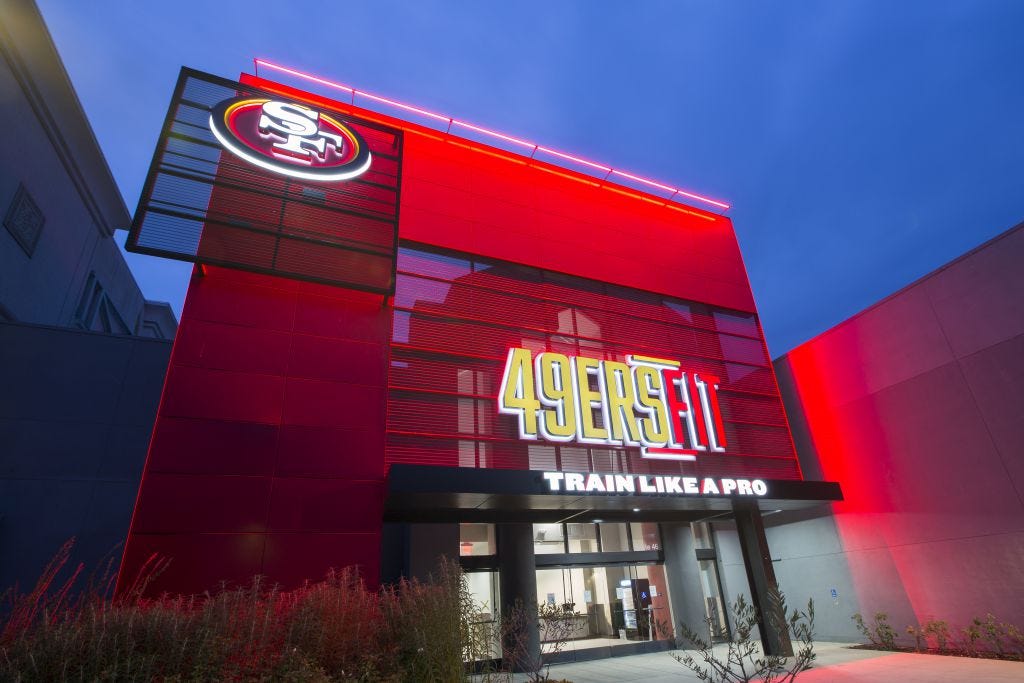 Picture: 49ers (NFL)