Over the past few years, a growing number of top athletes (e.g. Christiano Ronaldo, Serena Williams, Lebron James, Neymar Jr, etc.) have leveraged social media platforms (e.g. Instagram, Facebook, etc.) in order to promote and monetize their brands and products.
Today, one of the most popular social media platforms out there among athletes is Instagram. Back in March 2019, Instagram launched its Checkout feature in the U.S, which allow athletes to sell their products through the social media platform and for users to complete purchases without leaving the app.
Picture: Christiano Ronaldo
How many Instagram users have used the Instagram Checkout feature so far?
An Instagram spokesperson recently told the WSJ that more than 130M people tap to reveal product tags in shopping posts every month.
Not surprisingly, in recent months, athletes like Serena Williams, James Harden and teams like the Los Angeles Clippers, among others, have utilized the Instagram Checkout feature to sell items.
So how effective has the Instagram Checkout feature become for some of those athletes? Has it become a new sales channel for them?
Top athletes such as Serena Williams are already seeing very promising results from the new instagram feature. In fact, when Serena Williams released a new sequin jacket for her S by Serena fashion brand on November 20, Instagram drove more than 50% of the sales for the brand in the week following the jacket's release, Stephanie Lim, head of e-commerce for SerenaWilliams.com, told the WSJ.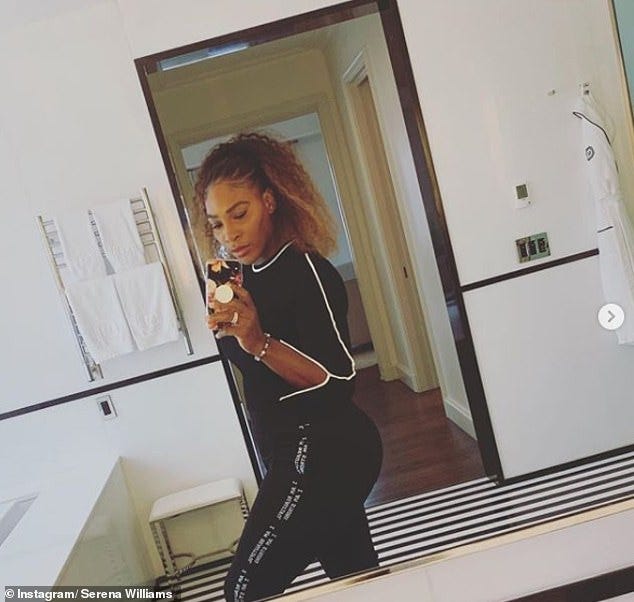 Picture: Serena Williams
So which athletes are the top earners on Instagram today?
As shown in the table below, Christiano Ronaldo is currently the top earner ($47.8M) on Instagram, ahead of Messi ($23.3M) and David Beckham ($10.7M).
Highest Celebrity Instagram Earners in USD

1. Cristiano Ronaldo – $47.8 million
2. Lionel Messi – $23.3 million
3. Kendall Jenner – $15.9 million
4. David Beckham – $10.7 million
5. Selena Gomez – $8 million
6. Neymar Jr. – $7.2 million
7. Zlatan Ibrahimovic – $4 million
8. Kylie Jenner – $3.8 million
9. Ronaldinho – $2.6 million
10. Khloe Kardashian – $1.2 million
It is worth pointing out that after Cristiano Ronaldo made the switch from Real Madrid to Juventus, his annual salary was in the region of $34M, according to Goal.com. What that means is that Ronaldo actually earns far more money from paid Instagram posts.
As shown in the table below, due to Ronaldo's incredible reach on Instagram (172.8M followers), some companies are willing to fork over nearly $1M for a slice of the action and the Portuguese player reportedly pockets an average of $975,000 for each paid post on his account.
Source: Hopperhq.com
So why are athletes focusing on Instagram to monetize and sell their products?
1. 1B people use Instagram every month
With 1B Instagram users globally, Instagram is the second-ranked traditional social network in terms of active users, behind Facebook. When considering all social platforms, Instagram ranks fifth – behind Facebook, YouTube, Whatsapp, FB Messenger, and WeChat. With this kind of reach, it is not surprising that a growing number of top athletes are now focusing on Instagram to promote and monetize their brands.
2. 500M people use Instagram Stories every day
In the three years since its launch, Stories has become a huge part of what makes Instagram so popular. With half a billion people using Stories every single day, it's clear that Stories are also an important channel for athletes and their brands.
3. Instagram is the second-most downloaded free app in the Apple app store
Only YouTube had more downloads in 2018 (2019 statistics are not yet available). That's a good indication that Instagram is continuing to attract new users.
4. Instagram is the 10th most popular Google query
About half of the top 10 searches are generic terms like weather, news, and videos. But Facebook, Google, YouTube, and Amazon also feature in the top 10, and all ahead of Instagram.
However, since Instagram is not primarily used through a web interface, the app's high download rank is a more relevant figure.
5. Instagram will reach 112.5M U.S. users in 2020
That's a 5.4% increase over 2019, as estimated by eMarketer, which also predicts the network will reach 117.2M U.S. users in 2021.
6. 37% of American adults use Instagram
That's a slight increase from 35% in 2018. Keep in mind that the % age of people using Instagram varies substantially by age group, as the network is far more popular with younger users:
18–29: 67%
30–49: 47%
50–64: 23%
65+: 8%
7. Instagram is the most popular traditional social network among U.S. teens
Only YouTube is more popular with teens, and there's some debate about whether to classify the video-sharing site as a social network. 72% of U.S. teens say they use Instagram, compared to 69% for Snapchat and 51% for Facebook.
However, teens say they use Snapchat more often.
8. The gender mix on Instagram is pretty even: 52% female and 48% male
However, in the U.S., a substantially higher percentage of women (43%) use Instagram than do men (31%).
9. 62% of people say they have become more interested in a brand or product after seeing it in Stories
Instagram Stories has become a key driver for athletes and brands, with 62% of people saying they have become more interested in a brand or product after seeing it in Stories.
10. 11% of U.S. social media users shop on Instagram
Not surprisingly, the top reasons for using Instagram are looking at photos and videos. But more importantly, more than one in ten users are using the platform specifically to shop or find new products.
Earlier in the buying cycle, people are even using Instagram a lot. Fully 81% of people use Instagram to help research products and services.
With this in mind, it should not come as a surprise that an increasing number of athletes are leveraging Instagram to sell their products on this platform.
11. 130 million Instagram users tap on shopping posts every month
Like the Instagram stat above, this shows that people are making purchases directly from Instagram.
Shoppable posts are still a relatively new feature on Instagram, and the even newer checkout feature makes it possible to buy products without even leaving the Instagram interface.
12. 73% of U.S. teens say Instagram is the best way for brands to reach them about new products or promotions
According to eMarketer, 73% of U.S. teens say Instagram is the best way for brands to reach them about new products or promotions. That's significantly higher than the next-best options, Snapchat (49%) and email (37%).
Bottom line: Instagram has become a critical social media platform for athletes and even sports teams to promote brands and sell their products. Some athletes like Christiano Ronaldo have mastered Instagram to a point where they are earning more money from paid Instagram posts than their club's annual salary. Moving forward we expect a growing number of athletes and teams to leverage Instagram as part of their marketing campaigns and monetization strategy.