From activity and performance tools to..gaming and bets tools .
Over the past few years there has been a lot of activities in the sports blockchain market. The idea here is to use blockchain in sports to make stadiums safer, more secure, prevent frauds (e.g. tickets), better handle DRM issues, and more. We will provide more details on that in the following sections.
But first, how big is blockchain from an investment standpoint?
As we noted before, in terms of VC investment trends, as shown in the table below, according to Crunchbase, last year in the first five months into 2018, reported dollar volume invested in VC rounds raised by blockchain companies surpassed 2017's totals. Back then the nearly $1.3B in global dollar volume was greater than the reported funding totals for the 18 months between July 1, 2016 and New Years Eve in 2017.
Source: Crunchbase
As shown in the table below, the most well funded blockchain startups include companies like Circle ($136M), Coinbase ($117M), 21Inc ($116M), Ripple ($94M) just to name a few.
Some blockchain startups also raised significant of money through IPOs. This is the case of Cayman Islands start-up Block.one which raised $4B, eclipsing the world's biggest initial public offerings this year and more than doubling the next biggest offering of that type.
In the past few years we have seen a lot of activities in the investor community towards sports blockchain startups. Why? Simply because, as shown in the table below, blockchain technology can be used in the world of sports for a myriad of purposes such as activity & performance, management & organization, media/DRM & fans, gaming & betting.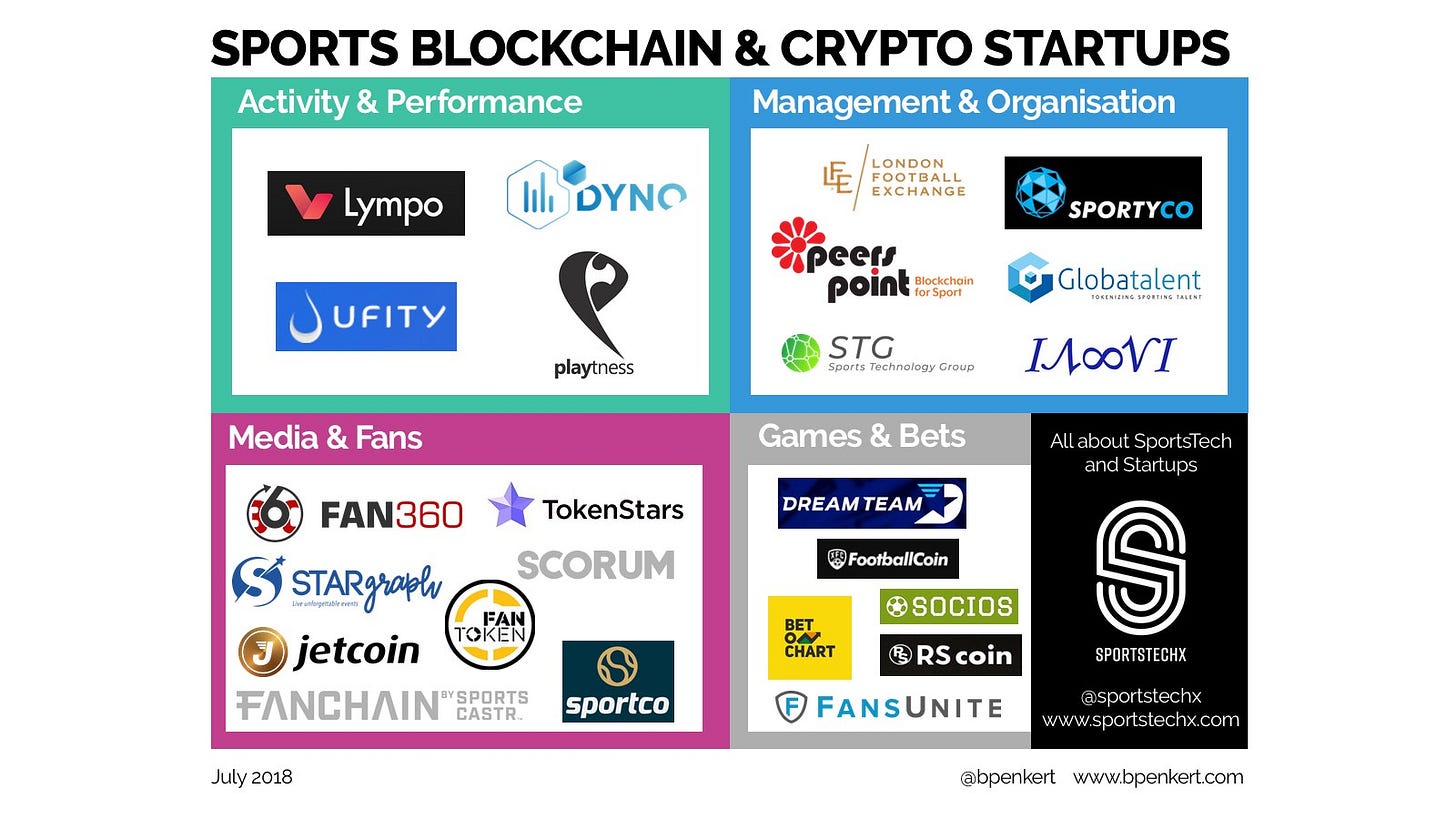 Now let's dig into the various subsegments of the sports blockchain market:
Blockchain based sports activity and performance tools:
There is a growing number of blockchain startups focusing on this blockchain based sports activity and performance markets. Those include companies like DYNO, Lympo, Playtness, Ufity, Sweatcoin, just to name a few.
For example, DYNO has built a blockchain based marketplace for user driven sports and metabolic data. DYNO started with their own analytical devices and will open the DYNO ecosystem to all third-party tracking and fitness devices.
Picture: Dyno
Playtness, another key player in this subsegment, is taking a different approach as it is tokenizing the world of fitness by creating an ecosystem for its members, powered by smart contracts. Using the Playtness platform and its built-in reward mechanisms, the fitness industry is able to interact and transact in a way that creates incentives for its users through the use of PT tokens.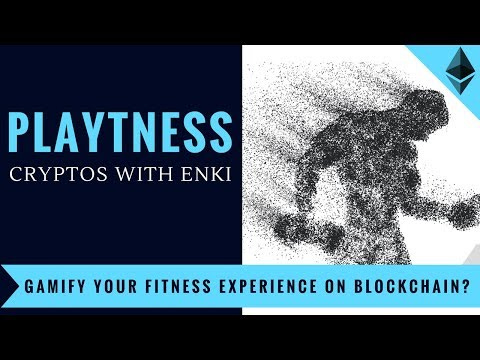 Picture: Lympo
Lympo aspires to revolutionise the healthy lifestyle ecosystem through monetisation of user-generated data via blockchain to reward users by offering incentives and supplementing health insurance to inspire a healthy society.
Picture: Lympo
Companies like Ufity and Sweatcoin are other key players in this subsegment. They are essentially offering a fitness app where users can convert physical activities (steps, calories burnt..) to earn bitcoins and purchase various offers.
Picture: Sweatcoin
⬆️ The Upside: While we believe that the Blockchain based sports activity and performance market is showing great promise, we think that this segment is still in its infancy. In our opinion, the benefits and rewards provided by companies like Sweatcoin and Ufity are also not compelling enough which is why many users are dropping off after a while.
Blockchain based management and organizational tools:
Another key interesting subsegment of the sports blockchain market is comprised of companies that are building Blockchain based management and organizational tools. Key players in this space include companies like Globatalent, Inoovi, LFE, Peerspoint, Sports Technology Group, SportyCo.
For example, Inoovi built a platform powered by the famous Blockchain that prides itself as a way to support all next Football Players Champions transfers and supporters experiences. Two Brazlian football clubs, Atletico-PR and the Corinthians, have signed deals with Inoovi. Several European clubs (Besiktas, Fenerbahce, Galatasaray, and Shakhtar Donetsk) are in talks with Inoovi as well.
Picture: Inoovi, Atletico-PR
Globatalent is another player in the space. Unlike Inoovi, Globatalent is focusing on revenue rights. To enable this, it built a blockchain decentralization platform which allows clubs and players to attain funding by selling future revenue rights to fans worldwide. The investment process is automated with the help of Smart Contracts that use Blockchain Technology. This ensures token trading in a fast, secure way.
Picture: Globatalent
SportyCo is another key player in the space. They introduced a brand new industry of sports crowd micro-financing while providing athletes, clubs, and sports organizations with macro-funding on their respective end. Moreover, SportyCo is enabling a direct financial link between the participants on both respective ends. Blockchain-based, low in transaction costs, introducing smart contracts into the world of sport, as well as the use of DAO voting, will be the key elements.
It is worth pointing out that the startup is supported by star soccer players like Roberto Carlos, Ronaldinho, Luis Figo, just to name a few.
Picture: Sportyco
Other companies like Peerspoint are using blockchain technology to ensure personal ownership and validation of sport data as well as allow access to a global ecosystem of peers and benefits. Their ecosystem delivers a sum of benefits attached to their LaaS: Players, Clubs, Coaches, Medical Staff, Volunteers, Leagues, Federations, Sponsors, Parents, Family, Friends, Fans, Intermediaries and more.
Lastly, Sports Technology Group (STG) future-proofs sports teams, organizations, and leagues by building their entire technology stack on blockchain technology. From internal operations to fan experiences and engagement, the ultimate goal is to ensure that data will be able to speak to each other, so that every future investment will work seamlessly together in real-time.
Picture: Sports Athlete Manager, a sports blockchain system powered by STG.
⬆️ The Upside: In our view, the Blockchain based management and organizational market is another interesting area. The challenge there is that many pro teams, leagues are using their own management and organizational tools. This is why we believe that for the key blockchain startups in this space it might be worth looking into partnering or licensing their technologies to the existing tech players in this place to gain great traction.
Blockchain based media and fans tools:
The blockchain based media and fans tools is another interesting subsegment. The key players in this growing space are Fan360, Fanchain, Jetcoin, Scorum, SportCo, Stargraph, TokenStars, just to name a few.
For example, FanChain provides a framework in which fans are rewarded with a token that can be used within the sports ecosystem to which they contribute, and creates a feedback loop that incentivizes the community to contribute to the social conversation that they rely on for an optimal sports experience. FanChain introduces the concept of "Mints," which allow third-party entities to distribute FanChain tokens that are stamped with a specific sports team, league or event. FanChain also built SportsCastr, a live streaming video platform that lets anybody in the world choose the SportsCastr or be the SportsCastr. Over the years, the startup has gained strong traction. In fact, it is also worth pointing out that Super Bowl XLVIII Champion and four-time pro bowler Richard Sherman has joined the company as an official brand ambassador. It also received investment from the NFLPA, and teamed up with the WNBA Players Association.
Picture: SportsCastr, powered by FanChain.
Other startups like Fan360 have built a sports fan community platform which enables fans to follow their favourite sports star, club or brand and get rewarded with FAN token for every action (e.g. like, share, content contribution) on the platform. Fans collect them through a transparent bIockchain system, and can exchange them for special experience, merchandise, tickets or fiat money.
Picture: Fan360
Other startups like Scorum provides cryptocurrency rewards for both content creators and curators. Concretly, community members get paid for publishing posts, voting, commenting and uploading photos.
Other companies like Stargraph have leveraged blockchain to build an App that allows to receive authentic and personalized Stargraph autographs if you participate in major events such as concerts, matches, Formula1 and MotoGP races. Exclusive assets with real value backed by Blockchain technology.
Picture: Stargraph
Lastly, TokenStars, another key player in the space, has built a blockchain based celebrity management platform, providing advanced tools and incentives for deeper interaction between stars, fans, and advertisers. Their utility token can be used in most of the interaction activities powered by the TokenStars platform, including providing incentives to fans and external agents for finding promising talents (scouts), making betting bids, and so on.
⬆️ The Upside: In our view, the Blockchain based media and fans market is also in its early days. The key to success for many of the startups in this space will be to provide compelling rewards. This will make their offering sticky and increase the daily usage rate. Companies like FanChain are already taking the lead and gaining significant traction.
Blockchain based games and bets platforms:
Over the years, gaming and betting has become another key component of the sports experience. This is another area where blockchain can have a key role. Blockchain startups like BetOnChart, DreamTeam, FansUnite, Footballcoin, Ronaldinho Soccer Coin, Socios, among others, intend to become top players there and disrupt the sports gaming and betting industry.
For example, BetOnChart built a blockchain platform combining highly profitable in-play sports betting with the dynamics of a live match. Modern technologies and the latest advancements in the field of AI allow us to recreate a football match in the form of a chart that moves up or down depending on the current field situation.
DreamTeam is another key player in this space. They essentially built an infrastructure platform and payment gateway for esports and gaming. As an all-in-one platform, DreamTeam will securely connect all gamers, teams, sponsors, advertisers and tournaments; enabling mutual economic transactions within one global esports ecosystem.
Footballcoin is a football manager game platform using blockchain technology and issuing an own cryptocurrency (XFC) with the mission is to bring the advantages of blockchain technology and cryptocurrencies to Football Manager and Fantasy Sports users. FansUnite is created by bettors, for bettors, and was founded with the mission to improve conditions for sports bettors everywhere. They aims at revolutionizing the sports betting industry by harnessing the power of blockchain technology to provide cheaper, more secure, verifiable and transparent betting.
Lastly Socios built a scalable, tokenized voting platform where fans can buy, trade & execute voting or 'crowd managers' rights in their favorite football teams. Powered by the chiliZ fintech platform & $CHZ token.
Bottom line: We believe that we are still in the early stage of the sports blockchain market. As we noted previously there is a great opportunity to use blockchain in sports to make stadiums safer, more secure, prevent frauds (e.g. tickets), better handle DRM issues, and more. However, like any new emerging technologies that aims at impacting the world of sports, it comes down to enabling teams, leagues to receive tangible value and ROIs. In our view, this will make or break the future of the sports blockchain space.