Dear Friends and Members,
Last Friday, we published our Sports DNA Genomic market, in which we discussed the segments, key players, and current and future trends in the sports DNA genomic market market for the coming years. To access this analysis be sure to sign up for our premium subscription by clicking the "subscribe now" button below.
Looking for access all of our previously published analysis, insights, data, podcast interviews, and more? Subscribe now to unlock access!
On Wednesday, we plan to publish our podcast interview with Daniel Maggs, the CEO of Bisu, a novel health tracking device startup that helps athletes optimize their physical performance.
On Friday we plan to publish an analysis on the Soccer tech market. To access this analysis be sure to sign up for our premium subscription by clicking the "subscribe now" button above.
? Top Stories We're Reading This Week
? New Vuzix AR smartglasses spotted, showing off a design you'll actually want to wear
? HTC reveals final Vive Cosmos design: Six cameras, flip-up visor, huge resolution
❤️ Stryd's new wearable power meter wants you to run like the wind (in the wind)
⌚️ Apple starts selling diabetes monitors in its stores
⌚️ Polar Ignite wants to charge you up for your next big workout
? Tencent Esports Partners with Manchester City F.C.
? Charlotte Hornets' NBA 2K League Team Named Hornets Venom GT
? Latest Investment Trends
? Tech Stats of the Week
? Snapshots of the Week
Let's jump right into the insights and upside for all of these top stories
---
? AR/VR/Video Sports News
? New Vuzix AR smartglasses spotted, showing off a design you'll actually want to wear | Via: Wearable
Startup Vuzix looks set to put its augmented reality tech into a pair of regular-looking glasses, beating the likes of Apple and Google in the race to smartglasses.
The more fashion-friendly specs were unveiled to the folks at Next Reality in the form of slides from a recent Vuzix investor presentation.
The slides show off the unreleased Vuzix smartglasses, revealing a design that looks like a regular pair of specs from the front. When you see them from the side, we can see that the on-board smarts are built into the arms of the glasses. Those thicker arms will apparently also serve as touch interfaces to interact with viewable AR content, too.
There's no details on pricing, full specs or a release date, either, but the full presentation is expected to be shared on the company's website in the coming days. This should naturally tell us a bit more about what we can expect. What we can say right now, from these images, is that the new specs are a big design departure from Vuzix's Blade AR smartglasses, which launched this year for $999. The glasses were designed to overlay information such as GPS mapping, restaurant menus, weather information, sports updates, health data and more. The design, however, was chunky and by no means subtle.
⬆️ The Upside: We think that in terms of design this is a path in the right direction as we believe that most AR glasses will have a sunglasses type design in the coming months. This is also good news for the AR glasses market as a whole to see a leading vendor like Vuzix move in that direction. This is the vision of many vendors like Facebook. In terms of functionalities, we also expect the features of this new AR glasses to be fairly limited.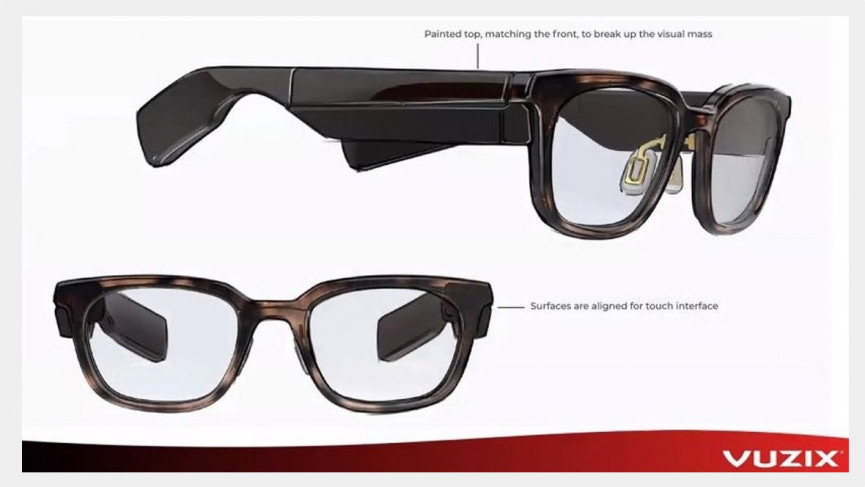 Picture: Vuzix
? HTC reveals final Vive Cosmos design: Six cameras, flip-up visor, huge resolution | Via: Wearable
Back in January HTC revealed a new high-end VR headset, the Vive Cosmos, but it was really just a tease. Now the company has revealed the final design and resolution of the system, which we'll be playing with later this year.
The final version, shown in a video on the company's Facebook page, looks a little different to the headset we saw at CES 2019, with a new vented front to presumably keep the insides (and our faces) as cool as possible. Since we last saw the headset HTC has also added two additional cameras to the visor, one facing upwards and one facing downwards, which we expect will aid the six-degrees-of-freedom tracking.
Speaking of that visor, you'll be able to flip it up for moments you need to temporarily jump back into the real world. HTC also says the pictured headphones are detachable, should you prefer to switch in your own.
Since we published this story, HTC has revealed that the Cosmos will have a combined resolution of 2880 x 1700, which is 88% higher than the original Viveheadset and slightly more than the Vive Pro, which sports a resolution of 2880 x 1600.
HTC also says games will run at a 90 frames per second, and that its RGB panels, which use subpixels for improved clarity, will reduce the screen door effect that plagues some headsets.
What's clear is that HTC isn't skimping on the tech; the Cosmos will require a PC to run, although HTC has vaguely hinted at the possibility of being able to run the headset off a mobile device. This is a premium, high-end system to compete with the best of the best.
HTC has previously said the Cosmos is a brand new product line, and it's not meant to replace the Vive Pro, which is still the most technologically advanced headset in its arsenal.
Cosmos will also be the first HTC headset to run Vive Reality System, which is a brand new user interface. It essentially drops you into a world called Origin, which has continually updating art galleries, games, tools to create things and – naturally – your friends. From there, you can jump into apps and games with a new feature called Lens, which is basically an oval pop-up window. It all sounds a little like AltspaceVR, but as the center of the HTC Vive experience. EThe Cosmos is slated to ship in Q3 this year.
⬆️ The Upside: We believe that that these are great specs. However, based on those specs, we expect this new VR headset to be priced at a premium which will likely be a restraining factor to drive adoption of this device. At the high level, we also believe that it will be hard for HTC to effectively compete with competing vendors like Facebook and Sony.
---
? Wearables, Health, Nutrition News
❤️ Stryd's new wearable power meter wants you to run like the wind (in the wind) | Via: Wearable
Stryd, maker of the wearable power meter for runners, is launching its next-generation device which will now take into account running into headwinds, adjusting running power in the more challenging conditions.
The new pod, which is still clipped onto one of your running shoes, has been redesigned and now adds new temperature and humidity sensors to help use the environment to your advantage.
The ability to read and analyse real-time air and wind conditions is the big draw here, enabling the ability to pace your runs correctly and knowing when you're benefiting from the aiding wind.
"Every runner wants to perfectly pace their run. They want to be running just as strong at the end of the run as they did at the beginning," said Jamie Williamson, Stryd's CEO. "While the wind's effects are unavoidable, that does not mean that you should run poorly. Stryd makes it possible to pace a run perfectly even in perfect weather conditions."
Away from those wind-related features, Stryd is also adding a magnetometer, though it hasn't revealed just yet how that sensor will be utilised and has been included for future features. Onboard storage has been beefed up to collect more data while antenna range has been increased to ensure data is being accurately relayed to your phone or compatible sports watch.
The new Stryd is on sale now price $219, which is a bit more expensive than the previous generation Stryd ($199). It'll start shipping in July and we hope to have one to test out and find out if those new features are worth spending a bit more on.
⬆️ The Upside: We believe it makes sense for Stryd to add such features (e.g. magnetometer, humidity/temperature sensor..). However, will these new features be enough for Stryd to take share away from Apple or Fitbit? Probably not. But we have to give Stryd for trying to differentiate itself from the pack.
⌚️ Apple starts selling diabetes monitors in its stores | Via: The Verge
Apple's health push now includes more tools for diabetics. Apple retail stores have started carrying a diabetes tracking product — in this case, One Drop's blood glucose monitor. It's not a continuous monitor (you have to lance yourself), but its Bluetooth connection to your iPhone and Apple Watch helps you track blood sugar levels with the devices you already use every day. It sells for $70 and includes a year's worth of coaching from a diabetes educator.
While this isn't directly linked to Apple's health software efforts, it reflects how important health tech is to the company's strategy. Apple stores' third-party selections frequently reflect the tech giant's priorities, whether it's smart homes or connected toys, and that's certainly true here. It wants you to see iPhones, Apple Watches and other Apple products as important parts of your health routine, whether by themselves or as part of a larger ecosystem.
⬆️ The Upside: This should come as no surprise as this is part of Apple's global strategy to make a big push into the blood glucose monitoring market. As we noted last week, Apple is working on an Apple Watch that can measure glucose level. By doing so, Apple will be able to tap into the massive global blood glucose monitoring devices market, which is expected to reach revenues of more than $25B by 2024. Ultimately it could become a new revenue generator for Apple.
Picture: One Drop
⌚️ Polar Ignite wants to charge you up for your next big workout | Via: Wearable
Polar is beefing up the wearable ranks with the Ignite, a GPS sports watch that factors in sleep quality to help you train smarter.
Sitting underneath the Vantage V and Vantage M watches Polar launched last year, the Ignite can track up to 100 activities (indoors and outdoors) and included Polar's new Precision Prime optical heart rate monitor, which served up solid results when we tested the same sensor tech on its Vantage watches.
But the big story is how Polar is making a bigger push in sleep and the importance of recovery when it comes to training. Polar is zoning in on the autonomic nervous system, which plays a critical role in the body's response to exercise. Polar calculates a score by combining resting heart rate, heart rate variability and respiration rate to determine a user's ANS score.
Alongside this lives Polar's new Sleep Plus Stages feature, which will generate a sleep score to inform users how well they've slept. There's also something called Nightly Recharge, which takes the sleep data and combining it with daily recovery information. Both the ANS and sleep scores are then combined to tell users how ready they are for exercise, and to guide them to maximize their performance levels when it matters most.
"Most companies in the sleep tracking game are only looking at the quality of the sleep, and that's important, and we do that, but we're also looking at the degree of recovery of the autonomic nervous system," Polar USA president Tom Fowler told Wareable.
"Sleep will in large part determine how well prepared we are the next day to perform mentally as well as physically," he added
These new features will also be rolling out to Polar's Vantage watches in October, but one feature that will stay exclusive to the Ignite is FitSpark. This offers adaptive, personalised advice and suggested exercises based on fitness level, training history and those Nightly Recharge measurements. FitSpark joins existing features like Polar's Running Index and adaptive Running Program that are also in the smart coaching mix.
"This is not a toy for people who are dabbling around. It really hits the buttons for performance," said Fowler. "As opposed to the Vantage, which is for hardcore athletes, it's really for the fitness customer."
One other new feature that we've yet to see crop up on Polar watches (but have seen on smartwatches) is the Serene guided breathing exercises. Like Apple, Samsung and Google's guided breathing features, this is all about helping you de-stress and sees Polar venture into that mindfulness space for the first time with one of its sports watches.
The Ignite is on sale today priced $229.95 in white, yellow or black colored wristbands. Additional accessory bands are priced at $24.95. We'll hopefully be putting the Ignite through its paces soon to see whether those new sleep and training features are worth getting excited about.
⬆️ The Upside: We believe that the Polar Ignite is a great product that offers great features. We like the fact that the watch has the ability to look at the quality of the sleep as well as the degree of recovery of the autonomic nervous system. $229 is also a reasonable price for a smartwatch of this type. We expect the Polar Ignite to see great adoption among sports enthusiasts.
---
? eSports & Crypto-Currency News
? Tencent Esports Partners with Manchester City F.C. | Via: eSports Observer
On June 20 at the Tencent Global Esports Summit, Tencent Esports announced two partnership deals: one with British soccer club Manchester City Football Club (F.C.) and another with Chinese company Juss Sports.
The agreement between Manchester City F.C. and Tencent Esports will mainly focus on Tencent's top mobile esports title – Honor of Kings. The goal of the deal is to connect esports and traditional sports, and also create cultural cross-border exchanges between the U.K. and China.
"We want to use our products to let people outside of China feel the beauty of Chinese culture," said Li Min, producer of Honor of Kings. "This is also the future development direction of Honor of Kings."
⬆️ The Upside: We think this is a great move by both Tencent and Manchester City FC. Tencent is a major player in the gaming space and Manchester City FC is one of the biggest soccer teams in the world. Manchester City will be able to tap into Tencent's large fan base of gamers and the fast growing eSports market.
Picture: Tencent
? Charlotte Hornets' NBA 2K League Team Named Hornets Venom GT | Via: eSports Observers
When the next NBA 2K League season begins in 2020, the new Charlotte Hornets affiliate will be called the Hornets Venom GT.
The branding was announced today following April's news that the Hornets would join as the league's 22nd NBA franchise. Just eight NBA teams have yet to join the NBA 2KLeague: the Chicago Bulls, Denver Nuggets, Oklahoma City Thunder, Phoenix Suns, Los Angeles Clippers, Houston Rockets, New Orleans Pelicans, and San Antonio Spurs. Hornets Venom GT is currently the only new team announced to join for 2020.
The Hornets Venom GT logo takes the shape of an angular, stylized hornet's face, with the "V" in Venom prominently featured within the shape. The logo and wordmark were created by RARE Design.
The 2019 NBA 2K League season concludes with the finals on August 3, with a total of $1.2M USD awarded throughout the league's second season.
⬆️ The Upside: We think that this move makes sense for the Charlotte Hornets. Of note, the team is activating around the branding announcement in a number of ways, including placing 20 sidewalk stencils of the logo throughout Charlotte, North Carolina, and entering those who find them into a drawing for Hornets Venom GC prize packs. Additionally, the team will give out coffee and merchandise at the Charlotte Transportation Center on the LYNX Light Rail tomorrow morning, and host a launch event at Triple C Brewing tomorrow night.
Photo: NBA 2K League
---
? Sports Investment Trends — July, 2019
---
? Key Tech Sports Stats of The Week
$3B: Tokyo 2020 is still over a year away but has generated record domestic sponsorship revenues of more than $3B, according to the IOC.
$318M: For the first time — and just one year after a landmark ruling from the U.S. Supreme Court — more money was bet at New Jersey sportsbooks than at Nevada books in a month, according to David Purdum of ESPN.
$136M-$170M: Neymar's transfer value has decreased dramatically over the last six months, according to CIES Football Observatory. The PSG striker was valued at $222M at the start of 2019 but has seen his commanding price dip to between $136M-$170M (120-150M Euros) since the turn of the year.
130,000: Inside of 30 minutes, more than 130,000 tickets were sold for Yankees vs Red Sox. Roughly 70% were sold to fans who reside inside the UK, compared to 20% from the U.S.
30%: Nearly 30% of MLB's current players were born outside the U.S. They hail from 20 countries and territories across five continents. MLB games are now televised in 204 countries around the world.
22%: ESPN's Get Up is poised for its third straight month of double-digit TV increases. In May, the morning show's average audience grew 22% to 341,000 viewers from 279,000 during the same period last year.
---
? The Upside: Snapshots of The Week
Over the weekend, Kawhi Leonard, also knows as the Board Man, turned 28, and he has already won a lot of trophies:
▪︎ 2x NBA Champion
▪︎ 1st player to win Finals MVP in both conferences
▪︎ 3x NBA All-Star
▪︎ 2x Defensive Player of the Year