Over the past few years, a growing number of athletes, leagues and teams have talked about mental health. Often considered as "taboo" in the world of pro sports, the problem has become too big to ignore as mental health issues impact not only professional athletes but also student athletes.
So What Is Mental Health?
Generally speaking individuals with mental health issues often have the following symptoms:
Prolonged depression or apathy,
Changes in personality,
Eating or sleeping disorder.
Inability to cope with problems or daily activities.
Excessive anxiety.
More specifically in the world of students and pro athletes, common risk factors for developing mental health problems can be categorized into intrinsic and extrinsic factors. Some elite young athletes have an exclusively athletic identity of self-worth, which is often dependent on their performance. If they perform below expectation, their perception of self-worth and esteem can decrease and lead to potential mental health issues. It is common for an elite young athlete to develop a perfectionist personality due to the constant pursuit of superior performance both at training and competition, which often leads to extra anxiety, stress, depression and fatigue. These "optimum" levels of physical activity can improve mental health, however, at an elite level can also compromise mental health due to overtraining, injuries and excessive pressure on the athlete.
350M People Globally Suffer From Depression
With 350M people affected by some forms of depression, depression is the most common form of mental illness, according to the World Health Organization. In fact, depression accounts for 41% of all the years spent living with mental or behavioral disorders.
1/4 of US College Athletes Suffer From Mental Health Issues
Mental health issues such as depression have also become a real issue in the world of US college sports. In fact, nearly one quarter of college athletes participating in a study reported "clinically relevant" levels of depressive symptoms, according to a new article published in the British Journal of Sports Medicine. Female athletes were also about two times more likely to experience the symptoms than their male peers.
Researchers at Drexel University and Kean University surveyed 465 athletes at an anonymous Division I institution over three years and assessed the data using the Center for Epidemiological Studies Depression Scale.
Nearly 30% of female athletes showed symptoms of depression, compared to 18% of male athletes. Female track and field athletes had the highest prevalence of symptoms.
Pressure From Parents And Coaches Contributing To Mental Health Issues
Parents and coaches have a fundamental impact on a young athlete's well-being. Some experts believe that parental pressure increased negative stress and decreased motivation for their child athlete.
According to a UK study, almost one-third of parents reported to give negative verbal comments to their young athletes, thus increasing the possibility of psychological stress and burnout.

Another UK study found that more than one third of young elite athletes reported emotional harm due to their coaches, from actions such as shouting, negative comments about their performance and attempts to intimidate.
Stigma Is The Most Common Factor Preventing Athletes To Report Mental Health Issues
Stigma is the most commonly reported factor preventing elite athletes with mental health issues from seeking help, in the belief that mental ill health is a sign of weakness rather than the hallmark of a 'winner' and would be seen as such by peers, managers, and the public.
However, former #1 American tennis player Mardy Fish believes that the opposite is true, as he said that "showing weakness, addressing your mental health is strength":
"It's ok not to be ok. To show weakness, we are told in sports, is to deserve shame. But showing weakness, addressing your mental health, is strength", said Marty Fish.
Reporting Mental Health Issues Can Negatively Impact Athletes Financially
Athletes are also often reluctant to talk about mental health issues as it could also negatively impact them financially:
"Athletes fear, possibly rightly so, that disclosing mental health symptoms or disorders would reduce their chances of maintaining or signing a professional team contract or an advertising campaign," according to the conclusion of a report from the British Journal of Sports Medicine.
Other key factors preventing athletes from reporting mental health issues also include low levels of mental health literacy, knowledge and beliefs about mental health disorders that aid their recognition, management and prevention; previous negative experiences of seeking help; and busy schedules.
Further barriers include gender stereotyping, particularly what it means to be a man; younger age; US as opposed to European nationality; and certain personality traits such as conscientiousness and lack of openness.
Growing Number Of Athletes Speaking Out about Mental Health Issues
Over the past few years, the world of elite sports has seen an increasing number of pro athletes speaking out about their personal mental health issues such as depression, anxiety, addiction, and suicidality. Mental health issues have impacted many athletes across a wide variety of sports (swimming, soccer, American football..) and leagues (Olympic, NBA, NFL..).
For example, former NBA guard Keyon Dooling talked about his childhood sexual assault and a flashback that landed him in a psych ward.
Michael Phelps, the most highly-decorated Olympian of all time, was also one of the first top athletes to talk about his struggle with mental health. Phelps has ADHD and intermittent depression. Phelps thought about killing himself after the 2012 Olympics, where he won four gold and two silver medals.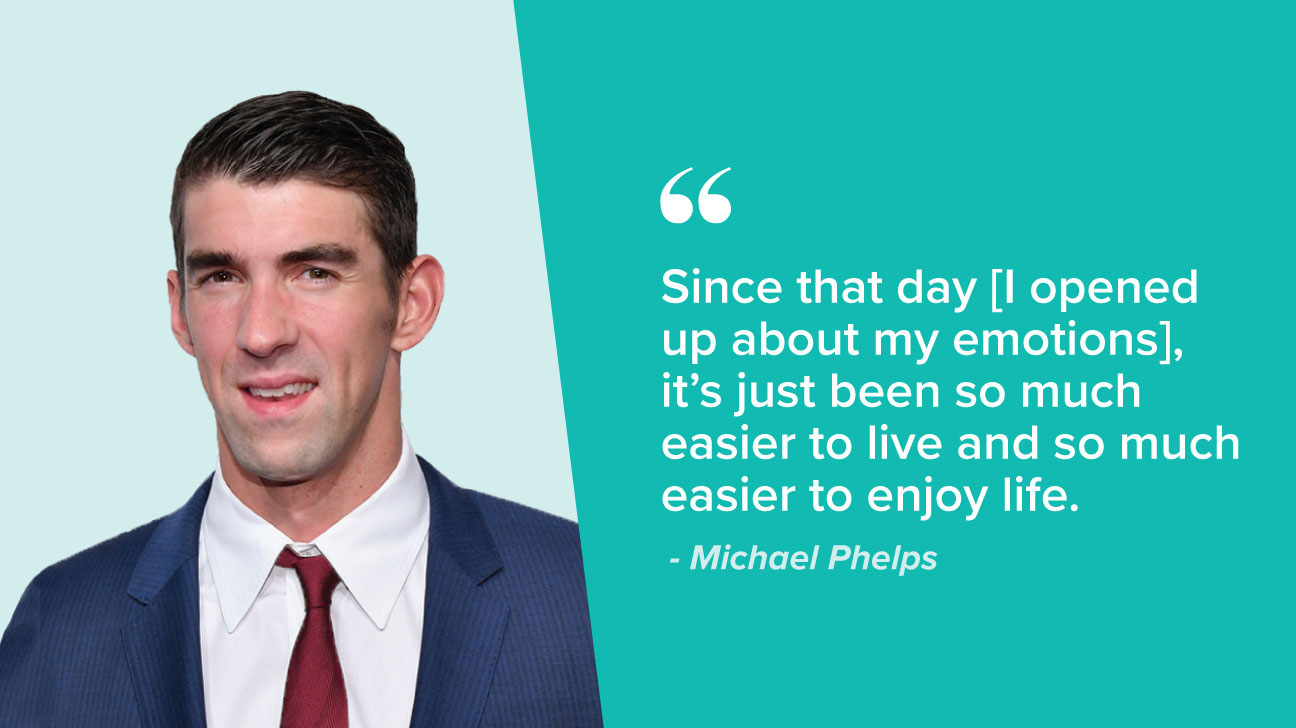 Players in the NFL have also been impacted with mental health issues. For example, NFL offensive tackle Joe Barksdale came out and talked about his mental health issues such as a heart-stopping childhood trauma, lifelong depression, and a failed suicide attempt.
Other NFL players and NY Giants wide receiver like Brandon Marshall, who has been diagnosed with borderline personality disorder in 2011, even said that "where we are now with mental health is where cancer and HIV were 20 years ago. It's important for us to change the narrative".
NBA players have also suffered from mental health issues, starting with NBA star Kevin Love.
Kevin Love said in his essay "Everyone is Going through Something," "Not talking about our inner lives robs us of really getting to know ourselves and robs us of the chance to reach out to others in need. So if you're reading this and you're having a hard time, no matter how big or small it seems to you, I want to remind you that you're not weird or different for sharing what you're going through. Just the opposite. It could be the most important thing you do. It was for me."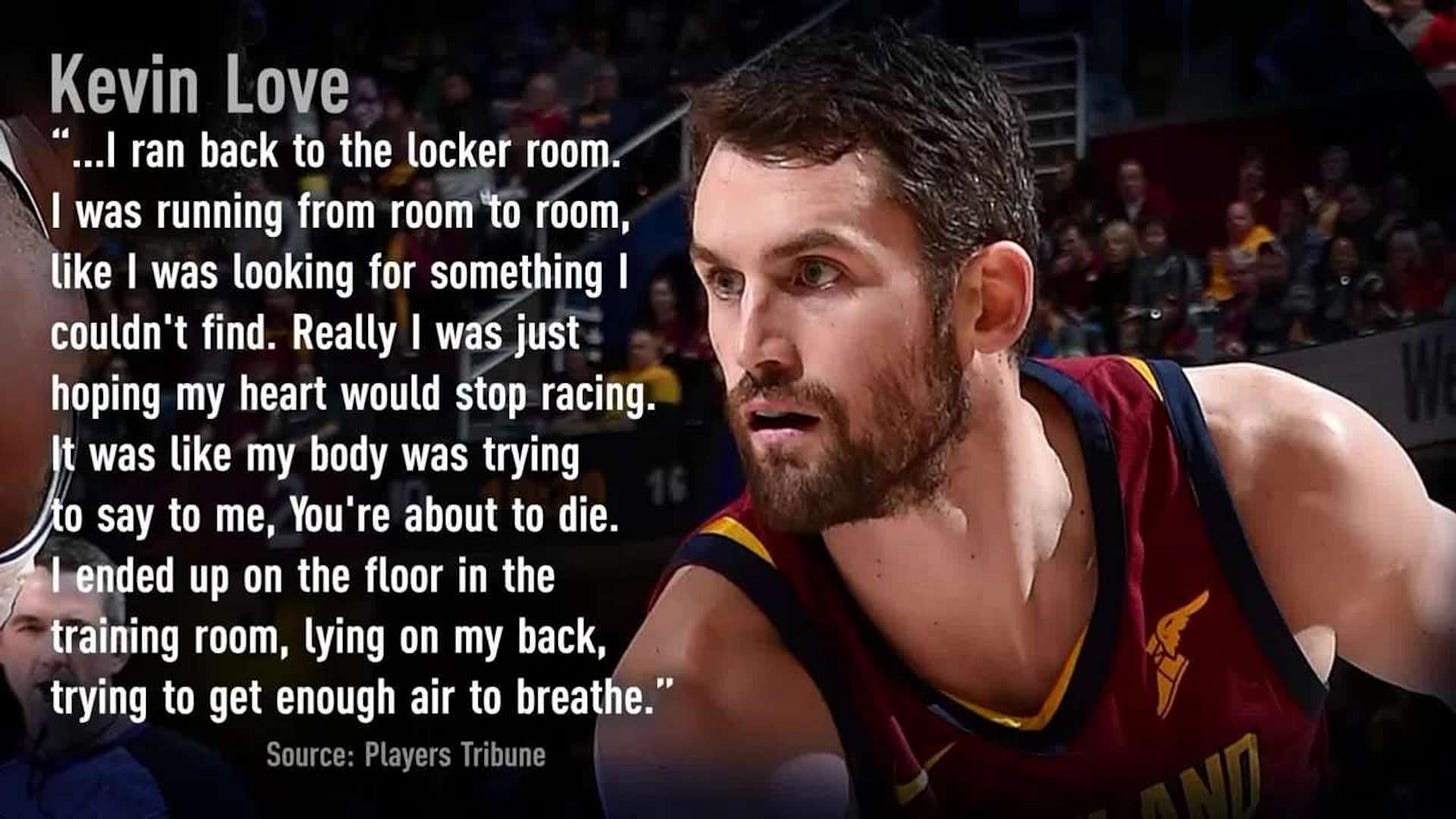 Picture: NBA star Kevin Love
Mental health issues have also impacted the world of professional soccer. For example, Hope Solo, two-time Olympic gold medalist with the US Women's National Soccer Team and one of the best goalkeepers in the world, was arrested for domestic violence after allegedly assaulting a half-sister and nephew. The case was dismissed but other family troubles hit the press and Solo started seeing a therapist to address "all the pain and anger that was inside me." Eventually, she talked with ESPN about her rocky upbringing and her introduction to therapy.
Leagues and Teams Taking Actions To Address Mental Health Issues
Not surprisingly a growing number of sports leagues and teams have started to take actions to help address mental health issues.
For example, the NBA has responded to the problem with a series of initiatives designed to help players cultivate mental wellness. It is worth pointing out that the NBA has had programs dealing with wellness be part of the Rookie Transition Program, Team Awareness meetings with players during the season and its Player Assistance Program over the years. Players who've dealt with mental illness have provided testimony about dealing with the stresses of life as pro basketball player the constant demands for money, attention, time and the like in healthy ways. But the new mental wellness program is the most comprehensive program dealing with mental wellness created to date.
It allows players to seek treatment and counseling outside of the framework of their individual teams, if they want. Existing team physicians and other resources are still be available to them, too.
The NBA also hired the Jed Foundation to serve as an advisor on mental wellness issues. The Foundation, founded by Donna and Phil Satow in 1998 after their son, Jed, committed suicide, seeks to prevent suicides in teenagers and young adults. Its Chief Medical Officer, Dr. Victor Schwartz, has been reviewing the NBA's policies.
Earlier this year, NBA Commissioner Adam Silver spoke about mental health at the MIT Sloan Sports Analytics Conference:
"We are living in a time of anxiety. I think it's a direct result of social media. A lot of players are unhappy.", said NBA Commissioner Adam Silver.
Picture: NBA Commissioner Adam Silver
The NFL has also launched a number of initiatives to address mental health issues. Earlier this year, the NFL and the NFLPA required every team to employ a mental health professional to work in its building. This could lead to a change in the league's attitude toward marijuana as a pain management treatment.
The NFL also launched a new mental health and wellness committee that the NFL and NFLPA say will develop educational programs on mental health for players, teams and players' family members and will "collaborate with local and national mental health and suicide prevention organizations to reduce stigma related to mental health and promote suicide prevention and awareness."
The NHL has also been active when it comes to mental health. In 2018, the Toronto Maple Leafs did their part to raise awareness of mental health issues through their sixth annual Hockey Talks Mental Health Awareness Night.
Former NHL player Bieksa teamed up with the Canucks organization to create a website for those suffering from mental illness. Foundrybc.ca (formerly mindcheck.ca) is geared towards youth and young adults that face mental health issues during their hockey career. It offers them a safe haven where they can share their struggles without the fear of being judged.
Mental health issues are being addressed by other sports leagues across the world. For example, the Australian Football League (AFL) begun a partnership with mental health charity Lifeline as part of the league's renewed commitment to mental wellbeing.
AFL chief executive Gillon McLachlan announced that the league had donated $300,000 to Lifeline as part of the deal.
Mental health programs are also being introduced in the world of college sports. For example, in US college sports, the NCAA launched a program around mental health for college students:
"Several years ago, the National Collegiate Athletic Association (NCAA) put down a series of recommendations for Division 1 sports programs across the country to pay more attention to mental health. They also had some athletes tell their own mental health stories."
Growing Number Of Sports Tech Companies Focusing On Mental Health
Over the years the world of professional sports has seen the emergence of a number of technologies focusing on mental health issues affecting athletes.
Meditation apps
The sports market has seen the emergence of a number of meditation apps such as Headspace, MindSport, and Sanvello. Those apps provided a wide variety of exercises to help athletes mediate, and relax.
Picture: Headspace app
Today MindSport claims to be the #1 meditation app for athletes today. The company empowers thousands of athletes and coaches in over 50 countries. You can check out the video below that talks about MindSport.
Sanvello is another similar app which helps users with stress, anxiety, and depression. They currently have 3M+ users today. The app also helps users track their mood, discover patterns, and helps them feel better with clinically validated techniques.
Training programs that help reduce stress
There are also programs like mPEAK (mindfulness performance enhancement, awareness and knowledge) developed by the University of California San Diego, that are being used by athletes seeking a more technological approach to reduce stress through mindfulness. This is basically a 3-day intensive training program built around the latest brain research related to peak performance, resilience, focus, and "flow".
Of note, the mPEAK program was developed in conjunction with the US National BMX Cycling Team in 2014, as a collaboration between the coaches of the team, UC San Diego neuroscientists Drs. Lori Haase and Martin Paulus, and the UCSD Center for Mindfulness leaders Executive Director Dr. Steven Hickman and Managing Director Allan Goldstein.
Bottom line: Mental health has become a real problem in the world of college and professional sports. Major sports organizations (NBA, NFL, NHL..) and teams are now taking actions to help players address mental health issues. While there are tools (e.g. meditation apps, mindfulness performance programs) out there that athletes can use to better deal with mental health issues, we believe that there is still out there a lot of athletes dealing with mental health issues. Those athletes have yet to come forward to talk about their personal mental health issues. That being said, we believe that the industry is moving in the right direction.