Dear Colleague,
We hope you had a great week last week. This week we are kicking off our Upside guest writers series. In the coming weeks we will publish a series of articles and analyses from various experts (e.g. sports performance/cryotherapy, biofeedback, 5G/WiFi 6 strategies in stadium, etc..). As part of that, on Thursday we are also launching our online forums on our Upside platform so don't forget to create join our online community by clicking on the button below to join the conversation:
Here is our schedule of guest writers and articles for the coming weeks:
August 13: Article title: "Introducing the idea of Cognitive Fitness". Author: Len Zaichkowsky, world's class expert in biofeedback/psychophysiology, and cognitive fitness. Works with top teams (Warriors/NBA, Penguins/NHL, etc..).
August 17: Article title: "Whole-body cryotherapy multi exposures speed up performance supercompensation during the taper in functionally overreached endurance athletes".Author: Christophe Hausswirth,PhD, Professor, world's expert in hydration, nutrition & Cryotherapy. Works with Serena Williams and top athletes.
August 24: Article title: "5G, Wi-Fi 6 and the roar of the Crowd". Author: Pete DeNagy, Founder IoT America / Managing Principal, Acommence Advisors. Pete DeNagy is the former GM of Samsung Enterprise.
Last week, the NHL season officially resumed in the US and Canada with several NHL players taking a knee in support of the Black Lives Matters movement. The NBA owners also announced their plan to allocate $300M launch the NBA Foundation with the NBPA to create "greater economic empowerment in the Black community." The MLB's opening weekend saw record numbers (4M viewers on the opening night) with more than twice the number of viewers as 2019 and ESPN's first 12 broadcasts averaged 1.16 million viewers, a 34% increase from 2019. In addition, the Big 12 conference plans to adopt a 10-game football schedule this year. A group including actor and former WWE star Dwayne Johnson "The Rock", also agreed to purchase the XFL for about $15 million, according to a news release issued last Monday morning. Lastly the Champions' league also resumed last week.
In the world of AR/VR and digital, PFL launched a free MMA OTT platform, while the F1 federation teamed up with YouTube. Ghost Pacer launched a companion app which provides an augmented reality running coach designed for runners. In the wearable and connected fitness world, Garmin launched a new smartwatch (Forerunner 45 Plus).. A new report revealed new specs about Amazfit Band 6. In the world of esport, the NBA named Olybet as its official betting partner, while some NBA players secured investment in blockchain-based game developer Dapper Labs.
---
This week we had the honor to interview Kai Bond, partner at Courtside Ventures, a leading sports tech VC, focused on early-stage sports, fitness, and gaming companies. Kai is a repeat founder, starting 3 companies and has spent the last 5 years as an early stage investor in NYC.
Throughout our conversation, we talked about his background (3x founder, Comcast Ventures, Samsung NEXT, Microsoft..), how he got into venture capitalism, and his view on the esport and gaming market and his advice for startups looking to raise money.
---
As a reminder, we are now launching our new Upside Global platform to bring together our sports, tech & health community of 2,500 executives under a single web platform. Members include executives from the NBA, NFL, NHL, MLS, MLB, Laliga, English Premiere League, Ligue 1, Bundesliga, Series A, Brazilian soccer league, Olympic teams, Pro tennis, as well as representatives of startups, brands, VCs, and athletes.
If you are a head athletic trainer, CTO, CMO of a major sports team or league looking to connect with the most innovative startups or connect with your peers to network, or if you are a startup CEO looking to connect with top teams or investors, you can join our Upside community of executives from the NBA, NFL, NHL, MLS, MLB, Laliga, English Premiere League, Olympic teams, top VCs, startups (AR, VR, wearables, sleep tech..) and more!
Your opportunity for growth starts now, create your free executive profile today to join our online community and click on "become a member today" as a first step. It is free to join! It only take one minute to create your profile.
If you face any problems during the registration process, please click on the live support button on our website.
---
? Top Stories We're Reading This Week
? PFL boosts fan engagement with free MMA OTT platform
?️ F1 teams up with YouTube
? An augmented reality running coach designed by runners, for runners
⌚ Garmin launches Forerunner 45 Plus: Its budget watch just got even better
⌚ The Amazfit Band 6 is the Alexa-toting Mi Band 5 we've been waiting for
? NBA names Olybet as official betting partner
? NBA players secure investment in blockchain-based game developer Dapper Labs
? Latest Investment Trends
? Tech Stats of the Week
? Snapshots of the Week
Let's jump right into the insights and upside for all of these top stories
---
? AR/VR/Video/Digital Sports News
? PFL boosts fan engagement with free MMA OTT platform | Via: Insider Sport
MMA organisation the Professional Fighters League (PFL) has launched its own OTT platform, giving fans free access to a variety of original content and PFL's fight library. The PFL MMA app is expected to increase fan engagement and potential customer growth through the use of the free platform. In order to ensure that the app remains commercially beneficial to the organisation it will monetise the platform using sponsorship and advertising opportunities. Additionally, microtransaction purchases for fans tied to gaming and exclusive content will also be used.
PFL CEO Peter Murray stated: "With the launch of our first OTT platform, we're excited to fulfill the growing global demand for our product by providing fight fans around the world with free access to premium PFL content wherever, whenever and however they want to consume it. Professional Fighters League is a media and content company. As we continue to grow, innovate, and reimagine MMA, we have placed an emphasis on engaging fans all year long through impactful storytelling and unprecedented access to the sport, our fighters, and the action inside the cage"
The platform will feature PFL's entire fight list including never-before-seen World Series of Fighting match-ups. Moreover, though PFL Studios, the app will showcase original content such as behind-the-scenes footage and exclusive interviews. In order to create the OTT platform the PFL has teamed up with ViewLift to offer end-to-end solutions for creating, launching, and monetising video applications across mobile, over-the-top, connected TV and game consoles.
⬆️ The Upside: We believe this is a good move by the PFL to launch its own OTT platform. 's decision to launch a free OTT application could prove to be a smart decision if the platform is marketed well so it can reach a worldwide audience. If so then it will undoubtedly increase its fan base whilst also opening up commercial opportunities with potential sponsors through the PFL MMA app. You can check out our latest analysis on sports teams' OTT strategies here.
Picture: MMA, UFC.
?️ F1 teams up with YouTube | Via: Insider Sport
Formula 1 has announced that for the first time ever it will broadcast a Grand Prix for free on YouTube including everything from practice sessions, qualifying, to the race day itself, across selected European markets. The partnership between Formula 1 and YouTube sees the Eifel Grand Prix in Germany be livestream on the competition's official channel in Germany, Switzerland, Netherlands, Belgium, Norway, Sweden, and Denmark. Additionally, YouTube will also be provided with additional content such as race previews, highlights, and analysis. Adam Crothers, Formula 1's head of digital media rights stated: "We are thrilled to be working with YouTube on such an exciting project.
"As we continue to diversify our media distribution strategy and expand our digital offering, it is imperative that we engage fans who consume mediums differently and YouTube offers us the platform to achieve that. "Partnering with YouTube also ensures we continue our pursuit of engaging new audiences in new ways to grow the F1 fan base whilst continuing to innovate our media offering for new and existing fans."
The Eifel Grand Prix at the Nurburgring in Germany is set to begin on Sunday, October 11.
⬆️ The Upside: We believe that this is a good move by both the F1 Federation and Google/YouTube. It will help the F1 Federation further inncrease its viewership and digitize its business. Of note, in 2019 F1 broadcasted to 1.9 billion total audience. It also fits well with its esports strategy where Formula One's Esports Virtual Grands Prix recently achieved 30 million views across TV and digital platforms during the coronavirus-enforced lockdown period.
picture : F1 car.
? An augmented reality running coach designed by runners, for runners. | Via: VR Scout
There's nothing wrong with a little healthy competition, especially when it comes to physical fitness. Unfortunately, finding a reliable training partner compatible with your specific workout goals can often prove difficult, especially in a post COVID-19 world. Ghost Pacer aims to take the stress away from coordinating runs, allowing you to select the route and speed of an AR holographic avatar and race against it in real-time; any time, any place. In addition to going head-to-head with on-demand workout partners, you can also challenge fellow Ghost Pacer users as well as race against yourself by revisiting old workouts.
"It's hard to speculate, but it seems the coronavirus pandemic has accelerated a preexisting trend of the average work schedule becoming more flexible and including options for telecommuting," stated CEO AbdurRahman Bhatti during a conversation with VRScout. "As schedules become more varied the need for on-demand fitness technology will grow, and we are aiming squarely at meeting that need for runners." "Furthermore, there are significant implications for areas such as yoga and physical therapy – slower types of exercise to which form is critical, and we are actively targeting a move to indoor-compatible technology as the next step on our roadmap (assuming a successful launch of the current iteration) to provide for those needs."
Here's how it works: using the Ghost Pacer companion app, users can select a target pace or a previous workout to race against. A holographic avatar will appear on the track/road/path, allowing them to race against their digital adversary for competitive edge; slow down and the hologram will leave you behind, keep on pace and the model will jog side-by-side with you throughout your run. Users can even integrate their existing Strava runs into their training, opening up access to thousands of other pre-determined routes. At the time of this writing Ghost Pacer sits $22,464 above its original funding goal of $25,000 with 29 days left to go in the Kickstarter campaign. Those interested in learning more can visit ghostpacer.com/blogs/#.
⬆️ The Upside: We think this is an interesting AR concept and we could see some players and coaches using it while running. That being said having to wear some AR glasses seems a bit of a stretch. But the glasses do not seem to be too heavy. It will be interesting to see how much traction this AR startup will get in the coming years.
Video : Video montage about the Ghost Pacer Headset.
---
? Wearables, Health, Nutrition News
⌚Garmin launches Forerunner 45 Plus: Its budget watch just got even better | Via : Wareable
Garmin has quietly announced an upgrade to its Forerunner 45 GPS running watch, with a couple of interesting feature additions. The Forerunner 45 is the company's entry level running watch, offering basic GPS tracking in a really, slim and lightweight package. We've been big fans ever since our initial review, thanks to the Forerunner 45's super-slim design and no-nonsense feature set, while still offering decent insights on VO2 Max. And that's where the company has looked to improve the Forerunner 45 Plus.
The only differences over the Forerunner 45 seems to be the addition of some specialist metrics including Race Predictor and Recovery Time Advisor. Both of these metrics are based on heart rate data and are derived from Firstbeat's heart rate variability algorithms. Those paying attention will know that Garmin recently bought Firstbeat, so this could be the start of those metrics filtering onto entry level devices. Elsewhere, the Forerunner 45 has the same slim 42mm case, heart rate monitor, 5ATM water resistance, pace, distance and time metrics, 7 day battery life with smart notifications and 13 hours of continuous GPS tracking. What's not certain is whether the Forerunner 45 Plus will replace or augment the existing Forerunner 45. It's been listed at UK retailers for £139.99 (around $150), which is about the same as the existing Forerunner 45. It's a fantastic price, and means we could see the ordinary Forerunner 45 drop to the $100 mark for the Holidays, which would make it a smash hit we're sure.
⬆️ The Upside: We think this new Garmin watch is a nice addition to the Garmin's smartwatch portfolio. Race Predictor and Recovery Time Advisor are some good incremental improvements, and we expect Garmin to put to good use the acquisition of Firstbeat's heart rate variability algorithms in order to add new types of capabilities in the coming years. By doing so this should help Garmin further gain market share in the smartwatch market.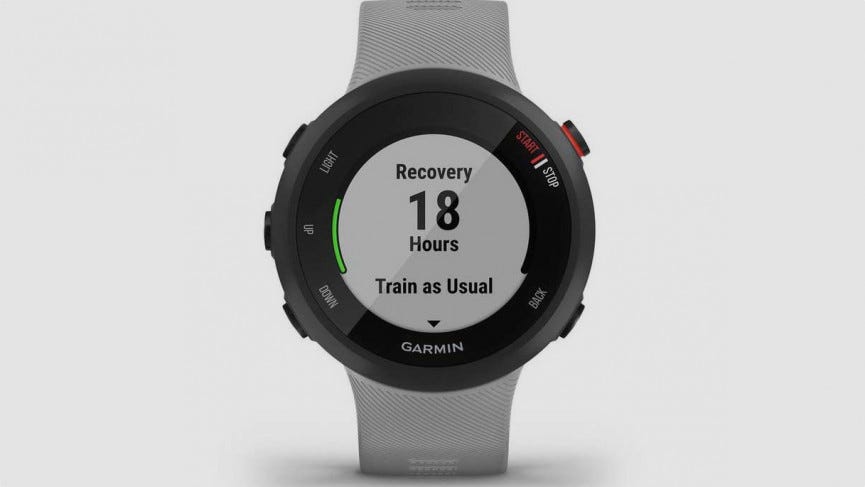 Picture : the watch "Forerunner 45 Plus"
⌚ The Amazfit Band 6 is the Alexa-toting Mi Band 5 we've been waiting for | Via : Wareable
The Amazfit Band 6 has leaked online, and it looks like it's everything we hoped the Xiaomi Mi Band 5 would be. The Amazfit Band 6 leaked last week after code was spotted online, but now things have ratcheted up a notch, with a page going live on Aliexpress, and now images and details appearing at Geekdoing. The leaks reveal a near-identical build to the Mi Band 5, but with Amazon Alexa and an SpO2 sensor. If that sounds familiar, that's because it's the exact specs we reported in the run up to the Mi Band 5 launch. Those leaks, which then turned into speculation of a Mi Band 5 Pro, referenced a product codenamed "York" at Huami. But this seems like it was actually the Amazfit Band 6 all along. Xiaomi and Amazfit are both part of Huami, and both companies are generally careful not to step on each other's toes. Amazfit does push towards a more prosumer audience when it comes to fitness, at least in the Chinese market.
So it makes sense that the Amazfit Band 6 shows off these features ahead of Xiaomi. But elsewhere it's unchanged over the Xiaomi Mi Smart Band 5. You still get a 1.1-inch AMOLED display with a 126×294 resolution, waterproofing to 50 metres and 15 days of battery life. It also uses PAI to offer a single score based on your weekly fitness and activity, and there's guided breathing and menstrual tracking too. Like the Mi Band 5 there are 11 dedicated sport tracking profiles. The leaks suggest it will come in olive, orange and black. We don't have any pricing or availability, but judging from the leaked images, it can't be too far away.
⬆️ The Upside: The Amazfit Band 6 appears to not offer much improvements compared to its predecessor. We think this is the wrong strategy. Instead the vendor should focus on adding new biosensing capabilities (e.g.hydration, BP, electrolyte, fatigue measurement..). Historically fitness bands users have stopped using fitness bands after a few weeks as they feel like the band does not offer much value. As a results most fitness bands makers experience a high churn rate. Once again this is another reason why OEMs should focus on innovation and continuing to add value rather than adding such another SKU without a real differentiator.
picture : 2 watchs "Amazfit Band 6"
---
? Esports & Crypto-Currency News
? NBA names Olybet as official betting partner | Via: Insider Sport
The NBA has added to its growing commercial portfolio following its latest deal with the Olympic Entertainment Group AS (OEG) which sees Olybet become the league's official betting partner across Estonia, Latvia, Lithuania and Slovakia. Under the terms of the agreement, OEG will be able to use official NBA branding across its land-based and digital sports betting offerings throughout the nations. Moreover, the partnership will be promoted across more than 100 casino and retail locations in the regions. Scott Kaufman-Ross, Senior Vice President, Head of Fantasy & Gaming at NBA, commented:
"We are thrilled to partner with OEG, a market leader in gaming resorts in the region. The timing of our partnership is ideal, given the unique opportunity in which NBA games will be live in European primetime every day during the seeding stage of the season restart. Our partnership will give OlyBet the tools to create the most authentic NBA betting experience in the region, providing another way for fans to engage with the NBA."
The NBA is back in full swing following its postponement due to the global health pandemic back in March. The competition has followed in the footsteps of other major leagues in the US, such as MLS, in resuming its operations under strict health and safety guidelines to mitigate the risk of spreading coronavirus.
⬆️ The Upside: We believe this is a great move by the NBA as part of its quest to adopt sports betting and generate new revenue opportunities to drive its top line. Of note, the global sports betting market is expected to reach nearly $155.49B in revenue by 2024, and $134.5B by 2027, according to data provided by Transparency Market Research. It is boosted by the stronger presence of online betting and COVID-19 has accelerated this trend.
Picture : Ruby Gobert (Basketball player of the Utah Jazz)
? NBA players secure investment in blockchain-based game developer Dapper Labs | Via: Insidersport
Dapper Labs, the developer behind blockchain game NBA Top Shot, has secured $11.4M in new funding from investors which includes the likes of Miami Heat's Andre Iguodala and Brooklyn Nets' Spencer Dinwiddie among others. NBA Top Shot is a new platform that allows users to buy and trade tokens featuring NBA moments and players. The app has currently been in beta launch from June, however it has generated an estimated $1.2M in revenue from its first 500 players already. The firm will use its new investment to scale Flow, a new blockchain built by Dapper Labs to support the next generation of games, apps and its digital assets. Additionally, the funding will be used to deliver on previously announced collaborations with UFC, Dr. Seuss and Warner Music, among others.
"Crypto enables entirely new possibilities for people to create and exchange value on the internet," stated Roham Gharegozlou, founder and CEO of Dapper Labs. Flow is a new and easy to use blockchain that lowers barriers to entry and lets anyone join this new digital economy. The funding from this round will ensure Flow can scale to the size of projects appealing to fan bases as big as the NBA. Flow lets fans join the economy of their community in a way that wasn't possible before crypto."
⬆️ The Upside: We believe this is a great move by NBA players Andre Iguodala and Brooklyn Nets' Spencer Dinwiddie, Garrett Temple, JaVale McGee of the Los Angeles Lakers, and Orlando Magic's Aaron Gordon. Of note, the global blockchain market size is expected to grow from $3B in 2020 to $39.7B by 2025, at an impressive Compound Annual Growth Rate (CAGR) of 67.3% during 2020–2025. Check out our analysis on the sports blockchain market here.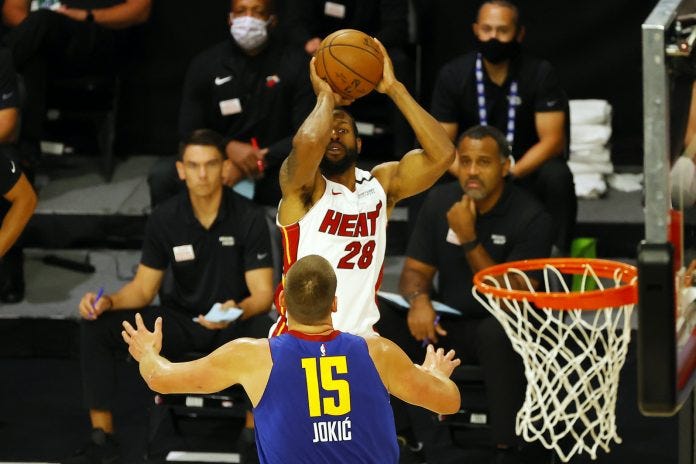 Picture : Andre Iguodala (Miami Heat/NBA)
---
? Sports Tech & Health Investment (Fund raising, M&As) Trends — August 2020
---
? Key Tech & Biz Sports Stats of The Week
$710B: The pandemic has accelerated e-commerce growth, with U.S. online retail sales expected to reach nearly $710 billion in 2020. Should that play out, it would be 14.5% of total U.S. retail sales, up from 11% in 2019 — the single biggest leap in online retail share in one year.
$5B: Disney saw its revenue drop 42% year-over-year as the coronavirus wreaked havoc across the company, resulting in a nearly $5 billion loss. While its theme park business took the biggest hit, its media networks, including ESPN and ABC, experienced a 2% drop in revenue. That drop was largely due to lower advertising revenue alongside the absence of live sports.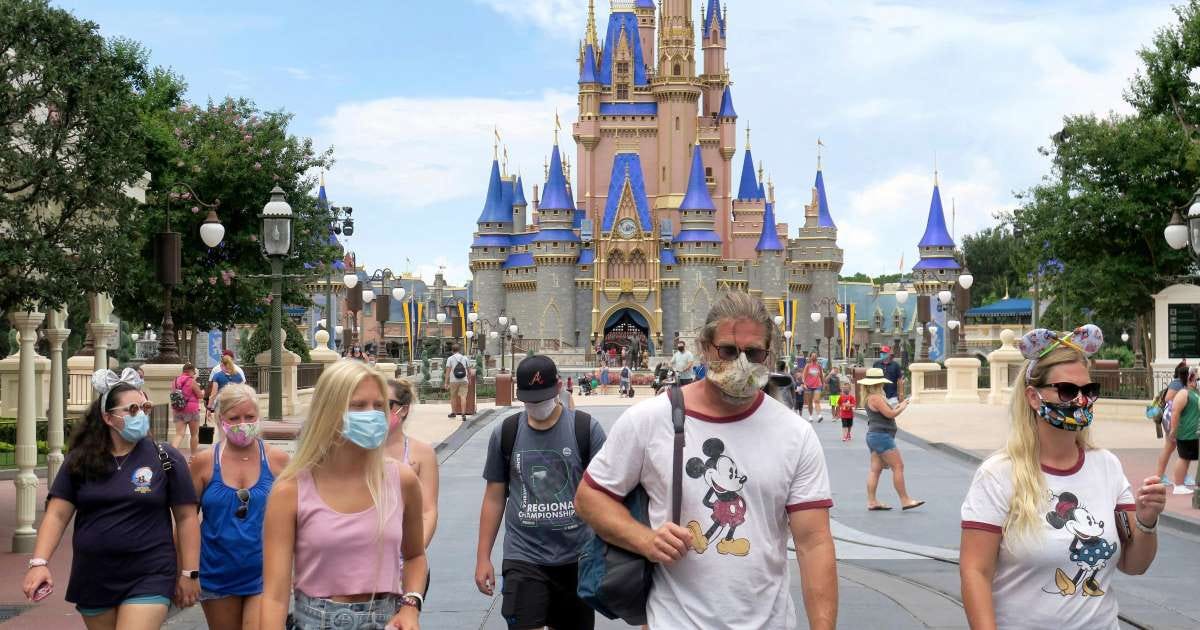 $1.78B: Epic Games announced it has raised $1.78 billion in new funding. With the new raise, Epic is now valued at $17.3 billion. A previous billion dollar round closed in 2018, valuing the company at $15 billion.
$1B: BodyArmor, which recently passed Powerade to become the number two sports drink brand by sales, is expected to surpass $1 billion in sales this year. It had $400 million in sales in 2018.
$770M: AS Roma has confirmed that US consortium The Friedkin Group has signed a deal to purchase the Serie A club in a transaction that is valued at £533m (€591m).
-$394M: Despite a 35% sales decline and $394 million quarterly loss, Adidas expects to return to profitability in the third quarter. At the root of the bullishness: a 93% jump in online sales.
Sports Apparel Most Recent Quarterly Revenues:
Nike: $6.3B, down 38% year-over-year
Adidas: $4.24B, down 35%
Under Armour: $708M, down 41%
Lululemon: $651.96M, down 17%
$300M: NBA owners will contribute $300 million in initial funding to launch the NBA Foundation with the NBPA to create "greater economic empowerment in the Black community."
$300M: The $300M Disneyland of football is expected to open this fall in Canton, Ohio around the Pro football all of game.
$176M: Joe Bryan scored twice in extra time at Wembley to give Fulham the win in what is widely called the most lucrative game in football. Fulham will receive at least £135 million ($176M) over three years after securing promotion, a year after being relegated from the world's richest football league.
65M: Disney+ has grown to 60.5M subscribers, up from 54M in May. Disney also has a combined 100M video streaming users including Hulu+, ESPN +.
$15M: A group including actor and former WWE star Dwayne Johnson has agreed to purchase the XFL for about $15 million, according to a news release issued last Monday morning.
8.5M: Espn + now has 8.5M subs, up from 2.4M last June.
1.16M: Despite the hurdles presented in the schedule, MLB has drawn well on TV. Opening weekend had more than twice the number of viewers as 2019 and ESPN's first 12 broadcasts averaged 1.16 million viewers, a 34% increase from 2019. The network's Opening Night game drew an average of 4 million viewers.
155: Lewis Hamilton equals Michael Schumacher's podiums record.
75%: Division I, where football can generate as much as 75% of a school's athletic department revenue, brings in as much as $150 million.
34%: MLB was up 34% in viewership compared to last year.
-78%: Planet fitness revenue dropped 78% YoY last quarter due to Covid-19.
---
? The Upside: Snapshots & video of The Week.
How many more? NBA star Damian Lillard was wearing a jersey saying "How many more?" to express his support for the Black Lives Matters movement.
NHL & Black Lives Matters: After MLS, NBA players, F1 drivers…some NHL players also took a knee last week. Well done!
PSG & Harvard case study: PSG, which has become a world's top sports brand (via Air Jordan) has now become an Harvard case study.