This week, Peloton, the maker of connected exercise bikes, officially went public. And it did not go as expected.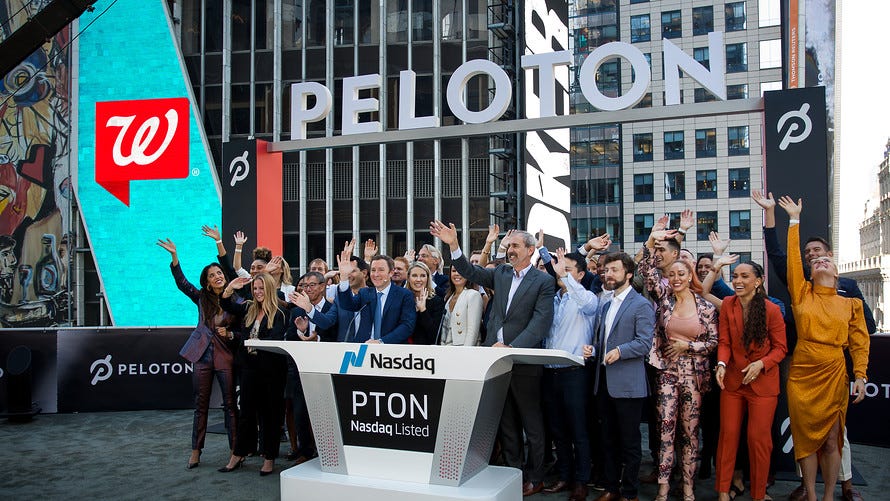 In fact, Peloton shares began trading at around $27 per share (already a dip from its $29 per share offering) and then continued to drop over the course of Thursday, closing down by more than 11%. As of Friday, Peloton shares finished the week at $25.25. Peloton's valuation currently stands at $7B which is below the expected valuation of $8B prior to the IPO.
Source: Peloton stock. Yahoo finance, 2019.
Before we get into investors' concerns over Peloton, let's start with some key metrics about Peloton:
577k+ bikes and treadmills bikes sold to date.

1.4M registered Peloton account members, many of whom pay between $20 and $40 per month to stream fitness classes.

In the fiscal year that ended June 30, 2019, Peloton had 511k "Connected Fitness" subscribers and about 103k "Peloton Digital" subscribers.

The average Peloton member currently works out about 12 times per month in 2019, compared with 8.4 times in 2018.

Peloton produces 950 new classes every month.

2016 revenue: $218M,

2017 revenue: $435M,

2018 revenue: $915M.

In the fiscal year that ended June 30, 2019, Peloton's products had a gross margin of 42.9%, while its subscription services had a gross margin of 42.7%.

Average net monthly churn was 0.70% in 2017, 0.64% in 2018, and 0.65% in 2019. That's a fraction of the churn of gym disruptor Planet Fitness, Inc., which recently said it averages 1.5% to 2.5% per month.

Peloton's fastest-growing age cohort is under 35 years old and fastest-growing income bracket is households making under $75,000.
As seen in the graph below, over the past few years Peloton has started to acquire several startups (NeuroTic) and launched its standalone digital app in order to further differentiate its offering and scale its business faster. Over the year, the company has built a unique and sticky content/software and hardware ecosystem, which is one of the reasons for Peloton's low churn and loyal customer base.
Picture: CB Insights
So why are investors concerned about Peloton? What are the biggest threats for peloton?
Increased level of competition in the connected fitness space: Not surpassingly, as shown in the graph below, due to the success of companies like Peloton, we are now seeing the emergence of a myriad of Peloton's type competitors such as Tonal ($26M raised) for strength training, Crew ($5M raised) for rowing, or Eon for pilates and crossfit. Peloton also faces competition from more established names like NordicTrack, Pro-form, and Echelon. As the connected fitness industry continues to grow, so will the range of options. Many customers will inevitably turn to cheaper devices, putting pressure on Peloton's margins. This increasing level of competition could have a negative impact on Peloton's future growth.
Source: CB Insights
After WeWork debacle, IPO market slams brakes on unprofitable companies..like Peloton: Many investors are also still very cautious about some of the hottest tech companies (Uber, Slack…) to turn profitable…not to mention the recent WeWork debacle. And there is not doubt that they have similar doubts about Peloton's ability to become a profitable company in the long run. In fact, currently Peloton is not yet profitable. In its fiscal-year 2019, the company had a net loss of $195.6M. This compares to its net loss of $47.9M in its fiscal 2018 and a net loss of $71.1M in fiscal 2017. And like many growth-stage tech companies, Peloton will probably have to make hefty investments (e.g. international expansion, M&As) to expand its business. And it remains to be seen when it will turn a profit.
Peloton's unrealistic customer target: Investors are also likely concerned by Peloton's customer target, which some experts believe are unrealistic. In fact, in its filing, Peloton said that it was targeting the 45M people in the US, along with another 22M people globally. Given the fact that there are 62M gym members in the US, that would mean that Peloton would have to capture 72% of US gym members and convince them to buy their bikes and treadmills, which are priced at a premium. For example a stationary exercise bicycle starts at $2,245 and a treadmill starts at $4,295. Of note, Peloton is also expecting its number of fitness streaming members to grow to 12M in the coming years which is quite aggressive as well.
The biggest elephant in the room and Peloton's biggest threats well might be…Apple and Amazon. We strongly believe that Apple and Amazon could potentially enter the connected fitness space and become serious threats to Peloton. By doing so, Apple could offer a similar premium version of Peloton with a connected bike or treadmill that would leverage Apple's content (Apple Music, iTunes..) and fitness products (e.g. Apple Watch, AirPods..). Not to mention that Tim Cook is a fitness enthusiast. Apple could leverage its retail locations to deploy those new types of products and try to convert a good portion of its 1B iOS customers to this new Peloton type offering. As far as Amazon, given Amazon's increased focus on hardware (e.g. earbuds, smart glasses..), they could potentially decide to launch a low cost version of Peloton and offer affordable connected bikes and treadmills. Ultimately Peloton could end up being squeezed between Apple at the high end and Amazon at the low end of the connected fitness market.
So where does Peloton go from here? What is the likely outcome for Peloton?
Go on a buying spree to diversify its product portfolio. In the coming months, Peloton could decide to go on a buying spree and acquire some hot fitness equipment startups such as Mirror or Tonal in order to expand its product offering, acquire new customers and drive revenue growth. The problem with such short term strategy is that it would likely further put pressure on its margins, and increase Peloton's losses.
Offer a low cost version of Peloton's fitness equipment. Let's face it..not everyone can afford to pay $2k for a stationary exercise bike and $4k for a treadmill. So what if Peloton ended up building a low-cost version of its Peloton offering to tap into new customer segments and drive future growth? The biggest issue with such strategy is that it could cannibalize its premium offering, and put pressure on its margins.
Expand into international markets to drive revenue growth. Currently Peloton's growth is primarily driven by the US market. The company has sold approximately 577,000 bikes and treadmills, with about 564,000 of those bikes and treadmills being sold in the US. Peloton is likely to expand into new international countries, which would help the company drive future growth. But by doing so it would require additional investments to expand and grow the business overseas.
Look for an exit in the long run. In the long run, Peloton could decide to look for an exit. One of the most suitable buyers could be Apple as both companies are targeting the premium segment, and they both have a tight software/hardware integration strategy. Apple also has the unique advantage to own its own retail stores. Many observers have even called Peloton the "Apple of fitness". Some financial analysts like John Meyer from Starship Capital, seem to agree.
"One of my views is that Peloton would be much better off selling to a company such as Apple where they're another luxury brand that has retail stores everywhere and could really do a good job at getting people to actually try to use them and buy them on the spot," said John Meyer, Managing Partner of Starship Capital.
Bottom line: We believe that Peloton is likely feeling the near term negative effect of the recent WeWork debacle. That being said we think that Peloton is well positioned for future growth, and has a loyal customer base, a sticky business model, a strong brand and unique content strategy. It remains to be seen when Peloton will turn to profitability especially if the company decides to make strategic acquisitions and expand to internal markets. But long term we believe that Peloton will turn profitable and will not become the next GoPro or Fitbit. But should Apple decide to acquire Peloton there is no doubt that Peloton management team will consider a potential buyout.