Dear Colleague,
Last week many sports leagues were back in action with the NBA, MLB, and WNBA resuming their respective seasons. The National Women's Soccer League (NWSL) also announced that Los Angeles acquired a NWSL team, after a majority woman-founded group secured exclusive rights to bring a professional women's soccer team to the city. The group which has named itself "Angel City" is led by actress Natalie Portman, technology venture capitalist Kara Nortman, media and gaming entrepreneur Julie Uhrman, and Reddit co-founder Alexis Ohanian. Moreover, its investors include Serena Williams, Netflix VP Original Content Cindy Holland, FIFA World Cup Champions Lauren Cheney Holiday and Abby Wambach and a multitude of former US Women's National Team players among others. Los Angeles will officially be integrated into the NWSL in spring 2022. When it comes to the MLB, Fox plans to use virtual fans to fill out stands to make its MLB broadcasts look as natural as possible. MLB has also distributed roughly 75 different sound effects pulled from Sony's MLB. MLS betting is also expected to increase by 55% due to COVID-19 pandemic.
Last week, the MLS also announced a new MLS team in Charlotte, N.C. called Charlotte FC. The team, owned by Carolina Panthers owner David Tepper, begins play in 2022. In the NHL, the NHL's newest expansion franchise in Seattle announced a name: Kraken. The Kraken will begin play in the 2021-22 NHL season. UBS also secured the naming rights to the New York Islanders' new $1.5 billion arena in a 20-year deal. In the NFL, the Washington NFL franchise also announced on Twitter it's changing its name, for now, to the "Washington Football Team."
In the world of AR/VR and digital, the NBA used Microsoft Teams to bring basketball fans courtside. Some researchers also unveiled FingerTrak, a hand tracking wristband for AR/VR input. The MLB also plans to use virtual fans on live TV thanks to Fox Sports. In the wearable and connected fitness world, the NFL will continue data tracking in helmets, cleats and mouthguards amid COVID-19. The Oppo Watch also launched in Germany with global release imminent while the Samsung Galaxy Watch 3 will be unveiled on 5 August. MyCoach also teamed up with GPS vendor MacLloyd. In the world of esport, Real Madrid and Arsenal teamed up with Twitch to launch a sports channel.
---
Aa a reminder, we are now launching our new Upside Global platform to bring together our sports, tech & health community of 2,500 executives under a single web platform. Members include executives from the NBA, NFL, NHL, MLS, MLB, Laliga, English Premiere League, Ligue 1, Bundesliga, Series A, Brazilian soccer league, Olympic teams, Pro tennis, as well as representatives of startups, brands, VCs, and athletes.
As a startup, have you ever wondered how a company gets their product in front of national sports teams or even land military contracts?
You and your startup can join a community of executives from the NBA, NFL, NHL, MLS, MLB, Laliga, English Premiere League, Olympic teams, and more!
Your opportunity for growth starts now, create your free executive profile today to join our online community and click on "become a member today" as a first step.
If you face any problems during the registration process, please click on the live support button on our website.
---
? Top Stories We're Reading This Week
? The NBA is using Microsoft Teams to bring basketball fans courtside
? Researchers show FingerTrak, a hand tracking wristband for AR/VR input
⚾ LOOK: Virtual fans will be on some MLB television broadcasts and here's a first look
⌚ The Oppo Watch launches in Germany with global release imminent
⌚ Samsung Galaxy Watch 3: smartwatch will be unveiled on 5 August
⌚ MyCoach teams up with MacLloyd
? Real Madrid and Arsenal on board as Twitch launches sports channel
? Latest Investment Trends
? Tech Stats of the Week
? Snapshots of the Week
Let's jump right into the insights and upside for all of these top stories
---
? AR/VR/Video/Digital Sports News
? The NBA is using Microsoft Teams to bring basketball fans courtside | Via: The Verge
The National Basketball Association (NBA) is using Microsoft Teams' new Together Mode to place basketball fans courtside in a virtual experience during live games. Microsoft only just revealed Together Mode for Teams earlier this month, and it uses AI to segment your face and shoulders and place you together with other people in a virtual space. The NBA is using this new Microsoft Teams mode combined with 17-foot tall LED screens that will wrap around basketball arenas to put fans back next to players. Fans will be able to react in real time, and players will be able to see and hear those reactions. These virtual stands will include more than 300 fans using Together Mode to sit side by side with each other virtually in Microsoft Teams. Fans will be able to watch a live feed of the game within Teams alongside a view of each other.
"This new experience—the first to go live as a result of the NBA / Microsoft partnership — gives participating fans the feeling of sitting next to one another at a live game without leaving the comfort and safety of their homes," explains Jared Spataro, head of Microsoft 365. "Players, meanwhile, will experience their energy and support as they dribble down the court and see fans' real-time reaction. And viewers tuning into the game from home will feel the crowd's energy as well as they see the virtual stands filled with fans."
There's obviously a lot of potential for abuse if fans suddenly go rogue during the sessions. Thankfully, the NBA will have members participating in the calls and will remove any participants who behave inappropriately or disrupt the experience. Broadcasters ESPN and Turner Sports are also repositioning cameras to include new angles for fans watching at home, and microphones around the court will capture the sneaker squeaks and ball bounces we're used to hearing. Alongside the Microsoft Teams experience, fans will also be able to cheer virtually using the NBA app. These virtual cheers will appear on video boards during games with animations. The NBA's work with Microsoft is all part of a strategic alliance that the pair formed earlier this year. Microsoft signed a multiyear deal with the NBA to become the official AI, cloud, and laptop provider for the league. This is the first big example of the deal, and we'll also see the NBA using Microsoft's Azure platform to broadcast live and on-demand basketball games, with personalized content.
⬆️ The Upside: This is a great move by the NBA. This type of courtside experience has been done before. As we noted previously, some Danish soccer teams have teamed up with Zoom to offer a similar fans experience. We expect more leagues and teams to jump on the bandwagon as it is part of teams' and leagues' strategy to offer new types of experiences due to COVID-19 . You can check out our analysis on technologies that can help teams and leagues during COVID-19 pandemic here.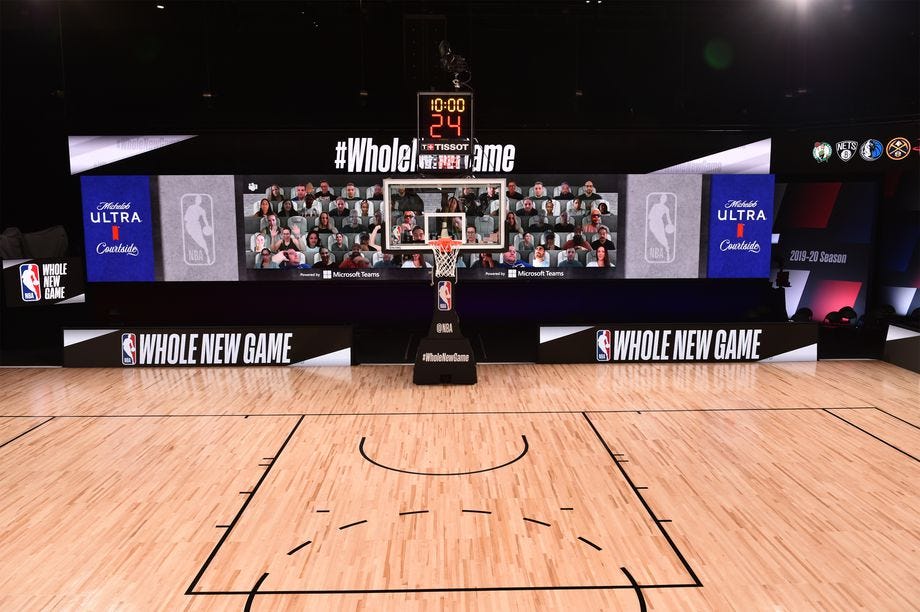 Picture: NBA
? Researchers show FingerTrak, a hand tracking wristband for AR/VR input | Via: VentureBeat
As virtual and augmented reality steadily advance in both visual fidelity and headset comfort, researchers continue to work on input solutions that will feel more natural than holding controllers. Today, a group of researchers announced FingerTrak, a wristband-based solution that uses thermal cameras to track hand movements in 3D, abstracting 20 finger joint positions from contours on the wearer's wrist.
Developed by Cornell University's SciFi Lab with assistance from University of Wisconsin, Madison researchers, FingerTrak uses a deep neural network to stitch together input from three or four miniature thermal cameras mounted around the wrist, collectively capturing an entire hand pose. Using silhouettes generated by the cameras, backbone and regression networks estimate fingertip and joint positions, and though the results aren't perfect, they could be used for some forms of VR and AR input. Other potential applications for FingerTrak include human-robot interaction and control, sign language translation, and mobile health, including early detection of degenerative diseases such as Parkinson's and Alzheimer's. Interestingly, the researchers suggest that wrist contours alone are "enough to accurately predict the entire hand posture," enabling the entire sensing system to be placed on the wrist, rather than requiring gloves, rings, or other techniques that have previously been released. A demonstration video shows FingerTrak's hand motion tracking translating into movements for a bionic hand, as well as enabling a computer to determine when a user is writing, drinking coffee, and interacting with a smartphone.
FingerTrak will be presented in mid-September at the 2020 ACM International Joint Conference on Pervasive and Ubiquitous Computing. The underlying paper, "FingerTrak: Continuous 3D Hand Pose Tracking by Deep Learning Hand Silhouettes Captured by Miniature Thermal Cameras on Wrist," is available here.
⬆️ The Upside: Wrist-mounted cameras could augment the inside-out tracking cameras found in VR headsets such as Oculus Quest, which monitor hand and finger positions from the user's head. In prototype form, FingerTrak is already pretty small, and it could easily go smaller with further engineering. To learn more about VR training systems or VR in sports in general please check out our VR sports market analysis here.
⚾ LOOK: Virtual fans will be on some MLB television broadcasts and here's a first look | Via: CBSSPORTS.COM
Baseball fans started off wondering if the game would even return after the stoppage caused by the coronavirus pandemic, now that it's back on, we are wondering how they will handle the shift to empty stadiums. Athletes are used to — and thrive off, the hype created by a crowd, and with that gone the dynamic of the game and broadcast changes.
Will there be crowd noise pumped in? Cardboard cutouts of fans? Well, for a select number of broadcasts, virtual fans will be in the seats. Here's a first look at these virtual fans, that will be used in Fox Sports MLB television broadcasts: It's reminiscent of a video game and the fans do look rather realistic based on the preview. These fans will boo, cheer and from what it seems, do the wave as well. They are wearing team apparel and colors to make it look even more real. The MLB season returned last week with the defending World Series Champion Washington Nationals hosting the New York Yankees to kick off Opening Day followed by the Los Angeles Dodgers hosting the San Francisco Giants.
⬆️ The Upside: We believe that this is a great move by Fox Sports and the MLB. It will enable MLB teams to enhance the fans viewing experience. The MLB is the first sports league to use virtual fans in stadiums this way but they are not the first sports league to use crowd noises in stadiums. In fact the Bundesliga and Premier league used a similar strategy in the past month. Overall this is part of leagues's overall strategy to keep fans stay connected during the COVID-19 pandemic. You can check out our analysis on technologies that can help teams and leagues during COVID-19 pandemic here.
Picture: Fox Sports
---
? Wearables, Health, Nutrition News
⌚ NFL to continue data tracking in helmets, cleats and mouthguards amid COVID-19 | Via: Wearable
With the rightful focus on the NFL's COVID-19 emergency protocols and comprehensive plans that the NFL and NFLPA are developing to keep players safe during this pandemic, it is easy to overlook the long-term health and safety testing the league annually undertakes. And no, it is not going on hiatus this season, though the pandemic is affecting the number of teams that may participate in certain safety tests.
The league is expanding to as many as 24 teams that will have their cleats automatically tracked (compared to eight last year), and as many as 16 teams testing mouthguard sensors (up from four). And the NFL is pushing forward on developing helmets for specific positions, with some players possibly wearing them as soon as next season. For the past several years, affixed to the wall of NFL locker rooms is a chart ranking helmets by safety, and the league now boasts that 100 percent of players are wearing helmets that pass NFL safety tests, with 99 percent of…
"As we have done very well with helmets and concussions, (we are) taking a look at the on-field occurrence per cleat, what is the injury rate per cleat, and tie that to the laboratory performance testing, which was done this year, but again, it's one year of analysis," said Langton, who herself blew out her knee as a lacrosse player in college at the University of Virginia. "So we are full-steam ahead for this year."
⬆️ The Upside: We think this is a great move by the NFL during the COVID-19 pandemic. This is part of the NFL's plan to make the league safer. Of note, the NFL uses systems like Zebra's RFID / UWB system to track players' speed, location and acceleration. It also announced its plan to use a face shields during NFL game. You can check out our latest analysis on Sports leagues' regulation towards wearables here.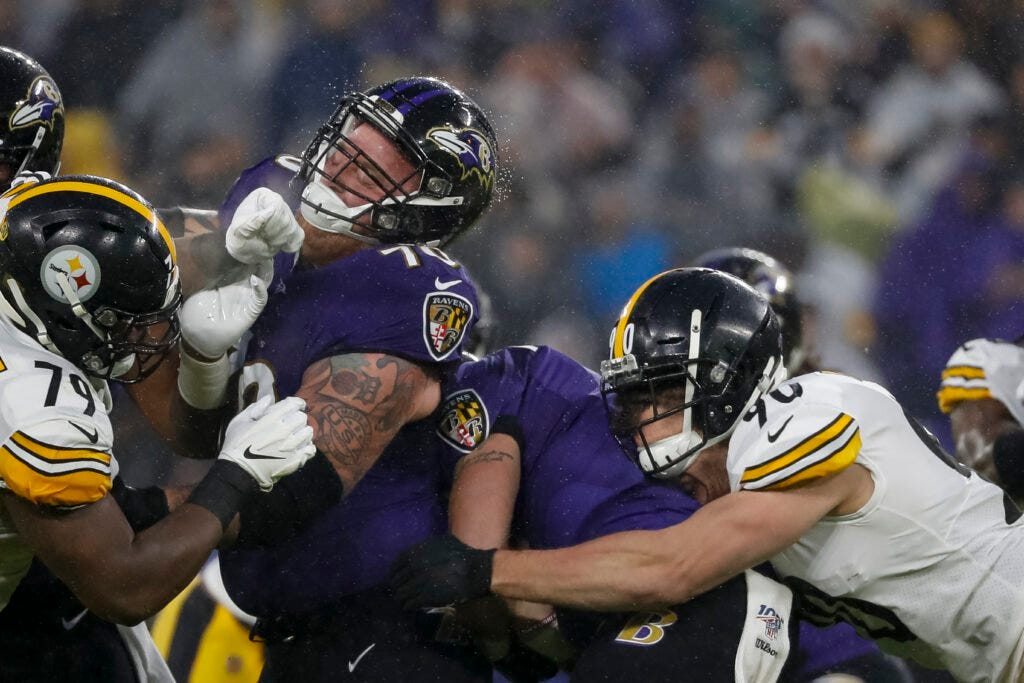 ⌚ The Oppo Watch launches in Germany with global release imminent | Via: Wearable
The Oppo Watch has been on sale in China since its launch back in March – and now it's landing globally. The smartwatch has now gone on sale in Germany, and will be imminently released elsewhere in Europe and the US. At the company's event on 6 March, but the Oppo Watch was only announced for the Chinese market – and company spokesperson said on stage in the Western presentation that the "Oppo Watch deserved its own event, so you will have to wait." It was clear that in the wake of the global pandemic, Oppo was scaling back its ambitions. So while the Oppo Watch seems unlikely to get the event we were promised, it's at least getting a global release. Yes it's a massive Apple Watch clone – just look at the examples above with the silicone sports bands – absolutely shameless stuff. We doubt most people would be able to tell the difference. But look under the hood, and there's a serious amount of technology, innovation and features. It has a curved AMOLED display, and ships in 1.6-inch and 1.9-inch sizes – that's roughly 41mm and 46mm – so quite a difference between the two. It will have a decent specced 326ppi resolution, so it looks pretty smart. It's also waterproof to 50 metres.
It uses a Snapdragon Wear 2500 processor, which is slightly dated given Qualcomm just announced the Wear 4100. But Oppo still promises 40 hours of battery life, with fast charging offering 18 hours battery from just 15 minutes on the charger. And the reports were correct: the Oppo Watch has a heart rate monitor and it will take electrocardiogram (ECG) readings – again, just like the Series 5. Like the Xiaomi Mi Watch the Oppo Watch runs WearOS, but uses a customised ColorOS skin on top – so it's not a vanilla Google experience. And that means Google Pay will feature on the global edition. There's an eSIM so LTE connectivity is an option.
⬆️ The Upside: We believe that this new Opportunity watch has interesting specs (HR, ECG..) and a good battery life. But what Oppo needs to do is to focus on adding new biosensing capabilities (e.g. hydration, BP monitoring..) to be able to take share away from Apple in the wearable fitness space.
⌚ Samsung Galaxy Watch 3: smartwatch will be unveiled on 5 August | Via: CBS Sport
The Samsung Galaxy Watch 3 is nearly official, and Samsung is set to update its smartwatch range with its biggest update yet. To catch you up, Samsung's next smartwatch has widely leaked, and looks set to be called the Samsung Galaxy Watch 3. No, you didn't miss a generation, but it looks like Samsung will skip on to Watch 3 to avoid confusion with the Galaxy Watch Active 2. And it will be shown off on 5 August at the company's Unpacked event for the Galaxy Note 3. That was confirmed in a blog post by TM Roh, President and Head of Mobile Communications.
He wrote: "At this summer's Galaxy Unpacked, we'll be introducing five new power devices…you will be empowered to live life to the fullest with these devices in your hand (and in your ears, and on your wrist.)" We've been writing about the Galaxy Watch 3 since the first rumors emerged, so here we've collated every piece of confirmed information, every leak and every rumor together into one place. We know that the new Galaxy Watch is set to shrink in size to 41mm and 45mm case sizes, packs in GPS, heart rate. The original Samsung Galaxy Watch came in 42mm and 46mm sizes – so this is a significant reduction in size. And there are set to be a series of different skews in addition to the two different sizes. We're set to see silver and black stainless steel cases, and the 41mm version will have a bronze/gold finish. The larger 45mm will also come in a black titanium case option. And each will have Bluetooth (standard) and LTE editions – except the titanium.
⬆️ The Upside: It will be interesting to see what type of impact COVID-19 will have on the launch of the Galaxy Watch 3 as in-store retail sales likely got impacted by the pandemic due to lower traffic in store. However Samsung is likely to target its existing watch customers to upgrade them to this new watch. It is likely to leverage the rebound in online sales. For example, Best Buy said last Tuesday that it's brought back about half of its furloughed employees as sales rebound. The retailer said its second-quarter sales are up about 2.5% through July 18, compared with the same period a year prior. That includes sales growth of 2% in the U.S. and about 8% internationally, the company said. Best Buy's online sales have also jumped by 255% so far in the second quarter, compared with a year ago. It said customers' purchases of computers, appliances and tablets are driving those sales.
Picture: Samsung
⌚ MyCoach teams up with MacLloyd | Via: tribuca.net
My Coach and McLloyd, in their own way, glorify the know-how made in France in the digital sports sector. And the tandem, derived from Nice and Millau, should smash their individual records. It is the resumption of the entrepreneurial championship on the side of the Allianz Riviera, headquarters of My Coach, a major player in the digitalization of sports through its content, data and other analysis tools capable of increasing performance tenfold. The objective of this recently announced, but already effective, merger: to strengthen the leadership now shared in the sportech market in France. A reinforcement which for the time being does not cross the line of investment, and focuses on the delivery of a more complete, more solid, more agile, and 100% French product. In the long run, the 2 companies could be fully integrated. Initially they are focusing on soccer and rugby, with the Stade Niçois already a partner.
⬆️ The Upside: We think this is a good partnership for both companies. Mycoach has a strong presence in the world of soccer, especially in France. By fully integrating McLloyd's data (GPS) into its players' management system, it will make Mycoach's offering more appealing to customers. For McLloyd it will enable to company to acquire new customers. So overall it is a win win partnership for both companies. In the coming years, MyCoach is also likely to forge similar partnership with other wearables/hardware companies to acquire new types of biometric and statistical data.
---
? Esports & Crypto-Currency News
? Real Madrid and Arsenal on board as Twitch launches sports channel | Via: SportsPro
Spanish champions Real Madrid are among four elite European soccer clubs to sign strategic partnerships with Twitch as the global streaming service launches a dedicated sports content channel. The La Liga club will be joined by Italian Serie A leaders Juventus, French champions Paris Saint-Germain and English top-flight outfit Arsenal in expanding their live content on the Amazon-owned platform. Initially, Twitch will collaborate with each club on the production of behind-the-scenes content. As the partnerships progress there is also the potential to showcase live youth and first-team friendly matches on the platform, as well as club press conferences. The concept is designed to help engage younger audiences by leaning on content which provides more interactive viewing experiences.
The strategic partnerships have been confirmed alongside the launch of the Twitch Sports standalone content stream, /twitchsports, which was previously coupled with the platform's health and fitness segment, which now also takes on its own channel. The deals with the European soccer clubs are also part of a greater push for streaming rights, SportsPro understands. Twitch recently signed a deal to become the National Women's Soccer League's (NWSL) exclusive international broadcast partner and is seeking opportunities of a similar stature. Day one of the relaunch will see the Twitch Sports channel showcase a range of live programming, with the likes of the National Basketball Association (NBA), Arsenal, House of Highlights and the Ultimate Fighting Championship (UFC) each allocated two-hour time slots to release interactive content. Twitch has previously simulcast live sports content licensed by the Amazon Prime Video over-the-top (OTT) service, including most recently four Premier League matches as part of the resumption of English soccer's top flight in June.
⬆️ The Upside: We believe this is a great move by Real Madrid, Juventus and PSG. Twitch is more commonly known for esports and gaming, with more than 70 per cent of its audience under the age of 34. That demographic is considered a massive draw for sports properties to attract new fans and also to create branded content opportunities. Other sports properties already using Twitch include the NWSL, which has been live streaming Challenge Cup matches on the platform; the National Hockey League (NHL); the Rugby Football League (RFL); and the UFC. Alongside those major rights holders athletes such as Los Angeles Chargers' running back Austin Ekeler and Formula One driver Lando Norris also regularly stream on the platform.
---
? Sports Tech & Health Investment (Fund raising, M&As) Trends — July 2020
Snoop Dogg's VC firm leads $9.5M investment in US sleep solutions startup. Read here.
---
? Key Tech & Biz Sports Stats of The Week
$4B: The NFL could lose up to $4 billion of its annual $15 billion in revenue if fans are not on hand to buy tickets, suites, parking passes, merchandise, and concessions, among other gameday revenues.
$1.7B: The expanded MLB postseason will help maintain the estimated $1.7 billion in national TV media rights revenue MLB receives annually. Offset losses from fans not being in attendance. Forty percent of the league's $10.7 billion in annual revenue typically comes from game-day revenue, including tickets, concessions, parking, and merchandise.
$1.5B: UBS secured the naming rights to the New York Islanders' new $1.5 billion arena in a 20-year deal.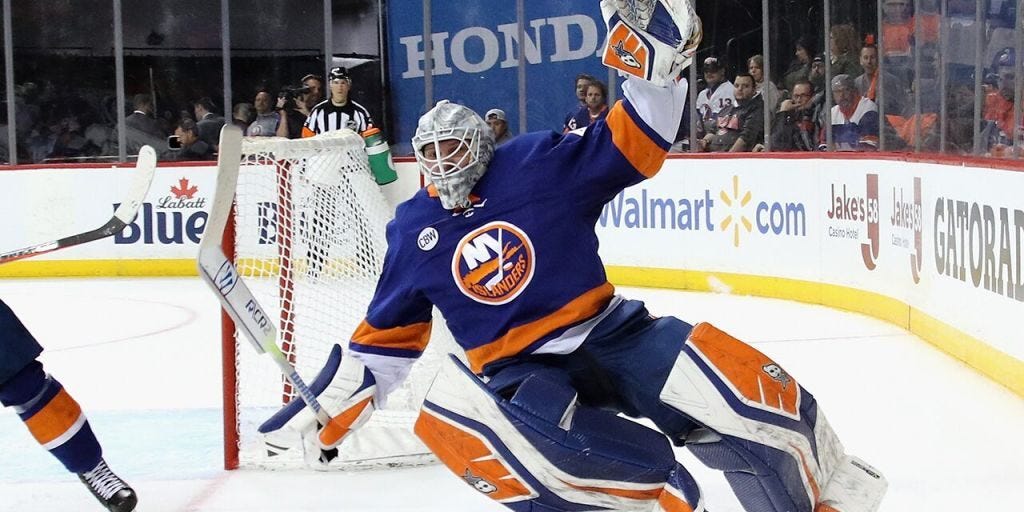 $650M: The Kraken, the new NHL team in Seattle, will take the ice in the 2021-2022 NHL season as the league's 32nd team. It is owned by a group led by financier David Bonderman and movie director Jerry Bruckheimer, who paid an NHL-record $650 million for the expansion spot.
$365M: The Los Angeles Dodgers have signed outfielder Mookie Betts to a 12-year, $365 million extension. It's the second-largest MLB contract ever, behind the $426.5 million deal Mike Trout signed last spring with the Los Angeles Angels.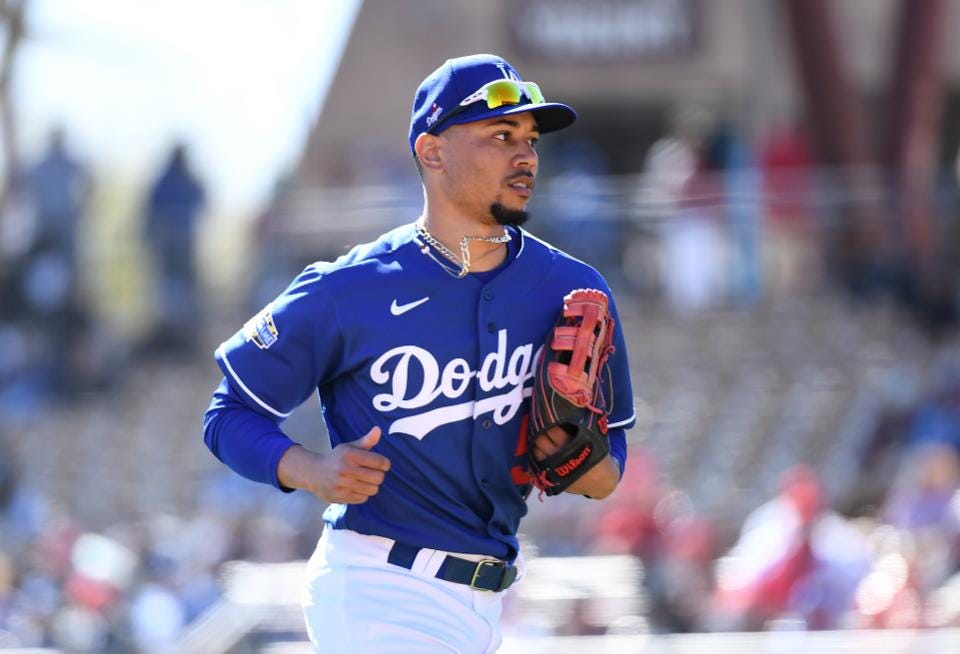 $200-$250M: Nike has leaned into its training and exercise apps during the pandemic to connect with at-home athletes – those platforms also have e-commerce tie-ins. Roughly 30% of Nike's revenue in its last quarter came from digital sales, an increase of 75% year-over-year. These changes will lead to a "net loss of jobs across the company" which will result in a one-time employee termination cost of between $200 to $250 million, Nike said in a statement.
$75M: Coronavirus testing across the proposed season is expected to cost the NFL more than $75 million, according to the Wall Street Journal.
90%: Fox has sold more than 90% of its ad inventory for its MLB games this year, and there's reportedly a rush to buy space on the regional sports networks that air games. An estimated $217.7 million in advertising is normally spent across Fox, Fox Sports 1, TBS, MLB Network, and ESPN for the 162-game slate. Advertising revenue in May was down 31%, largely because of the lack of sports on TV.
59%: After the pandemic is over, 59% of Americans won't be renewing their gym memberships, according to a recent survey by TD Ameritrade. While many gyms have been closed the past four months, 56% of respondents have found "more affordable" ways to get their workouts in.
55%+: Sports betting is widely expected to attract a younger, more affluent fanbase, according to the American Gaming Association. With betting expanding across the U.S., the AGA expects MLB will see a 55% increase in baseball bettors.
59: It's been 59 years since the Tottenham Spurs have won the last Premier League title.
---
? The Upside: Snapshots & video of The Week.
Baseball players taking a knee. During the game between the Yankees and the Washington Nationals MLB players took a knee in support for the Black Lives Matters movement.