Dear Colleague,
Last week, the NBA season officially resumed in Orlando with most players taking a knee in support for the Black Lives Matters movement. The NFL is now planning to allow players to have decal stickers on the back of their helmets bearing names or initials of victims of systemic racism and police violence.
Formula 1 also canceled any plans of staging races in the US, Mexico and Brazil due to the growing coronavirus pandemic in the Americas, as confirmed by the competition. Speaking of F1, Ferrari officially entered the esport market and is now inviting fans to join its esports academy. In the US, the Southeastern Conference now plans for a 10-game conference-only football schedule this fall. Of note, the Power 5 schools are now expected to lose an average of $18.6M in ticket sales this year.
Teams continue to be hit by COVID-19. The latest team? The Marlins (MLB). At least 4 players from the Marlins tested positive for COVID-19, joining at least a dozen others within the organization. To prevent COVID-19 and improve safety, fans of LAFC, a top MLS team, will next year be able to use an app called Clear, made by Alclear and used by some airline passengers to speed through security checks by presenting their fingerprints or showing their faces.
Speaking of COVID-19, the cost of COVID-19 has affected the brand value of multiple football clubs with the top 50 teams losing a total of $884M in value, according to the latest Brand Finance Football Annual report. It is also estimated that the NHL has brought in $3.9B in revenue so far this season, compared to more than $5 billion last season. The good news here is that most major sports leagues (NBA, MLB, NHL, MLS, Premier league, Laliga, Ligue 1, Series A..) have already restarted their seasons and are receiving money from TV rights. This is a tremendous help as it will help them offset any losses occurred due to COVID-19 due to losses in ticket sales.
For the fifth straight year, the Dallas Cowboys top Forbes' list of the most valuable teams in sports and is valued at $5.5B. Chiefs NFL Quarterback Patrick Mahomes also became part of the Kansas City Royals ownership group last week.
In the world of AR/VR and digital, Snap launched a new mobile AR experience in Orlando, FL. Bayern Munich also launched robotic digital autograph sessions in association with Audi. Microsoft Corp is also in talks to buy TikTok, the New York Times reported on Friday, citing a source. In the wearable and connected fitness world, dates around the launch of the Apple Watch Series 6 have surfaced. Huawei Watch GT2 Pro is also rumored to be launching next month with a voice assistant. Fitbit owners can now help create a test to detect early signs of COVID-19. In the world of esport, Former NBA Player Marcin Gortat invested in the Polish Esports League while NHL Maple Leafs' Mitch Marner is now part of OverActive Media ownership Group.
---
Aa a reminder, we are now launching our new Upside Global platform to bring together our sports, tech & health community of 2,500 executives under a single web platform. Members include executives from the NBA, NFL, NHL, MLS, MLB, Laliga, English Premiere League, Ligue 1, Bundesliga, Series A, Brazilian soccer league, Olympic teams, Pro tennis, as well as representatives of startups, brands, VCs, and athletes.
If you are a head athletic trainer, CTO, CMO of a major sports team or league looking to connect with the most innovative startups or connect with your peers to network, or if you are a startup CEO looking to connect with top teams or investors, you can join our Upside community of executives from the NBA, NFL, NHL, MLS, MLB, Laliga, English Premiere League, Olympic teams, top VCs, startups (AR, VR, wearables, sleep tech..) and more!
Your opportunity for growth starts now, create your free executive profile today to join our online community and click on "become a member today" as a first step. It is free to join! It only take one minute to create your profile.
If you face any problems during the registration process, please click on the live support button on our website.
---
? Top Stories We're Reading This Week
? Snap launches new mobile AR experience with the NBA
? Bayern Munich launches robotic digital autograph sessions Audi in China
⌚ Apple Watch Series 6 release date rumored
⌚ Huawei Watch GT2 Pro could launch next month with voice assistant
⌚ Fitbit owners to help create a test to detect early signs of COVID-19
? Former NBA Player Marcin Gortat Invests in Polish Esports League
? NHL Maple Leafs' Mitch Marner Now Part of OverActive Media Ownership Group
? Latest Investment Trends
? Tech Stats of the Week
? Snapshots of the Week
Let's jump right into the insights and upside for all of these top stories
---
? AR/VR/Video/Digital Sports News
? Snap launches new mobile AR experience with the NBA
At the NBA tournament in Orlando, Snap unveiled a new AR experience with The NBA.
"With the NBA season returning tonight, we're excited to give fans the opportunity to bring the court from Orlando into their living rooms. Hugely proud of this collaboration with our friends at the NBA- check out this unique AR experience on Snap!", said Anmol Malhotra, head of sports partnerships at Snap.
Snap is introducing this in Orlando where the NBA season is resuming and games are played without fans in stadiums. Sports has become a key focus for Snap which has teamed up with some of the biggest sports brands and athletes in the world. In fact, in 2019 it teamed up with Lebron James and launched a fresh in-store AR advertisement for Snap. According to a Snap spokesperson, a video of the augmented reality experience shared by James on Twitter acquired over 1.25M views via his tweet itself.
⬆️ The Upside: This is a great move by the NBA. As noted above, Snap has done a great job partnering with major sports brands and athletes to create these types of mobile AR experience. Of note, mobile AR reached in revenue $3 billion globally in 2018, driven by appstore revenues (primarily Pokémon Go), adspend (e.g. from mobile AR features in messaging apps) and eCommerce sales (e.g. Houzz delivering 11x sales uplift). Mobile AR installed base (i.e. configured devices) grew more slowly than anticipated to over 850M globally. Ultimately, we expect more leagues and teams to jump on the bandwagon as it is part of teams' and leagues' strategy to offer new types of mobile AR experiences. You can check out our latest analysis on the sports AR market, ecosystem, vendors and experiences here.
Picture: NBA, Snap
? Bayern Munich launches robotic digital autograph sessions Audi in China
Last week, Bayern Munich announced its first-ever Audi Digital Summer Tour. The goal? Connecting FC Bayern München and their fans from July 25 to August 2 via a digital experience. The club and its stars will get close to their global fans via digital platforms with (live-) content, virtual fan challenges and interactions. One of the main highlights: The digital autograph sessions! The Robograph is programmed to "hand sign" the autographs of 19 different FC Bayern players like Thomas Müller and Leon Goretzka. The fans in China can also join them at the Audi stand at the #Chengdu Motor.
⬆️ The Upside: Using a robotic arm to help create players' digital autographs for fans is an innovative experience. Plus it is a win win for both parties. Audi, on one hand, can leverage its expertise in robotics while Bayern Munich can continue to engage with its fans while limiting contacts between players and fans during the COVID-19 pandemic. It is worth pointing out that over the past few months during the COVID-19 pandemic we have seen a number of teams using robots: For example the Rakuten Monkeys, a Chinese Professional Baseball League team, had robot mannequins fill in as fans at games. Now will this become a major new trend among pro teams? It is still too soon to tell.
Picture: Bayern Munich, Audi
---
? Wearables, Health, Nutrition News
⌚ Apple Watch Series 6 release date rumored | Via: Wearable
Rumours that the Apple Watch Series 6 could launch on 8 September with the Apple Glass AR specs appears to be fake – after it was widely reported by the Apple press.
At Wareable we've been assuming that the new Series 6 would follow Apple's tradition of unveiling its smartwatch in early-September, but in this topsy-turvy post-Covid world, that was no longer a given. So-called tipster Hacktu Pro tweeted that the Apple event will take place on 8 April – and alleged that Apple Glass could join it. But the tweet has since been deleted.
We called into doubt the accounts' reliability, although predicting a September release for the Apple Watch isn't exactly a major revelation. Every Apple Watch has been outed in September, even though we were made to wait until April for the original. But the tipster got tongues wagging after hinting that Apple Glass – the long-rumored AR specs – could show up. While this seemed extremely unlikely, it did get us thinking about whether Apple's AR specs could get an outing this year. Prominent Apple observer Jon Prosser has said that Apple Glass is headed for a 2020 release, even if it won't be available to buy until 2021. However, previous rumors have suggested that the release date could be 2022 and that the project had been shelved altogether. Given the AR wearables market just hasn't kicked off in any meaningful way and with zero consumer expectations, we'd still be surprised to see Apple take the plunge at this stage.
⬆️ The Upside: We believe that Apple needs to push the boundaries in terms of innovation with the new Apple Watch 6 series. So far Apple has added incremental improvements to the Apple Watch but it needs to beak that cycle and offer truly innovative biosensing capabilities like hydration assessment,BP monitoring, contactless biosensors and more. Now Apple filed a patent recently around a concept that would allow the Apple Watch to add new sensing capabilities as part of a modular approach. We believe that this is the type of thing that Apple needs to focus on if it wants to sustain its lead in the smartwatch market. You can check out our analysis on the contactless biosensor market here.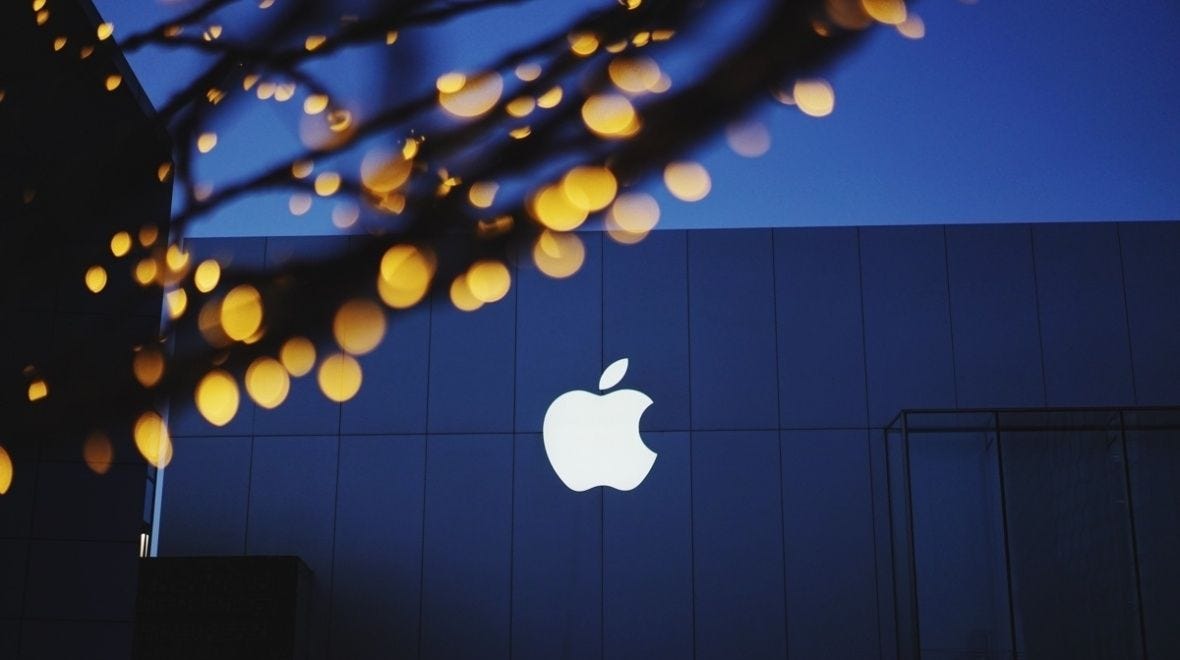 ⌚ Huawei Watch GT2 Pro could launch next month with voice assistant | Via: Wearable
We've had an inkling a new Huawei Watch GT could be in the works, and sure enough a certification has just passed through a key regulator. A Huawei Watch GT2 Pro and Honor Watch GS Pro (these two brands usually come in pairs with near identical specs) were spotted at the EEC (Eurasian Electronic Commission). It was tipped on Weibo and then shared by Huawei Central and Notebook Check. They also revealed that a new Honor Band 6 could join the line-up. Details are scarce but it is possible to join a few dots, which could give us a clue to what's in store. Firstly, the Huawei Watch GT2 was launched last September, and while the GT2e upgrade was launched earlier this year, it was merely a sportier design. So a September 2020 launch does make sense. And the launch of the GT2 Pro could tie in with a story Wareable broke last week of Huawei rolling out its Celia voice assistant on Huawei Watch models, and that the announcement could tie in with the launch of a new smartwatch. Other than that we don't have much to go on, but given the Oppo Watch has just been announced globally, and we're about to get a Samsung Galaxy Watch 3, things are getting mighty interesting in the Android watch world.
What's more, a new GT2 isn't even the most exciting announcement on the Huawei radar. We reported that a new Huawei Mate watch is in the works, which could be a more high-end foil to the sporty, budget Huawei Watch range. That's rumored for an October reveal, alongside the Mate 40 smartphone. Watch this space.
⬆️ The Upside: This should not come as a surprise to see Huawei launching a smart watch with a voice assistant. Many watches already have a voice assistant these days starting with the Apple Watch. But our belief is that few people use voice commands on smartwatches. Voice commands only make sense for specific use cases where a handsfree environment is required. What Huawei needs to focus on adding new biosensing capabilities (e.g. hydration, BP monitoring..) to be able to take share away from Apple in the wearable fitness space.
⌚ Fitbit owners to help create a test to detect early signs of COVID-19 | Via: Wareable
Fitbit's fitness trackers and smartwatches could prove pivotal to detecting the early signs of Covid-19. Owners of one of Fitbit's wearables are being recruited in multiple studies, at the COVID-Collab research team at King's College London, the Scripps Research Translational Institute and the Stanford Medicine Healthcare Innovation Lab in the US. The Mass Science app from Kings College is designed to monitor wearables devices – including those by Fitbit – and aims to match Covid symptoms to data such as heart rate as well as sleep and activity. While having a Fitbit device isn't essential to enrolling in the study, the team behind the app believes the data provided by those trackers and watches could offer vital insights. The goal is to collate enough of that data to analyse and compare data from periods of illness with normal healthy periods, it could potentially create a useful test that can be used for early warning signs of Covid-19 and to develop a better idea of how the disease spreads. It's also hoped harnessing this data could be a viable solution to track the disease nationally or locally, understand the most important symptoms and learn more about social distancing measures and how they can affect transmission rate. Throughout the pandemic, researchers have looked to the role wearables could play in the fight against Covid. Whether that's improving the testing process or helping with the early detection of the disease. In May, Fitbit launched a COVID-19 Study that owners of its devices could access from within its companion smartphone app.
Other wearable makers have been trying to do their bit too. Ava, makers of a fertility wearable felt it could play its part in filling the gaps in the Covid-19 testing process. The Oura smart ring is also being used in studies to see whether the wearable could be used to detect early signs of the disease. It's also being used by the NBA as a way to help keep track of player vitals, so the season can be safely started. A similar idea is happening for PGA Tour players and staff who have been given a Whoop Strap to help detect symptoms and prevent the disease spreading. The latest development with the COVID-Collab and its move to embrace Fitbit data is another sign that with more people now than ever wearing fitness trackers and smartwatches, they could be key to quickly learning more about coronavirus. The Mass Science app is free to download now for Android phones and iPhones. So if you own a Fitbit and fancy doing your bit, you know what to do.
⬆️ The Upside: This is part of a big trend where many wearable vendors (smartwatch, smart patch, smart ring..) have pivoted and tweaked their message to offer specific products to help detect Covid-19 at early stage. Generally speaking changes in HR, core body temperature, sleep can be early indicators of Covid-19 symptoms. These vendors have jumped on the bandwagon in an attempt to drive additional sales. In fact, wew deployments and studies during the pandemic will boost the healthcare wearables market (which includes connected blood pressure monitors, continuous glucose monitors, pulse oximeters, and electrocardiogram monitors) to 30 million shipments in 2020, increasing to 104 million shipments in 2025, at a CAGR of 28.5%, states global tech market advisory firm, ABI Research.
---
? Esports & Crypto-Currency News
? Ferrari Unveils Huge Esports Championship–And You Could Be Its Next Driver | Via: Forbes
Ferrari is looking to pave its own way in the esports sector by launching its own sim racing series in which racers will have the chance to be a part of Ferrari Driver Academy Hublot Esports, the firm's own competitive gaming team. The car manufacturer has already announced that watch firm Hublot will be the title sponsor of the competition, with Thrustmaster also confirmed as a technical partner.
Nicola Boari, Chief Brand Diversification Officer at Ferrari, stated: "The launch of the Ferrari Hublot Esports Series is a natural progression for Ferrari after our debut in the F1 Esports Series. This series is aimed at a young audience and is the perfect opportunity for aspiring players to get their break in esports and sim racing."
The Ferrari Hublot Esports Series will be initially split into two competitions and mature series and a pro series. The amateur championship registration is open on August 7 with the opening round scheduled to take place some time in September, the tournament is also only exclusive to European citizens over the age of 18. Ferrari's pro series will feature competitive sim racers who will be selected by the manufacturer themselves. The top 12 drivers from each competition will then face off against each other in November for a chance to be included in the firm's esports team. The new series highlights Ferrari's intention to further develop its esports department following the manufacturers impressive debut season in the F1 Esports Series last year.
⬆️ The Upside: We believe this is a great move by Ferrari as Virtual Grand Prix Series recently hit an enormous 30 million views across TV and digital platforms during the lockdown period. The series was created to enable fans to continue watching Formula 1 races virtually during the ongoing COVID-19. Ferrari is trying to continue to take advantage of the fast growing esport market. Now Ferrari is not the first F1 team to do this type of esport academy. McLaren (F1) launched a similar initiative a few years ago. We expect other F1 teams to follow suit in the coming months.
Video: Ferrari
? Former NBA Player Marcin Gortat Invests in Polish Esports League | Via: Esports Observer
Polish esports company Polska Liga Esportowa S.A. announced an investment by former NBA player Marcin Gortat, who created his private foundation, "Fundacja Marcina Gortata MG13," in 2009 to support young sports talents in Poland. While financial terms of the investment were not disclosed, a spokesperson for the company said the investment is rumored to be a five-figure to small six-figure deal. Polska Liga Esportowa, which is run by its CEO Paweł Kowalczyk, who previously implemented esports formats as head of esports at Ringier Axel Springer Polska, runs the Polish Esports League (PEL), a format that was established three years ago. Previous winners of PEL's Counter-Strike: Global Offensive leagues include Virtus.pro and Team Kinguin.
⬆️ The Upside: We believe this is a great move by former NBA player Marcin Gortat. He can leverage its notoriety to help attract young polish esport gamers. This is also part of a larger trend where we have seen many athletes invest and endorse esports ventures starting with Steph Curry, Shaq, Serena Williams and many others.
? NHL Maple Leafs' Mitch Marner Now Part of OverActive Media Ownership Group | Via: Esports Observer
Toronto Maple Leafs star Mitch Marner has joined OverActive Media'sownership group. As a new member of the ownership group Marner will become an "integral part" of team-brand building and esports promotion for the company.
"We are building a leading 21st-century sports media and entertainment company that speaks to a new generation of fans. An authentic and compelling business model that rests at the intersection of sport, media/entertainment and esports is core to our strategy at OverActive Media," OverActive Media CEO Chris Overholt told The Esports Observer. "This generation of fans think differently about how they connect to their heroes and the influencers they love. Our sustained success will rest in our ability to deliver innovative marketing and partnership collaborations like Mitch represents."
⬆️ The Upside: We believe this is a great move by NHL player Mitch Marner. He can leverage its notoriety to help drive the popularity of this esport venture. Like most athletes entering esport, their goal is to get a good ROI. Of note, according to the source's estimates, global eSports market revenue will reach almost 1.6 billion U.S. dollars in 2023. The eSports industry is expected to grow rapidly in the coming years.
---
? Sports Tech & Health Investment (Fund raising, M&As) Trends — August 2020
Sports tech startup StreamLayer raised $4M in a round led by KB Partners. Read here.
Esports analytics startup Mobalytics raises $11.25M Series A led by Almaz Capital and Cabra VC. Read here.
---
? Key Tech & Biz Sports Stats of The Week
$5.5B: For the fifth straight year, the Dallas Cowboys top Forbes' list of the most valuable teams in sports.
$3.9B: It is estimated that the NHL has brought in $3.9 billion in revenue so far this season, compared to more than $5 billion last season.
$884M: The cost of COVID-19 has severely affected the brand value of multiple football clubs with the top 50 teams losing a total of $884M in value, according to the latest Brand Finance Football Annual report.
$800M: Nearly $800M in ad revenue is at stake for ESPN and ABC as the college football season remains in flux. While conferences are rolling out their football plans, the season is still on shaky ground as COVID-19 cases spread on campuses even before the semester starts.
At Risk For ESPN and Parent Company Disney:
— $793 million: Ad revenue for ESPN and ABC family of networks from college football in 2019.
— $345 million: Ad revenue from postseason bowl games for ESPN and ABC.
— 14%: Cable subscribers who would likely cancel without college football.
— $10 billion: Subscriber fees from ESPN-related channels in 2019.
$615M: According to a report by marketing intelligence service WARC , Esports sponsorship predicted to reach $615M in 2020.
$320M: Dealing with cancelations across sports, ESPN could see a 12%, or $320 million, advertising revenue dip by the end of the year.
$55.7M: WWE posted a better-than-expected $55.7 million in operating income in its second quarter as lower operating costs helped minimize a decline in revenue due to a loss of live events. The company said it had $223.4 million in revenue in the quarter, down 17% from $268.9 million a year earlier. Despite a lack of competition from live sports, WWE's Raw averaged 500,000 fewer viewers in the second quarter than the same period last year, and 1.1 million less than 2018. WWE's stock price had declined nearly 30% in 2020 as of Thursday's market close.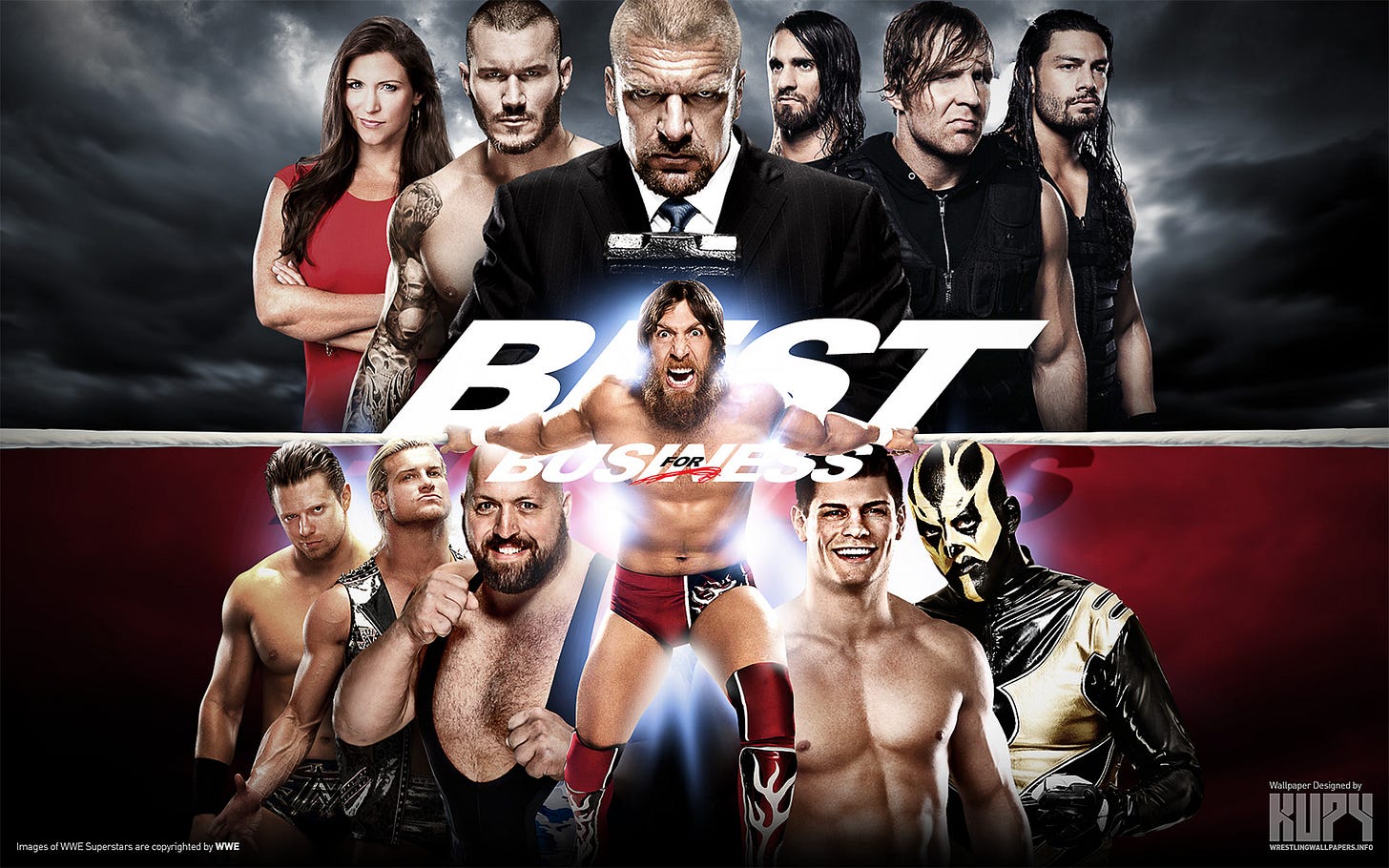 $18.6M: Even with a season, Power 5 schools are expected to lose an average of $18.6 million in ticket sales. But playing will be critical for the SEC schools to maintain their TV payouts, which made up a large chunk of the $44.6 million distributed to each program last year. Seventy percent of 116 college athletics administrators believe they will lose at least 20% of their revenue in the 2020-21 school year.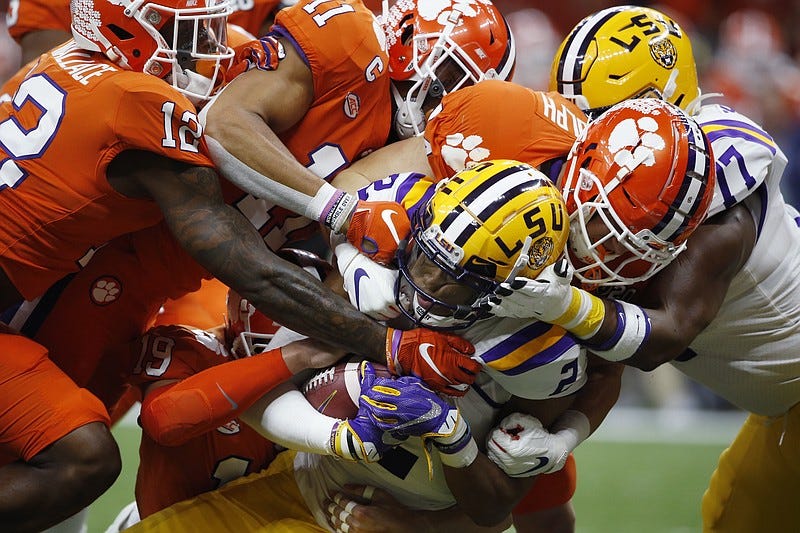 100%: In its earnings call, EA highlighted several milestones for its game metrics, including FIFA 20 player acquisition increasing by more than 100% year-over-year, Madden NFL 20 growing nearly 140% in the same metric, and Apex Legends newly launched Season 5 reached the game's highest engagement levels since Season 1.
14: Arsenal FC won their 14th FA cup this weekend, following their 2-1 win against Chelsea FC.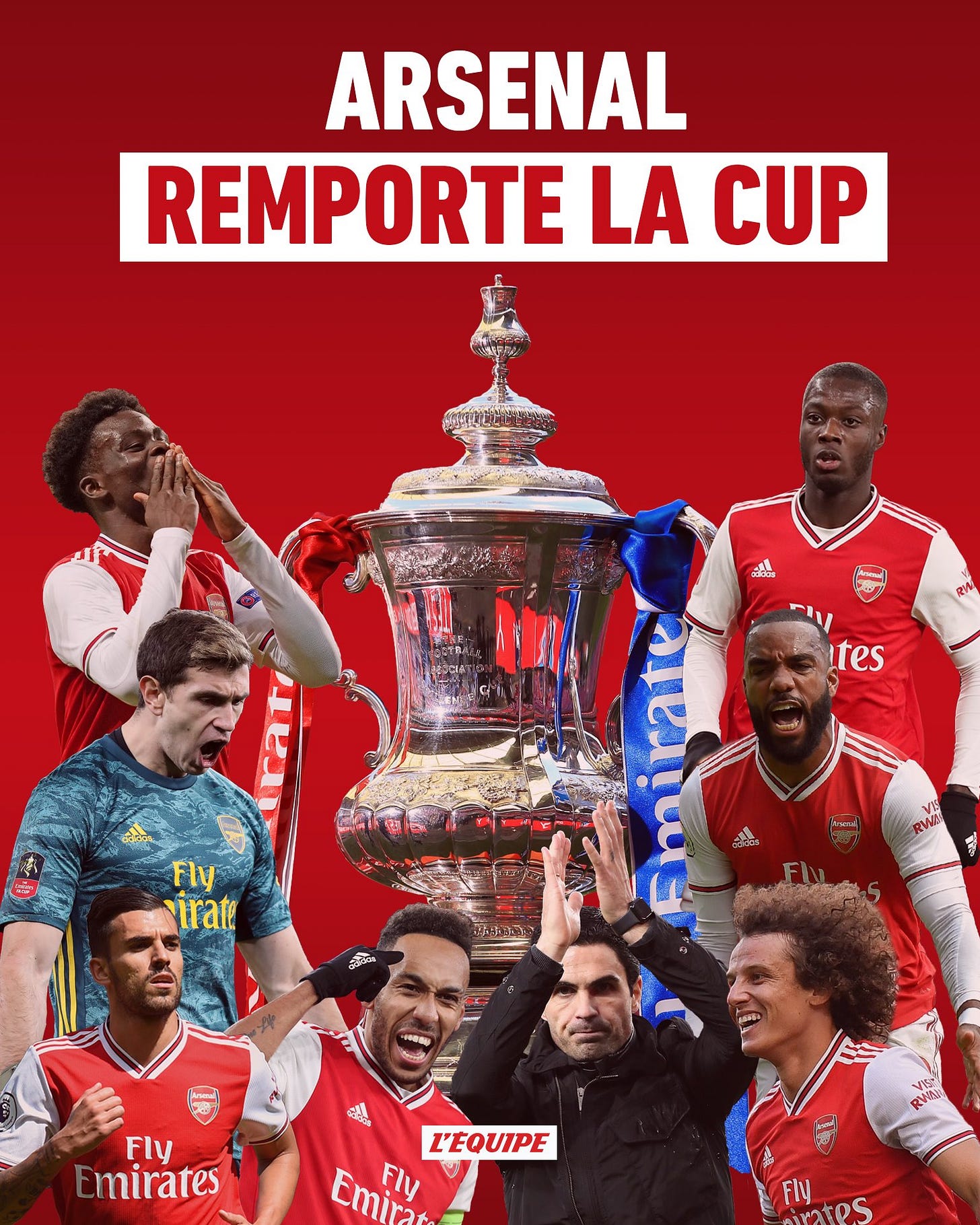 ---
? The Upside: Snapshots & video of The Week.
NFL & Black Lives Matters: The NFL is planning to allow players to have decal stickers on the back of their helmets bearing names or initials of victims of systemic racism and police violence.