Dear Friends and Members,
Last week Liverpool FC won its first Premier League title in 30 years. The Major League Baseball (MLB) also officially unveiled its 2020 campaign plans with the competition set to begin on 23 July under a proposed 60-game regular season schedule. The F1 is also scheduled to restart on July 5 while the NHL is also set to restart training camp on July 10. In addition the MLS Back tournament is scheduled to start on July 8, while the WNBA, PLL, and NBA are set to resume their seasons on July 24, July 25, and July 30, respectively. Lastly the Champions league is scheduled to resume on August 7.
In the coming weeks, preserving the safety of players will be critical as many cases of COVID-19 are already emerging across several leagues (MLS, NHL, NFL, NCAA, Pro golf, Ligue 1..), forcing some teams to close their facilities in some occasions. This is why some leagues such as the NBA are taking the proper measures and will be offering 2000 smart Oura rings to NBA players to try to detect early signs of COVID-19.
David Beckham is also the latest high-profile sports star to segue into esports. Guild Esports launched last week with Beckham as co-owner, initially focusing on Rocket League, FIFA and Fortnite. Cristiano Ronaldo is now the highest scoring Portuguese player in Premier League, LaLiga and Lega Serie A history, with a total of 438 goals scored in those leagues.
Los Angeles Lakers superstar LeBron James and his longtime business partner Maverick Carter also raised $100 million, combined their three media companies to make SpringHill Company and named a board of big names including Serena Williams and Boston Red Sox chairman Tom Werner, Bloomberg reported. The company will attempt to distribute content from "creators and consumers who've been pandered to, ignored, or underserved," according to Bloomberg. Mourad Boudjellal is allegedly part of a project in the middle Easy to try to purchase l'Olympique de Marseille (OM) for 800M Euros.
Health and wellness company GNC Holdings Inc. also filed for bankruptcy protection with the aim of selling itself and closing stores after its latest effort to manage its debt load unraveled amid the coronavirus pandemic.
In the world of AR/VR and digital, Facebook killed the entry level Oculus Go VR headset and acquired Ready at Dawn VR game maker. In the wearable and connected fitness world, Oura will supply the NBA with 2000 smart ring to help detect COVID-19. Apple also unveiled Apple Watch07. Amazfit also added nap tracking to its smartwatch and Circadia Health got FDA approval for its contactless biosensor product. In the world of esport, David Beckham entered the esport market.
This week we will unveil a new major Upside initiative that will better bring our sports tech community of thousands of sports tech execs (Pro teams, leagues, sports startups, VCs/investors, brands, etc.) together, so stay tuned!
To get access to our paid analysis make sure to become a paid member by clicking on the link below:
If you have any questions about The Upside, need help with business development or fund raising, want to join our community of thousands of sports and tech execs (pro teams, leagues, athletes, investors..), or want to have access to our premium content, please check out Sports Tech Advisors and contact us at info@sportstechadvisors.co
? Top Stories We're Reading This Week
? Facebook kills entry-level Oculus Go VR headset
? Facebook acquires Lone Echo VR game maker Ready At Dawn
⌚ watchOS 7: ​Apple Watch gets native sleep tracking at WWDC
⌚ Amazfit adds automatic nap tracking to its smartwatch line-up
⌚Circadia Health Announces FDA Clearance of the C100 System for Contactless Respiratory Monitoring
? David Beckham Co-Owned Guild Esports Launches, Seeks $31M Investment
? Latest Investment Trends
? Tech Stats of the Week
? Snapshots of the Week
Let's jump right into the insights and upside for all of these top stories
---
? AR/VR/Video/Digital Sports News
? Facebook kills entry-level Oculus Go VR headset | Via: VentureBeat
After Facebook successfully released Oculus Quest as a standalone VR entertainment and gaming platform, selling out over the 2019 holiday season, the days appeared to be numbered for its less capable entry-level alternative Oculus Go. Today, following a post-holiday price drop to $149, the company officially pulled the plug on Go, leaving Oculus with only two current VR devices: Quest, which now also supports PC tethering, and the fully PC-dependent Rift S. Facebook is positioning Go's discontinuation as going "all-in" on headsets with 6DOF (six degree of freedom) tracking, capable of sensing a player's movements through physical space rather than the simpler position- and angle-limited 3DOF system used by Go. "We won't be shipping any more 3DOF products," the company says, noting that sales of Go will end this year "as we double down on improving our offerings for Quest and Rift." Although Facebook has committed to providing some level of support for the Go platform, there were hints last year that it didn't have much of a future. Last July, then-Oculus CTO John Carmack said that the company would add a Go emulation mode to the newer Quest headset, while noting that developers would be able to convert "older apps" to run on the more advanced platform. Soon thereafter, Facebook's development partner Xiaomi reportedly disbanded the team behind the Mi VR headset, which was Oculus Go-branded elsewhere, though Facebook said in August that it was still producing and selling Go units.
Go headsets will continue to work once sales end this year, and there will be bug fixes and security patches for Go's system software through 2022. But there will be no new Go features, and developer app submissions will be stopped after December 4, 2020; the final Go apps will hit the Oculus Store on or before December 18, 2020. To placate Go developers who were accustomed to enjoying greater publishing freedom on the entry-level platform than Quest, Facebook also notes that it will alter Quest's controversial curation mandates in early 2021. At that point, it will provide an official way for developers to distribute Quest apps without sideloading or using the Oculus Store, enabling Go apps (and others) to be offered for Quest without participating in Facebook's formal approval process. There will also be a dedicated business channel for the Oculus for Business program, enabling enterprises to distribute apps across multiple headsets. Additional details on the programs are scarce, but available to developers here.
⬆️ The Upside: We believe that this is a good move by Facebook to phase out the Oculus Go to focus on other SKUs such as the Oculus Quest that have done really well. In fact, standalone VR headsets, like the Oculus Quest, accounted for 49% of all VR headset sales in 2019. VR game revenues rose 41%, mainly thanks to the Oculus Quest. If you are interested into VR, you can check out our analysis on the VR sport market.
? Facebook acquires Lone Echo VR game maker Ready At Dawn | Via: VentureBeat
Facebook has acquired Ready At Dawn Studios, the maker of the Lone Echo series of virtual reality games as well as console games like The Order: 1888. The deal comes the same day that Facebook Gaming said it would accept transfers of streamers and viewers after Microsoft said it would shut down its Mixer livestreaming service on July 22. Taken together, both moves show that Facebook is committed to providing social networking for gamers and VR games on the Oculus VR headsets. Mike Verdu, the vice president of AR/VR content at Facebook, announced the deal today in a blog post. He said that Ready At Dawn's storytelling and innovation DNA were on full display in Lone Echo and set the standard for VR narrative adventure, showcasing how virtual reality offers players more immersive, memorable, and emotionally charged experiences.
Ready At Dawn has been a big advocate of VR and Facebook's Oculus platform. Irvine, California-based Ready At Dawn started out in console games and shipped Sony's 2015 alternate history shooter The Order: 1888. But when Facebook acquired Oculus and launched the Rift VR headset, Ready At Dawn dove into VR.
⬆️ The Upside: We think that this is a natural move for Facebook. This makes sense for Facebook as it will enable the company to improve its content VR strategy, bring new VR engineering talent in-house. Facebook has done a number of acquisitions in the VR space starting with Oculus in March 2014 for $2B. More recently in September 2019 Facebook acquired CTRL-LABS which we believe will help Facebook create mind controlled VR headsets in the long run.
Picture: Facebook
---
? Wearables, Health, Nutrition News
⌚ watchOS 7: ​Apple Watch gets native sleep tracking at WWDC | Via: Wearable
Apple has taken the wrappers off watchOS 7 at WWDC 20, and as expected, the company has unveiled native sleep tracking for the first time. As is traditional, watchOS 7 will land in the fall, when we could see the Apple Watch Series 6. It will be compatible with Series 3 onwards, so Series 1 and 2 miss out for the first time. As we predicted, Apple has taken a different approach to its sleep tracking skills, and the company said it's a more "holistic" approach to sleep. The Apple Watch focuses on sleep and wake time consistency. Expanding the existing Bedtime features in iOS, both your Apple Watch and iPhone now work together when it's time to hit the hay.
Native sleep tracking
New complications and Face Sharing
New Workout activities
Better on-watch Maps and cycling directions
Automatic hand-washing detection
Before bedtime your iDevices will start Wind Down, and attempt to minimise distractions by entering do not disturb, screens are dimmed, Night Mode minimises blue light and shortcuts to apps such as Calm, Headspace and bedtime playlists on Apple Music are displayed. The Apple Watch will also dim the screen and enter sleep mode, where the display is turned off and a sleep timer is shown when tapped. When you fall asleep the Sleep app will track your slumber using machine learning to monitor movement from the wrist, and it analyses for micro-signals such as breathing. The data will be fed into a newly revamped Sleep section of Apple Health, where your sleep and sleep schedules are tracked with an aim to promote bedtime consistency. When it's time to wake up, you can set subtle alarms on the Apple Watch that take advantage of the Taptic Engine to gently rouse you. You'll then see Good Morning screens on both iPhone and Apple Watch – the latter will show you the battery level to remind you to charge.
⬆️ The Upside: We believe that the new features (improved sleep tracking features, automatic hand washing detection…) make sense, especially in the COVID-19 pandemic we are living in. Apple has a history of providing incremental improvements over the years. However in our opinion, Apple should go one step further and offer advanced biosensors to measure hydration, blood pressure, and more. Apple could possibly go down that path as it recently filed a patent showing an Apple Watch concept which would make the Apple Watch upgradable with new biosensors on the fly.
⌚ Amazfit adds automatic nap tracking to its smartwatch line-up | Via: Wareable
Amazfit has added support for nap time to its smartwatches, boosting the health credentials of the Chinese company's devices. Off the back of Apple announcing native sleep tracking via watchOS 7, an update to the Amazfit GTS and Amazfit GTR now means that sporadic day time naps will be tracked just like sleep. For those who love (or need) some afternoon downtime, most fitness trackerscome up short. For many, this is an issue with differentiating between when you're asleep or just watching TV.
However, if you drift off in the day time with your Amazfit smartwatch, it will now be logged alongside night time naps. There is one caveat, however. Your nap must be longer than 20 minutes for it to be logged, but otherwise, there's no manual action required on your part. Very few leading fitness trackers have the ability to track naps manually. Any system that uses manual sleep tracking would be able to log a nap, although not all apps are geared up to log two distinct sleep sessions in a 24 hour period. So this small update from Amazfit actually offers something new for the wearable industry. We heaped praise on the Amazfit GTS's sleep tracking prowess in our review period, and was impressed by the detail and analysis of night-time tracking. And this can be seriously useful. New mums, shift workers, and those with health or lifestyle needs rely on naps. If you're taking sleep monitoring seriously, then all sleep should be tracked – and nap tracking make that possible. How it's analysed in the app, however, remains to be seen. The update is rolling out now, starting in Vietnam – so it's not fully clear when we'll see land in the US or Europe. Look out for firmware versions 1.3.5.77 Amazfit GTR and 0.0.9.12 version for Amazfit GTS. You will need Amazfit app version 4.5.3.
⬆️ The Upside: This should not as a surprise to see Amazfit add nap tracking to its smartwatch. It will help make its smartwatch more appealing. At a higher level, sleep has become a major issue globally. In fact, some studies have also shown that 30% of the world's population suffer from sleep issues. You can check out our analysis on the sleep tech monitoring market here.
⌚Circadia Health Announces FDA Clearance of the C100 System for Contactless Respiratory Monitoring | Via: Yahoo Finance
Circadia Health announced last week that it has received expedited FDA clearance for Contactless Respiration Rate (CResp®) monitoring due to COVID-19. The C100 System™ uses radar to sense wirelessly, from up to 4 feet away in adult patients. Continuous CResp will support clinicians and save patient lives, by predicting and preventing respiratory complications through early warning scores, enabling timely interventions. The C100 features a radar sensor, proprietary radar Signal Analysis Technology (rSAT®), and cloud-based software for early detection of patient deterioration to augment clinical decision making. Contactless respiration rate, CResp, has been shown to be accurate, reliable, easy-to-use, and scalable for both continuous and spot-check monitoring across the continuum of care (general care floors, skilled nursing, and home health). CResp addresses the known limitations of pulse oximetry and other wearables, offering long-term respiration data effortlessly to enable effective triage and ongoing care management. Circadia will be launching the C100 immediately to play a critical role in helping hospitals and skilled nursing facilities combat respiratory-related illnesses including COVID-19, pneumonia, COPD exacerbations, and other forms of respiratory failure, in a wide range of patients, both in-hospital and at home. Designed for convenience and scalability, Circadia's aim is for the C100 to become the gold standard for respiratory monitoring. The C100 eliminates patient compliance issues and helps clinicians monitor proactively and remotely to improve patient outcomes, reduce readmissions, and reduce the risk of infection transmission from patient-to-patient and patient-to-clinician.
Alongside CResp, Circadia rSAT® and AI-powered algorithms offer monitoring of motion, presence, and sleep quality. This facilitates early detection of adverse events such as falls, and recovery analysis. In addition to physiological monitoring, the C100 also offers ambient sound and light monitoring for detecting disturbances and coughing. Circadia's Data as a Service (DaaS) model allows the C100 to be available under a subscription model with zero upfront cost to healthcare providers. The C100 generates reimbursement revenue of $123 per patient per month under CPT codes 99454, 99457, and 99458.
Fares Siddiqui, Co-founder and CEO of Circadia, said, "Our goal is to provide a frictionless solution to clinicians in order to help improve patient outcomes and reduce the cost of care. During this COVID-19 crisis, the FDA has recognized the life-saving potential of our technology. We are now able to deliver the most convenient and powerful method to monitor fragile patients both in-facility and remotely at home."
⬆️ The Upside: We believe this is a key milestone for Circadia and for the contactless biosensor market as a whole. Next gen wearables with contactless biosensors. We expect to see the emergence of a new wave of contactless wearables with biosensors capable of measuring HR, HRV, sleep quality and even blood pressure without any contacts to the skin. You can check out our analysis on the contactless biosensors market here.
Picture: Circadia Tech
---
? Esports & Crypto-Currency News
? David Beckham co-owned Guild Esports launches, seeks $31M Investment | Via: Engadget
David Beckham is the latest high-profile sports star to segue into esports. Guild Esports launches today with Beckham as co-owner, initially focusing on Rocket League, FIFA and Fortnite. The UK-based company will operate through a traditional academy model, with the most promising players coached by industry experts to professional level, and a roster of scouts continually on the hunt for the best new talent. While Beckham already has a wealth of experience in sports business development (most recently through his co-ownership of Inter Miami CF in the MLS), most of the day-to-day running of Guild will fall to Carleton Curtis, who's left his role of vice president at Activision — where he set up leagues for Overwatch and Call of Duty — to pursue the new venture.
Beckham is a global superstar, so his involvement with Guild will definitely earn it a lot of interest. But he's certainly not the first footballer to move into esports. Ex-Chelsea player Ruud Gullit runs Team Gullit, Gareth Bale heads up Ellevens Esports and Ronaldinho Gaúcho has launched R10 Esports. Mesut Özil's M10 company, meanwhile, represents the first duo winner of the Fortnite World Cup.
Esports is obviously a natural move for former footballers, and it's certainly a lucrative one. The global esports market is currently valued at around $1.1 billion, expected to grow by 42% to $1.56 billion by 2023. This would certainly explain why so many other celebrities and athletes are looking to get a piece of the pie. Drake, Michael Jordan, Sean "Diddy" Combs and Odell Beckham Jr. are just some of the major names attached to the rapidly growing sector. We can definitely expect to see more in the future.
⬆️ The Upside: We think this is a logical move for David Beckham to enter the world of esport. This is part of David Beckham to build an empire as he already owns an MLS team (Inter Miami FC) and his net worth is valued at $450M. Beckham is part of a global trend of athletes (Shaq, Steph Curry, Jordan..) that have jumped on the esport bandwagon in order to take advantage of this fast growing market which is set to reach $1.1B in revenue this year. You can check out ourlatest analysis: Esport: Hype Vs Reality.
Picture: David Beckham
---
? Sports Tech & Health Investment (Fund raising, M&As) Trends — June 2020
Esport startup Replai raised $1.35M led by early-stage venture firm Bright Pixel. Read on here.
Israeli sports broadcasting startup Pixellot raised $16M in round C investment. Read on here.
---
? Key Tech & Biz Sports Stats of The Week
800M Euros: Mourad Boudjellal is alledgedly part of a project in the middle Easy to purchase l'Olympique de Marseille (OM) for 800M Euros.
$300M-$400M: Amazon will allegedly spend $300M-$400M to name the future home of the NHL expansion team and the WNBA's Seattle Storm in Seattle. The company has opted to name the venue Climate Pledge Arena. This is part of a project to be net zero carbon certified by 2040.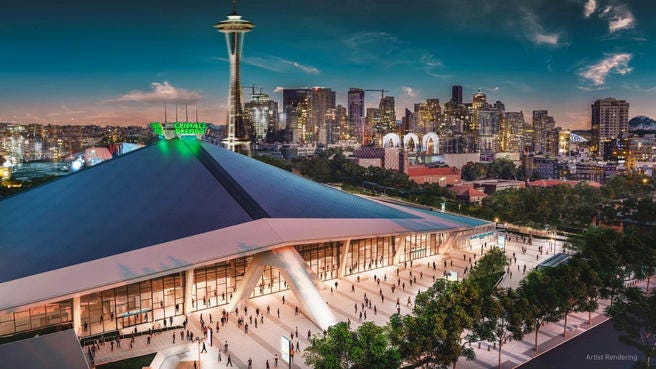 $100M: LeBron James Gets $100 Million Investment to Build Media Empire. LeBron James' SpringHill gets $100M backing, names Serena Williams, Red Sox chairman to board.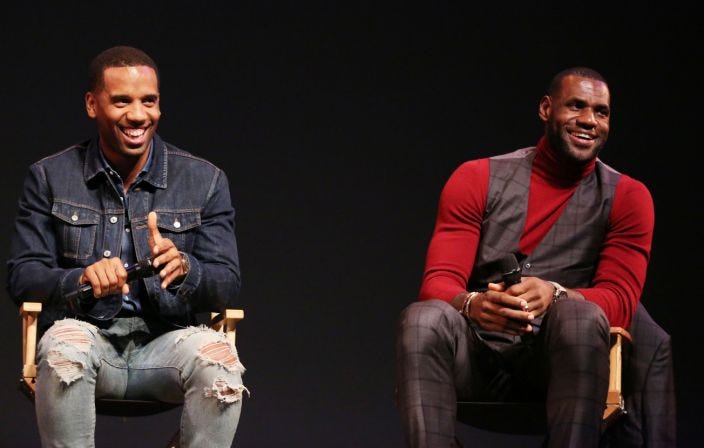 2000: Oura will supply the NBA with 2000 smart rings to help NBA players and the medical staff detect early signs of COVID-19.
438: Cristiano Ronaldo is now the highest scoring Portuguese player in Premier League, LaLiga and Lega Serie A history.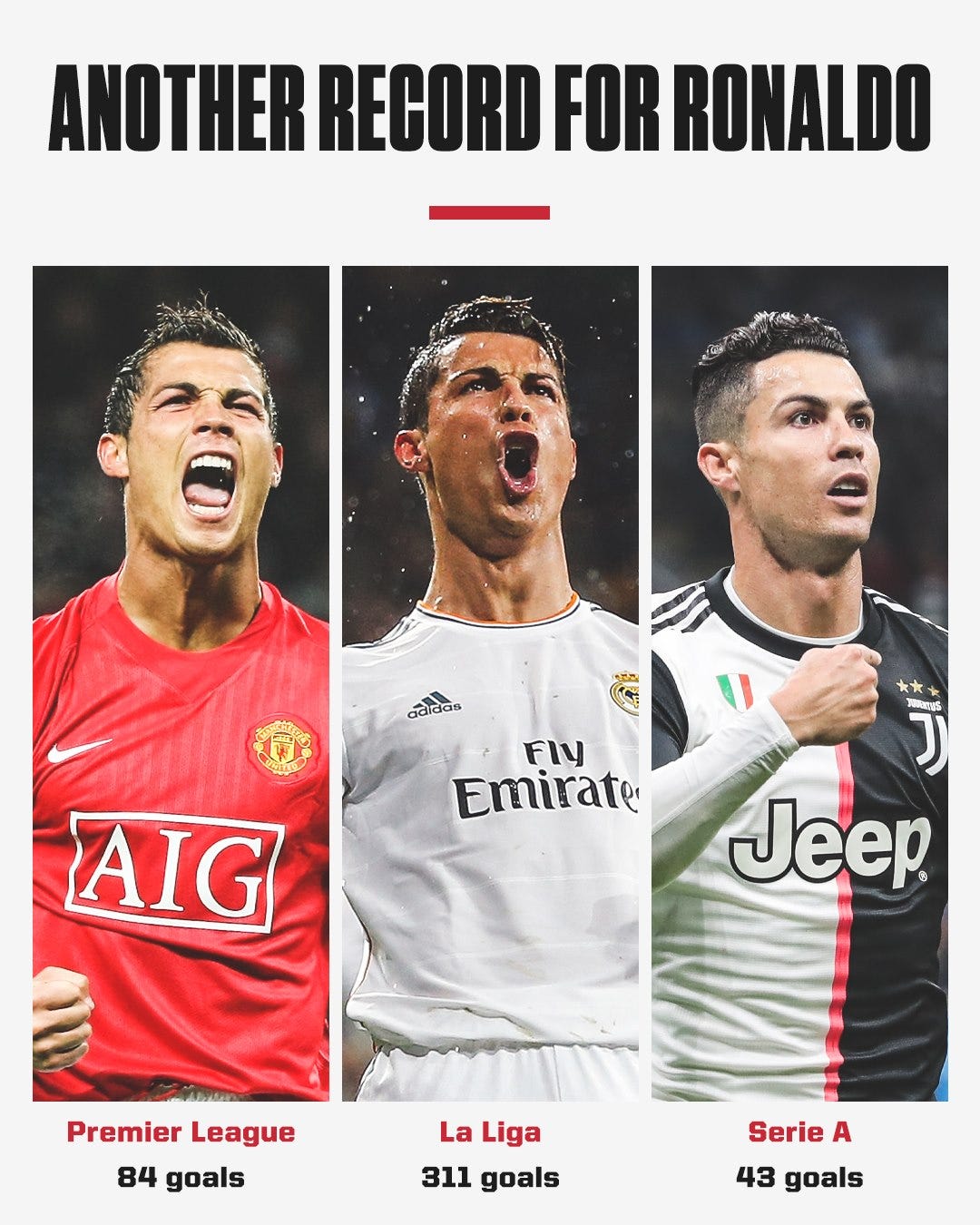 56%: In the Sports & Fitness Industry Association's most recent survey of 18,000 participants across the U.S. regarding the impact of the pandemic's effects, 56% of respondents reported sales growth from April to May.
33: Lionel Messi turned 33 years old last week.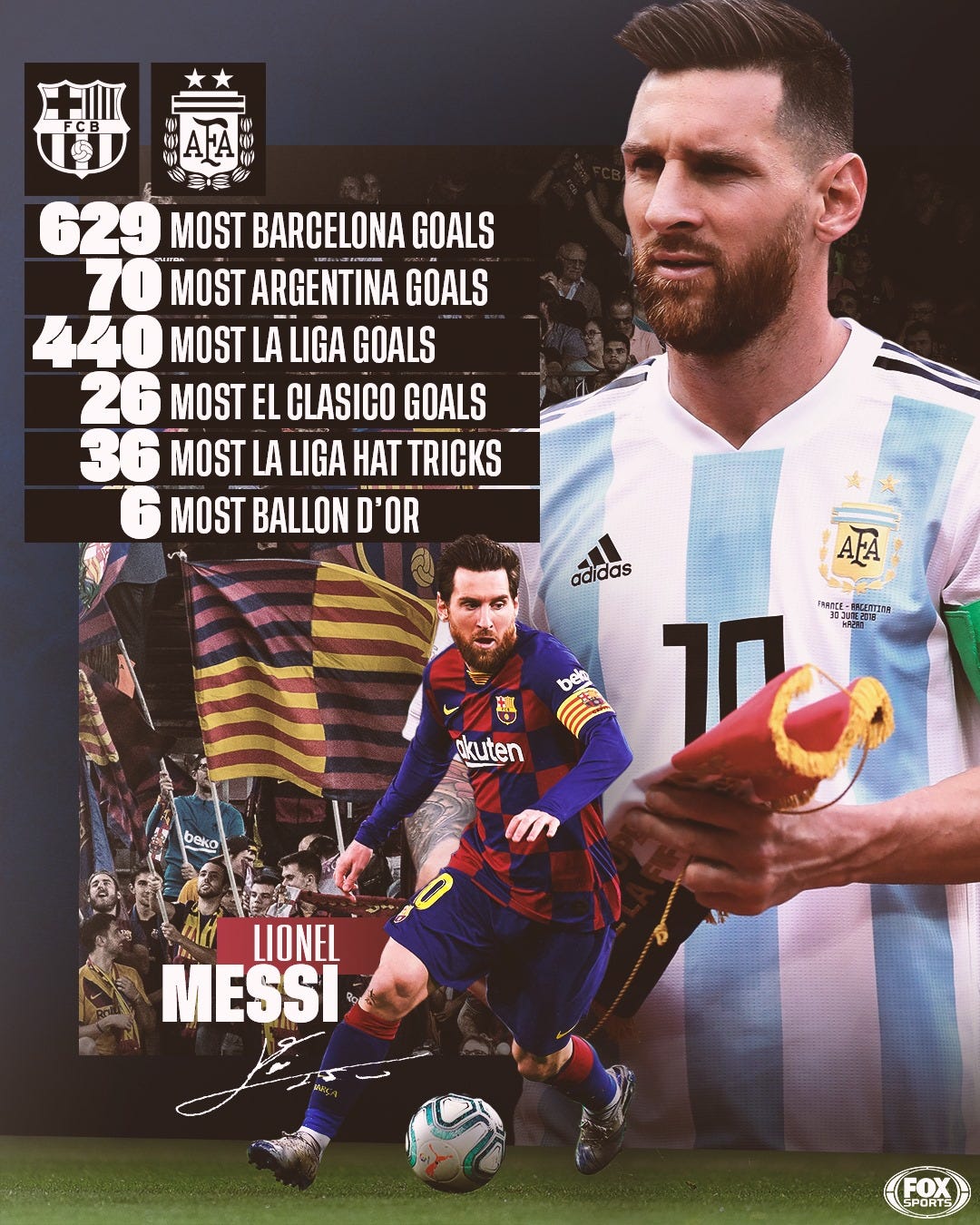 30: Liverpool FC won its first Premier League title in 30 years last week.
22: NBA star Vince Carter announced his retirement last week after playing 22 seasons in the NBA.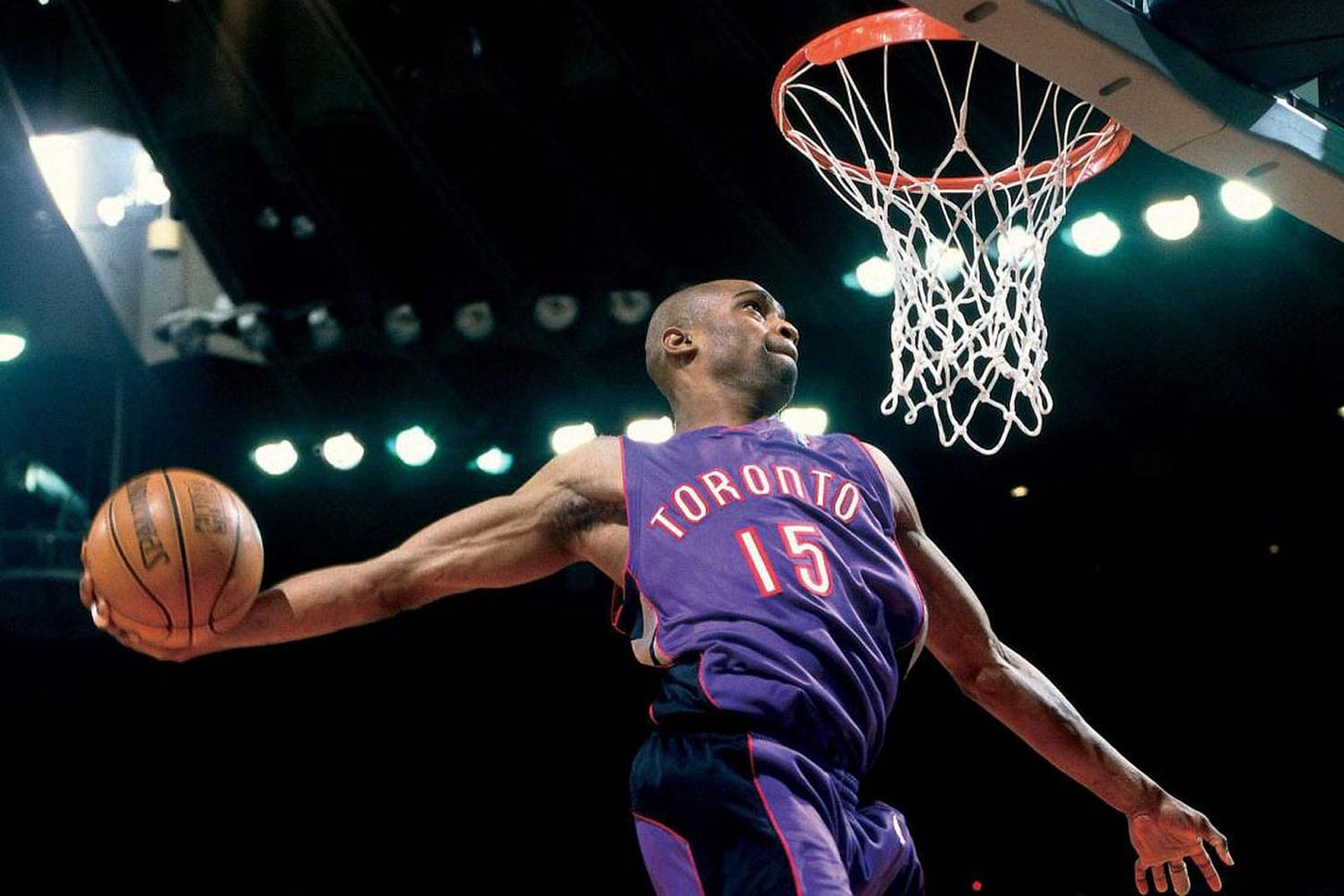 -10%: The Apple Watch has lost 10% of its market share, as the likes of Huawei, Samsung and Garmin posted record sales in Q1 2020 – according to new analysis. The latest figures from Canalys back up previous reports that Huawei has taken the smartwatch market by storm with its Huawei Watch GT range over the last year, with a 113% year-on-year increase in sales.
-38%: Nike's fiscal fourth-quarter revenue fell 38% year-over-year to $6.3B as stores across the globe shuttered during the coronavirus pandemic.
---
? The Upside: Snapshots & video of The Week.
NFL Vs NASCAR: Tweet of the week. Agree?