A new report published by WWD indicated that the NBA is set to announce a new partnership with luxury brand Louis Vuitton next week. This new partnership between a major sports league and a world's class fashionable brand, is the perfect illustration of a growing trend in the world of elite sports: A growing appetite from some of the biggest fashion brands in the world to forge partnerships with top athletes, teams, and leagues.
This brings the next question: Could sports teams become global lifestyle brands?
In this analysis we will discuss this trends impacting this emerging trends, the reasons why pro teams are well positioned to become global lifestyle brands, and our outlook in the coming years.
Pro athletes getting into fashion
Over the past few years, a growing number of pro athletes have embraced the world of fashion. This global phenomenon is affecting almost all sports and leagues, starting with basketball (NBA) and the world of soccer. Pro athletes like Cristiano Ronaldo, Kylian Mbappe, Neymar Jr, Dwyane Wade, Lebron James, Chris Paul, Steph Curry, Russell Westbrook, James Harden, or Tom Brady, just to name a few, have millions of social media followers which make them attractive for fashion brands.
Picture: James Harden, Houston Rockets (NBA)
In the world of elite sports, the tunnel entrance, and the arena walk-in has now become a "fashion runway".
"The (NBA players) might act like they don't care," says Dwayne Wade, who retired in April after his 16th NBA season. "But when they get off the bus, they're fixing their clothes because they're about to hit that runway."
One key factor of this new trend in the NBA was NBA commissioner David Stern's decision in October 2005 to enact a "casual business attire" dress code for games, outlawing chains, do-rags and other hallmarks of Iverson's street swag.
"Everyone wants to be themselves and not feel like you have to fit in to a certain person's view of how you should dress," Wade says. "Even though now, if you look, [the outfits are] wilder than [they were] then."
Picture: Lebron James carrying a $41k luxury bag.
"We didn't really start seeing the tunnel look until the past couple of years," says stylist Megan Wilson, a former sports-fashion blogger whose clients include Pistons big man Andre Drummond. "The podium game came first."
This obsession with pregame walks actually originated with postgame press conferences. The shift, at least according to NBA players and stylists, came during the 2012 playoffs, when Westbrook went viral answering questions in red, lens-less glasses and a short-sleeve Lacoste polo printed with big, colorful fishing lures.
Picture: Russell Westbrook (NBA)
The WNBA has also embraced the fashion phenomenon. Whereas once, not that long ago, WNBA players were asked to sit through hair and makeup classes at rookie orientation, now they are free to express their style as they want. They can, as a New York Times op-ed put it, "celebrat[e] and showcas[e] androgynous swag."
"People showing their personality is an amazing thing," says Courtney Williams, guard for the Sun, who calls herself "one of the flyest" dressers in the WNBA. "It's dope that we're actually getting this recognition for how we dress, and not being put into a box where women have to dress a certain type of way.
Picture: WNBA players
— NBA players launching their own fashion clothing lines
Some NBA players are now launching their own fashion clothing lines. This is the case of Russell Westbrook who has released two collections with Barneys and created his own line, Honor the Gift, while Eagles safety Malcolm Jenkins was the brains behind a custom-suiting store in Philadelphia.
Picture: Russell Westbrook's own fashion clothing line: Honor the Gift.
But NBA players are not the only athletes getting into fashion. In fact, we are seeing a similar phenomenon in the world of pro soccer with soccer stars like Cristiano Ronaldo, Neymar Jr, Kilian Mbappe..or Sergio Ramos, getting into fashion.
10 Most Stylish Footballers
Lionel Messi. FC Barcelona.
Cristiano Ronaldo. Real Madrid C.F.
Neymar. Paris Saint-Germain F.C.
Luis Suárez. FC Barcelona.
Paul Pogba. Manchester United F.C.
Gareth Bale. Real Madrid.
Hidetoshi Nakata. Japan National Football Team.
Sergio Ramos. Real Madrid.
With a net worth estimated at $460M, soccer start and Juventus player Cristiano Ronaldo is the perfect example of a soccer player teaming up with world's biggest fashion brands. But Ronaldo built a true empire called CR7. In fact, he has built multiple ventures in sectors like footwear, gyms, nutrition, hair products, tech, and more.
As we noted in a previous analysis, while $65M of this sum came from playing soccer, the remaining $44M came from endorsing brands. Here are some of Ronaldo's own fashion brands.
CR7 Cristiano Ronaldo Footwear
In April 2015, Cristiano Ronaldo unveiled his footwear line under his fashion brand, CR7.
Cristiano Ronaldo Legacy
Pestana CR7 Lifestyle Hotels
Ronaldo also has his own lifestyle hotel: The Pestana CR7 Lifestyle Hotels. This joint venture is owned by Portugal hotel chain, Pestana and Cristiano Ronaldo. Under this project, Cristiano not just owns multiple hotels across the world, but he also advertises for them.
Cristiano Ronaldo fragrance in partnership with Eden Parfums
Ronaldo further expanded his brand by launching his own fragrance in partnership with Eden Parfums in September 2015.
CR7 Cristiano Ronaldo luxury underwear
In November 2013, Cristiano in partnership with Scandinavian manufacturer JBS Textile Group and the New York fashion designer Richard Chai, co-designed a range of underwear and sock line.
In the past, Ronaldo has also endorsed many other brands such as Panzer Glass, Smaaash Entertainment, Tag Heuer, Banco Espirito Santo, Castrol, Emporio Armani, Soccerade, Konami, KFC, JBS, Samsung, Jacob and Co, Sport Lobster, Emirates Airline, ZTE, Xtrade, Exness, Toyota, Save The Children, TAG Heuer, Poker Stars, Egyptian Steel, Denali® luxury sports blankets (CR7 Cristiano Ronaldo Blankets).
Another world's class soccer player known for his love of fashion is PSG player Neymar Jr. The soccer Brazilian soccer player has endorsed many global brands such as Nike, Mastercard, Gillette, but he is also endorsing fashion brands such as clothing lines, watchmakers, audio headsets, and more.
Picture: Neymar Jr, PSG
GaGà Milano
Neymar Jr has been the brand ambassador for World-renowned watchmaker, GaGà Milano since the beginning of 2017.
Beats By Dre
Neymar has also been working as one of the many brand ambassadors of Beats By Dr Dre since 2014.
Replay
Neymar Jr is also the brand ambassador for a Global clothing brand, Replay since 2015.
Leagues teaming up with fashion brands
Fashion brands are also teaming up with major sports teams. One fashion brand that has been particularly active in this area has been French fashion brand Louis Vuitton. Next week, the French brand is set to announce the launch of a brand new partnership with the NBA in Paris on 22nd January, according to Women's Wear Daily (WWD).
Louis Vuitton has teamed up with a number of leagues and sports tournaments over the past few years. In fact, it has produced trophy cases for the Fifa World Cup, the Rugby World Cup, tennis' French Open and sailing's America's Cup.
Picture: Louis Vuitton's trophy case for the FIFA World Cup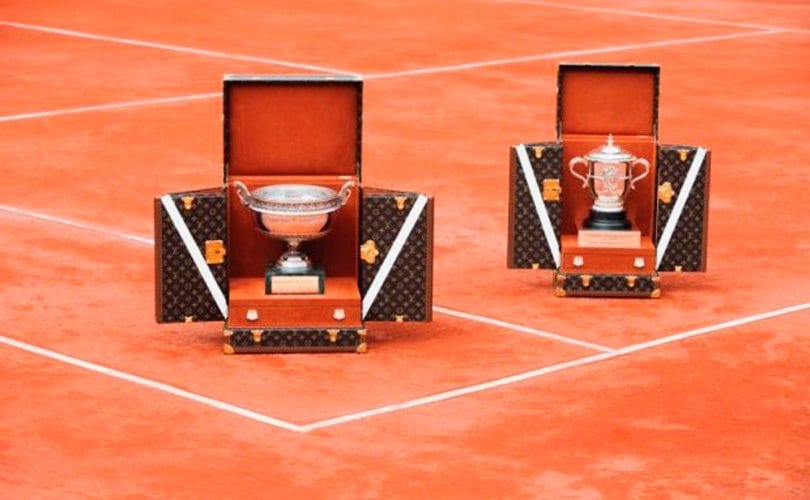 Picture: Louis Vuitton's trophy case for the French Open Tennis (Roland Garros)
Another major luxury brand which has been active in the world of elite sports is Hugo Boss. The fashion brand supports and sponsors the Formula E, golf (Henrik Stenson..), sailing and soccer teams (PSG, Real Madrid, Bayern Munich, Tottenham Spurs..) and leagues (Premier League).
Picture: Henrik Stenson
Fashion brands are also aiming at esports
Due to the growing popularity of esports, fashion brands are also targeting the world of esports. For example, Louis Vuitton made its first foray into esports with video game developer Riot Games and its League of Legends World Championship, which saw it again produce a trophy case as global partner of the competition.
As shown in the picture below, Louis Vuitton also created real-world and in-game items. The League of Legends World Championship 2019, the biggest event in esports, played out in the global capital of fashion, so it's fitting that developer Riot Games has linked up with Louis Vuitton to bring some new style to the game.
Picture: Louis Vuitton, League of Legends
3. Pro teams aiming at becoming global lifestyle brands
Now we talked about the various teams and leagues teaming up with fashion brands, but could pro teams become global lifestyle brands? This is the belief of French soccer team PSG.
In September 2018, PSG announced a a multiyear agreement with Air Jordan for the Jumpman logo to appear on a pair of the French club's kits. Jordan has also announced an apparel and footwear collection with PSG, the first line with a soccer team in brand history.
"It's about the idea of dimensionalizing," said David Creech, Jordan Brand's vice president of design. "We have American football now. We're getting into running. We had a women's relaunch recently. And we felt like the next step, from a global standpoint, was football."
Picture: PSG, Air Jordan
Through this partnership, Air Jordan is able to leverage the growing popularity of PSG's two biggest stars, the 27-year-old Brazilian Neymar Jr. and 21-year-old Frenchman Kylian Mbappé. In August 2017, when Neymar switched clubs from Barcelona to PSG for a world-record €222 million fee (more than $257 million), a connection between the brand and club became more apparent. In 2016, Neymar collaborated with Jordan for a football boot, a sneaker and apparel.
"The football team came to us and said, 'Hey, with the Neymar collection, wouldn't it be great to take this to the pitch?' " Creech said. "We started meeting with the footwear team and the apparel team. Our guys said it wouldn't be Jordan if we didn't do some lifestyle product — shoes and apparel. Because our apparel is starting to go into a new place … that's kind of how the conversation started."
So how much is the PSG – Air Jordan deal worth? How many joint products do they intend to sell?
The PSG x Air Jordan collaboration comprises 90 products across three ranges: performance, training and lifestyle. It is reportedly worth around €100M to PSG, and when the collection went live, the pre-order function on the club website had to be disabled because of the huge weight of demand.
Two months later, Justin Timberlake went on stage for a concert at AccorHotels Arena in Paris' Bercy neighbourhood sporting a black jacket with a massive PSG x Jumpman logo plastered across the back. The buzz got even louder at the end of August when rapper Travis Scott donned a PSG x Air Jordan basketball jersey at the Cabaret Vert Festival in north-eastern France.
It is the latest example of PSG's mutation from a mere football club into an emerging lifestyle brand. The club has also collaborated with French fashion designer Christelle Kocher, whose Koche label draws inspiration from urban streetwear. Beyonce was photographed in July wearing a customised, jewel-encrusted PSG shirt designed by Kocher, and British singer Rita Ora wore a patchwork Koche dress featuring the PSG jersey for an appearance on Radio 1. (The dress worn by Ora will set you back just under £1,500.).
Picture: Beyonce wearing PSG Jersey.
In October 2017, PSG announced a collaboration with the Rolling Stones to mark the band's three performances in Paris on their No Filter tour. Clothes and accessories, including PSG shirts with the Stones' iconic lips logo on the back, were sold at Paris's uber-trendy concept boutique Colette.
PSG's home, the Parc des Princes, meanwhile, has become a popular stopping-off point for international celebrities passing through the French capital. Beyonce, Jay-Z, Rihanna, Kendall Jenner, Gigi Hadid, Kourtney Kardashian, Lenny Kravitz, Naomi Campbell, Macklemore and Tyga are among the members of the modern jet set to have taken in PSG home games in the last couple of years.
"We don't ask them," says Fabien Allegre, PSG's brand diversification and development manager, during an interview with Bleacher Report at Parc des Princes. "We don't have pretentions to go to people and ask them, 'Could you please wear this product?' We're delighted if they do, but we don't have a model where we're going to invest in people like that. It has to be organic. There has to be an attachment."
Ultimately, this is part of Nasser Al-Khelaifi's big plan to make PSG a global lifestyle brand and world's trendiest football club:
"It's part of Nasser Al-Khelaifi's project to make Paris Saint-Germain a very big football club and a global lifestyle brand," Allegre says. "That's why, contrary to lots of clubs, we have managed to cover markets that are pretty far away from those that football clubs usually cover.
PSG is looking to attract new audience that are not necessarily soccer fans but identify themselves with the lifestyle and the overall project:
"It enables us to go and find an audience of fans who don't necessarily follow Paris Saint-Germain as a football club but who will align themselves with the project. Because wearing a Jordan x PSG product will be very cool from a lifestyle point of view, even if you don't play basketball or football."
Al-Khelaifi, PSG's single-mindedly ambitious president, attended the Air Jordan launch and confidently asserted, in an interview with AFP, that the club had become "one of the three biggest football brands in the world."
This is also part of PSG's plan to increase its market share in North America and, in particular, Asia, where Barcelona, Real Madrid and the Premier League's elite clubs have tended to hold sway. The club has offices in Shanghai and Singapore and last week opened a new store in Tokyo.
Al-Khelaifi has cited China as a key marketing battleground. Chinese fans wearing PSG jerseys flocked to Shenzhen Universiade Sports Centre in August to see Thomas Tuchel's side beat Monaco 4-0 to win the Trophee des Champions (the traditional curtain-raiser to the French season), and they are thought by the club's marketing department to be particularly attracted to sport-lifestyle crossovers such as the Air Jordan partnership.
"If PSG have got one eye on the Chinese market, I can see that working," Antony Marcou, CEO of sports marketing agency Sports Revolution says. "If there's one country that really buys into that premium, top-end branding in terms of having an obsession with luxury brands, it's China."
Ranking 11th among all top European football clubs in terms of fan community in China behind Real Madrid, FC Barcelona, Liverpool FC and others with 1.4M fans, PSG made the country a top marketing priority.
Picture: PSG
Outlook: In the coming years, we expect to see more major sports teams to follow the footsteps of PSG in order to become global lifestyle brands and drive additional revenues. We also expect major fashion brands to continue to team up with pro teams in order to find a new audience and drive their top line.
In our view, pro teams have key assets to become global lifestyle brands:
Huge social media fans bases: As shown in the table below, pro teams such as Real Madrid have huge social media followers, with 224M fans following the team on social media (Twitter, Facebook, Instagram). This is why pro teams are uniquely positioned to become global lifestyle brands with a wide variety of products that they will be able to sell to their fan base.
Teams' players also have millions of followers: Some of the largest pro teams (PSG, Real Madrid, Juventus..) can also leverage the growing popularity of their own players who have millions of social media followers. The perfect example of this is Cristiano Ronaldo who has 197M social media followers.
Strong brand value and recognition: Some of the biggest pro teams in the world, especially in soccer, have strong brand values. This is another reason why fashion brands are teaming up with them and it is a valuable asset for pro teams looking to become global lifestyle brands. For example, according to the ranking, Real Madrid CF had a brand value of 1.84B in 2019. Of note, a brand is defined here as the trademark and associated intellectual property. Football clubs are made up of a mixture of fixed tangible assets (stadium, training ground) and disclosed intangible assets (purchased players) with brand value.
Solid revenues due to strong global brand equity: Some of the world's biggest soccer clubs are already routinely generating £500 million in revenue. This is in large part due to them being global brands in much the same way as, say, Apple or Google. Real Madrid, the world's richest club, raked in £665 million in 2018. Madrid are followed by Barcelona (£612 million), Manchester United (£590 million), Bayern Munich (£557 million) and Manchester City (£504 million).
Strong merchandise sales: Pro teams are already selling a large number of merchandises (jersey, hats, etc..). For example, a team like Manchester United sold an average 2.85M jerseys over the past 5 years. This is another reason why aiming at becoming global lifestyle brands makes total sense for those pro teams.
Pro teams adopting innovative pricing models such as subscription services: Those pro teams are also innovating in terms of pricing models. For example, Real Madrid recently introduced a $2.77 monthly subscription-based service on social media platform Facebook, offering photos, videos, exclusive content and special stickers. Now they could adopt a similar model as part of their plan to become global lifestyle brands with unique benefits (VIP passes, exclusive events, etc.).
Ultimately, some of the world's biggest pro teams are well positioned to become global lifestyle brands. It will come down to execution, building the right partnerships, and acquiring players that resonate with such strategy. This is what pro teams like PSG understood early on, and there is no doubt that many other large pro teams will follow suit and adopt a similar strategy to drive their top line in the coming years.