Dear Friends and Members,
Last Friday, we published our Sports blockchain market analysis, in which we discussed the segments, key players, and current and future trends in the sports blockchain market for the coming years. To access this analysis be sure to sign up for our premium subscription by clicking the "subscribe now" button below.
Looking for access all of our previously published analysis, insights, data, podcast interviews, and more? Subscribe now to unlock access!
On Friday we plan to publish our next weekly sports and tech analysis.
? Top Stories We're Reading This Week
? Facebook prototypes haptic feedback wristbands for AR/VR
? Form unveils $200 AR swim goggles you can wear underwater
⌚️ Withings finally launched its new blood pressure monitor
⌚️ Amazfit GTR is a budget smartwatch promising 74-day battery life
? Cavaliers NBA 2K League Affiliate Team Cavs Legion GC Announce Esports Center
? Latest Investment Trends
? Tech Stats of the Week
? Snapshots of the Week
Let's jump right into the insights and upside for all of these top stories
---
? AR/VR/Video Sports News
? Facebook prototypes haptic feedback wristbands for AR/VR| Via: VentureBeat
Up until now, handheld controllers have been the primary tools VR and AR headset wearers have used for interactions with artificial worlds, but Facebook is already planning for a hands-free future — or at least one where you don't need to hold controllers to feel feedback from the digital environment. To that end, Facebook Reality Labs researchers recently revealed prototype Tasbi wristbands that send various types of haptic feedback through the wearer's hands and wrists.
Tasbi was unveiled at the World Haptics Conference 2019 (via UploadVR) as a set of small boxes linked by a central band. One large box is centered to look like an oversized smartwatch, housing a haptic actuator, while each of the smaller boxes has its own linear actuator capable of precisely sending vibrations and dynamically adjusting tension from different places on the wrist.
Collectively, the Tasbi actuators can provide "vibration cues" and "squeeze cues" based on digitally generated content the wearer interacts with, vibrating from side to side to mark contacts, collisions, and interfacing with textures, or front to back to suggest the springiness of buttons and weights. Tasbi can also enable users to interact with "visual illusions" such as holograms, providing some sense of differential feedback for obviously unreal UIs or objects.
⬆️ The Upside: We believe this is a good move by the Facebook/Oculus team to provide a better hands free VR experience. Facebook is not the only player in town. In fact, Microsoft, which prototyped TORC, a sophisticated haptic system for AR and VRthat relies upon a hand-held controller. Other companies have developed haptic gloves and armbands with very different approaches, all in the pursuit of bringing greater tactility to simulated environments and objects.
? Form unveils $200 AR swim goggles you can wear underwater| Via: VentureBeat
Sports technology company Form announced the Form Swim Goggles, which enable athletes to view performance metrics on an augmented reality display on swim goggles that you can wear underwater.
The lightweight goggles will sell for $200 and come from a startup created by Dan Eisenhardt, who previously sold Recon Instruments to Intel in 2015.
The see-through AR display can show you how you are doing in a timed race in real time. Developed over the past four years in collaboration with top competitive swimmers and coaches, including former Olympians, the Form Swim Goggles make training smarter, more purposeful, and more engaging for swimmers of all levels, the Vancouver-based company said.
Swimming is one of the world's biggest sports, with over 30 million active pool swimmers in the U.S. alone. On land, the ability to access performance metrics in real time through devices like running watches and bike computers has transformed how runners, cyclists, and triathletes train. But in the pool, existing wearables impair technique and are difficult to access in real time. The Form Swim Goggles address these pain points.
"I swam competitively for 14 years and really felt the pain of not being able to access my metrics in real time," said Form founder and CEO Eisenhardt, in a statement. "The idea for Form came about many years ago, but we are only now entering a time when technology lets us deliver this experience seamlessly in a premium pair of swim goggles. We're proud that, through a team of top industry talent, we've been able to solve a fundamental problem in swimming."
⬆️ The Upside: We believe that what FORM has built is quite an accomplishment. Not only was FORM able to build a seamless waterproof AR swimming experience. But it was also able to offer it at an affordable price ($200). It is worth pointing out that CEO Eisenhardt is one of the most experienced entrepreneurs when it comes to building AR sports glasses as he built Recon Instruments. It will be interesting to see how much traction FORM gets in the coming years.
---
? Wearables, Health, Nutrition News
⌚️ Withings finally launched its new blood pressure monitor| Via: Wearable
Withings has finally launched its BPM Core smart blood pressure monitor after first unveiling the connected health device back in January this year.
The new monitor, which has been given the necessary EU approval, now offers more ways to track your cardiovascular health than its previous devices. It's also joined by the BPM Connect, the blood pressure monitor successor to the Withings BPM.
The BPM Core features a traditional arm cuff design and has the ability to measure blood pressure to a clinical grade level. In addition to blood pressure, it will now take ECG (electrocardiogram) readings and can be used to identify serious heart health conditions such as atrial fibrillation.
Another new feature is the digital stethoscope that Withings says can help provide early detection of valvular heart disease. That relates to damage to one of the four heart valves, which could require surgical intervention.
The sensor-packed device, which also includes a digital microphone, works by the user placing the cuff on the upper arm and pushing the measurement button. It will then take all three measurements within 90 seconds and send the data to the Withings Health Mate app.
Blood pressure readings are displayed on the device itself with cooler-coded feedback indicating whether blood pressure is normal, moderate or too high. For ECG readings, you'll need to place your other hand on the stainless steel sensors for twenty seconds. The digital stethoscope requires placing the sensor on the chest with the device needing twenty seconds to listen and evaluate your heart.
The BPM Core will work with iOS and Android smartphones and has a rechargeable battery that's good enough for 100s of measurements off a single charge. All of the data from the Withings BPM Core including audio recordings of the heart can be shared with your doctor or a medical professional.
Joining the Core is the BPM Connect, which as mentioned is an updated version of the Withings BPM. it now features an LED display, so you no longer need your phone nearby to review readings. Data can now be synced to the Withings Health Mate over Bluetooth and Wi-Fi, which wasn't possible on its predecessor. It has been FDA cleared and EU compliant to offer those accurate heart rate and blood pressure readings.
The Withings BPM Core is available now through the Withings website and Apple's online and retail stores in Europe priced at £249.95. Those eager to use it in the US though will have to wait until it's been given FDA clearance. If that all goes smoothly, it should arrive later this year. The Withings BPM Connect is also now on sale in both the US and the UK for $99.95.
⬆️ The Upside: We believe it is a good move by Withings. However, we believe that those blood pressure monitors are expensive compared to traditional BPM devices prices at around $50. Long terms we expect Withings to look into potentially adding blood pressure measurement capabilities to its smart watch. Another route might also be to launch devices using contactless biosensors capable of measuring blood pressure without any contacts to the skin.
Picture: Withings
⌚️ Amazfit GTR is a budget smartwatch promising 74-day battery life | Via: Wearable
Huami is keeping the smartwatches coming in 2019 adding the Amazfit GTR to its rapidly growing collection of connected timepieces.
After unveiling the Amazfit Verge 2 in June, the GTR lands as a budget option with sports tracking at its core.
The GTR is available in 42mm or 47mm case sizes with the larger watch packing a 1.39-inch, 454 x 454 pixel resolution AMOLED touchscreen and the smaller housing a 1.2-inch, 390 x 390 resolution screen.
In addition to the two standard models, there is also an Iron Man Limited Edition version, which features a 47mm gold colored casing and a red silicone strap.
All of the watch models will be compatible with Android and iOS smartphones and offer built-in GPS/GLONASS for mapping outdoor activities, an optical heart rate monitor and a 5ATM water resistant design that's suitable for pool and open water use. They'll also be able to display phone notifications for third party apps, calls and texts though there's no loudspeaker or mic onboard here.
Huami's Amazfit smartwatches always manage to deliver big on battery life and it's no different for the GTR. So the 42mm GTR with its 190mAh battery will give you up to 12 days in normal use, 22 hours in GPS tracking mode and 34 days in basic watch mode.
The 47mm GTR unsurprisingly houses a larger 410mAh battery that should deliver 24 days in normal use, 40 hours tracking with GPS and an impressive 74 days in basic watch mode.
In typical Amazfit smartwatch announcement fashion, the new GTR will be available in China first with the 42mm GTR's price working out roughly to about $120. The 47mm GTR in aluminium or stainless steel is priced at around $145. The titanium and Iron Man versions of the 47mm GTR come in at around $205. So, still pretty cheap whatever model you go for.
⬆️ The Upside: We believe that if Huami can indeed offer this new smartwatch with a 74 days battery life it would be quite impressive. The truth is that most smartwatch have a limited battery life. Plus for $120 it would be a good buy. That being said, we believe that Huami should also focus on adding new biosensors and algorithms capable of providing additional value such as being able to detect fatigue, dizziness and poor sleep of users.
Picture: Huami
---
? eSports & Crypto-Currency News
? Cavaliers NBA 2K League Affiliate Team Cavs Legion GC Announce Esports Center | Via: eSports Observer

Cavs Legion Gaming Club , the Cleveland Cavaliers' NBA 2K League affiliate team, announced that a 2,700 square foot dedicated esports center will open this fall.
The 2019 NBA 2K League season concludes with the finals on August 3, but plans will be made to host events during the offseason, according to a release.
Located in Cleveland's Battery Park neighborhood, the new Cavs Legion GC esports center will serve as the team's facility for practice and content creation. The center will have 40 gaming stations—each outfitted with equipment from sponsors including Alienware gaming desktops, Raynor gaming chairs, SteelSeries peripherals, portable WebAround green screens, and more.
"Not only will this training center give our Cavs Legion team a first-class venue to practice and sharpen their skills for the NBA 2K League, but it will also provide our region's next generation of star gamers best-in-class tools to fuel their passion for esports," said Nic Barlage, Cavaliers president of business operations in a statement.
⬆️ The Upside: We think this is a great move by the Cavs (NBA). It also shows their continued commitment to eSports by further investing into this emerging sports. It will also help its eSports team improve its performance long term. We expect other NBA teams to follow suit long term.
Picture: Cavs Legion GC
---
? Sports Investment Trends — July, 2019
Drake and Scooter Braun's esports startup raises $35M. Read on here.
Esports organization 100 Thieves raised another $35M, and is now valued at $160M. Read on here.
---
? Key Tech Sports Stats of The Week
$1B: According to NYT's Marc Stein, LeBron's agent Rich Paul has closed nearly $290M in contracts this summer through his agency Klutch SportsGroup and in excess of $1B in contracts since he formed his own company. Of the $1B in contracts, $342M has come through James' deals alone.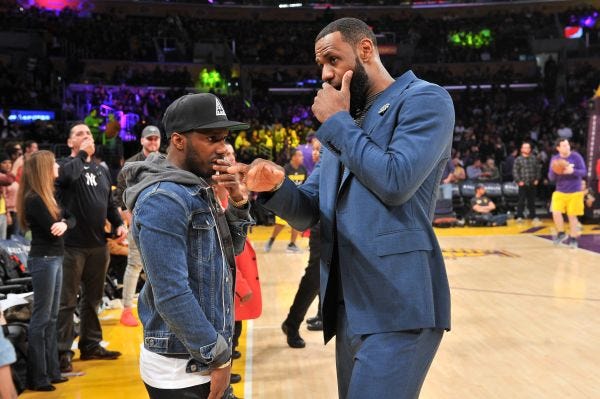 $42M: According to a new report, PSG wants to offer Kylian Mbappe a mammoth five-year €250M ($280M) contract to fend off interest from Manchester City. It had recently been reported that the Blues are still monitoring the French boy-wonder's situation but according to El Pais, via SPORT, PSG are prepared to show Mbappe just how much they value him by giving him a monumental €38M ($42M)-per-season wage increase.
$405k: According to Zoomph, Megan Rapinoe's partnership with the sports drink BODYARMOR helped generate over $405K of total social value on Twitter during the 2019 Women's World Cup. Since April, she has out-performed the brand's other sponsored athletes like James Harden, Mike Trout, and Richard Sherman.
1,000: This college football season, ESPN will broadcast around 1,000 regular season games, 35 bowl games and the College Football Playoff.
310%: Top German soccer team Borussia Dortmund club has seen its U.S. social media following increase from 33,800 in November 2017 to 157,00 in June, an increase of 310%, even without Pulisic.
70%: According to a study by StreamElements, Twitch accounted for 70% of all livestreamed hours watched during Q2 2019. According to the study, YouTube Live (20%), Facebook Gaming (5.3%) and Microsoft's Mixer (3%) all came in with less livestreamed hours watched during Q2 2019.
5%: Houston Rockets superstar James Harden is acquiring a 5% minority stake in the Houston Dynamo and Houston Dash organization, according to multiple industry sources. This new 5% acquisition will value the organization at well over $475M, according to sources.
? The Upside: Snapshots of The Week
This rice field in Gyoda, Japan has been transformed into a stunning piece of agricultural art to celebrate the 2019 Rugby World Cup.