Dear Friends and Members,
Last Friday, we published our Sleep Tech Monitoring and Analysis Market, in which we where we discussed the segments, key players, and current and future trends in the sleep tech market for the coming years. To access this analysis be sure to sign up for our premium subscription by clicking the "subscribe now" button below.
Looking for access all of our previously published analysis, insights, data, podcast interviews, and more? Subscribe now to unlock access!
Source: Sports Tech Advisors, 2019
On Friday we plan to publish an analysis on the basketball tech market (AR, VR, wearables, etc.). To access this analysis be sure to sign up for our premium subscription by clicking the "subscribe now" button above.
? Top Stories We're Reading This Week
? AR glasses create 3D experience directly from smartphones
? Weekly Sports Startup Case Study & ROI: OTT sports, a great way to better monetize sports video content
⌚️Amazfit Verge 2 launches, rivalling Apple Watch with ECG and eSIM support
⌚️Fitbit retires its iconic and versa smartwatch apps
? New York Excelsior Owner Sterling.VC Launches Andbox Esports Branding
❤️ Cavs (NBA) make history by hiring Lindsay Gottlieb as female assistant to their coaching staff
? Latest Investment Trends
? Tech Stats of the Week
? Snapshots of the Week
Let's jump right into the insights and upside for all of these top stories
---
? AR/VR/Video Sports News
? AR glasses create 3D experience directly from smartphones | Via: Springwise
China-based Rokid is developing augmented reality (AR) glasses with the computing power to generate immersion experiences from a smartphone. The glasses can generate a virtual desktop to work from or an active 3D experience for gaming.
Rokid Vision glasses are different from other models on the market because they include some processing power. It means wearers can plug the glasses into any device with a Type C port, like smartphones and tablets. Rokid promises the glasses will provide immersive sound, be lightweight and be affordable.
⬆️ The Upside: Rokid Vision glasses have a different approach from other competing AR glasses vendors as they include processing power. However we don't expect Rokid to gain much traction as it does not have a solid brand recognition globally. When it comes to AR glasses, having a solid brand is important which is why vendors like Facebook, Sony, HTC..will prevail there.
Picture: Rokid
---
? Our weekly Sports Tech Case Study / ROI
Each week we'll highlight a sports tech case study with a technology that helped sports teams get a solid ROI (injury reduction, ticket sales improvement, cost savings, diversity improvement, etc.).
So what's our weekly sports tech case study?
In the OTT space, content is king, yet who are the knights defending their leader? A successful OTT service needs a robust infrastructure, a seamless authentication (login, registration), the richness of apps, content entitlement, and the right customer care processes. Sports OTT viewers have high standards for quality and tech vendors should comply.
So what is important for a pro team or sports brand when launching an OTT service?
Focus on subscriber retention. The initial acquisition is easy if you have a popular brand, with that in place you then need to increase engagement and satisfaction. The sports OTT market is just too big of a sector to overlook. Massive sports brands with big fan bases have to find a way to lock-in those fans with a great service, and build stable revenue streams.
In this competitive market where subscriber acquisition costs are high, there is a growing need for services to focus on retention rather than solely acquisition. The economics behind this is clear.
"Acquiring a new subscriber is five to 25 times more expensive than retaining an existing one" – Harvard Business Group
Monetising live video remains a top priority for sports organisations. There was a cool stat in a recent Techcrunch article recently. Out of the 100 most-watched live telecasts in the US in 2005, 14 were sporting events; in 2015, sporting events comprised 93 of the top 100 telecasts.
Increasingly, sports businesses choose subscriptions to build stable revenue streams and that fits their drive for sustainability. In a recent example, SportsMax, the leading sports broadcaster in the Caribbean, set up a dedicated sports channel with Cleeng and broadcasted all the live games via a streaming app. They used SportsMax's access and identity management (IAM), entitlement and payment modules to create a set of passes with synced coupons to run a promotional campaign.
That resulted in obtaining more than 20,000 users.
⬆️ The Upside: We believe that OTT is a great way for sports teams to monetize their video content (Live, VOD). We are seeing 2 new trends in the OTT sports: (1) Integration of a VR/360 experience with e-commerce integration as part of an OTT offering. Companies like The Dream VR are key players there. (2) Integration of live statistical and biometric data as part of the Sports OTT experience. Ultimately if implanted properly pro teams can use OTT services to better monetize video content, reduce churn, increase fans engagement and drive their top line.
---
? Wearables, Health, Nutrition News
⌚️ Amazfit Verge 2 launches, rivalling Apple Watch with ECG and eSIM support | Via: Wearable
Huami has pulled back the curtain on the Amazfit Verge 2 – and it comes packing some of the high-end smartwatch features we've only seen from Apple.
Unveiled as part of parent company Xiaomi's special event in Beijing where the Mi Band 4 was also shown off, the device comes with support for real-time ECG readings, as well as eSIM technology. That means it can work without being connected to a smartphone.
The addition of the ECG monitor is significant, as it propels the Verge 2 into the very select group of watches – including the Apple Watch Series 4 and Withings Move ECG – to offer the feature. It's facilitated by Huami's Huanghan No.1 always-on AI chip – something that features a cardiac biometrics engine that allows for more accurate heart rate monitoring.
Screening can take place for heart arrhythmia and atrial fibrillation, with the smartwatch able to store up to an hour of ECG data locally for seven days. As we say, though, that's not all. The eSIM support means that the Verge 2 is compatible with all of China's major carriers, allowing it to make and take calls independent of a phone.
Much like the original, the Verge 2 feature set will have an emphasis on tracking. There's automatic tracking for 10 activities, such as indoor, outdoor and trail running, elliptical, trekking, skipping and more.
And, again, like the predecessor, the new smartwatch will retain its budget price tag. The standard edition will cost roughly $144, while the ECG version $188.
⬆️ The Upside: We think that the Verge 2 is a compelling product as it offers great functionalities (ECG, various activity tracking capabilities..) at a reasonable price. This kind of product should help Xiaomi remain competitive in the highly competitive smartwatch market dominated by Apple.
Picture: Huami
⌚️ Fitbit retires its iconic and versa smartwatch apps | Via: Wearable
Fitbit Labs, the company's branch that builds apps and watch faces for its smartwatches, has announced it will retire several of its creations.
Fitbit says it will be removing the New Parent, Tennis and Think Fast apps on 15 June, as well as the Mood Log clock face. If you already have them on your device, they won't disappear, but Fitbit says functionality "will be reduced".
Fitbit told us it's retiring them to make way for "more experiments in the future", but the decision implies users simply weren't using these apps very much. We're hardly surprised: smartwatch apps, particularly third-party apps and those that don't come "baked into" wearables, have struggled to find a footing. Fitbit has fostered a decent community of people designing watch faces, but its app ecosystem feels immature next to the Apple Watch and even Wear OS.
"Since its launch in 2017, Fitbit Labs has developed and tested potential Fitbit features through a variety of experimental apps and clock faces designed to motivate users and help drive behavior change," Fitbit told us in a statement.
"Apps and clock faces from Fitbit Labs are designed to be available for a limited time to help us gain valuable feedback and insights for developing future features that enhance our user experience."
Most of the apps being killed off launched late 2017, to coincide with the arrival of the Fitbit Ionic, while New Parent launched in time for the Versa smartwatch in March 2018.
⬆️ The Upside: This move by Fitbit should not come as a surprise as, according to Fitbit spokesperson, these apps were always intended as "experiments to test ideas and to analyze anonymous user data, adding that it was always the intention they live for a limited period of time". Plus in December 2017, the company spoke quite candidly about Labs and noted that some apps could be discontinued if they weren't a success. The news also comes just days after Apple announced it will launch a standalone App Store for its Watch.
Picture: Fitbit
---
? eSports & Crypto-Currency News
? New York Excelsior Owner Sterling.VC Launches Andbox Esports Branding | Via: eSports Observer
Sterling.VC, the owner of the OverwatchLeague's New York Excelsior, has established Andbox as a new brand for its esports initiatives. The company also recently acquired the New York franchise spot in the upcoming Call of Duty geolocated league. Andbox will also focus on content creation, New York-area events, and fashion and apparel products.
Andbox has brought in Maxwell Osborne and Dao-Yi Chow, co-founders of New York-based fashion label Public School, to be the creative directors for its apparel offerings. The New York Excelsior previously collaborated with fashion brands such as Undefeated, Champion, and New Era.
"Following the launch of NYXL and our new Call of Duty franchise, we've received a tremendous amount of support from our fans, but we recognize that New Yorkers—and gamers everywhere—are still hungry for a deeper, more meaningful connection to esports," said Andbox co-founder Scott Wilpon, in a release. "We're incredibly excited to launch Andbox to help people find exciting new ways to self-identify and express themselves as gamers."
Sterling Equities is the principal owner of the New York Mets, as well as the SportsNet New York (SNY) television network.
⬆️ The Upside: We think this is a great move by Sterling.VC. This is part of its overall strategy to become a key player in the eSports market. For the New York Mets, it is part of their overall strategy to try to attract a new type of audience (gamers) and improve the awareness of their sports brands beyond traditional sports. In the long run eSports could potentially help the sports franchise drive its top line.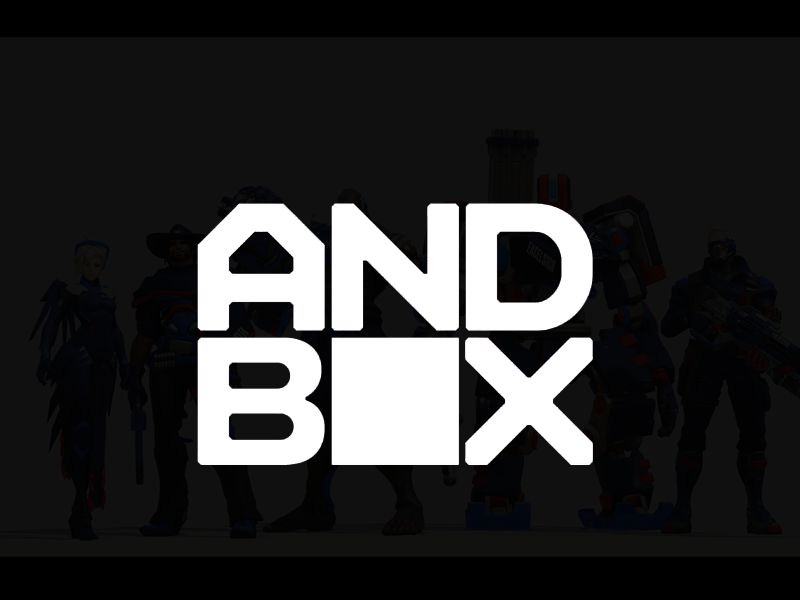 Photo: Andbox
---
? Social Impact News
❤️ Cavs (NBA) make history by hiring Lindsay Gottlieb as female assistant to their coaching staff | Via: ESPN
Last week the Cavs (NBA) added a female assistant to their coaching staff. Lindsay Gottlieb will make history as the first women's college basketball coach to be hired in the NBA. According to Adrian Wojnarowski, coach John Beilein is hiring California women's coach Lindsay Gottlieb to be an assistant.
"Her success at Cal Berkeley speaks for itself and her insight in our meetings, practices and games will hold tremendous value. After sitting with her, it was easy to see how she will connect quickly with our staff and our players, and we all benefit because of that connection. I'm looking forward to merging all of her years of experience and vision for the game with our current and future coaching staff."
Gottlieb — who will sign a four-year contract with the Cavs and is the first women's collegiate head coach recruited to an NBA staff — gave credit to commissioner Adam Silver, echoing the sentiments of other women who have found coaching and front-office employment in the NBA. Silver has been vocal about wanting to see more women hired for various NBA jobs, including coaching, administration and officiating.
Silver's push to expand hiring practices isn't just posturing; he understands that it makes sense in any profession to widen the talent pool. It's unlikely we'll see many women make the move Gottlieb is making between the college game and the NBA, but it's a start.
"It was an incredibly forward-thinking way of saying, 'For us to be as good as we can be, we need different thought processes,' and they value what I'm going to bring to the table," said Gottlieb, 41. "Part of who I am is about having an ability to connect to people and be open to letting people be who they are even as we're trying to achieve a mission together. I think some of those characteristics are what made me attractive to the Cavs organization.
⬆️ The Upside: We think this is a great move by the Cavs. This is part of a new trend in the NBA where many pro teams are hiring female coaches to be part of their coaching staff. The Cavs are not the only NBA team to do so. So which other NBA teams also have female assistants? Including Gottlieb, there are now six female assistant coaches in the NBA. Here's the list of all of them: Natalie Nakase (LA Clippers), Becky Hammon (San Antonio Spurs), Jenny Boucek (Dallas Mavericks), Kristi Toliver (Washington Wizards), Chasity Melvin (Charlotte Hornets), Lindsay Gottlieb (Cleveland Cavaliers). We think it is only a matter of time before we see a major NBA team hire a female as its new NBA head coach.
Picture: Lindsay Gottlieb
---
? Sports Investment Trends — June, 2019
Esports infrastructure company and Rogue parent ReKTGlobal has acquired Greenlit Content, a company that operates videogame and esports-centric websites. Read on here.
Immortals Gaming Club has acquired Infinite Esports & Entertainment, parent company of OpTic Gaming and the Houston Outlaws. Read on here.
---
? Key Tech Sports Stats of The Week
$9B: At least $9B has been bet legally on sports in the U.S. in the year since PASPA was overturned, according to the AP.
$1.2B: FIFA is doubling down on its goal to further engaged its Chinese fan base. They are doing this by launching official accounts on popular digital platforms Douyin and Toutiao. Between the two platforms, there are 1.2B monthly active users. With Douyin and Toutiao, FIFA will now have an official presence in four platforms in the country with Weibo and WeChat being the other two.
$500M: Wanda Sports Group is looking to raise $500M with its IPO.
$86M: According to Forbes, Roger Federer's partnerships with companies such as Mercedes-Benz, Rolex, Barilla, Wilson, Uniqlo and others netted him $86M in the 12 months ending June 1, 2019, dwarfing his prize money earnings of $7.4 million over the same period.
7M: According to NBCSports, the St. Louis market saw a 41.8 local TV rating, making it the highest-rated Blues game ever in that market. Game 7 was also the most-streamed NHL game ever, delivering an Average Minute Audience (AMA) of 191,500 viewers. It also drew 9M viewers making it the most watched NHL game since 1994.
732: Kawhi Leonard (Raptors/NBA) scored 732 points in the postseason, which is the third most by any player in playoff history (LeBron James, 2018 and Michael Jordan, 1992).
55%: During the NBA Finals, the Raptors had 55% more Twitter mentions than the Warriors, according to TwitterSports. The eight most Tweeted about Raptors games in history were played since May 12, 2019.
26, 10: Kyle Lowry scored 26 points and added 10 assists in the Raptors' win. He is just the sixth player ever to have 25 or more points and 10 or more assists in Game 6 or 7 of an NBA Final. He joins LeBron James as the only other player to do it on the road.
16: Fred VanVleet hit 16 3-pointers in this series, setting an NBA record for the most shots made from beyond the arc off the bench in a Finals. JR Smith and Robert Horry are now tied for second with 15.
12 hrs: After winning their maiden Stanley Cup title, the St. Louis Blues are generating record sales for merchandising giant Fanatics.It took only 12 hours for Blues fans celebrating the first Cup in the franchise's 52-year history to shatter Fanatics' previous sales record for Stanley Cup championship merchandise, set by the Washington Capitals in 2018.
9: Nick Nurse became the ninth rookie coach to win an NBA title. He's the first since Tyronn Lue in 2016-17.
1: The Raports (NBA) won their first NBA title after beating the Warriors 4-2 in the NBA Finals.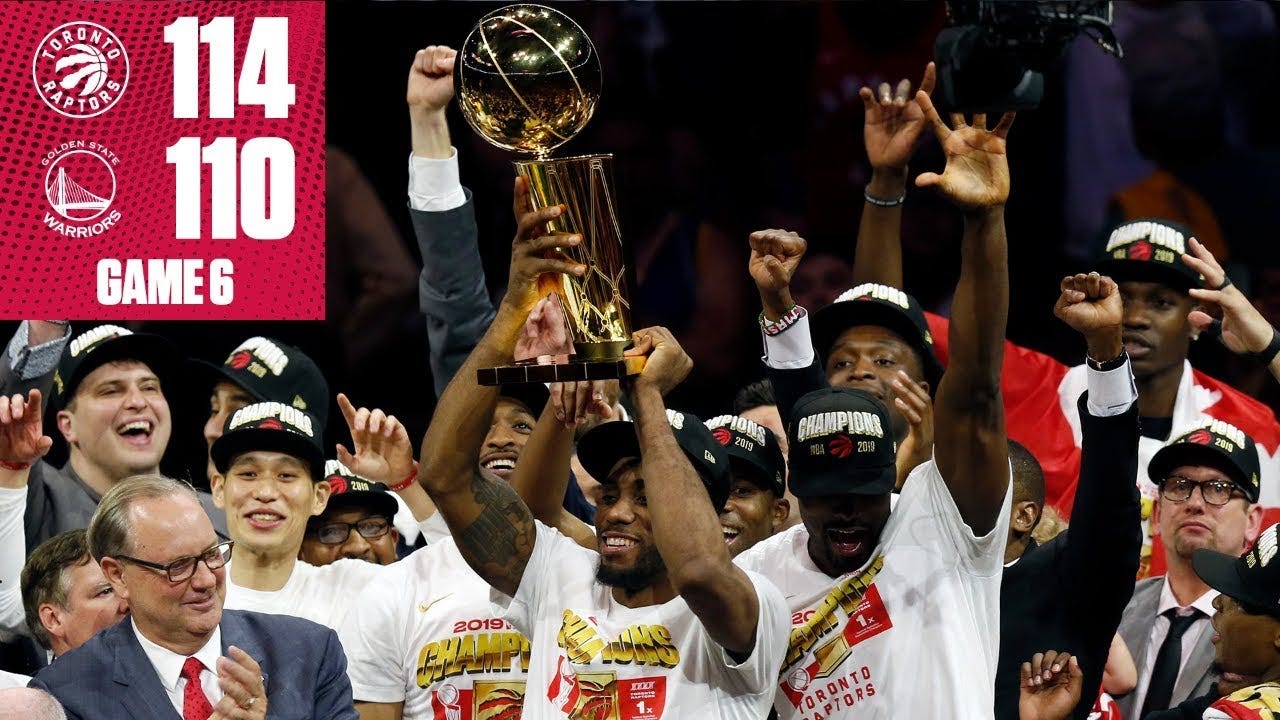 ---
? The Upside: Snapshots of The Week
Ahead of the start of Wimbledon, the All England Lawn Tennis Club (AELTC) debuted the new No.1 Court retractable roof. The roof is 80,000-square-feet of fabric covering that required 11 new 112-ton steel trusses atop the grounds' second-largest stadium, via ForbesSports.