Dear Friends and Members,
Last week we saw Apple filing a new AR/VR patent, and Nokia being rumored to soon announce a Wear OS smartwatch. The National Association of Collegiate Esports (NACE) also picked Esport Supply as its exclusive tech partner to help set up esports programs and provide the best tech to 200 US colleges. The Serie A and Laliga also kicked off their esports leagues and the Bundesliga expanded its esports league internationally. Lastly, NBA star (Magic) Aaron Gordon dunked over Tacko Fall who is 7′ 6″ (2.28 m) at the 2020 NBA Slam dunk contest.
Picture: NBA All Star Game, Aaron Gordon, Tacko Fall, 2020
This week, we published our latest Analysis: The smart footwear market: Where it is now and where it is heading, so be sure to sign up for our premium subscription by clicking the "subscribe now" button below.
Picture: Sports Tech Advisors, 2019
Looking for access all of our previously published analysis, insights, data, podcast interviews, and more? Subscribe now to unlock access!
Next week we will publish our latest weekly newsletter. As a reminder, in 1Q20, we plan to introduce a new major initiative that will better bring our sports tech community of thousands of sports tech execs (Pro teams, leagues, sports startups, VCs/investors, brands, etc.) together, so stay tuned!
If you have any questions about The Upside, need help with business development or fund raising, want to join our community of thousands of sports and tech execs (pro teams, leagues, athletes, investors..), or want to have access to our premium content, please check out Sports Tech Advisors and contact us at info@sportstechadvisors.co
? Top Stories We're Reading This Week
? Apple seeks patent for AR/VR video recording with multi-angle playback
? Streaming: Clubs and Sports Leagues taking the direct route
⌚ Latest Samsung Galaxy Watch Active 3 leak hints at three colors and stainless steel case
⌚ Nokia working on an Wear OS smartwatch?
? NACE announces Esport supply as it official tech partner for US college esport
? The Bundesliga launches eSports international series
? eSerie A launches its own eSports league
? Laliga kicks off its own eSports league
? Latest Investment Trends
? Tech Stats of the Week
? Snapshots of the Week
Let's jump right into the insights and upside for all of these top stories
---
? AR/VR/Video/Digital Sports News
? Apple seeks patent for AR/VR video recording with multi-angle playback | Via: VentureBeat
A just-published patent application reveals that Apple has been working on compositing multiple streams in a way that could let AR and VR viewers watch streamed content from their choice of angles.
While the premise uses complex technology, the end result is fairly easy to understand. Instead of just recording video and audio from a single perspective, such as the composited 2D view of live video from an iPhone's or iPad's camera with augmented content such as Pokémon in the scene, Apple would record separate streams that capture both the experience from the recorder's perspective and time-stamped additional data that could be used to change the experience for viewers. One example would enable a viewer to experience the AR/VR content from a different angle than the streamer, using the same 3D models and embedded positional audio details to recreate the scene appropriately from a mixed reality headset's perspective. Another implementation would separately record multiple viewing angles that viewers could easily switch between. Depending on the hardware's capabilities, other examples might include bringing aspects of the original scene — such as temperature, illumination, and human participants — into or out of the stream.
⬆️ The Upside: We believe that this would be a great move by Apple as part of its way to improve the mobile AR experience. Of note, Apple has already become a key player in the mobile AR space which hit the $1B mark in revenue in 2019. In 2018, Superdata estimated that Apple had 62.5M ARkit users, which was about 11% of the addressable market of 585M ARkit compatible devices. Apple is well positioned to convert a good portion of its 1B+ iOS users to mobile AR. Apple is also rumored to announced its AR consumer glasses next year which will help the company strengthen its position in the AR market.
Picture: Apple, AR
? Streaming: Clubs and Sports Leagues taking the direct route | Via: Broadcastnow
Both established and niche sports are testing the waters of serving fans via their own D2C services. The rollout of high-speed broadband, smartphones and SVoD services such as Netflix has created a technically literate audience that's familiar with the direct-to-consumer (D2C) model.
Sports organizations are beginning to test the waters in different business models around OTT platforms, although much of it is relatively uncharted territory.
"Right now, everyone is looking to jump on the D2C bandwagon," Paolo Pescatore, an analyst with PP Foresight, tells Broadcast Sport. (…) "Netflix has led the way and everyone is thinking about replicating its model. It's not as easy as that in reality, but it's good for rights holders and sports organizations to identify avenues to maximise their assets.
Going D2C is nothing new – in the late 1990s, several British and European football clubs launched in-house television stations. Manchester United, with Sky and ITV, set up MUTV, offering live content, match replays and magazine content to complement Premier League matches shown on Sky Sports. Meanwhile, the major US sports leagues were switching on their own services. NBA TV, NFL Network, NHL Network and MLB Network offered a similar mix of programming, but with some competitive live matches thrown in.
⬆️ The Upside: As we pointed out before, pro teams are facing increased competition from the likes of Netflix, Amazon, Disney who are seeing sports content as king and a way to attract new subscribers. So why couldn't pro teams take a cut of the pie and bring this in house and launch their own OTT/video streaming service? This is part of a bigger trend around subscription based services which we highlighted in our 2020 sports tech predictions earlier this year. A few months ago, Real Madrid made headlines when it announced the launch of a Facebook subscription services with exclusive content for $2.77 per month. The math is fairly simple: Real Madrid has 174M fans globally, so assuming that only 1% of their fans sign up for the service, they would generate an additional $57.8M in incremental revenue every year. We expect other big clubs to follow suit and jump on the bandwagon.
Picture: Manchester City, OTT offering
---
? Wearables, Health, Nutrition News
⌚ Latest Samsung Galaxy Watch Active 3 leak hints at three colors and stainless steel case | Via: Wareable
We don't yet know the identity of the next Samsung smartwatch, but it could come in array of new colors and the option for a stainless steel case. That's according to a fresh report from SamMobile, which indicates the next Galaxy smartwatch – whether that turns out to be the Samsung Galaxy Watch Active 3 or the Galaxy Watch 2 – will come in gold, silver and black cases.
When we could see this new Samsung watch, however, is unknown. Details are still scare, with Samsung's annual Unpacked press conference focusing on its latest smartphones, but industry whispers also indicate the latest Galaxy watch will feature double the storage of its predecessors, jumping from 4GB to 8GB.
⬆️ The Upside: We believe that this would be a logical move by Samsung. It was actually a bit overdue as battery life and security issues are important to resolve in a timely manner. Moving forward we expect Samsung to innovate when it comes to the biosensing capabilities of its smart watch offering. One possible approach would be for them to team up with Valencell to add BP monitoring and sensing capabilities.
Picture: Samsung
⌚ Nokia working on an Wear OS smartwatch? | Via: Wareable
Phone Arena has reported that Nokia has two smartwatches in the works. The rumours don't tell us too much about the new device, but it seems certain the new Nokia smartwatch will run Google's Wear OS (formerly known as Android Wear). It's allegedly already seen clearance from Google, according to a Twitter source cited in the Phone Arena report. It also seems set to have eSIM support, which means it will be able to make and receive calls using your existing phone number – and have its own data plan so you can untether from your smartphone.
Being a Nokia device, it's not surprising the company would want to offer more than a standard smartphone companion experience. The company was last in the wearables space as the owner of Withings, which ended up being a torturous two year process of re-badging old devices as Nokia. Withings eventually split away from Nokia, which eventually said it "didn't see a way forward for its wearables and health tech".
⬆️ The Upside: Nokia is pretty late to the smartwatch game, but with LTE on board it could carve out a niche. It will also be interesting whether Google allows Nokia to build on top of WearOS in the way that it's allowed Xiaomi to alter the experience with the Xiaomi Mi Watch.
---
? Esports & Crypto-Currency News
? NACE announces Esport Supply as it official tech partner for US college Esports | Via: Esport Supply
The National Association of Collegiate Esports (NACE), a nonprofit membership association that serves as the only governing body of varsity collegiate esports, has named Esport Supply, a System Target company, as their new Official Technology Partner.
"The partnership with Esport Supply continues the association down the path of providing the best in class solutions to our member colleges and universities. Esport Supply adds much to the process to design and building esports arenas with the best equipment fielded by companies that are innately qualified of the unique challenges and opportunities with varsity-level esports. Esport Supply has great plans for collegiate esports and we are excited to be a part of these plans as more and more institutions recognize the importance of collegiate esports," said Michael Brooks, NACE Executive Director Michael Brooks.
"We believe places that are dedicated to the advancement of esports as a competitive activity, career path, and fan experience are essential to developing a robust collegiate esports industry," says Jake Zinn, Esport Supply Founder.
⬆️ The Upside: We believe that Esport Supply has a unique positioning in the esports market. Teaming up with NACE is a huge win for the company which provides a full one stop shop solution (esports stadium design, content/network/equipment, content/brand activation, etc.) for esports organizations. For NACE, it will enables its 200 US colleges to properly set up esports programs and academies. We expect Esport Supply to team up with other major leagues (eMLS, NHL, NBA 2K, BDL, etc..) and clubs to help them set up local esports academies across various levels (high school, college, pro teams..).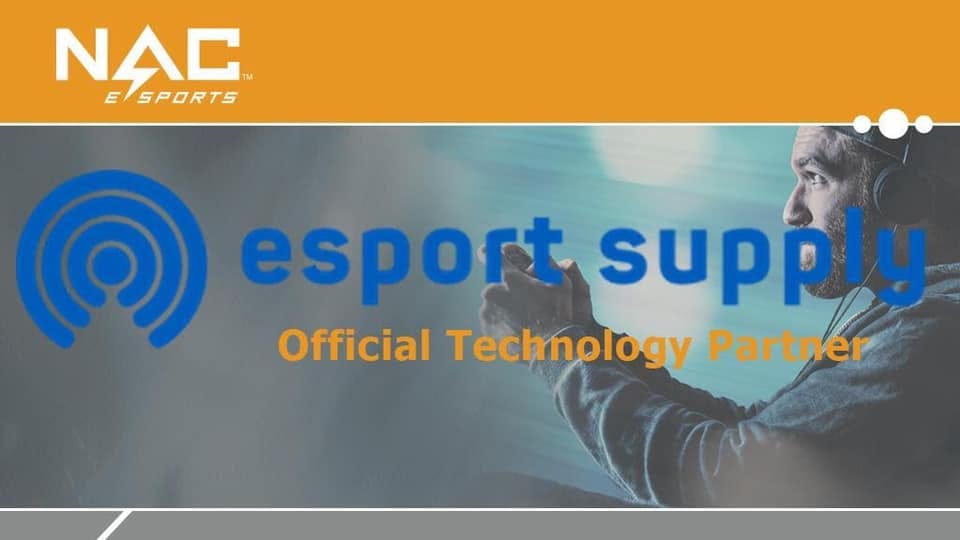 Picture: NACE, esport supply
? The Bundesliga launches Esports international series | Via: dfl.de
The DFL is taking the next step in expanding its eFootball tournaments across the world as it launches the Virtual Bundesliga (VBL) International Series 2020. As part of the competition online and offline tournaments will take place in multiple countries as they aim to identify the top players from Asia and the Americas. The finalists will win a unique trip to Germany to compete in the VBL International Final.
The VBL International Series will kick-off with Regional Qualifiers hosted in several countries including Japan, South Korea, Thailand, Malaysia, India, Brunei, the Philippines, Cambodia, Singapore, East Timor and Vietnam in Asia, as well as Brazil, Colombia, Peru, Chile, Argentina, Mexico, the USA and Canada in the Americas region.
Robert Klein, Bundesliga International CEO, said: "Nobody does eFootball like the DFL. Whilst the last seven years have already been amazing, the last three years have really seen the VBL grow internationally with big tournaments in Chile, Malaysia or India. (..)"The VBL International Final was covered live by 6 Bundesliga broadcasting partners in over 10 countries. Together with professional teams and fan driven competitions, alongside our gaming partner EA Sports, we have brought something new and fun to the table, something bigger and better than before – 'eFootball As It's Meant To Be'!"
⬆️ The Upside: We believe that this is a great move by the BDL as a way to expand the reach of its soccer league and drive the popularity of its esports league internationally. We expect other esports leagues (NBA 2K, eMLS, etc..) to follow suit in the coming years.
Picture: BDL
? eSerie A launches its own eSports league | Via: Insider Sport
Italian football's Serie A has partnered with Infront Media to launch a new FIFA esports competition, the eSerie A. Similar to the the ePremier League, competitive gamers will be represented by Italy's top clubs, featuring a group stage, play offs and then grand final in May.
Luigi De Siervo, Serie A's chief executive stated: "Esports are a phenomenon in continuous growth and expansion and represent one of the key sectors of business in sport. (…) "We have the great opportunity to involve an increasingly broad and cross-sectional target, thus bringing us closer to the new generations. All fans will now be able to follow a new championship and the best will be able to represent their favorite team by challenging themselves with their gamepads."
The tournament, being run by Infront alongside PG Esport, will also feature a draft system for clubs to pick Italy's best FIFA players on the playstation platform before the competition begins. The entirety of the competition, which began on Monday, will be available to watch via Lega's digital platforms and multiple online platforms, including YouTube and Twitch.
⬆️ The Upside: We believe that this is a great move by the Series A. The Italian soccer league aims at capitalizing on the fast growing esports market that reached the $1B in revenue in 2019. This will enable the league to attract new sponsors, tap into a new audience, and grow the popularity of its league internationally especially in Asia where esports is King.
Picture: Juventus FC, Series A, esports
? Laliga kicks off its Esports league
Last friday, Laliga kicked off its Esports league. The Spanish soccer league announced that 34 Laliga soccer teams and 8 partners will be part of its new Esports league, eLaLiga, the Spanish organisations official FIFA 20 Ultimate Team tournament. For example, Atlético de Madrid Esports will work with the established competitive gaming organisation Movistar Riders as part of the project.
Movistar Riders CEO Fernando Piquer commented: "We couldn't be any happier and prouder of the three years we've worked with Atlético de Madrid. This will be a very nice competition organised by LaLiga. We're going to give it our all to do as well as possible."
The competition features two phases, a series of tournaments, and the grand final in May.
⬆️ The Upside: We believe that this move by Laliga, one of the most popular sports leagues in the world, makes sense. Clearly there is a bit of a competition between the various soccer leagues (MLS, BDL, Serie A..) right now. They do not want to be left behind when it comes to esports. Now we should expect to see the emergence of a global esports competition between those esports leagues. The way to think about is like the Champions' league tournament of esports where all the best esports players from the local esports leagues (eMLS, eLaliga, Series A..) would compete each year into a global esports soccer competition.
---
? Sports Investment (Fund raising, M&As) Trends — February, 2020
Esports online platform Hearo.Live launches Beta after raising $1.8M in funding. Read on here.
$50M Soccer-focused fund investing in the lifestyle side of the sport. Read on here.
---
? Key Tech Sports Stats of The Week
$2B: WhatsApp now has 2B users WW, up from 1.5B people 2 yes ago. So now will we hit 3B by 2024?
$250M: Gaming giant Tencent created a $215M Foundation to fight Coronavirus.
$30M: Manchester City got fine $30M by the UEFA for violating the final fairplay and has been banned for 2 year to play in the Champions League.
$2.5M: NBA star Shaq used Instagram to sell his $2.5M LA Mansion.
1.1M: After drawing a league record 1.1M views on Twitch in its last event, the eMLS is hoping for more growth as it gets deeper into 2020.
70%: More than 70% of NBA teams are relying on real-time data from KINEXON, including the Chicago Bulls.
52.6%: 52.6% of high school esports athletes want to major in science, according to a survey by GYO Score, an esports and gaming metrics company.
12: At the NBA All Star game this weekend, the Basketball Africa League (BAL) announced the 12 club teams from 12 African countries that will compete in the league's inaugural season, which is set to tip off on Friday, March 13 in Dakar, Senegal.
10: Judo legend Teddy Riner lost his first match in ten years last Sunday leaving the world of judo in shock…6 months before the Olympic games in Tokyo.
6.18 m: 20-year-old Swedish athlete Mondo Duplantis broke pole vault world record (6.18 m) again last week.
-$15M: Under Armour reported a net loss of $15M and a projected weaker-than-expected outlook for 2020 in the company's fourth-quarter earnings report yesterday.
The sneaker and sports apparel company reported $1.44B in revenue in the fourth quarter, coming in below Wall Street estimates of $1.47B.
---
? The Upside: Snapshots & video of The Week.
Video: Aaron Gordon Dunks Over Tacko Fall – 2020 NBA Slam Dunk Contest. NBA star (Magic) Aaron Gordon dunked over Tacko Fall who is 7′ 6″ at the 2020 NBA Slam dunk contest.
Want to create your own design shoes? here it is. Project DREAM collaborates with athletes and celebrities to design and create shoes, gear, and more. This new venture was created by Brooklyn Nets Guard Spencer Dinwiddie. Click here to learn more.
Super Bowl's behind-the-scene video – Mixed Reality experience: In the video below, they break down the technical complexity of pulling off the 7-minute Mixed Reality pregame show and what made by The Famous Group at the Superbowl in Miami 2 weeks ago, in association with tech companies like Quince Imaging.
Here comes the custom Jordan-branded Xbox One X. Microsoft loves creating custom Xbox One designs, and this time, it has partnered with Nike to introduce a Jordan-themed console.