Dear Friends and Members,
Last Friday, we published our hockey tech analysis, in which we discussed the current and future tech trends in the hockey tech market for the coming years. To access this analysis be sure to sign up for our premium subscription by clicking the "subscribe now" button below.
Looking for access all of our previously published analysis, insights, data, podcast interviews, and more? Subscribe now to unlock access!
On Friday we plan to publish our next weekly sports and tech analysis.
? Top Stories We're Reading This Week
? Snap Spectacles 3 come with all-new design, dual HD cameras and 3D AR
? Huawei could launch AR smartglasses at IFA 2019
⌚️ Samsung wearables on the up in the US while Wear OS struggles continue
⌚️ Garmin Vivoactive 4 leaks out alongside new Vivomove range
? Former NBA star Garnett invests in Triumph Esports
? Latest Investment Trends
? Tech Stats of the Week
? Snapshots of the Week
Let's jump right into the insights and upside for all of these top stories
---
? AR/VR/Video Sports News
? Snap Spectacles 3 come with all-new design, dual HD cameras and 3D AR | Via: Wearable
Snap has revealed the third-generation of its Spectacles smartglasses, showcasing a new metallic look and revamped features.
The new Spectacles 3 feature dual HD cameras, allowing you to take advantage of 3D filters, effects and lenses for your footage and photos. These photos will sync automatically to your phone, and can also be viewed again using a bundled "3D viewer" if you fancy being immersed in your photographic memories.
The Spectacles 3 will also be able to take 3D photos, and Snap has showcased some parallax-effect photos to show what this would look like. For the sake of those around you, an LED ring will light up when you're recording – just like with previous models.
The cameras will record 3D footage at 60fps, with 4GB of onboard storage storing around 100 videos or 1,200 photos. The second camera means that this footage should feature depth that's closer to the human eye's perception.
Snap seems to have pivoted toward fashion with its more recent Spectacles – the latest glasses sport a noticeably more refined and lightweight look than previous standard models, and are machined from a single sheet of stainless steel. They lean more towards the Nico and Veronica models of Spectacles 2, and will come in two colours – cobalt (black) and mineral (rose gold). A new charging case will also be part of the package.
That new case will be able to store four full charges in it, meaning that you shouldn't have to recharge it too often, either.
The new models are priced at $380, whereas second-generation Spectacles 2 are listed at $150 – $200 presently. This represents a pretty sizeable pricing jump, perhaps explained by the upgrade in materials and metal frame.
⬆️ The Upside: We don't expect the Spectacle 3 to gain much traction for many reasons: 1. n our opinion, the Spectacle 3 have limited features. 2. They are also expensive ($380). History is likely to repeat itself and we expect Snap to stop selling this sku over time.
Picture: Snap
? Huawei could launch AR smartglasses at IFA 2019 | Via: Wearable
We've known for a while that Huawei is working on AR glasses – CEO Richard Yu said as much in November 2018.
It's already dipped its toe in the smartglasses market with the Eyewear range, but hasn't yet moved into AR, sticking to glasses with speakers and smart assistants. Rumours are now circulating that Huawei will bring its next generation glasses to IFA, after announcing them back in March.
Huawei has filed two patent applications for devices under the names Huawei AR Glass and Huawei VR Glass, suggesting that progress is being made on the various models of glasses that it's working on. We're expecting them to again include a voice assistant, although which one will be an interesting debate, given Huawei's struggles with Google, and introduction of its own new OS, HarmonyOS.
From the looks of things these models will be more typical than the odd smartwatch-powered ones detailed earlier this year, thankfully. If we see the new glasses at IFA, we'll be sure to let you know all the key details.
⬆️ The Upside: It should not come as a surprise to see Huawei unveil its smart AR glasses at IFA. Huawei is a very ambitious company and has big plans when it comes to the AR market. Based on our sources, Huawei has put together a very strong team of AR experts so one should expect Huawei to offer a good AR product. However it remains to be seen if Huawei will be able to offer highly differentiated AR glasses at a reasonable price. Huawei is also likely to embed its new OS (HarmonyOS) into these new AR glasses.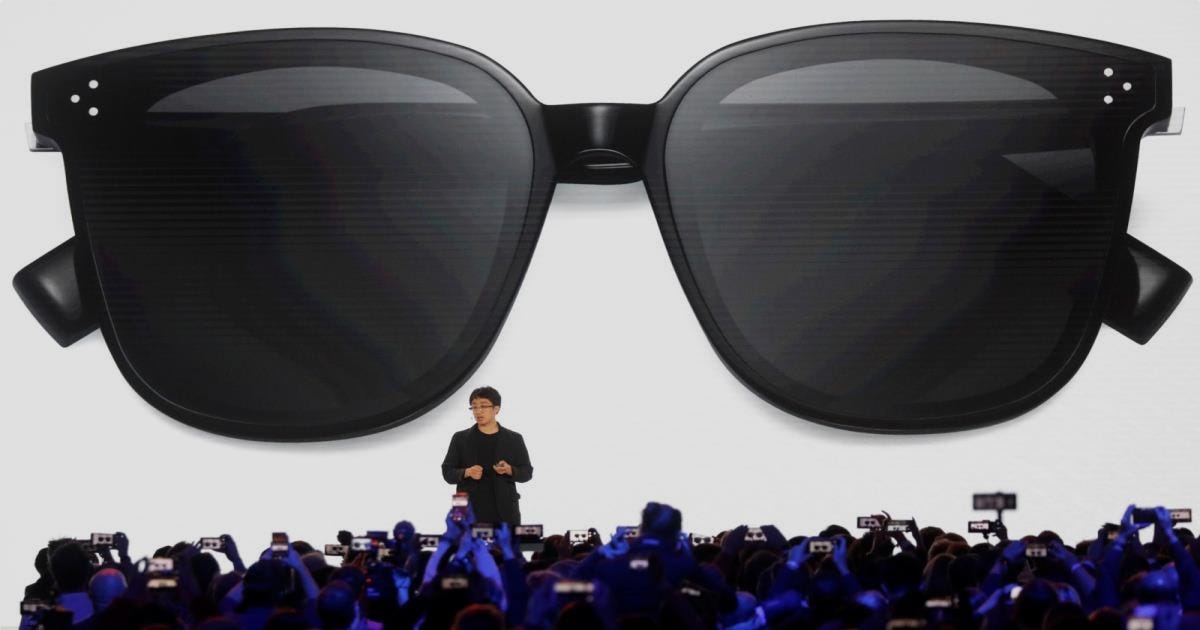 Picture: Huawei
---
? Wearables, Health, Nutrition News
⌚️ Samsung wearables on the up in the US while Wear OS struggles continue | Via: Wearable
The wearable market in North America has hit $2 billion with Apple, Fitbit and Samsung largely responsible for booming smartwatch sales fuelling that growth.
That's according to new data from analyst firm Canalys, which revealed shipment and market share insights. It put Apple on top revealing that 60% of the company's global Watch shipments happened in North America.
Samsung will be pleased with the numbers on show, as shipments of its wearables in Q2 2019 rose by 121% to 800,000 units. That's an impressive rate of growth compared to its competitors.
Samsung unveiled new Galaxy Fit fitness trackers and the Samsung Galaxy Watch Activesmartwatch with all of these devices coming in at more attractive price points than previous devices. With the Watch Active 2 already on the way, those figures could well improve for the rest of the year.
⬆️ The Upside: Samsung's improvement in the wearable band market should not come as a surprise based on Samsung's multi tier pricing strategy. Its upcoming new SKUs (Samsung Galaxy Watch Activesmartwatch at a more affordable price point, should help Samsung improve its sales over time. Samsung is also a very resilient company and despite the fact that Apple still dominates the market one can never count them out.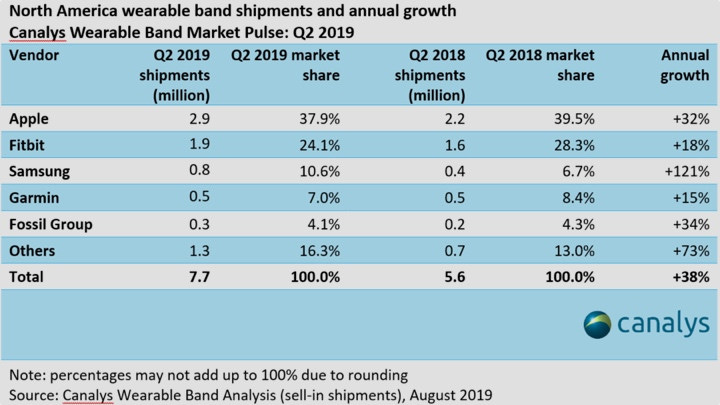 ⌚️ Garmin Vivoactive 4 leaks out alongside new Vivomove range | Via: Wearable
Garmin looks set to launch six new watches bringing additions to its Vivoactive and Vivomove ranges along with a new watch we've not yet seen before.
That's according to a pretty major leak courtesy of the folks at Winfuture.de who appear to have come across pictures and some details of all of the watches.
First up, is the Vivoactive 4, successor to the Vivoactive 3, which will measure in with a 44mm watch body. There it also looks to be a Vivoactive 4s measuring in with a smaller 40mm case mirroring a trend that Garmin seems to have started with its Forerunner 45 and 45s running watches.
Vivoactive 4s (left) and Vivoactive 4 (right)
Based on the watch screens, it seems we can can expect music features like we've seen previously on the Vivoactive and it looks like there could be some new animated workout features based on the man in the press-up position on one of those faces.
The images also suggest some design tweaks as well, with the touchscreen bezel looking a little less pronounced compared to previous models. Garmin's Vivoactive range is considered its most smartwatch-like device, so it'll be interesting to see what it offers on that front along with its sports tracking features.
Garmin Vivomove Style, Sport and 3s
Left to right: Vivomove 3s, Vivomove 3 Sport and Vivomove Style
Garmin's Vivomove hybrid smartwatch has been long due an update, and it looks like we are finally going to get a big one in 2019. The image above apparently shows off the Vivomove Style, Vivomove 3 Sport and the Vivomove 3s.
The Vivomove Style (far right) looks to feature a color display in combination with a set of classic analog hands, though it could well just be a full touchscreen display. It's not entirely clear. It will apparently offer activity tracking and heart rate monitoring.
The Vivomove 3 Sport (middle) and the Vivomove 3s (on the left) seem to be designed more like the current Vivomove HR offering a discreet digital display baked into the bottom of the watch face that only appears when you need to review your fitness tracking and health data.
Based on the resting heart rate data screen on the 3s, it's safe to assume heart rate monitors will be in tow on these models too. The 3s will be the smallest of the new Vivomove hybrid smartwatches.
Garmin Venu
Last up is something that looks entirely new from Garmin. The Venu features a 43mm case design and looks a bit like a more luxurious version of the Vivoactive with that more pronounced bezel. It seems we can expect the usual mix of smartwatch, sports watch and fitness tracker features here too.
There's no details on pricing or release dates, though we do know Garmin has a press conference planned for IFA 2019. The Berlin tech show takes place in just a few weeks' time, so we won't have to wait too long to see if these leaks are spot on.
⬆️ The Upside: While we believe that these smartwatches would be nice addition to Garmin's smartwatch lineup we do not expect Garmin to take share away from Apple. What Garmin needs to do is to be more innovative in terms of biosensing capabilities (e.g. fatigue level, hydration/lactate level..). By doing so it will be able to fully disrupt the smartwatch market over time.
Picture: Garmin
---
? eSports & Crypto-Currency News
? Former NBA star Garnett invests in Triumph Esports | Via: ESPN
Triumph Esports announced Monday that 15-time NBA All-Star Kevin Garnett is investing in the newly formed company through his experiential event management and production company, Big Ticket Sports LLC.
The investment marks Garnett's first foray into esports. Big Ticket Sports currently owns the Hoop It Up three-on-three basketball tour and Kick It Soccer three-on-three tour.
"Our relationship with Triumph Esports is a natural fit as we look to showcase and elevate shared lifestyle experiences through competition, content and live events," Garnett said in a statement. "Our vision is to create unique experiences that impact our fans across a variety of passion points."
Triumph Esports is a "full-service esports company" that includes under its umbrella Rivalcade, a competitive esports and experiential event company, and Triumph Gaming, an esports professional team. Triumph also fields rosters in Overwatch, Apex Legends and Teamfight Tactics.
⬆️ The Upside: We think this is a great move by Kevin Garnett as he will be able to take advantage of the fast growing eSports market. KG won't be the first NBA player to jump on the eSports bandwagon. Many NBA players (Shaq, Rick Fox..) along with celebrities (J Lo..) have already invested in eSports. We expect other high profile athletes to follow suit in the coming years.
Picture: Kevin Garnett
---
? Sports Investment Trends — August, 2019
eSports organization team Griffin Parent company STILL8 raises $4.5M investment. Read on here.
eSports organization Statespace raises $2.5M seed funding round led by FirstMark Capital. Read on here.
---
? Key Tech Sports Stats of The Week
$2.35B: Joseph Tsai, the billionaire co-founder of e-commerce giant Alibaba, is close to signing a deal to buy the 51% of the Brooklyn Nets he does not already own from Russian billionaire Mikhail Prokhorov, according to The Post. The deal is expected to be announced this week, sources said. The $2.35B transaction would mark the highest price ever paid for a sports franchise
$1.8B: USA Today released its annual athletic department revenue and expense data which revealed that the top 10 college sports programs generated $1.8B in revenue from 2017-2018. Texas was ahead of the pack, raking in $219.4M while in-state rival Texas A&M ($212.3M) and Ohio State ($205.5M) joined the Longhorns as the only three schools making over $200M in revenue.
10: Last weekend, FC Barcelona lost 0-1 against Athletico Bilbao. The result marks the first time Barcelona were held scoreless in an opening La Liga fixture since a 1-0 loss to Numancia in August 2008, ending a run of 10-straight wins on matchday one in the league.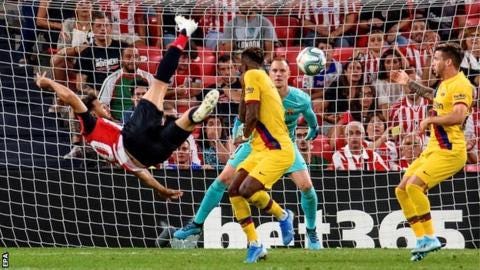 10%: Apple will find out again in September, when new 10% import tariffs on all smartwatches, smart speakers, fitness trackers and Bluetooth headphones come into force.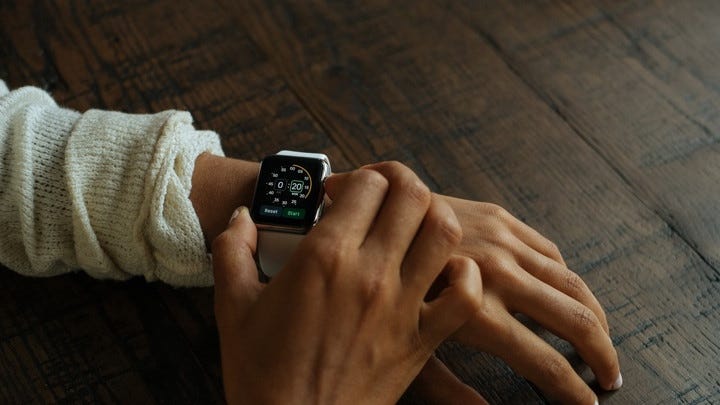 ---
? The Upside: Snapshots of The Week
Nike Goes Subscription. Last week Nike announced its Nike Adventure Club, a subscription service for children's shoes. The Nike Adventure Club will offer three tiers of service, from four pairs a year to 12 with sizes fitting kids roughly 2 years old to 10 years old. The tiers are $20, $30 and $50 per month, respectively.