Dear Friends and Members,
We just published our analysis on mental health issues in sports, so be sure to sign up for our premium subscription by clicking the "subscribe now" button below.
Looking for access all of our previously published analysis, insights, data, podcast interviews, and more? Subscribe now to unlock access!
Next week we plan to publish our next weekly sports and tech analysis.
? Top Stories We're Reading This Week
? Nreal Light Developer Kits Now Available for Pre-order, Starting at $1,200. $500 consumer version coming in 2020
? NBA teams enhancing fan experience with high-tech replays
?Peloton to Sell Cheaper Treadmill and Rowing Machine in 2020
?️ Wearable Technology In-Competition To Debut At 2019 Next Gen ATP Finals
? The NFL invests in eSports platform Skillz
? Dutch soccer team PSV launches new eSports VR experience
? Latest Investment Trends
? Tech Stats of the Week
? Snapshots of the Week
Let's jump right into the insights and upside for all of these top stories
---
? AR/VR/Video Sports News
? Nreal Light Developer Kits Now Available for Pre-order, Starting at $1,200. $500 consumer version coming in 2020 | Via: RoadtoVR
Nreal made quite the splash at CES earlier this year, showing off its Nreal Light AR headset which made some clear strides to look less like a futuristic helmet and more like a regular pair of sunglasses you might actually wear in public. Starting today, both the $1,200 Developer Kit and the $2,000 Enterprise Edition are officially available for pre-order.
The headset portion of Nreal Light is itself remarkably light, weighing in at only 88g, which is in part due to the fact that it has offloaded its computing to a dedicated Android mini-computer running a Snapdragon 845 chipset. Like HoloLens or Magic Leap One, it has 6DOF inside-out tracking, but also boasts a relatively wide 52-degree (diagonal) field of view, which is thanks to a 'birdbath' optical design which projects imagery from dual 1080p microdisplays; both HoloLens and Magic Leap One use waveguides for their near-eye displays.
There's also going to be a $500 consumer version, which will arrive sometime in early 2020 without the so-called Computing Unit, instead tethering via USB-C to a user's phone.
As for the dev kits available for pre-order today, the only material difference between both versions is the Enterprise Edition includes a one-year service plan. Nreal doesn't really mention what that entails exactly, but if it's anything like we've seen in the VR sector, it will likely provide dedicated customer support for businesses.
Nreal is also offering a Light Prescription Lens Set for $500 that contains 15 pairs of lenses with what the company calls a "wide range of diopters for nearsighted users."
Shipping is said to begin in a month from now, delivering on a rolling basis depending on which batch you managed to nab.
⬆️ The Upside: We think the Nreal MR glasses have a sleek form factor with a good FOV. The $500 consumer version is likely to appeal to some sports organizations which could use it to enhance the sports fans experience within stadiums.
? NBA teams enhancing fan experience with high-tech replays | Via: NBA.com
NBA fans will soon be able to look up at the big videoboard above the court and get a different look at that deep Trae Young 3-pointer early in the first quarter. Or see a different perspective of that monstrous Giannis Antetokounmpo dunk.
In a reversal of roles, NBA teams are bringing the video game experience back to the live action — one arena at a time.
The Atlanta Hawks Friday will become the fifth NBA team to unveil significant financial investments into new 360-degree replay technology designed to eventually give fans the power to change the way they see the game.
"It's the wave of the future," said Hawks vice-president of live experience Joe Abercrombie, who says the technology also is "one more thing to give people a reason to come" to the arena.
⬆️ The Upside: In our view, we believe that this type of 360-degree replay experience is a great sports fans experience. We expect other sports teams (NBA and other leagues) to adopt such technologies within stadiums.
---
? Wearables, Health, Nutrition News
?Peloton to Sell Cheaper Treadmill and Rowing Machine in 2020 | Via: CNBC
Shares of Peloton jumped nearly 9% before the closing bell Wednesday following a Bloomberg report that the company plans to launch a new rowing machine and cheaper treadmill next year.
Peloton, which sells fitness equipment that streams subscription-based workout classes, currently offers bikes and treadmills for $2,000 and $4,000, respectively. Streaming workout classes costs $39 a month, while Peloton also sells a digital membership for $19.49 a month that gives access to classes on the company's mobile app.
⬆️ The Upside: We think that this is a great move by Peloton. It will help the connected fitness company to drive its top line and attract new types of customers who would not have been interested in Peloton products before. We also expect Peloton to make more strategic M&As in the future.
?️ Wearable Technology In-Competition To Debut At 2019 Next Gen ATP Finals | Via: ATPour.com
Early this month, for the first time on the ATP Tour, players permitted to use wearable technology in competition this year during the Next Gen ATP Finals, which was held 5-9 November at the Allianz Cloud in Milan.
The data collected allowed players and coaches at the award-winning 21-and-under event to quantify the demands of the competition, better understand athlete loading and make key performance decisions that are supported with objective data.
The GPS receiver (Catapult Vector S7) and inertial sensors in the device measured velocity and direction, acceleration and force, rotation, body orientation, and will quantify internal load (through heart rate). The data from the wearable device, which was only be accessible by each player and those that the player gives access to, provided accurate maps of movements and actions.
Players and coaches provided with post-match and post-practice reports, also had the opportunity to synchronise the data with match footage to add additional context. One-on-one support from the vendor will be provided on-site throughout the week.
Chris Kermode, ATP Executive Chairman & President, said: "From the outset, the Next Gen ATP Finals have been at the cutting edge of innovation in our sport, and the use of wearable technology this year during matches will provide some invaluable insights to players, coaches and ATP medical services. This is a unique tournament that has always embraced new technologies, and this is the latest step as the event continues to pioneer innovation in the game."
The likes of Canada's Denis Shapovalov, Australia's Alex De Minaur and Italy's Jannik Sinner used the Catapult Vector S7 – a GPS tracking device that sits at the rear of a black bib – during matches at the ATP event. Murray has made no secret of his use of the tracker – which allows athletes and their teams to view more than 1,500 metrics in real time – during training sessions, but it's a significant development in the tennis landscape that it can be used in official competition.
⬆️ The Upside: We think this is a great move by the ATP. We believe that the ATP is likely to start sharing players' biometric data (HR, stress, gps..) with fans moving forward. This has been done before in sports like rugby or golf. This is the kind of new fans experience which will help bring the fans experience in the world of pro tennis to the next level.
---
? eSports & Crypto-Currency News
? The NFL invests in eSports platform Skillz | Via: esportstalk.com
Last week the NFL was in the news, making some pretty serious moves with the esports platform Skillz. Through 32 Equity (NFL's investment arm), this financial deal went down. We don't know the details, but it does offer some exciting potential.
Kevin LaForce, VP of 32 Equity spoke out about the deal:
"There are over 2.6 billion mobile gamers worldwide, and Skillz is the largest mobile platform connecting players in competitive game play. We invested in Skillz because we believe the platform is driving the future of mobile entertainment, which is an area the NFL believes is critical to engage our fans in an increasingly connected world."
⬆️ The Upside: We believe this is a good move by the NFL. Beyond the strategic investment, we think that the NFL is likely to leverage the Skillz investment to tap into their fast growing esports platform to try to attract new NFL fans.
? Dutch soccer team PSV launches new eSports VR experience | Via: PSV.nl
PSV launch a new partnership with Pillow's Willow VR Studios, who have just presented their latest brainchild Exodus Burned, an innovative game in which players use their whole body to score points in a virtual reality.
This co-operation offers both parties an opportunity to develop new initiatives for fans and gamers under the name of Active Esports. In this way, they respond to PSV's community engagement policy to promote physical activity. Both parties successfully worked together in organizing events including the PSV FANdag and the launch of the 5G pilot project of the Eindhoven Municipality.
To play Exodus Burned you need a harness equipped with sensors.
"It is an amazing gaming experience. Everybody looks like a sports hero. When you put on the VR glasses, you will become the sports hero you have always wanted to be, in a futuristic setting."
And in that setting, the gamers get a new challenge every minute, inspired on sport or gaming, like heading a ball or kicking a ball away. It lasts for eight minutes and can be played at any level. Kortenhoeven: "Easy to learn hard to master. When you are a good athlete, you are a real VR hero and play at a high degree of difficulty. The complex game is played with a faster speed. But children and older people can play the easy version." Kortenhoeven would like to make moving but also VR a more social activity. "You will hardly all sit down and watch a gamer play a VR game. It is different from watching a football match together. VR is an isolated thing, which is the problem. It is interesting but in particular for the one who is wearing the VR glasses."
Moving around while you are gaming, with each other and against each other, is what characterises Exodus Burned. The game offers fun and entertainment because the gamers make some weird movements, which makes it a visibly stunning game. You can share the experience in the first Exodus Burned Experience Center in the SX building in Strijp-S, starting in January 2020.
⬆️ The Upside: We believe this is a great move by the PSV which will be able to further tap into the growing popularity of esports in order to attract new fans, and new sponsors. We also think that combining VR with esports is the type of new eSports experiences which will appeal to esports and VR fans. We also expect other pro teams to follow suit.
---
? Sports Investment Trends — November, 2019
Philadelphia Union minority owner launches $50M US soccer-focused investment firm. Read on here.
Riot Games, Tencent, Supercell, and more Invest $3.85M in social gaming app Bunch. Read on here.
The NFL invests in esports startup Skillz. Read on here.
---
? Key Tech Sports Stats of The Week
2.6B: There are over 2.6 billion mobile gamers globally.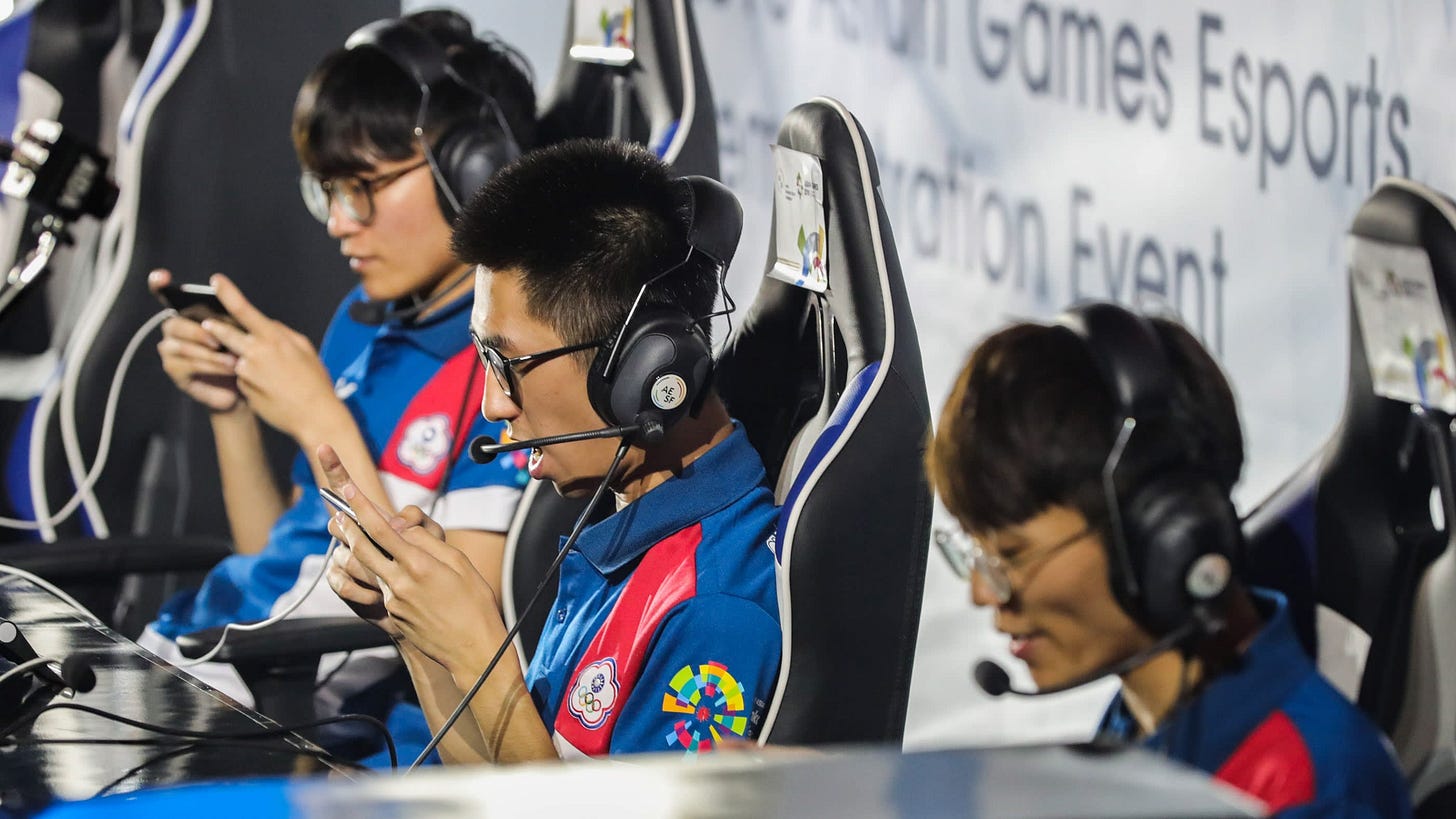 146,000: According to Elon Musk Tesla has received 146,000 Cybertruck orders so far.
42,000: Broadcaster ESPN claimed a new world record for attendance at a tennis match on Saturday, with more than 42,000 people watching Germany's Alexander Zverev go down 6-3, 4-6, 2-6 to Roger Federer in an exhibition match in Mexico City.
30+: Soccer star Christiano Ronaldo has become the 2nd best soccer player in the history of soccer, after Brazilian star Pele, to have scored at least 30 goals per season for 13 straight consecutive seasons.
---
? The Upside: Snapshots of The Week.
Farewell. Mauricio Pochettino, who was sacked by Tottenham Hotspur earlier this week, thanked his former players in a farewell message left on a tactics board, photos posted on Twitter by his assistant showed.