From smart bats, smart sleeves, VR experiences….to advanced drones
In terms of fan base, Cricket is one of the biggest sports in the world, with 630M+ people in India watching cricket every year.
In fact, with a cumulative reach of 635M viewers, till the semifinal stage, the ICC Cricket World Cup turned out to be the most watched event in the history of Indian television.
Looking at the cost of injuries globally, soccer is currently the sports that is the most impact by injuries. As shown in the graph below, injuries have cost $6.2B across all the soccer teams in 2015. The second most impacted sports is baseball with a total of $3.3B in terms of cost of injuries. Cricket comes last with a total cost of injuries of $650M. This typically includes the cost of salaries, medical procedures and the insurance cost. That being said, many cricket teams have started using advanced wearables and analytics tools to help prevent injuries. We will get into that in great details in the upcoming sections.
Source: Sports Tech Advisors, 2019.
So what are some of the most popular technologies used in world of cricket? The goal here is not to go over every single technologies out there but to cover what we believe are among the most interesting technologies out there.
First, there are a myriad of technologies used by broadcasters to help enhance the viewing experience of crickets games on TV.
One of the most commonly used technologies in pro cricket is called Hawkeye. First used in 2001, this is essentially a computer system used to show the path of a cricket ball. It is a commonly used and is an indispensable tool for cricket commentators around the world to confirm the umpires decisions.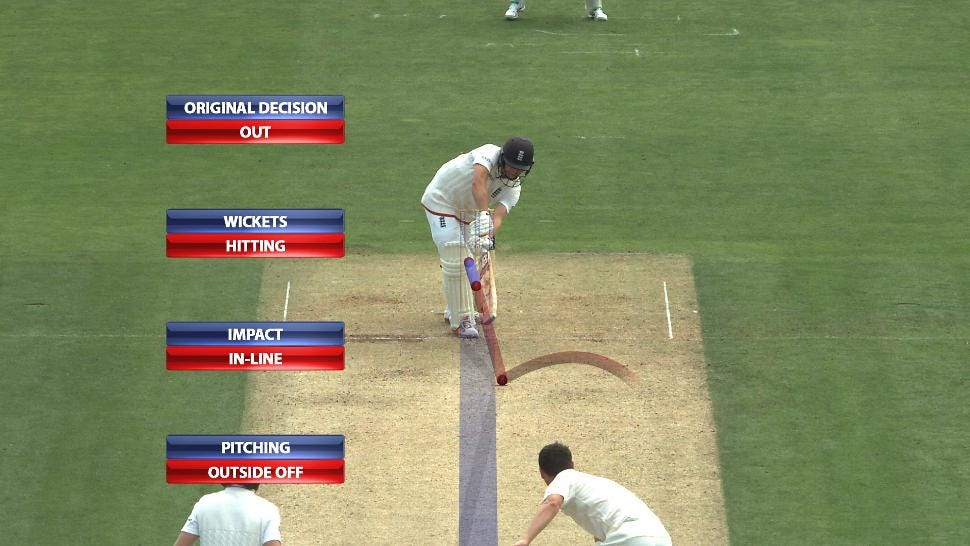 Picture: Hawkeye
Another popular TV technology used in pro cricket is called Snick-o-Meter. It is essentially a very sensitive microphone located in one of the stumps, which can pick up the sound when the ball nicks the bat. This technology is only used to give television audiences more information and to show if the ball did or did not actually hit the bat. Cricket umpires can receive the data to their chest-mounted smartphone.
Picture: Snick-o-Meter
Another critical TV technology used to enhance the TV viewing experience of cricket games is what we call Ball Spin RPM. This technology initially started during the TV coverage by Sky sports for the 2013 Ashes series. RPM is a "revolutions per minute" counter, which shows how fast the ball is spinning after release. It is worth pointing out that it is not clear how this is measured, though it would need a high speed camera focused on the ball, possibly using the same images that are captured for the Hawkeye system.
Picture: Ball Spin RPM
Another key TV technology is called Hot Spot. This technology is essentially used to review whether the bat has hit the ball, particularly when there is a small nick. If there is contact, the small amount of heat generated is indicated by a change to that area of the bat. Hot Spot uses two infra-red cameras positioned at either end of the ground. These cameras sense and measure heat from friction generated by a collision, such as ball on pad, ball on bat, ball on ground or ball on glove.
Picture: Hot spot
Over the years, broadcasters have also started using helmet cams to provide a more immersive TV experience. Of note, back in 2012, Brisbane Heat star Shane Watson became the first batsman to wear a camera in his helmet.
Video: Helmet cams
Over the years we have also seen the emergence of smart bats embedded with advanced sensors. For example, back in 2017, the International Cricket Council (ICC) adopted bats that had swing-sensing chips inside. The sensors, developed by Intel and sports startup Specular, measured the bat's speed and angle during back-lift, impact and follow-through. The figures were then transmitted for immediate analysis by coaches and broadcasters. This type of technology enables detailed visualizations during each cricket game. Studio pundits can explain a player's performance, suggest how they could improve and compare their technique to previous tournaments. Similarly, coaches can use this information to fine-tune training sessions and strategies.
Video: Intel
VR has also become part of the cricket fans viewing experience. For example, during the 2017 International Cricket Council (ICC) Champions Trophy, Intel also showcased a VR experience for cricket fans. The VR experience allowed cricket fans to experience facing a virtual bowler in an immersive cricketing environment. Using a head mounted display (HMD), the player was able to test his or her batting skills against a virtual bowler. Using the Intel-enabled cricket bat, the player was also able to see data from a swing, such as bat speed and back-lift angle, as well as a simulated score from the VR session.
But Intel did not stop there. The company also showcased during the same cricket tournament a drone, equipped with high-definition and infrared cameras, which was used for advanced pitch analysis before every match. Images captured by the drone offered rich visual data on pitch conditions such as grass cover, grass health and topology, which was used to generate daily pitch reports leveraged by commentators during broadcasts.
Picture: Intel
In the world of pro cricket we are also seeing some innovation around smart textile. One company particularly active in this area is CricFlex. The Pakistanese startup built a smart sleeve which can detect illegal bowling actions. It also allows doubles up as a trainer, allowing bowlers to see the force and speed of their action at the ball's release point, as well as how much spin is on the ball and how long it took to complete a delivery. Of note, the smart sleeve costs $200-300.
Picture:
You can see how CricFlex works by watching the video below:
Video: CricFlex
Lastly advanced analytics and algorithms have also become a key driver to help prevent injuries in cricket. For example, Australian researchers have developed a state of the art algorithm using submarine and guided missile technology to reduce injury and improve performance in cricket fast bowlers. The "torpedo technology" has been used by the Australian Cricket team in preparations for the major cricket tournaments.
Sports scientists at Australian Catholic University's School of Exercise Science developed the algorithm as the current manual reporting of professional cricketers' workloads, which only measures how many deliveries a bowler balls, and not the intensity of the effort, was inadequate.
Bottom line: Technology in the world of cricket has become an important part of the game. It is helping Cricket teams prevent major wearables through the use of advanced wearables and analytic tools. In addition, advanced technologies such as drones, VR, helmet cams, and advanced cameras, have also helped improved the TV viewing experience over the years. In the coming years we expect new technologies to emerge. They will become more advanced and become the new secret weapon to help the best pro cricket teams edge out the competition.