Tiger's Masters Win Brought $22M to Nike, $1.1M to a fan
Dear Friends and Members,
Just in time for the Masters, last week we published our AR golf tech market analysis and showcased our deep dive into the various golf tech (Sensors/wearables, AR/MR/VR, augmented video, eSports) sub-segments and key players, as well as future trends that will impact the sports industry.
Looking for access to our analysis, insights, data, podcast interviews, and more? Become a premium member to unlock access now!
Photo: The Upside, Sports Tech Advisors
Coming up on Wednesday, we'll publish our podcast interview with Frederic Paquet the CEO of AS Saint Etiennes, a top French soccer team.
Frederic shared insights on what it's like to manage a sports team, the qualities required to effectively manage a team, the types of challenges he faces on a daily basis and how to overcome them. He also talked about the differences between managing a pro team in Europe compared to managing a team in North America, as well as his view on the impact of technologies on pro teams today. As Frederic pointed out, managing a sports team is very complex and requires great social skills:
"Managing a sports team is a very demanding job (..) You have to enjoy working long hours (..). We never stop working until the season is over which lasts 12 months. When the season is over then we have to keep going and prepare the next season". (..) In our line of work you need to have great social skills. You have to be able to deal with human beings, and have good listening skills, in order to be able to find solutions for everything".
To listen to Frederic's full interview published on Wednesday, be sure to sign up for our premium subscription by clicking the "subscribe now" button above. This week premium members will also be able to get access to our full analysis of the technologies used in the world of pro sports to better manage pro teams, drive the teams' top line, improve efficiency, safety, save costs, published later this week, in addition to a deep-dives into the best practices, key players, market trends, and use cases that are shaping the world of sports management.
? Top Stories We're Reading This Week
? Tiger Roars, World Reacts
? How NASCAR's new AR live TV experience, powered by Fox Sports, is bringing fans closer to the action
? The NHL is testing Sportlogiq to build its AR stats experience
? Dent Reality wants to bring AR indoor mapping to malls, airports & retail. What's next? Stadiums?
? Sports Tech Advisors Startup of the week: Parallux
? Weekly Sports Tech Prediction
? Weekly Sports Startup Case Study & ROI
⌚️ Garmin launches Connect IQ to make it easier to find apps for smartwatches
? PSG LGD signed a sponsorship deal with IPASON
? NBA player Meyers Leonard invests in FaZe Clan
? The Houston Rockets (NBA) will sell their majority stake in Clutch gaming
? Sharks (NHL) VP Neda Tabatabaie receives SVBJ Women of influence Award
? Racism has no place in Football, says FIFA boss Gianni Infantino
? Investment Trends for April
? Tech Stats of the Week
? Snapshots of the Week
Let's jump right into the insights and upside for all of these top stories.
---
? Tiger Roars, World Reacts
It wasn't just the biggest sport stories of the year, it may be one of the biggest of the last many years.
When Tiger Woods sunk his putt on the 18th yesterday for a final-round 70, a two-stroke advantage from his nearest competition, he had firmly grasped what many said would be impossible — another major.
Eleven years after his last major, and 14 years from his last victory at Augusta, Tiger has ostensibly roared back to life and into relevance on the PGA circuit (and the greater sports world) by capturing his 15th major win, and his fifth green jacket.
As Tiger worked his way through Amen Corner, the murmurs of social media were growing. As a steady rain began to fall as Tiger drove off the 16th, the social noise began to grow. Then, his nearest competition, Brooks Koepka and Francesco Molinari both had devastating misses into water, and the narrative began to almost flex in favor of Woods.
For those at Augusta, forced to enter the grounds without a mobile device, the only way to understand what was unfolding was by the volleys of raucous cheers emanating through the Georgia pines and the manual old-school scoreboards around the grounds.
At home, those of watching the broadcast could sense something magical was happening as the excitement was further ramped up by legendary announcers Jim Nantz and Verne Lundquist.
It really hit home when Tiger "made the trip up to the final green, as throngs and throngs of the gallery cheered him on, witnessing history.
Now, we get the fun part of the story: How does Tiger's win impact that of golf but also that of the larger sports spectrum? Tiger's win already has moved the betting market. Earlier this year, he was 500-1 to win every major this year. Now, that's moved to 35-1. At every remaining major this year, he is now the odds-on favorite to win.
The next aspect is that Tiger's win at Augusta now completes one of the greatest sports comebacks in modern history. There are very few that can beat what Tiger accomplished, and where he came from. American sport fans seem to embrace and love a comeback story — it's one of the more compelling narratives that keeps us glued to the screens watching sporting events unfold. No doubt, Tiger's fall from grace the previous decade with lurid headlines and personal demons coupled with repeat injuries and an eventual last-ditch surgery to fuse his ailing back have weaved together defense for naysayers many of whom believed Tiger would never return to relevance by winning a major. Yesterday shows that not only has he roared back to relevance, he has also rejoined the top of the sports echelon ruled by the likes of LeBron James, Venus Williams, Tom Brady, and Lionel Messi.
Here's some of the other major stories that we're reading in the wake of Tiger's incredible victory.
From LeBron James to Tom Brady, here's the social media reactions from the world's biggest sport stars. | Via: Golf Channel
Inevitably, when large gaps of time separate championships and titles, we're drawn to comparisons of what happened 'back then.' So, when Tiger last captured a Masters, we're curious about the fact that — wow! — there were no iPhones then! | Via: Thrillist
Brand that backed Tiger won huge this weekend. Attention matters. Throughout the course of the four-day tournament, and with Tiger's eventual victory yesterday, here's a breakdown of how the various brands and sponsors performed:
Nike saw $22.5 million in exposure
Monster received $960,000
Bridgestone saw $134,000
These numbers will increase as highlights and print media push images of Woods's win across the globe. They'll also jump at later tournaments that receive a Woods boost in viewership and attention.
One bettor made history. With an $85,000 bet on Tiger to win the Masters (at 14-1 odds), they now become the winner of the biggest golf payout in Vegas history.
Let's put that in perspective:
Tiger's 2019 Master's purse: $2,070,000
Bettor's 2019 14-1 bet payout: $1,190,000:
Who was a big loser? FanDuel Sportsbook promised to pay money back to bettors if Tiger won. Well, now they stand to lose about $2 million in the wake of his win.
---
? AR/VR/Video Sports News
How NASCAR's new AR live TV experience, powered by Fox Sports, is bringing fans closer to the action | Via: SVG
In February, Fox Sports shifted its NASCAR studio operations into high gear with the launch of a virtual studio at its Charlotte, North Carolina production facility during Daytona Speedweek. The ultra-customizable 60 x 60 foot facility allows instant 3-D analysis of racetracks, cars, mechanic shops, and more with the ability to create unique and changeable spaces within the high-tech studio environment in a matter of hours.
3-D tracking technology from Blacktrax is used to automatically trigger events on the set. Whether automated lighting following alongside an analyst on set, or AR-activated movement from an analyst, this technology opens the door for unique storytelling opportunities.
Fox also deployed real-time AR using a combination of set elements and 3-D graphics. For example, 'raising a race car' through the floor or changing content that texturizes the set. Although photorealism is extremely important, Fields says, one of the key factors for the Charlotte team will be finding a balance between realism and taking full advantage of the set's dynamic and futuristic capabilities.
?Watch the NSCAR's new AR experience on Live TV here.
⬆️ The Upside: This is part of NASCAR's overall strategy to try to offset the decline of its TV viewership that occurred in the past few years. By offering more interactive AR based content to the fans, NASCAR is hoping to increase fans engagement, viewership, new sponsors and drive its top line. That being said, only time will tell if AR will be enough to have a big impact there.
The NHL is testing Sportlogiq to build its AR stats experience | Via: SVG
The NHL is actively testing Sportlogiq to provide the optical half of its planned puck-and-player tracking system. The league began installing dedicated cameras in four arenas two months ago to collect trial data. That collection process will continue during the Stanley Cup Playoffs.
⬆️ The Upside: We believe that it is not surprising to see the NHL testing out Sportlogiq's solution based on Sportlogiq's previous work in hockey. In fact, Sportlogiq built tracking software for several NHL teams over the past couple of years. They also work with the Swedish Hockey League (SHL). That being we believe that the NHL is testing various solutions to enable an AR tracking experience in the future. Based on our sources, some tech partners are more cost effective than others, so the NHL should pick its tech partner very carefully to maximize profit. For the NHL, the goal is clear: Improving the fans experience, viewership, new sponsors, to ultimately try to become one of the most tech savvy sports leagues in the US. As we noted before the NHL plans to launch this type of AR experience during the 2019-2020 season. By doing so it will then become the first sports league in North America to build this type of AR experience.
Photo: Sportlogiq
Dent Reality wants to bring AR indoor mapping to malls, airports & retail. What's next? Stadiums? | Via: Road To VR
Indoor navigation is still a pretty old-school experience: You look for a map of shops, bathrooms, and accessibility ramps and follow signs to your desired destination, all the while knowing that the super-powered computer in your pocket has lost a core functionality without GPS signal. Dent Reality, a UK-based studio, is creating its own augmented reality-based SDK for iOS to remedy this.
As first reported by 9to5Mac, Dent Reality says its SDK can integrate the map of indoor spaces, figure out where the user is, and use virtual paths and arrows to help you find their destination. As it is, the company provides its developer SDK and services to help places like malls, airports, and retail stores integrate these features into their own apps. The results do look promising though.
?Watch the Dent Reality's AR indoor mapping experience here.
⬆️ The Upside: We believe that this type of AR mapping experience could be easily integrated into sports teams' mobile app in order to provide AR mapping features enabling fans to get directions in stadiums to the next restaurant, retail stores, and get location based coupons along the way. This would be a great way for sports teams to bring more fans to their stadiums and drive more sales (food, jerseys, etc..) during games. To learn more about this new trend, we wrote a full AR sports stats market analysis here.
Photo: Dent Reality's AR based indoor mapping
Sports Tech Advisors Startup of the week: Parallux
Last week in New York we had the opportunity to meet a great NYU Future Reality Lab startup called Parallux. What's unique about this VR startup? They can create a multi-user VR experience with up to 30 people at once. The VOID can only do 4 VR users at a time so this is a big improvement. VR users also have a unique view of the VR movie that they are all watching together.
? Watch the quick video of their VR multi user experience here.
⬆️ The Upside: We believe that this type of multiplayer VR experience would be a great way for pro teams and sports apparel brands (Nike, adidas..) to let fans experience VR together, promote new initiatives (e.g. new team jersey..), or let them experience a virtual "courtside" experience before buying season tickets, or virtually see what the design of the new stadium will look like.
Picture: Parallux's multiplayer VR experience (30 max)
---
? Our weekly Sports Tech Prediction
Each week we'll make one sports tech prediction based on conversations we've had with top sources and our vision of the market.
So what's our weekly prediction?
We believe that in 2019 we will see an increasing number of college, pro and olympic teams using contactless biosensors in order to measure HR, HRV, sleep quality and even blood pressure without any contact to the skin. How does it work? Typically it uses a tiny chip based on wireless technologies like UWB (Ultra Wide Band) which is essentially a radar capable of measuring such biometric data from the distance using advanced algorithms.
Let's face it! Athletes don't like wearing smartwatches or bands while sleeping. Yet, based on conversations with many biosensor companies and teams (Olympic teams, pro teams) there's great interest for contactless biosensors as a way for athletic trainers to better monitor the sleep quality of their players or fight jet lag issues. We already tested some of these contactless solutions (e.g. SleepScore) and we have been impressed so far with the accuracy of the measurements. Therefore, and based on our sources, we expect to see some major teams using contactless biosensors in 2019.
Picture: SleepScore's contacless biosensor device.
---
? Our weekly Sports Tech Case Study / ROI
Each week we'll highlight a sports tech case study with a technology that helped sports teams get a solid ROI (e.g. injury reduction, ticket sales improvement, cost savings, diversity improvement, etc.).
So what's our weekly sports tech case study?
Injury prevention has become a major problem in the world of sports. This is true at the amateur level, college level as well as the pro sports level. There are many companies focusing on the injury prevention space. One of them is Kitman Labs, a startup that currently works with well over 100+ sports teams today across a variety of sports and leagues (e.g. NHL, MLB, NCAA, MLS, Pro14, Premiership Rugby, Premiership Football, etc.).
How does Kitman Labs' solution works? Kitman Labs built an sports analytics platform which essentially collects a large amount of data (sensor data, etc..) and is capable of analyzing such data via advanced algorithms and model in order to prevent the risk of injuries for specific players. The alert system will say "Player X now has X% change of injuries based on our latest analysis".
What has been the ROI on MLS teams like the Houston Dynamo, an MLS team? As you can see in the graph below, Kitman Labs' solution has help the MLS team reduce the number of injuries by 63%. The MLS also saw an 88% reduction in sprains and strains, and a 76% reduction in numbers of days lost to injury.
Of note in the coming weeks we plan to publish a full analysis on the various types of injury prevention software and tools where we will highlight the key players, current and future trends, case studies, and challenges faced in the industry.
Picture: Kitman Labs, Houston Dynamo (MLS)
---
? Wearables & Health News
Garmin launches Connect IQ to make it easier to find apps for smartwatches Via: Wearable Technologies
Garmin for a long time had nestled the Connect IQ app into its mainline Connectapp. It was hidden away in the menus and opened up an in-app browser to allow you to download apps and faces for your Garmin watch.
It worked, but it all felt a bit bolted on. Garmin is fixing that with the brand new Connect IQ app, which is a full-blown Garmin app store for both iOS and Android that makes it easier to download faces and apps for your smartwatch.
First, it's an actual app that makes it much easier to use on the go, when you might want to browse and look for a new app. Second, there are a large number of catalogs that apps are divided into. For example there are categories like Digital Watch Faces, Training Metrics, Out to Sea, Fun Watch Faces, Weather at a Glance and more.
Garmin is also including Face It! integration, which will allow you to create your own custom smartwatch faces with your own photos. The new app will also let you easier turn on or off automatic updates, managing installed apps and checking storage space.
⬆️ The Upside: We believe this is a great move for Garmin. It is also part of Garmin's open platform strategy to become a digital fitness platform., scale faster and leverage hardware (smartwatches, fitness bands..) from other vendors as opposed to primarily focusing on offering its own hardware devices. By doing so it will also be able to leverage sensor data from competing vendors and generate better insights from a variety of biosensors. From a financial standpoint, by becoming a digital platform it will also be able to improve its overall margins.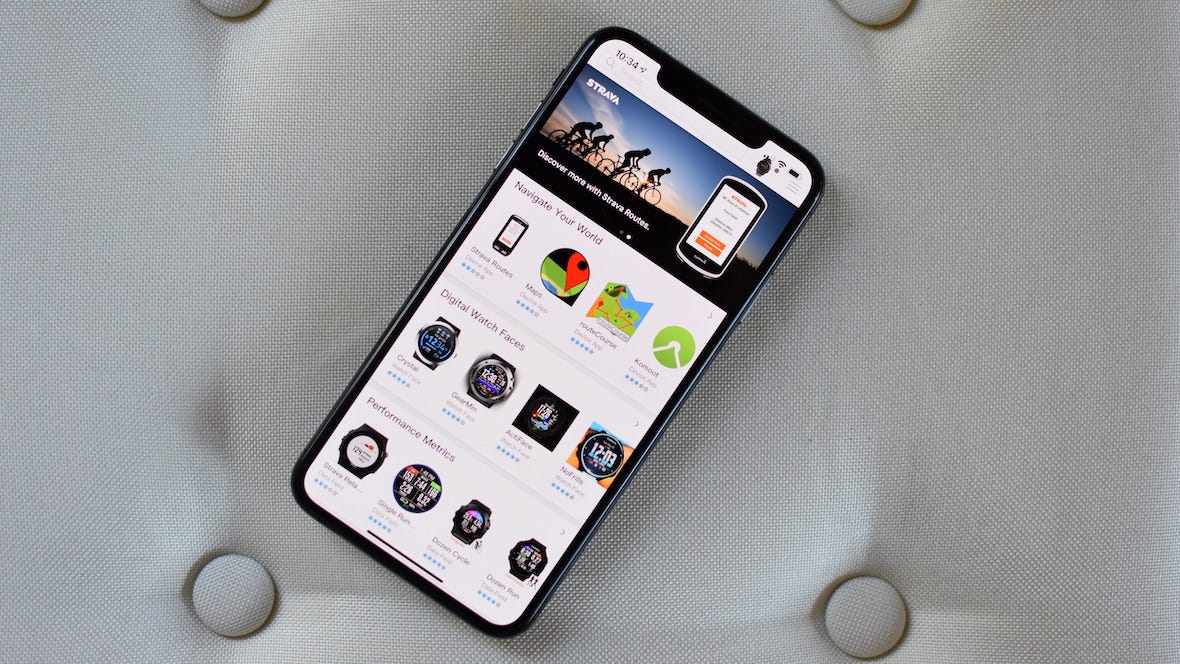 ---
? eSports & Crypto-Currency News
?PSG LGD signed a sponsorship deal with IPASON | Via: eSports Observer

PSG LGD, PSG's eSports team signed a new sponsor: IPASON, a leading Chinese tech company which develops high-performance computers, all in one computers and high-end peripherals. The company generates $350M in annual revenue.
⬆️ The Upside: PSG is a great example of a pro sports team that has been able to leverage the power of eSports to attract new sponsors and try to tap into a new audience: The gamer community. This type of Asian sponsor is also a great way for PSG to grow its brand in Asia and attract new Asian fans along the way.
Photo: PSG LGD
? NBA player Meyers Leonard invests in FaZe Clan | Via: eSports Observer
Portland Trail Blazers player and avid Twitch streamer Meyers Leonard announced that he has officially invested in FaZe Clan . Leonard has expressed support for the esports team previously by watching their streams and has been seen wearing a Brendan "Jaomock" O'Brien FaZe Clan jersey.
"It is with great pleasure and excitement that I officially announce my investment into FaZe Clan," Leonard posted on LinkedIn. "For anybody that knows me, you know I am an obsessive gamer. FaZe Clan is the premier organization in #esports with a social following larger than the entire Overwatch League. FaZe has taken the gaming world by storm, helping grow some of the largest gamers and content creators of our time."
⬆️ The Upside: It should not come as a surprise to see Meyers Leonard invest in eSports based on his passion for gaming. For FaZe Clan they will be able to leverage the brand of this NBA player. For him there could be a big upside based on the fast growing adoption of eSports. So it is a win win for both parties. As we noted previously, many other athletes and celebrities have invested into eSports startups. Those include Michael Jordan, Shaq, Steph Curry, Alex Rodriguez, Mark Cuban, Drake, J Lo, Tony Robbins, among others. We expect plenty of other celebrities and stars to follow suit.
The Houston Rockets (NBA) will sell their majority stake in Clutch gaming | eSports Observer
Philadelphia 76ers and Dignitas parent Harris Blitzer Sports & Entertainment has agreed in principle to acquire a majority stake in Clutch Gaming , the League of Legends organization owned by the Houston Rockets, for $20M USD according to a report by ESPN.
Sources told ESPN that Clutch Gaming will rebrand to Dignitas likely following the conclusion of the 2019 season. This would mark the return of one of the founding organizations in the League of Legends Championship Series, after Dignitas' application for the franchise system was rejected in October 2017.
⬆️ The Upside: For the 76ers, it is part of their overall strategy to make a big push into eSports, tap into a new audience, generate new sponsors, and potentially drive additional revenue for them and the city of Philadelphia, which is set to open the Fusion Arena, a $50M eSports facility, in 2021. Of note, last year, the Barclays Center in Brooklyn sold out more than 20,000 tickets for the grand finals of the Overwatch League, in which gamers compete in the popular Blizzard Entertainment game "Overwatch." We are likely to see a similar economic impact in Philly as well.
---
?? Social Impact Sports Tech News
Sharks (NHL) VP Neda Tabatabaie receives SVBJ Women of influence Award | Via: NHL.com
Neda Tabatabaie, Vice President, Business Intelligence for the San Jose Sharks, has been selected by the Silicon Valley Business Journal to receive its Women of Influence Award for 2019. The Women of Influence award honors and celebrates the 100 most influential women in Silicon Valley. Tabatabaie will be recognized at an awards dinner to take place Thursday, May 16 at the Fairmont Hotel in Downtown San Jose. In her fourth season with the Sharks, Tabatabaie, an Iranian-born Canadian, is responsible for developing, implementing, and guiding the overall business strategy initiatives for the organization using data and analytics. Her work has helped the organization better identify and understand the ever-changing needs of its fan base and customers.
"Supporting and contributing to the growth and development of women in the workplace, primarily in the sports industry, is something in which Neda is extremely passionate. As such, she initiated the Sharks Women's Network, a group for female employees at Sharks Sports & Entertainment to network and support each other's professional development."
⬆️ The Upside: We believe this is well deserved for Mrs Tabatabaie. There is a need for better diversity in the NHL, or in pro sports in general. The NHL, over the years, has been trying to make its league more diverse in terms of genre, ethnicity, but in our view there is still a way to go, but they are moving in the right direction. In November 2017, the NHL hired Kim Davis as executive vice president of social impact, growth initiatives and legislative affairs. "Hockey is very tribal," she said. "When you're part of the tribe, you're really part of the tribe. What we have to do is figure out how to make the tribe feel more welcoming."Davis joins another movement of women of color making an impact at a high level in sports front offices. These women include Michele Roberts, executive director of the National Basketball Players Association; Katrina Adams, president of the USTA; Lisa Borders, president of the WNBA; Renée Tirado, vice president of talent and head of diversity and inclusion at MLB; and Terri Jackson, director of operations of the Women's National Basketball Players Association.
Picture: Neda Tabatabaie, VP, Business Intelligence for the San Jose Sharks (NHL).
Racism has no place in Football, says FIFA boss Gianni Infantino | Via: Modern Ghana
Juventus' Italian teenage forward Moise Kean recently suffered racist abuse from the stands during Italian Serie A match at Cagliari. The 19-year-old held his arms aloft after scoring Juve's second in the 2-0 win, seemingly in response to chants, and was subjected to further abuse. According to Mr. Gianni Infantino, FIFA stands together with Prince Gouano, Kalidou Koulibaly, Raheem Sterling, Danny Rose, as well as any other player, coach, fan or participant in a football match who have all suffered from racism. "In recent days, it has been very sad to see a number of racist incidents in football. This is really not acceptable. Racism has no place in football, just as it has no place in society either." said the Gianni Infantino FIFA President in a statement, an incident the FIFA boss is not pleased with.
⬆️ The Upside: We believe this sends a strong signal about where FIFA stands for when it comes to racism, but there i still a long way to go especially in several European soccer leagues like the Calcio (Italy), or Laliga (Spain). But the FIFA is taking the proper measures to stop racism: "We introduced the so-called "three-step procedure" at our tournaments: a mechanism that allows referees to go as far as to abandon a match in case of discriminatory incidents", says FIFA president.
Picture: Gianni Infantino, FIFA president
---
? Sports Investment Trends — April, 2019
Fantasy cricket startup BalleBaazi raises $1M from its parent company Baazi Games. Read on here.
HBSE has agreed to buy a majority stake in eSports team Clutch Gaming for $20M, according to Jacob Wolf of ESPN.
---
? Key Tech Sports Stats of The Week
$19.2B: The estimated cost of contact injuries per year for US high schools ranges from $5.4B to $19.2B. And these are only the short-term costs; the long-term costs may be much higher. Read on here.
$11B: Uber generated $11B in revenue in 2018. However it reported a -$1.85B overall loss in 2018, according to the SEC filing.
$4.6B: Yankees to sit atop the Forbes rankings as the most valuable franchise in baseball. Valued at $4.6B, the team is worth $1.3B more than the Dodgers, who at $3.3B, are the second most valuable team in the league. According to Forbes, the average baseball team is now worth $1.78B, 8% more than a year ago.
$1.5B: The estimated cost of contact injuries per year for US colleges ranges from $446 M to $1.5B;
$200M: According to Brian Costa of the Wall Street Journal, the club has spent around $200M to buy more than 100 pieces of land totaling no fewer than 270 acres.
$135-$170M: According to several reports, Paul Pogba is interested in going to Real Madrid next season. According to Football Observatory, Paul Pogba's trading value has fluctuated between $135M and $170M since 2018.
91M: Uber has 90M average monthly users
$79M: Real Madrid have lowered their asking price for Gareth Bale to $79M, according to reports in Spain. Real Madrid are hoping they can help the sale of Gareth Bale along by lowering his price tag to $79M, says Sport.
$58M: Uber paid $58M to Google Maps in 2016-2018.
$22M: A partner since 1996, Nike won $22M in exposure yesterday in just the FINAL ROUND alone due to Tiger's Masters win, according to Apex Analytics. Woods also brought in ad value to his other sponsors: Monster ($958k), and Bridgestone ($134k).
$8.5M: Tennis star Naomi Osaka is expected to earn around $8.5M a year from her next deal. She is now well on her way to joining the likes of Serena Williams ($20M per year) and Maria Sharapova ($20M per year)as the world's highest-paid female athlete.
1.4M: There were more than 1.4 million Tweets about Tiger Woods yesterday and more than 1.8 million about The Masters.
$1.19M: A bettor liked Tiger Woods at 14-to-1 to win the Masters. He liked it so much he wanted to bet $85,000. With Tiger's win this weekend, he took home $1.19M, a record golf payout.
$500k: According to a Costa, one 81-year-old resident is holding out after the Augusta golf club made her an offer that was $500,000 less than her neighbor.
386: NBA Star Steph Curry has now become the greatest 3 points shooter of all time in NBA playoffs last Saturday after the Warriors' win against the LA Clippers. It has now scored 386 3 points in the NBA playoffs, edging out Ray Allen.
75%: Augusta National has expanded its territory by more than 75%.The club has plans to dig a large tunnel under Washington Road to connect its primary.
50%: In 2018, eSports Overwatch League game had 248.2M hours watched, and 74.6M of those hours came from the main OWL Twitch channel alone.
20 years: According to former club chairman Billy Payne, the Augusta club plans 20 years in advance.
24,000: According to ESPN's Jimmy Pitaro, ESPN+ will stream 24,000 live events in 2019.
50: Facebook has 50 employees working within their blockchain group. Remember! Some believe that blockchain could add $19B to their top line.
15: Tiger Woods won his 15th major win & 5th Masters win at Augusta this weekend.
$6.99: Disney +, Disney's upcoming video streaming service set to launch in November 2019, will be available for $6.99 per month.
3.45 am: When asked at what time he would get up the day of the final day of the Masters in Augusta, Tiger Woods answered: "3.45 am!"
---
? The Upside: Snapshots of The Week
Sports in NYC. Last week we were in New York City to visit NBA and MLB HQ to discuss the latest trends in innovation. Stay tuned for more insight about your visit and learnings!
Picture: Sports Tech Advisors
Tiger wins compared with history. This weekend, Tiger Woods made history by winning his 15th major win & 5th Masters win at Augusta. His last Masters victory — 14 years ago, back in 1997.
Controversy on the sidelines. Last week, a 76ers player was caught on TV texting on the bench while his team trailed by double digits in game one of the NBA playoffs.
Picture: NBA, ESPN.