Microsoft's expertise in AR space will help it create a high-quality AR game
Dear Friends and Members,
Last Friday, we published the first part of our special analysis of the "sports tech" investment trends, top M&As, current and future areas of investments. To access this analysis be sure to sign up for our premium subscription by clicking the "subscribe now" button above. Later this week, we'll publish the second part of this tech investment analysis which will focus on wearables, connected fitness, AI in sports, blockchain, eSports, and neurotech.
Looking for access all of our previously published analysis, insights, data, podcast interviews, and more? Subscribe now to unlock access!
Coming up this Wednesday, we'll publish our podcast interview with Ben Payne, the head of eSports at McLaren, a top F1 team. On Friday premium members will also be able to get access to our eSports analysis: "Hype Vs Reality" where we will talk about the segments, key players, and best practices for pro teams and leagues to successfully enter the eSports space.
On Thursday, we'll also publish our podcast interview with Annelise Thornton, the CEO of ETP systems, a company providing professional services in sleep recovery and performance to pro teams.
Next week premium members will also be able to get access to our analysis on the "tech sleep monitoring and analysis" market where will be talk about the ecosystem, key segments (smart watches, headbands, mask, contactless biosensors, professional services) and players, and current and future trends.
? Top Stories We're Reading This Week
? Lenovo launch new AR/VR headset targeting enterprise
? Microsoft launching Minecraft Earth: A Pokemon Go for Minecraft lovers
? VR Chinese vendor launches $300 VR headset
? ShotTracker signs 5 years deal with Mountain West
? Oculus has sold through its first week of Quest pre-orders
? HTC's new Valve Index VR a high quality VR headset, shipping June 28
? Weekly Sports Startup Case Study & ROI: Steph Curry's Secret Weapon
⌚️ Withings' new Steel HR Sapphire Signature comes in three colors
? More clues about the AirPods 3
? UrgoNight wants to help you sleep by training your brain during the day
⚾️ Portland Pickles unveils first ever CBD sponsorship in baseball
? NCAA votes to not govern collegiate eSports
?NHL reveals Gaming World Championship 2019 Sponsors, activation plans
? NASCAR reveals latest diversity intern class
❤️ NFL Inspire Change Platform — An Answer to players protests
? Latest Investment Trends
? Tech Stats of the Week
? Snapshots of the Week
Let's jump right into the insights and upside for all of these top stories
---
? AR/VR/Video Sports News
? Lenovo launch new AR/VR headset targeting enterprise | Via: Engadget
Lenovo is continuing its expansion into new, unexpected categories outside of its PC business. Today, the company announced they're launching a new AR-and-VR system targeted at businesses. It's called ThinkReality, and from the looks and description of the device and platform, it looks like a competitor for Microsoft's HoloLens.
There are two parts to the new ThinkReality system: The AR headset and a software platform. The ThinkReality A6 is a comfortable 380-gram headset with two fisheye cameras on the front, as well as depth sensors and a 13-megapixel RGB sensor. There's also microphones onboard for voice control, and the headset can also detect where you're gazing to optimize resolution or navigation. You'll also be able to interact with your virtual environments using an included 3DoF controller. Untethered, the A6 can last up to four hours with its 6,800mAh battery, and you can still use the device while it's plugged in and charging.
⬆️ The Upside: While we believe this is an interesting move by Lenovo, we think that it will be very difficult for Lenovo to gain traction and compete against vendors like Microsoft Hololens which has the unique advantage of providing an end-to-end solution (windows OS, cloud services, PCs/laptops, Hololens glasses) to enterprise customers. But, we have to admit that the AR/VR hybrid approach is an interesting approach and expect many other AR/VR vendors the likes of Facebook, Samsung, and Google to follow suit.
Picture: Lenovo's AR/VR headset
? Microsoft launching Minecraft Earth: A Pokemon Go for Minecraft lovers | The Verge
In the same building where Microsoft is creating the next Halo game, a team of engineers and game designers have been dreaming up the future of Minecraft on mobile phones with the help of the HoloLens team. Minecraft Earth is a new free-to-play game for iOS and Android that's surprisingly ambitious for Microsoft. We've already seen holograms through Microsoft's HoloLens headset, but the company now wants to bring this technology to a much broader scale with the help of Minecraft Earth.
Pokémon Go saw 20M people searching for Pokémon in streets worldwide back in 2016, thanks to augmented reality. Microsoft wants to take the Pokémon Go concept a big step further by letting Minecraft players create and share whatever they've made in the game with friends in the real world, away from TV screens and monitors.
"Minecraft Earth proposes to completely break the dogma that has lived with us in computing since the beginning: this idea of a single person that holds a single device to create a single experience," says Kipman. "With Minecraft Earth, that's no longer the case. The content is in the real world."
⬆️ The Upside: This is a great move by Microsoft for several reasons:
(1) Microsoft is well positioned to replace the success of the Pokemon Go app which attracted 100M users in 30 days and generated $740M in 2016.
(2) The success of Pokemon Go demonstrated that that if you can leverage an iconic gaming franchise, and combined it with an emerging technology (AR), you can build a success overnight. Microsoft is using the Pokemon Go playbook as it has both the iconic gaming franchise (Minecraft) and the right technology (AR).
(3) To do so, Microsoft can leverage the growing popularity of Minecraft which has 91M active players and convert a good portion of those users to this AR app.
Photo: Microsoft Earth AR app
? VR Chinese vendor launches $300 VR headset | Via: CNBC
Chinese video entertainment company iQiyi releases a new virtual reality headset, Qiyu 2S, a more affordable version of the 4K VR integrated headset that the company launched last year.The Qiyu 2S weights 280 grams, or 9.9 ounces, has 4K resolution and an advertised starting price of 1,999 yuan ($294). Controlling the hardware and content may allow iQiyi to engage with users in a unique way. Putting out its own VR headset is a novel step for a major company focused on producing and distributing entertainment.
⬆️ The Upside: While the specs (4K) and the price of this VR device are impressive we do not believe that the Qiyu VR headset will be able to gain significant traction globally for one main reason: It does not have a solid and recognizable brand here in the US market. Therefore we do not expect iQiyi to take share away from Oculus, Google, Sony, HTC and other leading VR headset vendors.
Picture: iQyi's $300 VR headset
? ShotTracker signs 5 years deal with Mountain West to provide instant basketball and analytics data | Via: Wearable
Last night, ShotTracker, the sensor-based system that delivers real-time statistics and analytics to teams, fans and broadcast networks, announced it has partnered with the Mountain West to provide basketball data tracking and analytics services during all conference basketball games through the 2023-24 season.
ShotTracker will install its system across 23 practice and game facilities at all 11 Mountain West schools for both men's and women's basketball programs. Each student-athlete will wear a ShotTracker player sensor and use the ShotTracker-enabled version of their school's basketball provider. The sensors track player and ball movement in real time, providing Mountain West programs with 70+ unique statistics. This provides the Mountain West with access to instantaneous data that no conference has unilaterally had access to before.
"The Mountain West prides itself on innovation and we're proud to be the first conference to partner with ShotTracker conference-wide," Mountain West Senior Associate Commissioner Dan Butterly said, "Our coaches understand that real-time data, analytics and reporting are going to be invaluable for improving team performance. Our student-athletes will have access to post-practice and game analytics data that can help them better understand their specific performance and help them find ways to improve. Plus, Mountain West fans will, for the first time, have access to real-time analytics to better follow their favorite teams."
You can watch the video explaining ShotTracker's technology here
⬆️ The Upside: We are big believers of the use of sensor data to improve the fans experience and help coaches make better decision in real time. These types of solutions will help bring more people to stadiums and help teams win more games. ShotTracker is well positioned to be a key player in this space. We expect leading sports leagues and pro teams in the US and Europe to adopt such technologies in the future.
Picture: ShotTracker
---
? Our weekly Sports Tech Case Study / ROI
Each week we'll highlight a sports tech case study with a technology that helped sports teams get a solid ROI (injury reduction, ticket sales improvement, cost savings, diversity improvement, etc.).
So what's our weekly sports tech case study?
Steph Curry dribbles a basketball with one hand, and with the other, tosses a tennis ball back and forth with his trainer.
This is just one in a long series of his typical yet super elaborate dribbling drills—only he's also wearing some sort of goggles, the lenses of which seem to be flashing black. Curry uses them through all kinds of different drills—they're a favorite tool for his trainer, Brandon Payne—who says that the goggles are one of the biggest reasons why Curry smashed the three-point record and became the first unanimous league MVP in history.
Picture: Steph Curry wearing the strobe goggles
Curry has sought out this kind of training through something called the FITLIGHT system, which is basically a cluster of discs that can be displayed and made to flash different colors in different sequences. Curry and his trainers design routines that require him to take different actions depending on which colors he sees and when. But strobe goggles, too, are part of the program. They do not flash a strobe light at Curry's eyes, as you might imagine (which would be unhelpful and potentially even damaging). Rather, they simply limit visual perception in a manner that forces an athlete to learn to react more quickly.
Senaptec is the company that makes those glasses and which is run by the aforementioned ex-Nike employee.
Picture: Strobe goggles
Initially, Curry wore the goggles during his workouts over the course of the season and kept his neuromuscular efficiency at full-tilt. He turned defenders into statues and blew the lid off of his efficiency norms. He notched the first 50/40/90 shooting season while scoring at least 30 points per game, becoming the first unanimous MVP in NBA history.
He also, of course, ended up smashing the 3-point record, which was his own to break, cementing himself as the greatest shooter in NBA history.
"That," Payne says, "is how you go from 286 to 402."
Other NBA stars like Michael Jordan and Leonard have also used those glasses to boost their performance. Jordan liked the effect so much that soon he wanted to travel with the strobe lights. However, it was one tool in the program, not the entire program. But Jordan noticed the lights helped in other ways. The game seemed to slow down. He picked up on visual cues he wasn't seeing before. For reasons he couldn't quite explain, it was making him better, even beyond tolerating photographer's flashes.
"The general report by athletes is that it seems slower, it seems easier," Reichow says in a promotional video released at the time. "Essentially what we've done is strength training on the sensory system. Just as you would with resistance training on the physical side, we're doing resistance training for the senses of the brain."
Of note, the strobe goggles can also be used for other sports like soccer, baseball, American Football, to help process information faster, and improve reaction time.
---
? Wearables, Health, Nutrition News
⌚️Withings' new Steel HR Sapphire Signature comes in three colors | Via: Wearable
Adding to its range of Steel hybrid smartwatches, Withings has revealed the special edition Steel HR Sapphire Signature.
The watch becomes the second new spin-off in the Steel line since the company was re-bought from Nokia, following on from the impressive Steel HR Sport. It also joins the new range of Move hybrids unveiled in January.
What's different, exactly, with the Sapphire Signature? Well, in fairness, not much, but the French company has added sapphire glass to the face – something that's not usually a fixture on smartwatches. It'll come in three different styles, too, as shown below.You'd really be hard pressed to tell the difference from the standard Vantage V at first glance, but, if you're wooed by a premium feel, then it will cost you an extra $100. There's the black face with a slate grey case and black leather band, the white face with a rose gold casing and red leather band, and the blue face featuring a silver bezel and brown leather band. The black model will offer a 40mm case, while the other two will be a smaller fit, coming in at 36mm. However, no matter what your preference is, all will set you back $299.95.
⬆️ The Upside: We find the colors and design of the new Steel HR Sapphire Signature appealing. However, we find the functionalities of the watch fairly limited. Withings need to push the envelop in terms of innovation by adding new types of sensors (hydration, electrolyte..) in order to have a chance to take share away from Apple in the smartwatch market.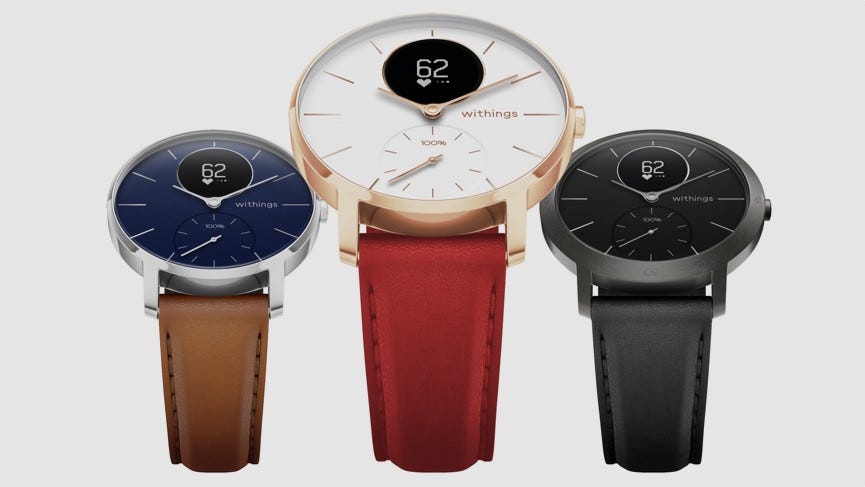 Picture: Withings
?More clues about the AirPods 3 | Via: Wearable
We've already heard about the rumors that Apple is going to launch the AirPods 3 in 2019. Now there's more speculation to suggest the next gen Pods are on the way.
According to Digitimes (again), the new AirPods will come in two models, one of which will be an iterative upgrade of the existing model and another that will feature a new internal design. One that would give it room to include other components and hopefully unlock more features. There's a suggestion though that the redesigned model will come in at a higher price than the current pair of AirPods.
The same source suggests that Apple will continue to sell the second generation AirPods, which only went on sale in March this year and could continue being sold well into 2020.
Previous rumors have suggested that one of the key features the new AirPods will include will be noise cancellation, for those times when you need to drown out the world, so maybe that's what that new design will be introduced to accommodate.
For those of you not wanting to wait for the AirPods 3 to break cover, Amazon has a surprising discount on the latest AirPods.
⬆️ The Upside: It should not come as a surprise to see Apple increasing the price of the new AirPods. Apple is one of the few companies on the planet that can command a premium for its product and even raise the price of its product and yet do not see a negative impact on its sales. We expect Apple to continue to do well in the hearable market especially as Apple continues to add new sensing functionalities (blood pressure, fatigue..) to the AirPods.
? UrgoNight wants to help you sleep by training your brain during the day | Via: Wearable
There are lots of different sleep trackers out there, but the UrgoNight is the first we've heard that tries to help you sleep better by training your brain when you're awake.
Developed by neuroscientists and sleep experts at French health tech startup Urgotech, the UrgoNight takes the form of a headband that is able to non-invasively measure Electroencephalogram (EEG) to measure brainwave activity and essentially help people naturally learn to increase the brainwaves that are associated with sleep.
The headband is supposed to be worn for just 20 minutes a day, three times a week and once on is connected to the companion iOS or Android app. From that app, users will be able to view brainwaves in real-time before participating in exercises where users are assigned tasks. These exercises range from growing leaves on trees, herding jellyfish and drawing relaxing patterns.
The goal is to increase the frequency of the brainwaves that are related to helping us fall asleep. Those brainwaves are known as sensorimotor rhythm(SMR), which we produce during the day.
The idea is that through these games and exercises, users will be able to increase levels of SMR, which should in theory help you fall asleep when your head hits that pillow. Urgotech says people will begin to see results after 10-15 sessions with sustainable results kicking in after 3 months.
If you're convinced by the sleep science and tapping into your brain using neuroscience, the Urgonight is currently on Indiegogo and is available for backers at the early bird price of $249. Shipping is expected at in December 2019 before it rolls out for everyone in 2020 priced at $500.
⬆️ The Upside: This headband is an interesting approach. We like the fact that it helps train the brain increase levels of SMR, which should in theory help users fall asleep when your head hits that pillow. However we think there are 2 fundamental problems here. (1) We don't think it is practical for users to use this headband during the day for 20 minutes. (2) The headband seems very bulky and not convenient to wear. Although the company had a great idea on paper we think it missed on the form factor and practical use case.
Picture: Urgotech
⚾️ Portland Pickles unveils first ever CBD sponsorship in baseball | Via: KATU
CBD is in and sports teams and leagues are starting to take advantage. The latest? The Portland Pickles, whose new two-year partnership with Portland CBD brand Lazarus Naturals is believed to be the first of its kind in baseball. The partnership includes CBD products on sale during Pickles home games as well as the brand sponsoring a veterans recognition program in which nominated veterans could win box seats for a game.
Of note, Cannabidiol (CBD) is a compound that is part of the cannabis plant that is minus the THC compound that is known to get individuals intoxicated but has been shown to have considerable medicinal properties for pain management and other applications.
⬆️ The Upside: We think this is a good move by this baseball team. We expect many other pro teams to follow suit but it will take time based on studies that have shown that CBD can help athletes with pain management. Of note, the 2018 FIFA World Cup along with the World Anti-Doping Agency (WADA) have already officially removed CBD oil from the list of banned substances.
Photo: Lazarus Naturals
---
? eSports & Crypto-Currency News
? NCAA votes to not govern collegiate eSports | Via: eSports Observer
The NCAA has opted not to govern collegiate eSports, after exploring the topic and working with a consultancy group to figure out how to approach the growing industry. Sports Business Journal (SBJ), a sister publication to The eSports Observer, reports that the NCAA's Board of Governors unanimously voted on April 30 to table the issue indefinitely, marking the end of this current round of consideration and exploration.
In October, SBJ's Ben Fischer wrote about the NCAA's process and the challenges facing the collegiate sports organization as it considered governing and building championships around eSports. Chicago-based Intersport consulted the NCAA and collected feedback from member schools about the proposed initiative.
"The research will play a key role in better defining the current college eSports landscape, including participation levels, leadership structure, and potential areas of growth," the NCAA said in a prepared statement to SBJ in November. "The NCAA will continue to evaluate how it can best support its members as they pursue and adopt eSports programs."
⬆️ The Upside: Following the NCAA's decision to not get involved in collegiate League of Legends eSports, Riot Games is taking matters into its own hands. The company behind the popular MOBA is creating its own governing body for the college League Scene.
Photo: NCAA
?NHL reveals Gaming World Championship 2019 Sponsors, activation plans | Via: eSports Observer
The NHL Gaming World Championship 2019 for NHL 19 will have seven sponsors, each of which will activate at a Regional Final and/or the World Final. Honda and Scotiabank are returning sponsors from 2018, with Adidas, ASTRO Gaming, Brisk, Great Clips, and MGM Resorts added for this year's tournament. The World Final will be held at the HyperX eSports Arena Las Vegas on June 18, with a total $100K USD prize pool for the entire tournament.
⬆️ The Upside: We believe that this is a logical move by the NHL as part of its big plan to become a major player in eSports. It remains to be seen though what kind of investments the NHL will generate from eSports at this point. This has been a common issue faced by many pro leagues.
Picture: NHL
---
?? Social Impact Sports Tech News
❤️ NASCAR reveals latest diversity intern class | Via: Speed Sport
NASCAR officials have announced the newest class of interns selected to the NASCAR Diversity Internship Program. Twenty-eight undergraduate and graduate students from universities across the country will begin orientation today in Charlotte and participate in a motorsports tour that will include Charlotte Motor Speedway, the NASCAR Hall of Fame and the other racing venues in and around the city. On Saturday the new intern class will experience the Monster Energy NASCAR All-Star Race live from Charlotte Motor Speedway as NASCAR's brightest stars compete for $1 million in prize money.
"For many, the NASCAR Diversity Internship Program provides an introduction to motorsports as well as valuable, hands-on experience in an industry rich with opportunity," said Paula Miller, NASCAR senior vice president and chief human resources officer. "As we welcome each new class, we're reminded of the many careers launched by this program and the positive impact our graduates continue to have on the sport."
One of the premier internships in sports, NDIP offers college students from diverse backgrounds a unique and practical experience in the motorsports industry. More than 400 students and several industry partners have participated in NDIP since its inception in 2000.
Twenty-four former interns are currently employed in the NASCAR industry. The list includes Jusan Hamilton, who in 2017 became the first African American to serve as race director for a NASCAR national series event. In addition to his race director responsibilities, Hamilton oversees the NASCAR Drive for Diversity driver and pit crew development programs.
⬆️ The Upside: We believe this is a great initiative by NASCAR which should help improve diversity in its sports. This type of program should be an inspiration for other leagues as well in their efforts to improve diversity. It is also a great way for NASCAR to improve its image as a whole.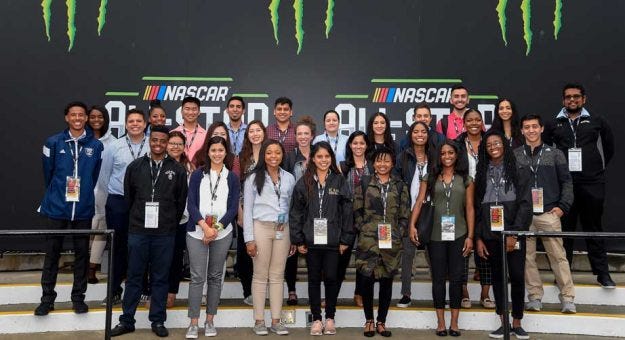 Picture: NASCAR
❤️ NFL Inspire Change Platform's An Answer to players protests | Via: Oakland News
The National Football League announced the launch of the Inspire Change platform, showcasing the collaborative efforts of players, owners and the league to create positive change in communities across the country.
Working together with the Players Coalition, NFL teams and the league office continue to support programs and initiatives that reduce barriers to opportunity, with a focus on three priority areas:
– Education and economic advancement
– Police and community relations
​- Criminal justice reform
The Inspire Change platform includes the debut of a new television spot, which will air during this weekend's playoff games. Additional versions of the television spot will continue to air throughout the post-season, including on Super Bowl Sunday during pregame programming.
"We are honored to be working with the NFL on the Inspire Change Initiative. Mentoring is a proven long-term strategy for bridging gaps in academics and income, and this grant will allow our agencies to create more strong mentoring relationships," – PAM IORIO, President and CEO of Big Brothers Big Sisters of America.
⬆️ The Upside: We think this is a good move by the NFL to help improve its image. It is a step in the right direction following the Colin Kaepernick protests anthem. But only time will tell if this will be enough to improve the NFL's image.
Picture: NFL
---
? Sports Investment Trends — May, 2019
Dublin-based Glofox raises €9M Series A for its boutique fitness studio management platform. Read on here.
---
? Key Tech Sports Stats of The Week
$1.6B: The NASA is raising $1.6B to land a man on the moon.
$759M: According to documents obtained by Steve Berkowitz of USA Today, the Big Ten saw revenue of $759 million in fiscal 2018. That number was the highest in college athletics, followed by the SEC at $660M. Read more here.
$450M: The estimated net worth of tennis star Roger Federer.
$120M: Uber saved Lance Armstrong he made $120M off the Uber IPO. Read on here.
"It's saved our family," Armstrong told CNBC's Andrew Sorkin in an interview aired on Thursday. In 2009, the former pro cyclist invested $100,000 in Chris Sacca's nascent venture capital firm, Lowercase Capital. Armstrong said the bulk of the money went to Uber, which at the time was valued at just $3.7 million. The company filed for its IPO, banks valued Uber at as much as $120 billion initially.
$100M: The Washington Nationals could be in for a major windfall thanks to a ruling by MLB that sees the Orioles owing them nearly $100 million in back payments for unpaid rights fees. Read on here.
28,000 pounds: Cardiff has emerged as value-for-money champions.
20,000: Warriors surprised nearly 20,000 Fans with Google Home Minis
2000: According to Jeff Duncan, from the time the New Orleans Pelicans won the NBA Draft Lottery till 1 a.m Wednesday, the team took orders for approximately 2,000 new season tickets, twice as many as they did after earning the No. 1 pick in 2012 (Anthony Davis).
1,330: Brazil is clearly at the top of the rankings for countries exporting the most footballers (1,330 players), ahead of France (867) and Argentina (820). Alone, these countries export almost a quarter of footballers (22.5%).
812: Manchester United has won the most points (812) and titles (4) than any other Premier League soccer teams in the past 10 years.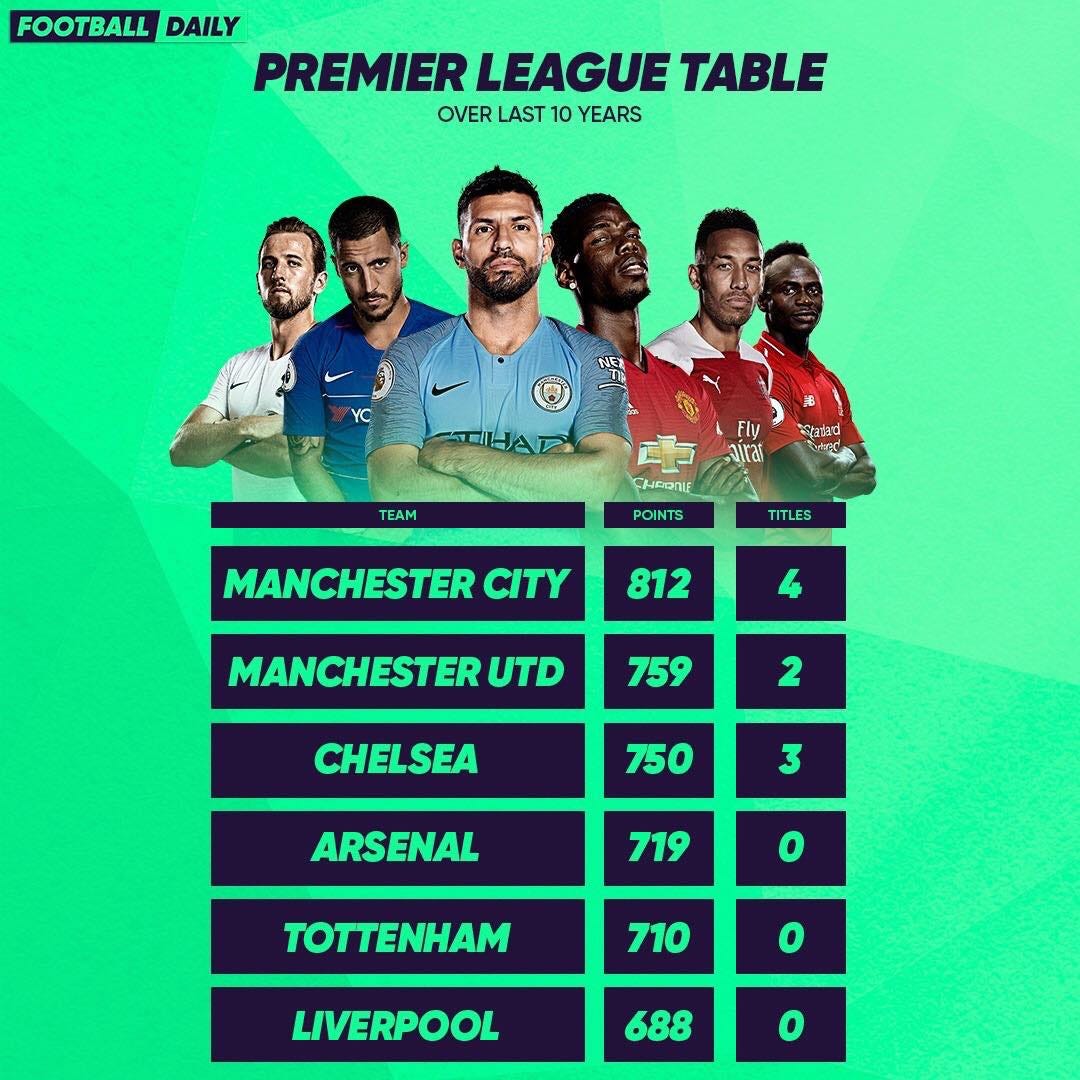 146: Chris Wondolowski (SJ Earthquakes) scored 4 goals over the weekend to beat Landon Donovan's record for the most goals in MLS regular-season history (145). He has now scored 148 goals.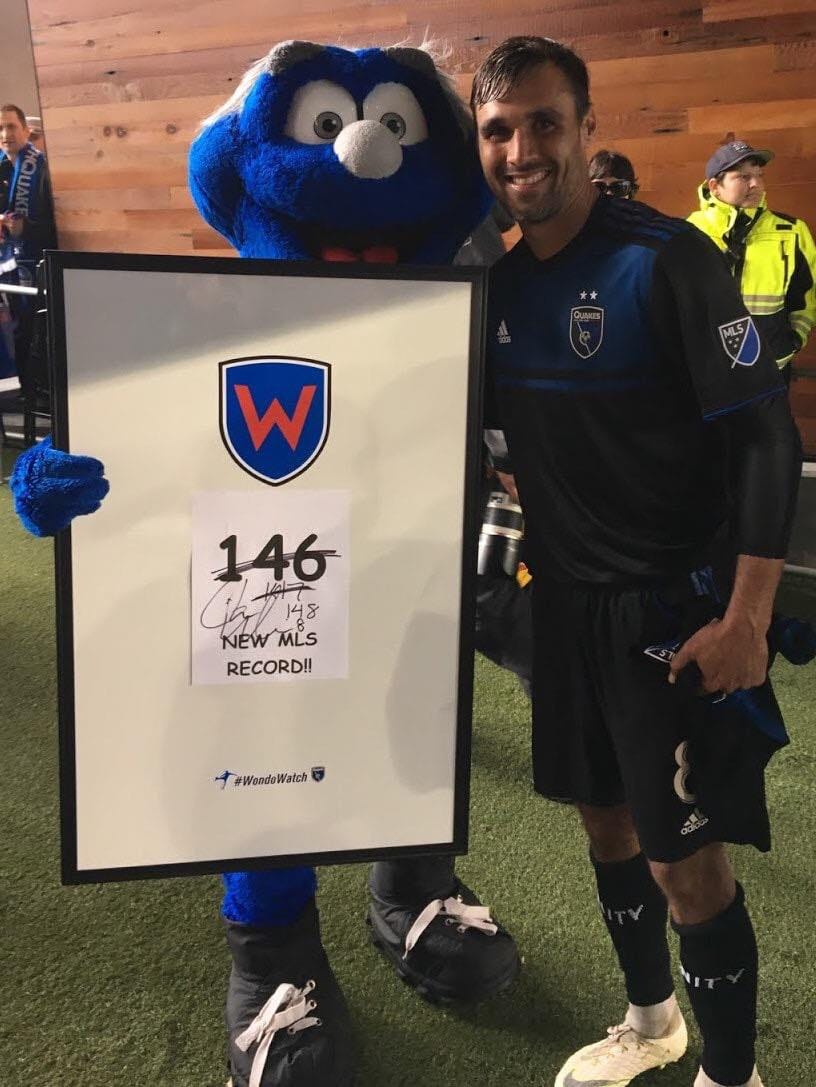 71%: FiveThirtyEight'ssupercomputer has given Tottenham a 29% chance of winning the final, compared to Liverpool's 71% chance of claiming the trophy for a sixth time.
-46%: PGA Championship ticket costs plummet 46% after Tiger Woods missed cut
18: The Golden State Warriors erased an 18-PT deficit to defeat the Portland Trail Blazers 110-99 on the road in Game 3.
14%: The Knicks had a 14% chance to land Zion in the 2019 NBA draft.
7: Draymond Green (Warriors/NBA) tallied his 7th career-playoff triple-double with 20 PTS, 13 REB & 12 AST.
1h30: So how long should we nap to maximize productivity? Studies have shown that users can get a full REM cycle if they sleep 1h30 minutes.
1: Manchester City became the 1st Premier League soccer team to win an English domestic treble (League Cup, FA Cup, Premier League title).
---
? The Upside: Snapshots of The Week
Curry family dilemma. Portland's Seth Curry and Golden State's Steph Curry are the first set of brothers to go head-to-head in an NBA Conference Championship series. In an effort not to start a familial civil war, their parents have come up with a clever way to figure out which son they would be cheering for. As a result, they decided that they would flip a coin before every game of the series to determine their attire.
Winning steal. Steph Curry said it best: "Andre made the biggest play of the game", after Andre Iguodala stole the ball from Gillard at the last second of the game between the Warriors and Portland.