Over the last decade, due to the emergence of bigger sponsorship deals, we have seen the emergence of a billionaire athletes club with pro athletes reaching the $1B mark in cumulative earnings. Those include Michael Schumacher ($1B), Jack Nicklaus ($1.15B), Arnold Palmer ($1.35B), Michael Jordan ($1.7B), Tiger Woods ($1.65B), Floyd Mayweather ($1B).
So who is the latest athlete that is set to join this exclusive club? Roger Federer, who is set to join this club before the year's end.
Roger Federer:
As noted earlier, Roger is set to become a billionaire by the end of 2020.
According to Forbes reports, Federer's annual earnings, inclusive of prize money and sponsorships, have reached a career-high mark of $93.4 million.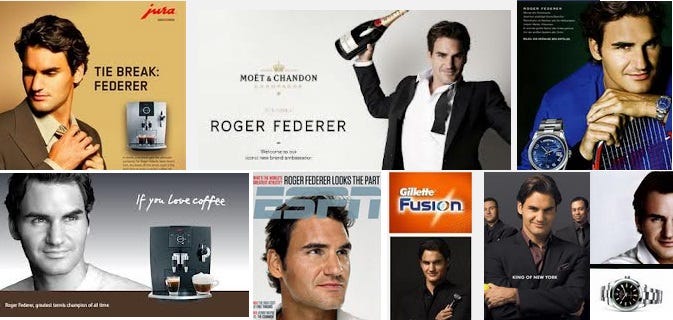 As shown in the table below, this is a big jump from the $77.2 million he was estimated to have earned in 2018. Back in 2009, Roger Federer was making $33M in annual earnings. The 2019 YoY increase likely reflects the sponsorship agreement he signed with Uniqlo in 2018, which is rumored to pay $30M annually—around $15-20M more than he had been getting from Nike, which included both clothing and shoes.
Picture: Roger Federer's annual earnings (2009 – 2019)
Also shown in the table below, according to Forbes, his partnerships with companies such as Mercedes-Benz, Rolex, Barilla, Wilson, Uniqlo and others also netted him $86 million in the 12 months ending June 1, 2019, dwarfing his prize money earnings of $7.4 million over the same period. This compared to $84M for Tiger Woods, $53M for Lebron James, and $44M for Ronaldo.
Now, according to Tennis.com, because of a shoe deal with Nike, an investment in running shoe firm On, and money received from exhibition tours, "Federer's career on-and-off-court earnings [are] approaching $900M, with $200M more committed by sponsors." This would make him a billionaire by YE 2020.
Should Federer become a billionaire, it would be the first time an athlete who competes in tennis has surpassed the barrier.
Tiger Woods:
Tiger Woods is another member of this very exclusive billionaire athlete club. He initially won his first Masters in 1997 at the age of 21, and he had his top money-making year a decade ago, with earnings estimated at around $115M per year.
88% of Tiger's earnings come from sponsors
A Golf Digest report published in early 2014 estimated that 88% of what Tiger Woods made as a pro golfer — a total of $1.3B at that point — came from sponsorships.
In 2013, for example, Tiger Woods made $71M from endorsement deals, compared to $12M on the golf course. In 2018, Forbes ranked Tiger Woods as the world's 16th highest-paid athlete, with $42M out of his $43.3M total earnings coming from endorsements.
Tiger Woods' career earnings total is now up to around $1.65B.
Tiger's various investments
In addition to his usual stream of revenues, Tiger Woods owns a restaurant called The Woods, in Jupiter, Florida. The establishment gained some notoriety in May after the family of a former employee filed a wrongful death lawsuit against Woods and the manager. The restaurant allegedly overserved the employee, who had a history of alcohol abuse and died in a car crash after leaving late one night.
Another of the golf star's ventures, Tiger Woods Design, is involved in the creation of design of high-end golf courses around the world.
As we noted earlier, the lion's share of Tiger Woods' money comes from endorsement contracts with brands like Nike, TaylorMade, Monster Energy, and Bridgestone Golf all of which are his current partners. For years, Woods also made millions from brands like AT&T, Gatorade, and Gillette, which ended their business relationships with Tiger Woods around the time he was exposed for cheating on his wife in 2009.
Tiger Woods and Elin Nordegren divorced in 2010, and though the initial reports indicated that the settlement would be for a whopping $750M, it was later revealed Woods would be paying his ex-wife "only" $100M. Elin Nordegren had bought a $2.2M house in Sweden in late 2009 that she kept in the divorce, and she also received custody of their two children.
Floyd Mayweather:
Another member of this exclusive club is boxer Floyd Mayweather. According to Celebrity Net Worth, the boxer has earned as much as $300M in a single year.
"Between June 2014 and June 2015, Floyd earned a mind-boggling $300 million," the publication reports. "Between June 2017 and June 2018, Floyd earned a total of $300 million, mostly thanks to his fight against Conor McGregor that occurred in August 2017."
He reported $275M that he earned from his fight with Conor McGregor in August 2017. The fight had a total purse estimated at over $400M, and Mayweather's share was likely even more than $275M, the publication reports.
He collected an estimated $250M for his fight with Manny Pacquiao, and made at least $40M on four other fights in his career.
Here is Floyd Mayweather's earnings during his last 10 fights:
May 1/10 – W (Mosley) – $40,000,000
Sep 17/11 – W (Ortiz) – $40,000,000
May 5/12 – W (Cotto) – $45,000,000
May 4/13 – W (Guerrero) – $34,000,000
Sep 14/13 – W (Alvarez) – $73,000,000
Mar 3/14 – W (Maidana) – $32,000,000
Sept 13/14 – W (Maidana) – $32,000,000
Mar 2/15 – W (Pacquiao) – $250,000,000
Sept 12/15 – W (Berto) – $32,000,000
Aug 27/17 – W (McGregor) – $275,000,000
The PPV King, with $1.7B in PPV revenue from 23M paying customers
He is also known as the 'PPV King' due to his phenomenal success at the box office. His fight against Canelo Alvarez attracted over 2M buys and $150M in revenue, but these numbers were dwarfed by his fight against Manny Pacquiao, with 4.6M buys and $400M in revenue.
His last 15 fights, starting with Oscar De La Hoya in 2007, generated $1.7B in pay-per-view revenue from nearly 23M paying customers.
It is worth pointing out that Mayweather Promotions has been part of each bout, taking a cut of the PPV, gate, sponsorships, merchandise and international TV.
Endorsement deals
According to Celebrity Net Worth, "Outside of the ring, Floyd typically earns $10M from endorsements per year." Investopedia explains, however, that sometimes that figure is much higher. For instance, Mayweather earned an estimated $105M for endorsing various products between June 2013 and June 2014.
Fortune reports that according to Mayweather, he doesn't have many endorsement deals because his baseline for entry is too high for most brands. Back in 2015, he was asking for a minimum of $1M.
But for the Mayweather-Pacquiao fight, three brands deemed it worth the risk of bad publicity, and worth the million-dollar price tag: Burger King (BKW), daily fantasy sports site FanDuel, and Swiss watchmaker Hublot. Sources have confirmed to Fortune that each company spent around $1M to get into the ring with Mayweather.
Hublot had brand placement at the waist of his boxing trunks, while FanDuel had its name at the bottom of one trunk-leg. In terms of exposure, each of those brands got 36 minutes (a full 12 rounds, at 2 minutes per round). Burger King, on the other hand, only got the two minutes or so of its mascot, the Burger King, walking in with Mayweather and his entourage.
Mexican brewer Tecate spent a bit more for its 36 minutes: ESPN reported that the company paid $5.6M to be the official sponsor of the overall fight.
Michael Jordan:
This analysis on billionaire athletes would not be complete without talking about NBA star and entrepreneur Michael Jordan.
The business of being Michael Jordan is still booming, and he will make an estimated $145M in 2019 from his ongoing endorsements and other businesses.
"It's gotta be the shoes," said Spike Lee, playing the fictional Mars Blackmon, in a series of 1980s Nike ads featuring Jordan. It is still all about the shoes for Jordan. Nike's Jordan Brand generated $3.14B in revenue for the 12 months ending in May. The tally is up 10% and a record for the brand.
Jordan still makes more money than LeBron James, Stephen Curry, Kevin Durant, or any other active player.
Of the Nike's Jordan Brand generated $3.14B in revenue, MJ's cut is an estimated $130M, four times that of LeBron James, the No. 2 sneaker deal earner in basketball, with $32M. Jordan's shoe money alone is more than the $127M in total earnings of Lionel Messi, who ranked as the world's highest-paid athlete this year.
"Sneakers is going through one of the biggest renaissances of its history and not showing any signs of moderating," says Cowen & Co. analyst John Kernan. He thinks the Jordan Brand has massive potential in China and sees more extensions after recent partnerships with soccer club Paris Saint-Germain and college football powerhouse Michigan.
MJ's income now is way more than his total playing salary during his career. He earned $90M total in NBA salary, and about $63M of that came in his final two seasons with the Chicago Bulls.
Jordan, with a big assist from Nike, revolutionized the marketing of NBA players in the 1980s. His original five-year Nike deal paid $500,000 annually, plus royalties. He later signed deals with Coca-Cola, McDonald's, Chevrolet, General Mills and more than a dozen other brands.
His cumulative off-court income is roughly $1.7B since he entered the league in 1984, almost 20 times the $90M in salary he made in 15 seasons with the Chicago Bulls and the Washington Wizards.
Jordan has cut back on his endorsement commitments in retirement but still maintains deals with longtime partners Hanes, Gatorade and Upper Deck. He also has other business interests, including three restaurants and a car dealership. His non-Nike earnings are estimated at $15M in 2019.
NBA team owner
Michael Jordan is also an NBA team owner as he took majority control of the Charlotte Hornets in 2010 after four years as a minority investor. The investment, which valued the team at $175M, excluding working capital Jordan committed, has been a slam dunk for MJ. The team is currently worth $1.3B, pushing Jordan's net worth to $1.7B.
Bottom line: We believe that in the coming 5-10 years we are likely to see new athletes entering the billionaire club. Among the most likely candidates to enter this club are Magic Johnson ($600M estimated net worth), Kobe Bryant ($500M), Lebron James ($400M), Shaq ($400M), Serena Williams ($180M), Tom brady ($180M), Kevin Durant ($170M), and Steph Curry ($130M). With many of these athletes already investing heavily in the world of sports tech and media/entertainment, there is no question that this trend will continue to have an important impact on their future earnings.