Over the past few weeks, the Coronavirus has had a tremendous impact on the world of sports and tech. Many top's sports events have been cancelled or postponed as a result of the virus. In addition, some pro players that might have been exposed to the Coronavirus, have been asked to trained away from the first team, and some large sports apparel and tech companies have been financially affected as they had to shut down stores or factories in China to reduce the spread of infection.
As of today, the coronavirus outbreak has sickened more than 76,100 people in Asia, according to statements from health officials. Many other cases are suspected but not confirmed. As of last week at least 2,245 people have died, all but nine in mainland China.
China is not the only country affected by the virus. Other countries such as South Korea, Japan and Singapore, have also been affected:
Source: BNO
So what is the Coronavirus? What are the symptoms of the Coronavirus and how does it spread?
A coronavirus is a kind of common virus that causes an infection in your nose, sinuses, or upper throat. Most coronaviruses aren't dangerous.
But In early 2020, after a December 2019 outbreak in China, the World Health Organization (WHO) identified a new type, 2019 novel coronavirus (2019-nCoV), which can be fatal. The organization named the disease it causes COVID-19. The outbreak quickly moved from China around the world. It spreads the same way other coronaviruses do: through person-to-person contact.
Symptoms can show up anywhere from 2 to 14 days after exposure. Early on, they're a lot like the common cold. You might notice:
Fever
Cough
Shortness of breath
Infections range from mild to serious. The virus can turn deadly if it leads to pneumonia, respiratory failure, or septic shock. Those most at risk of death are the elderly and people with weakened immune systems.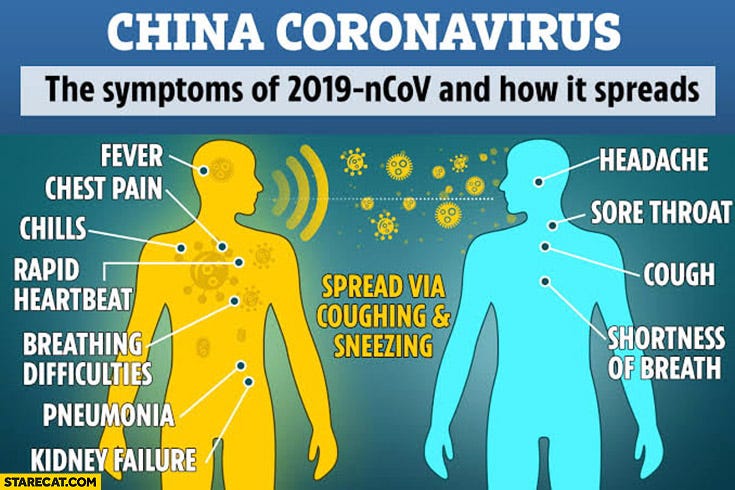 How contagious is the Coronavirus?
It is difficult to say how contagious the virus actually is but, as shown in the picture below, a recent WHO estimate published in Der Spiegel assumes there will be 1.4 to 2.5 newly infected people per sick individual.
Source: Statista
How to protect ourselves from the Coronavirus?
To protect ourselves from the Coronavirus, health authorities recommend to avoid any contacts with people who might have been affected by the virus. It is also recommended to wear a face mask, wash your hands frequently, avoid markets and crowded places, and seek medical care if symptoms appear.
Which major sports events and pro teams and leagues have been impacted by the Coronavirus?
—Sports events being cancelled or delayed:
As a result of the virus epidemic, many major sports events around the world have now been cancelled. For example, the Tokyo Marathon, one of the largest races in the world, is restricting its field to elite runners following new cases of the Coronavirus confirmed within Japan, according to the New York Times. The race is scheduled for March 1.
Picture: Tokyo Marathon
The Tokyo Marathon is the latest sporting event to have to cancel or curtail events due to the Coronavirus outbreak.
Other events impacted include:
The Hong Kong Marathon, which was canceled.
The World Athletics Indoor Championships, which was postponed until 2021.
An LPGA Tour event in early March that was canceled.
World Rugby Seven Series events postponed from March to October.
Three qualifiers for the 2021 International Basketball Federation Asia Cup have been postponed.
There has been no word if the epidemic will impact Tokyo's hosting of the 2020 Summer Olympic Games.
—Players training away from their first teams:
In addition, some players who might have been exposed to the virus in Asia, are now training away from their first teams due to novel coronavirus concerns following his arrival from China. This is the case of Manchester United's newest signing Odion Ighalo who has been training away from the first team.
Picture: Odion Ighalo, Manchester United
Ighalo joined United on January 31 from Chinese Super League side Shanghai Shenhua and although the risk posed is minimal, the city is hundreds of kilometers away from Hubei province which is at the epicenter of the coronavirus outbreak, the club has opted to take precautionary measures.
Wha could be the economic impact of the Coronavirus on the sports industry?
— 2020 Tokyo Olympics to be cancelled or hosted at another location?
Over the past few weeks there has been a lot of question marks around the upcoming Olympic games in Tokyo this summer. Cancelling such event could financially impact organizers and insurers in a big way.
"Even though not all organizers buy extra epidemic cover, losses to cancellation insurers are already likely to be more than $100M, said Tim Thornhill, director, sales in entertainment and sport at Lloyd's of London broker Tysers."
Some experts are now pushing for the upcoming Olympics to be hosted at another location such as London:
"Given the ongoing disruption caused by the coronavirus outbreak, I urge the Olympic Committee to seriously consider how London could stand ready to host the Olympics should the need arise," Bailey said. "We have the infrastructure and the experience, and if I am elected I will make sure London is ready to host the biggest sporting celebration again, if we are called on in an hour of need."
Former British sports minister Tracey Crouch even said it would be "perfectly possible with a touch of creative thinking" to host the event.
"Most of the infrastructure is already in place and ready to go; and it doesn't all need to be in London," she added.
— Big sports and tech companies also impacted by the virus:
Big sports and tech companies have also been financially impacted by the virus. In fact, last week two more companies releases advance information on the impact of the Cornonavirus on their business. Adidas and rival Puma said business in China was pummeled by the Coronavirus, which forced the German sporting-gear companies to shut stores even as fears of contagion turned off shoppers at other outlets.
Adidas experienced a 85% drop in the weeks since Jan. 25, the company said in an email. Puma said sales and earnings were suffering in the first quarter as it forecast weaker-than-expected earnings for the year.
The Sportswear companies' bleak assessment adds to evidence that the coronavirus outbreak has caused the world's growth engine to sputter, tamping demand for goods ranging from handbags to sneakers.
"Long-term, this will not have an impact on our industry and our brand," Puma CEO Bjorn Gulden told journalists last week. "Can we reach the guidance or not? We will do everything we can." Puma shares surged as much as 9.5% to a record, erasing a recent slide.
Picture: adidas
— Big tech companies also affected:
Earlier this month, major tech companies announced they would temporarily shut down all corporate offices, manufacturing factories, and retail stores across China as a result of the virus. These companies include Apple, Samsung, Microsoft, Tesla, and Google. (Google has also closed offices in nearby Hong Kong and Taiwan.) Most of the closures were expected to last until Sunday February 9th, though some companies did not specify when exactly the offices would reopen.
Apple's head of people, Deirdre O'Brien, wrote in an internal email that offices and contact centers are expected to open "next week," while retail stores' reopenings are still being determined.
Amazon has not yet announced office closures in Beijing, Shenzhen, Shanghai, and Guangzhou (it does not have an office in Wuhan, where the virus is believed to have originated), but is requiring employees to get approval for any essential travels to China. Employees who are traveling in and out of China are also advised to work from home for a period of 14 days before returning to the office.
Facebook has also stopped taking new orders for its latest Oculus Quest VR headset, citing the outbreak for the delay.
"[Like] other companies we're expecting some additional impact to our hardware production due to the Coronavirus. We're taking precautions to ensure the safety of our employees, manufacturing partners and customers, and are monitoring the situation closely. We are working to restore availability as soon as possible," the company said in a statement to Android Central.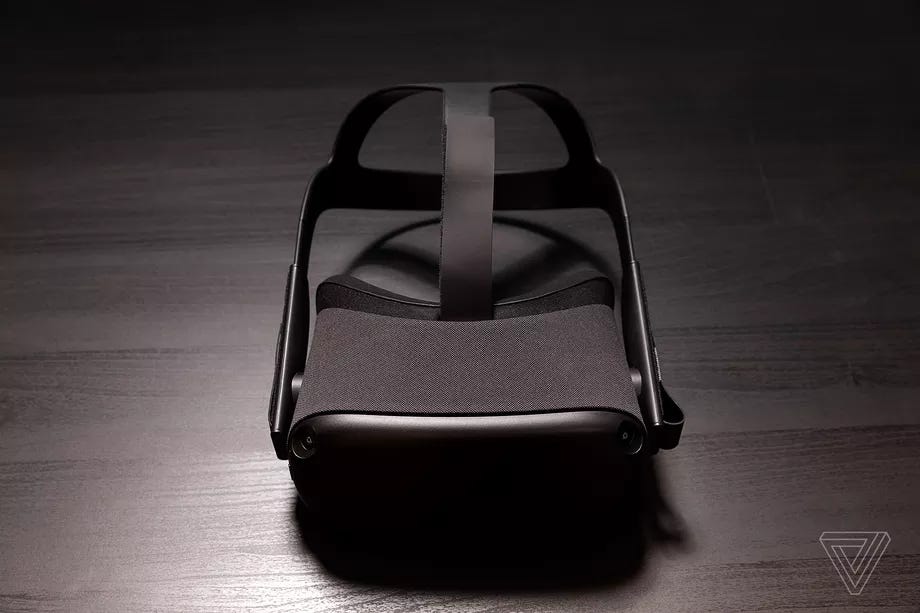 Picture: Oculus, Facebook
Many pro teams are using equipments that are being made in China. As a result of that, equipment providers have taken precautions to make sure that players are not being exposed to equipments that might have been affected by the virus. This is the case of the hockey stick manufacturers.
For some New Jersey Devils players, the coronavirus has delayed manufacturing and shipment of hockey sticks. Matt Porter of the Boston Globe reported that approximately 75% of highly customized sticks are manufactured in China. Bauer and CCM are two companies that produce their high-end sticks in the area where the virus has forced all operations at their plants to cease.
Picture: New Jersey Devils player's stick
"It's definitely been tough. A lot of guys have actually started to use each others' sticks," Devils forward Kevin Rooney told Chris Ryan of NJ Advance Media. "Right now, I'm using (Blake) Coleman's stick. It's tough not having a lot of sticks because guys like to go through them. Even if they're not breaking, guys like to switch, once a week, minimum, to try to use a new stick. Just the way they're built, the pop in the stick goes away after a week."
So what are the companies and technologies out there that can help prevent Coronavirus spread?
— Face temperature scanner:
An Addison-based company called Wello says its technology could help to stop the spread of the Coronavirus.
Picture: Wello
The WelloStation device scans your face to determine if you have a fever, without having to touch you.
"It's completely automated like the ticketing systems at the airport and it's artificial intelligence so it gives you a voice prompt, takes 2-3 seconds and reads your core body temperature," said Wello CEO Rik Heller. "It's used with infrared sensory measurement on a very specific spot on your forehead..it's FDA cleared class 2 which is a big deal for us," Heller said. He notes that a fever is the first sign of contagiousness.
After your temperature is read, it will print out a 'well being' sticker to show you have been cleared. It has your picture, date and time on the sticker.
— App to determine the level of risk for catching coronavirus:
Chinese authorities have also developed and launched a smartphone app that allows people to check their level of risk for catching the coronavirus, according to the state-run news agency Xinhua.
The app allows users to scan a Quick Response (QR) code via apps such as Alipay, WeChat or QQ to see if they have been near someone who has been confirmed or suspected of being infected with the deadly virus.
Close contact is defined as being near someone who is or may be infected with no effective protection, even if the person was showing no symptoms at the time.
Users must register their phone number, enter their name and ID number. The app allows users to check the status of up to three other people by entering ID numbers. If they are found to have been in close contact with someone who is or may be infected, they are advised to stay at home and contact medical personnel.
The app was jointly developed by government departments and the state-owned China Electronics Technology Group, using data collected by health and transport authorities, according to Xinhua. The technology is possible due to the Chinese government's high-tech surveillance apparatus, which includes a video camera network, facial recognition software and artificial intelligence.
— Virus tracker apps:
Chinese residents are also using mapping programs and travel trackers to avoid neighborhoods with infections of the coronavirus and to better prepare for the dangers they face.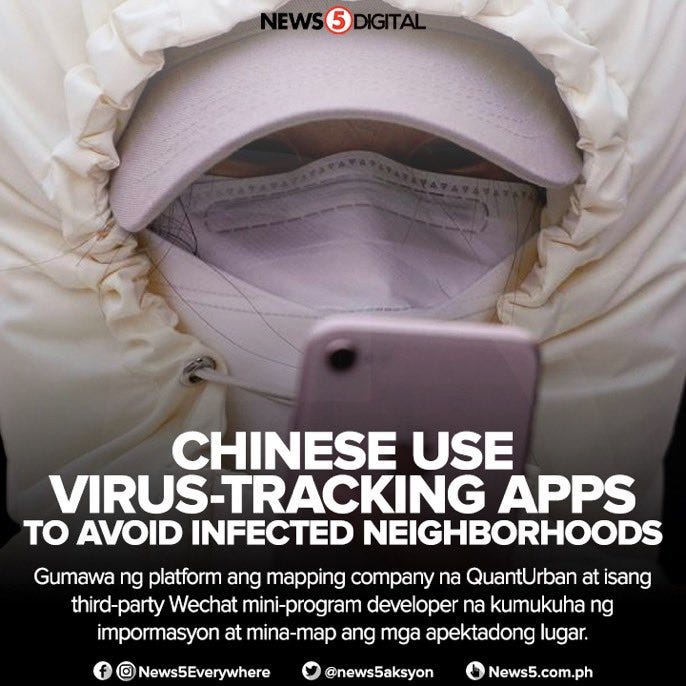 Both the data mapping company QuantUrban and a third-party WeChat mini-program developer have created platforms that take official information on neighborhoods with confirmed cases and map it so users can gauge how close they are to infection sites.
While the WeChat program, called "YiKuang" or "Epidemic Situation," covers the southern cities of Shenzhen and Guangzhou, QuantUrban's browser-based maps also cover nine other cities in Guangdong province.
"Shenzhen might have a major outbreak in the next few days, and government data comes out slowly," said April, a Shenzhen-based manager who declined to give her full name. "Seeing the map is a psychological comfort. You can't guarantee there won't be fresh cases, but you can avoid an area that's already hit," she said.
Confirmed cases in Shenzhen have climbed rapidly, to 245 by last Monday, making the southern tech capital the most badly affected of China's main cities, Beijing, Shanghai and Guangzhou. It has a large population of migrant workers from the heavily affected central provinces.
"We wanted to annotate the information on the map so that the public could better see how epidemic sites are distributed more intuitively and also remind everyone to make adequate protection," said Yuan Xiaohui, QuantUrban's co-founder and CEO.
Outlook: Clearly the Coronavirus has had notable consequences on the world of sports and tech worldwide. Delaying, or cancelling major sports events to avoid the spread of the virus is the right thing to do. In the future we expect more sports events to be cancelled or delayed and more sports and tech companies to be affected financially by the virus. "Will the Tokyo Olympics be cancelled or hosted in another location?" remains the one billion dollars question at the moment. But one thing is clear: It is better to take the proper precautions and take the financial loss rather than taking the risk of losing more lives along the way.