Dear Friends and Members,
Last Friday, we published our Baseball tech analysis, in which we discussed the current and future tech trends in the baseball tech market for the coming years. To access this analysis be sure to sign up for our premium subscription by clicking the "subscribe now" button below.
Looking for access all of our previously published analysis, insights, data, podcast interviews, and more? Subscribe now to unlock access!
On Friday we plan to publish our next weekly sports and tech analysis.
? Top Stories We're Reading This Week
? Facebook working on mind controlled AR glasses
? Nvidia Research demos "Prescription AR" glasses
? Samsung appears to be exploring the possibility of smart contact lenses
⌚️ Samsung Galaxy Watch Active 2 Under Armour edition to be unveiled on 5 August
? NBA 2K League Signing Bud Light As Official Beer Sponsor
? Latest Investment Trends
? Tech Stats of the Week
? Snapshots of the Week
Let's jump right into the insights and upside for all of these top stories
---
? AR/VR/Video Sports News
? Facebook working on mind controlled AR glasses | Via: Wearable
We'll stop you there – yes, Facebook's grasp over modern life can sometimes feel pretty mind-controlling as it stands, but this is on the more utopian end of the scale. You'd be in control, not them, basically.
Facebook has funded some major research into brain-computer interfacing. That means the potential ability to control computers and devices with your mind, likely using a wearable that could take the form of a pair of AR glasses. The latest set of results from the research are being published by Nature, but you can get a less scarily-scientific view from Facebook's post on the topic. Due warning, though, it's still pretty scientific.
An important point is that we're still a long way off controlling our devices with our minds – a decade or more at least. But, still, it's exciting to hear that progress is being made.
⬆️ The Upside: It should not come as a surprise to see Facebook working on a mind control device. In fact back in 2017, the head of Facebook's Building 8, Regina Dugan, revealed that Facebook was developing a brain-computer interface. What's new here is that Facebook is working on bringing this technology to AR glasses. While this seems like an interesting move, we are probably 10 years away from seeing a commercial product.
Picture: Facebook
? Nvidia Research demos "Prescription AR" glasses| Via: Wearable
After years of buzz, augmented reality is finally emerging as a useful technology with a variety of consumer and enterprise applications. Last week, Nvidia showcased its latest research that could make AR wearables even more practical.
At the SIGGRAPH conference on computer graphics this week in Los Angeles, Nvidia will demo a pair of "Prescription AR" glasses. As the name suggests, the AR glasses can have a user's prescription built right in, creating a more convenient and comfortable experience. Compared to current-generation AR devices, the display is many times thinner and lighter, and it has a wider field of view, according to Nvidia. Meanwhile, virtual objects appear throughout the environment rather than clustered in the center.
Next, Nvidia will demo its "Foveated AR" headset, which combines gaze tracking with image rendering for more efficient compute and power usage. The device adjusts the resolution of images it displays and their focal depth based on where the user is looking.
"If you have a certain amount of graphics horsepower that's going to be applied to an image, you want to put it where you actually see it," Greg Estes, Nvidia's VP of corporate marketing and developer programs, said to reporters.
⬆️ The Upside: We think these types of AR glasses are one step in the right direction. That being said we are not there yet as those glasses still look a bit too geeky. In addition we don't expect Nvidia to commercialize AR glasses in the future. Instead we believe that this is just a way for Nvidia to showcase a proof of concept using Nvidia's semi conductor technology.
Picture: Nvidia
---
? Wearables, Health, Nutrition News
? Samsung appears to be exploring the possibility of smart contact lenses | Via: Wearable
A new patent granted to Samsung suggests the company could be exploring the development of smart contact lenses.
Augmented reality glasses may be one thing, but harnessing the technology in contact lenses is a new frontier altogether, albeit one we've known is on the radar of tech giants for some time. Google announced back in 2014 it was working on the concept, after all.
As detailed in the patent, Samsung's proposed lenses could layer information, such as directions, onto the user's vision of the world, more directly and less obstructively than smartglasses. And, as we discovered earlier this year, such lenses could also be useful for health tracking.
An example explains that the lenses could project light directly onto the user's retina to give them the desired information visually. Said information would be transmitted to the lens from an external device of some sort.
Samsung's design ideas show a multi-layered lens with a tiny display unit mounted in its centre, and an array of other elements arranged around it. The minute thin-film camera is potentially capable of capturing your exact viewpoint, too.
The lenses even pack in a motion sensor to detect any movement the lens is subject to, and a capacitor to power the display and components.
The lenses have the potential to offer a far wider field of view than glasses, because of the way they use the surface of the lens, making for better augmented reality, which will be good news for those in search of immersion.
⬆️ The Upside: We should not be surprised to see Samsung working on a concept of AR contact lenses. Many companies (Google, Sony..) have tried to crack this code for many years but we have yet to see a real commercial product come out of the lab. In our view, putting LEDs on the contact lenses is not a safe approach. It remains to be seen if Samsung end up launching some commercial AR contact lenses.
⌚️ Samsung Galaxy Watch Active 2 Under Armour edition to be unveiled on 5 August | Via: Wearable
We know Samsung is going to announce a new smartwatch on 5 August, which we fully expect to be the much rumored Galaxy Watch Active 2. However, it also looks like the announcement will see the Korean company announce a collaboration with Under Armour for a special edition of its new smartwatch.
Courtesy of the ever-reliable Evan Blass and his response to our exclusive rundown of what to expect from the Watch Active 2, it seems we have our first look at that Under Armour edition model.
The official-looking render includes that Under Armour edition name, which we exclusively revealed will be one of three models introduced. It looks like we can expect some Under Armour branded watch faces at the very least, too, as part of the partnership.
It's highly likely this edition of the Active 2 will feature all of the same features touted for the standard version. So, a water resistant design, built-in GPS, an Apple Watch-rivalling ECG feature and a touch bezel to offer an alternative way to navigate Samsung's Tizen OS operating system.
Under Armour has worked with Samsung on previous smartwatches, pre-loading its suite of fitness apps (like MapMyRun and Endomondo) onto the company's devices. Under Armour also briefly dabbled in the wearable space, as well, when it launched its UA Band fitness tracker as part of its short-lived HealthBox platform.
It's seems a safe bet that those UA apps will be on board here, too, but we're intrigued to know whether their collaboration goes beyond pre-loaded apps and some UA branded watch faces.
⬆️ The Upside: This should not come as a surprise to see Samsung white labelling its smart watches. We believe this is a win win situation for both Under Armour and Samsung. Under Armour will be able to leverage Samsung's strong presence in the smartwatch market while Samsung will be able to leverage Under Armour's strong brand recognition and presence in the sports apparel space. it is worth pointing out that Samsung is not the first company that has teamed up with a major sports brand. This is already the Apple Watch Nike edition, while Fitbit also have the Ionic Adidas edition.
Picture: Under Armour
---
? eSports & Crypto-Currency News
? NBA 2K League Signing Bud Light As Official Beer Sponsor | Via: eSports Observer
The NBA 2K League on Friday will announce that Anheuser-Busch has signed on to make Bud Light the official beer of the esports series. Terms were not revealed for the deal, and the sides say that activation plans will be announced at a later date. A-B Head of U.S. Marketing Nick Kelly, who hinted at the deal in an interview with SBJ in June, said in a statement, "As we continue to expand our footprint in esports, it is important to align yourself with great partners and Bud Light becoming the official beer partner of the NBA 2K League does just that."
Other partners of the league include AT&T, Dell, Facebook, Snickers, Twitch and YouTube. The league's '19 finals weekend starts tonight with a NBA 2K League showcase tournament that will include league players as well as influencers in a pro-am type event that will take place at the league studio's on Long Island and be streamed on Twitch and YouTube.
⬆️ The Upside: We think this is a great move by both parties. The Bud Light brand will be able to benefit from the growing popularity of the NBA 2K League and eSports in general. For the NBA, it is a great new sponsorship partner for them.
Picture: NBA 2K league
---
? Sports Investment Trends — August, 2019
Esports franchise Houston Outlaws finds real estate investor buyer for $40M. Read on here.
---
? Key Tech Sports Stats of The Week
$34M: According to a letter penned by U.S. Soccer President Carlos Cordeiro, from 2010 through 2018, U.S. Soccer paid its female players $34.1M in salaries and game bonuses, while paying its men's players $26.4M.
$3M: 2019 Fortnite Champ Kyle Giersdorf earned $3.0M. By doing so he edged out Tennis stars Novak Djokovic ($2.9M), Tiger Woods ($2.0M) and Brooks Koepka ($1.9M).
30,000: Tyler Blevins AKA Ninja turned heads when he announced via Twitter that he was leaving Amazon-owned Twitch to exclusively stream on Microsoft-owned Mixer.Mixer now sits atop the charts on the App Store as the number one free app. Mixer's Twitter account alone has added over 30,000 new followers since the announcement. Ninja already has over 248,000 followers on the platform.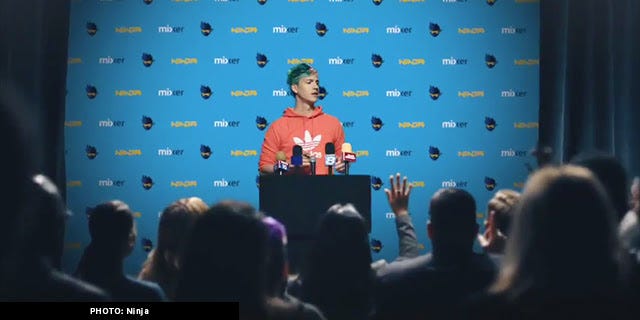 10,000: Since announcing the signings of both George and Leonard, the LA Clippers (NBA) have nearly doubled its season ticket holder base from 5,200 to 10,000, according to Bill Shaikin of the LA Times.
---
? The Upside: Snapshots of The Week
Topgolf x Buffalo Wild Wings?Looking for a way to make time spent at the airport a little more bearable? Buffalo Wild Wings and Topgolf might have something coming for you. According to Kyle Arnold of the Dallas Morning News, DFW Airport board members heard a proposal Tuesday from a Plano company that wants to build a new concept called BWW SportsExperience powered by Topgolf.